A Do-over for Every Major NBA Free-Agency Signing This Offseason
Jefferson signed with Charlotte, but would he shine brighter in another city?
Streeter Lecka/Getty Images
Well, it's officially the dead period of the NBA offseason. The draft is long past, all the major free agents have been snatched up and essentially all excitement has died off until October.
So how do we spice things up? By getting into some hypotheticals. In this case: assigning this summer's biggest free agents to new destinations that would work just as well, if not better, than the ones they actually chose. Basically, a complete do-over of the free-agency process.
To make things a little more fun, we'll operate under the assumption that each player is willing to sign for a little less than they did in reality (it is a hypothetical, after all). Additionally, it's unrestricted free agents only—as Jeff Teague recently showed us, restricted free agents don't often get to actually choose where they end up.
All the ground rules have been established, so let's get to it, shall we?
Andrew Bynum—Portland Trail Blazers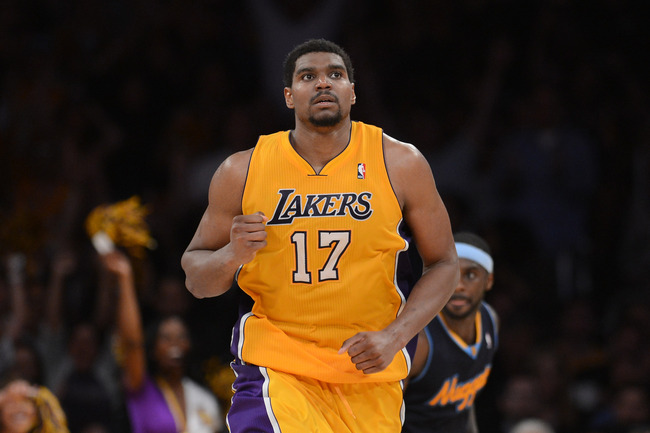 Bynum hasn't seen the court in a while, but when healthy, he's one of the top bigs in the game.
Harry How/Getty Images
The Portland Trail Blazers were none too keen on pursuing Andrew Bynum this summer (per Comcast SportsNet Northwest's Chris Haynes), and considering their history with injury-prone big men, that's totally understandable.
But strictly from a basketball perspective, Bynum would have been a very intriguing addition for the Blazers, so he's landing there in the do-over anyway.
As it stands, Robin Lopez is set to get a hefty chunk of minutes at the 5 for the Blazers. That's not terrible by any means—he played shockingly well for the New Orleans Pelicans (Hornets?) last season, is an efficient pick-and-roll player and provides some rim protection. But Bynum would be a massive upgrade offensively and would give the Blazers the potential to make a serious playoff run. That can't be overstated.
Bynum takes a lot of flak, but he's a phenomenal offensive player who would mesh well with LaMarcus Aldridge's more jumper-oriented game. In the 2011-12 season, Bynum scored efficiently in the post (he shot 46 percent but drew a lot of fouls per Synergy Sports Technology) and was an excellent finisher on cuts.
Aldridge is a decent shooter from mid-range (he hit 44 percent last year per Basketball-Reference), so spacing wouldn't be an issue between the two, and it would be tough to find a frontcourt in the league that could contain them defensively.
Believe it or not, Bynum was never used much in the pick-and-roll with the Los Angeles Lakers. He tended to hang around the rim while Pau Gasol acted as the roll man, which worked because of both his own ability to catch and finish and Gasol's skills as a passer.
The Trail Blazers could use him in the same fashion the Lakers did (and run most of their pick-and-rolls through LaMarcus Aldridge), or they could opt to try Bynum out with Damian Lillard and have Aldridge spot up for jumpers. Either way, they'd have a deadly half-court offense.
Bynum's not a great defender by any means, but he provides solid rim protection and is a very strong defensive rebounder. The Trail Blazers are still trying to retool around LaMarcus Aldridge, and Andrew Bynum would have been a fantastic addition so long as he stayed healthy.
Jose Calderon—Detroit Pistons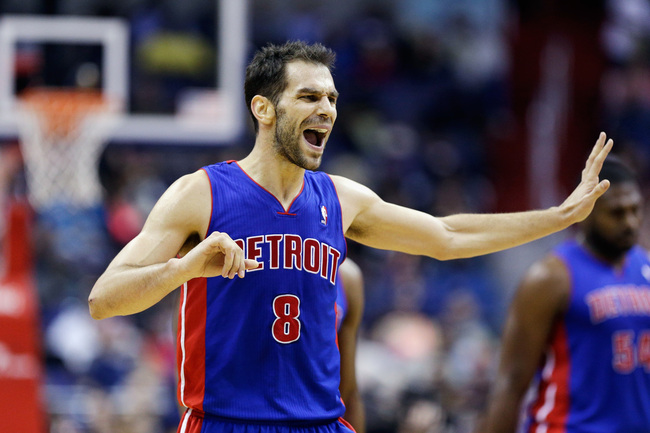 It was fun while it lasted.
Rob Carr/Getty Images
The Detroit Pistons ended up getting a younger (and maybe even better) guard in Brandon Jennings, but it would have been really interesting to see Jose Calderon re-up with them.
Calderon can no longer play much defense, and he struggles to get into the lane against physical defenders. But he's a very smart passer, and his ability to space the floor made life worlds easier for Greg Monroe and Andre Drummond (in the few games Drummond actually played with Calderon, anyway).
To be fair, Calderon put up some semi-fluky numbers in Detroit—he shot a definitely unsustainable 52 percent from three when he was there, for example. He's certainly capable of shooting around 40 percent or better, though, and it would have been entertaining to watch him do stuff like this with Detroit's young bigs for a full season. Oh well.
Monta Ellis—Philadelphia 76ers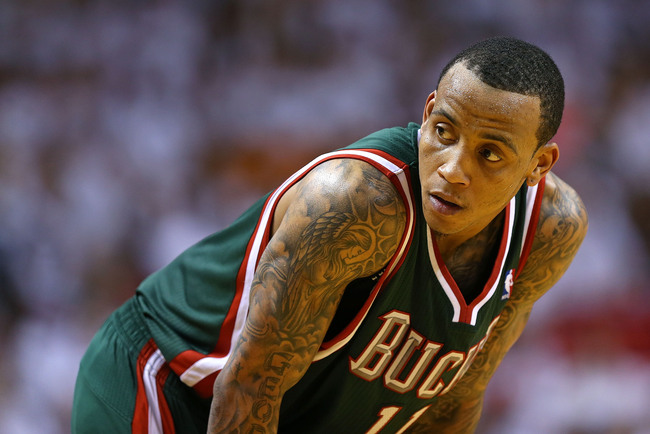 Ideally, Ellis would just be putting up 30 shots a game.
Mike Ehrmann/Getty Images
This might be an unrealistic pick (okay, it is an unrealistic pick), but...seriously, how fun would it be to watch Monta Ellis play with the Philadelphia 76ers for the next season or two?
Sure, the 76ers wouldn't improve all that much with Ellis, but why should they care? They're a few months into what promises to be a massive rebuilding process. These next few years are all about the future anyway.
For all of Ellis' faults, at his best, he can be absolutely breathtaking. Watch the highlights from this game. If you knew nothing else about Ellis, you would have sworn he was one of the three best players in the league. There are nights when he's utterly unstoppable.
How many of those nights would we see if Ellis got to shoot 25-30 times a game? Can you imagine how fun that would be? For maybe the first time in history, it would be enjoyable to watch a team tank away a season.
This would have been a historical signing. What a shame.
Manu Ginobili—San Antonio Spurs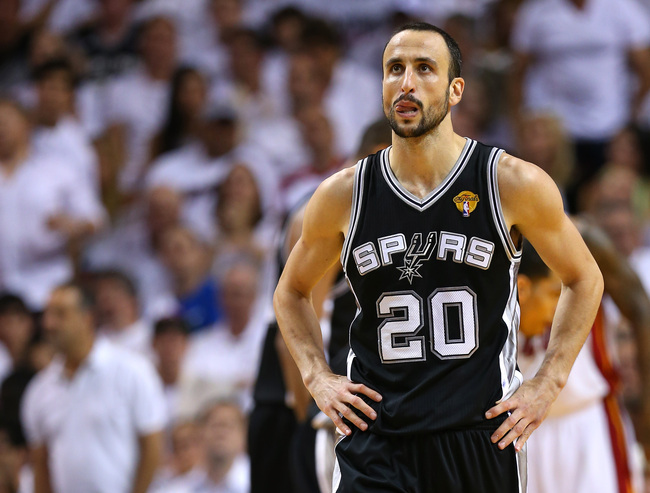 Manu in a different uniform? Never.
Mike Ehrmann/Getty Images
Even hypothetically, it feels weird picturing Manu Ginobili in anything but a San Antonio Spurs uniform.
Let's just move on.
Dwight Howard—Golden State Warriors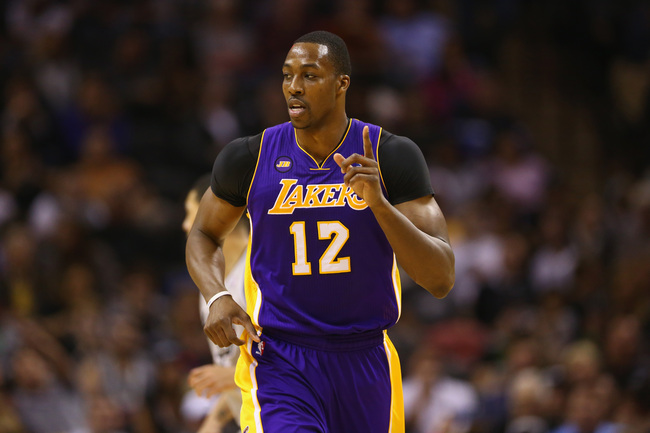 Just imagine Howard kicking the ball out to Stephen Curry. Unfair.
Ronald Martinez/Getty Images
The Houston Rockets were the right team for Dwight Howard. No doubt about it. Still, there are plenty of other teams that Howard would have fit well with, and the Golden State Warriors are at the top of that list.
Obviously, the Warriors would have had to clear a sizable chunk of cap space to actually sign Howard (as they did for Andre Iguodala), but for the sake of argument, let's just assume that they're able to do so (probably by trading Andrew Bogut) and that everything checks out.
To put it simply, the Warriors have everything on the Dwight Howard checklist. A phenomenal young guard to run pick-and-rolls with? Check. A polished 4 who can hit mid-range jumpers and play around the elbow? Check. Sharpshooting wings to kick it out to whenever a double-team comes? Check. You get the picture.
Now, the Warriors do play at a speed that's not quite suited to Howard's skill set (they were fourth in league pace last season per Basketball-Reference). He'd also have to do a lot of heavy lifting on the defensive end, and if his back is still giving him trouble, he might not be up to it.
But neither of those are exactly issues he'll avoid in Houston, and Howard could be just as deadly with Curry as he's sure to be with James Harden this season.
Andre Iguodala—Denver Nuggets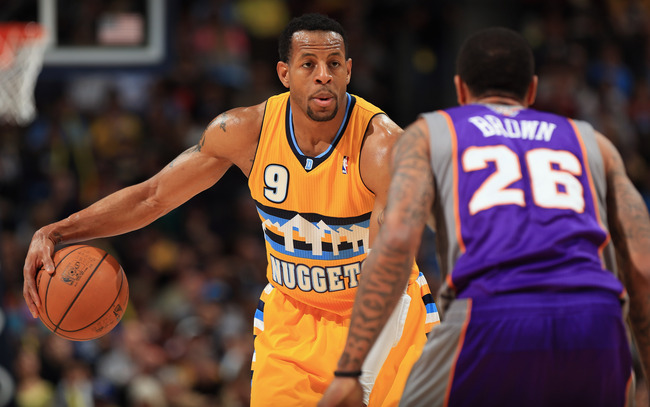 The Nuggets are really going to miss Iguodala this season.
Doug Pensinger/Getty Images
This is a pretty obvious one. The Golden State Warriors were a great choice for Andre Iguodala, but simply re-signing with the Denver Nuggets would have been just as good, if not better.
The Nuggets finished last season an impressive 57-25, good for third in a very competitive Western Conference. But if not for an absolutely brutal first few months schedule-wise (the Nuggets played 22 (!!) of their first 32 games on the road), they could have finished much higher.
The Nuggets, bolstered by the return of Wilson Chandler, went 40-10 over their last 50 games and tallied an average winning margin of 7.2 points per game over that same span (per NBA.com). They were murdering other teams.
Denver was a legitimate contender until Danilo Gallinari went down with a knee injury in early April. That's all that prevented it from making a deep playoff run. That's it.
Iguodala will likely thrive with the Warriors. But he was phenomenal with Denver last season, and had he re-upped with the club, he probably would have led it deep into the playoffs.
Al Jefferson—Atlanta Hawks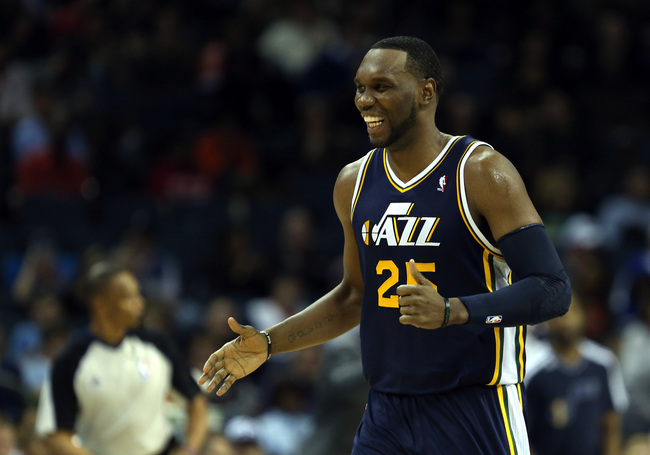 Jefferson's never been a strong defender, but he's one of the few back-to-the-basket bigs left in the game.
Streeter Lecka/Getty Images
The Atlanta Hawks have wanted to move Al Horford to the 4 for just about forever, and Al Jefferson could make that a reality.
In all honesty, the former Utah Jazz big the Hawks did sign (Paul Millsap) is a better all-around player than Jefferson. He's cheaper, more versatile and a significantly better defender. However, Jefferson is very good in his own right and is the better fit, making a potential do-over interesting.
Jefferson is an efficient post and pick-and-roll player, and his presence on the low block would free Horford up to play primarily at the high post and the elbow (per Synergy Sports Technology). Spacing issues slowed the Hawks' offense against strong defensive teams last season (they finished 18th overall per Basketball-Reference), and a Jefferson-Horford pairing could be enough to vault Atlanta into the top 10.
Jefferson would give the Hawks some defensive headaches, as he would for any team he signed with. He's slow, limited vertically and prone to mistakes—not a great combination. But he'd do worlds of good for Horford and Jeff Teague (and even Dennis Schroeder, for that matter) and would be especially dangerous with a shooter like Kyle Korver hanging around the perimeter.
Millsap may end up being very, very good for the Hawks, but Jefferson potentially could have been even better.
Kevin Martin—Atlanta Hawks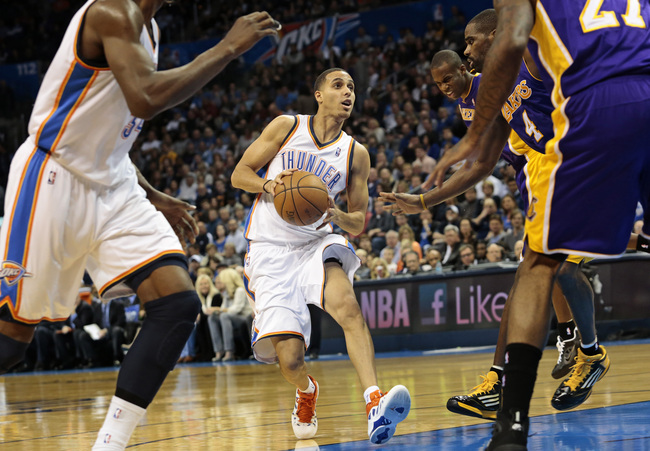 Martin's an efficient scorer who can knock down shots with the best of them.
Brett Deering/Getty Images
Kevin Martin wouldn't have enabled Al Horford to move to the 4, but he still would have complemented him quite nicely.
The Atlanta Hawks don't have a true shooting guard. Lou Williams plays the part in spirit, but he's very undersized for the position and is better used running the offense off the bench. Martin's no longer the elite scorer he was in the past, but he's a fantastic shooter (43 percent from three last season), can get to the line at a solid clip and runs a half-decent pick-and-roll.
Martin was never going to find a cushier situation than what he had with the Oklahoma City Thunder, but playing for the Hawks would have been (believe it or not) pretty close. Al Horford draws a lot of attention in the paint, Kyle Korver stretches defenses better than just about anyone in the league and Jeff Teague has become a solid slash-and-kick threat.
For a guy who makes his living behind the arc and at the line, those are some pretty good teammates.
O.J. Mayo—Minnesota Timberwolves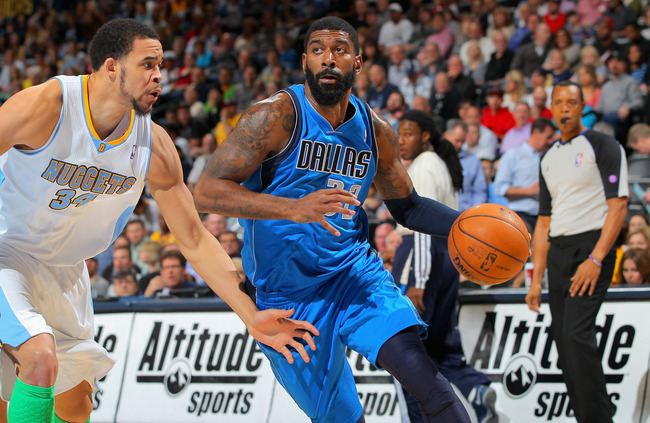 Mayo established himself as a consistent outside threat last season.
Doug Pensinger/Getty Images
The Minnesota Timberwolves understandably targeted Kevin Martin in free agency, but O.J. Mayo would have been a nice pickup as well.
What the Timberwolves really needed was a consistent wing shooter, and that's what O.J. Mayo is. In fact, in a lot of ways, he's the poor man's Kevin Martin.
Mayo gets to the rim a touch more than Martin, but both do the majority of their work from outside, with Martin grading as a more efficient scorer (60 percent career true shooting compared to Mayo's 54 percent per Basketball-Reference).
It's worth mentioning that Mayo is at least a better defender than Martin. Neither are particularly good, but Martin is an enormous minus on that end, and Mayo is at least competent. He's also a good deal younger than Martin (and less injury-prone) and could still grow as a player.
It's hard to say that Mayo could have given more than Martin will, but he wouldn't have been a bad consolation prize.
Paul Millsap—Utah Jazz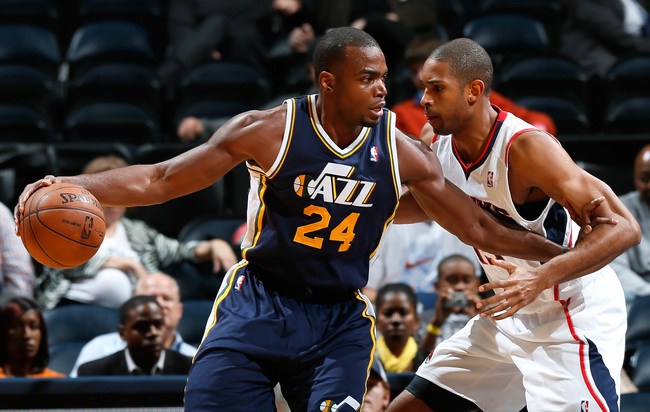 Millsap and Horford will be a great combination.
Kevin C. Cox/Getty Images
The argument against the Utah Jazz re-signing Paul Millsap is obvious—they don't want him stealing key developmental minutes from their young bigs. But Millsap is a talented forward available at a good price, and players like that don't come around often.
Millsap probably would have had to accept a slight minutes decrease to re-sign with Utah, but his role in the offense would have been much bigger than in years past.
Just take a look at the Jazz roster. Their best offensive talent (by far) is Gordon Hayward. Hayward's a good young player, but he's not exactly capable of putting an offense on his back. And who's the next option? Alec Burks? Maybe Trey Burke?
The Jazz are going to be borderline unwatchable on the offensive end barring some big improvement from Derrick Favors or Enes Kanter (which can't be ruled out), and Millsap's post and isolation scoring could have made things look a lot nicer. Millsap's also a very good defender and could have been a staple on what should soon be a strong defensive team.
Plus, it's not as though Millsap signed a long-term deal with the Atlanta Hawks. Even if he had landed a featured role on the Jazz for two or so years, it wouldn't exactly ruin Favors' and Kanter's futures.
Chris Paul—Detroit Pistons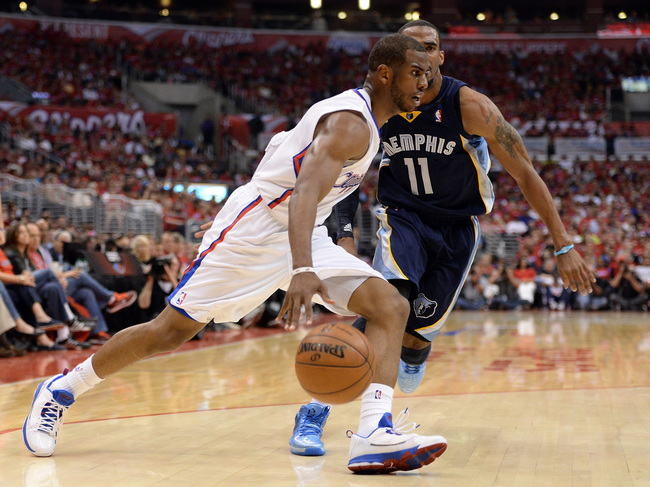 Point guards don't get much better than Chris Paul.
Harry How/Getty Images
Everyone knows that Chris Paul is the best point guard in the league, and he'd be a great fit on any team. He's one of the rare guys who can play any style, any system and excel in it. Which really makes this pick more about Andre Drummond than Paul.
Drummond has more two-way potential than any young player in the league aside from maybe Anthony Davis. He's just 20 years old and already does things that leave you breathless—like picking Dwyane Wade's pocket twice in less than a minute, throwing down a monster dunk or taking Shane Battier off the dribble.
Drummond was a valuable player last year based on his raw ability alone. He averaged 14 points and 13 rebounds per 36 minutes (per Basketball-Reference) and was one of the top roll men in the league despite playing with a frankly poor pick-and-roll guard like Brandon Knight (per Synergy Sports Technology).
Just imagine what Chris Paul—perhaps the best pick-and-roll player in the game today—could do with him.
Drummond and Paul could have been the best pick-and-roll duo since John Stockton and Karl Malone. That's not hyperbole. The Los Angeles Clippers have done a great job this offseason, and Paul made the right call in staying. But he could have been fantastic in Detroit.
J.J. Redick—Oklahoma City Thunder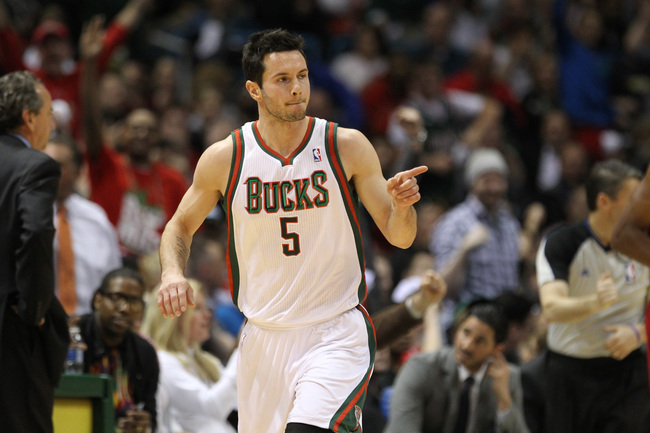 J.J. Redick can heat it up from outside.
Mike McGinnis/Getty Images
J.J. Redick never actually had a shot at landing on the luxury tax-conscious Oklahoma City Thunder, but it's a hypothetical list, right? And OKC would be just about the perfect destination for Redick.
One of the few holes in the Thunder's top-notch offense is wing shooting—with Kevin Martin gone, the Thunder simply aren't quite the same threat from outside they were last season. Not barring a leap from one of Jeremy Lamb or Reggie Jackson, anyway.
Redick's a top-notch shooter who would make a Jackson-led second unit even more potent. Jackson is a fantastic pick-and-roll player (sixth in scoring efficiency last season per Synergy Sports Technology), and he'd find getting to the rim even easier with Redick drawing attention on the wing.
Defensively, Redick would be a huge help, too. He's no lockdown defender, but he's worlds better than Martin, and the Thunder could seriously contend for the league's top defense with him on the squad.
Josh Smith—Dallas Mavericks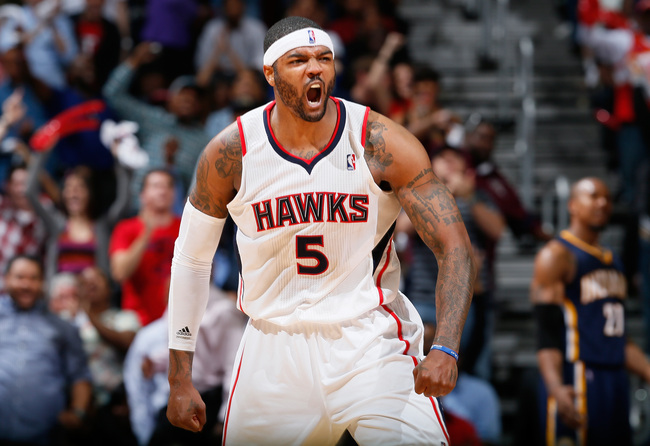 You could pick no better teammate for Josh Smith than Dirk Nowitzki.
Kevin C. Cox/Getty Images
Josh Smith has always had two big weaknesses: an inability to shoot jumpers and a penchant for taking them anyway. Neither of those problems would be quite so crippling if Smith was paired with a great shooting big, and that makes the Dallas Mavericks just about the perfect fit for him.
Smith proved with the Atlanta Hawks that he can excel regardless of who he plays with, primarily because he's such a smart passer and pick-and-roller. But alongside a big with range (and who fits the description better than Dirk Nowitzki?), it would really open up his game and do wonders for him offensively.
Last season, Smith shot 78 percent at the rim (ninth in the league) and sub-40 percent from everywhere else on the floor (per HoopData). So long as he's in reach of the basket, Smith is an efficient offensive player. He just can't shoot jumpers, something he was virtually required to do in Atlanta so that opponents couldn't simply clog the paint with extra defenders.
In Dallas, Smith could stay around the paint and initiate a lot of offense while Nowitzki spotted up on the wing.
Smith has never been a stellar post player, but his efficiency would get a healthy bump simply from playing with Nowitzki. Obviously, the Mavs wouldn't want Smith initiating all the offense, but even when Dirk had the ball around the elbow, they could run sets similar to what the Hawks did with Smith and Al Horford.
The one problem with Smith coming to Dallas is obvious—it would relegate Shawn Marion (who's still playing great basketball) to the bench. But so long as that's a non-issue (and Marion would be a killer reserve), then this is the optimal destination for Smith.
He'd give Dallas a hefty defensive boost, add some much-needed athleticism and even open up the possibility of some intriguing small lineups with him or Nowitzki at the 5.
Plus, it would mean that Mavs fans could finally be happy about an offseason for a change.
Keep Reading