Mayweather vs. Canelo Showtime All Access: Best Moments from Episode 1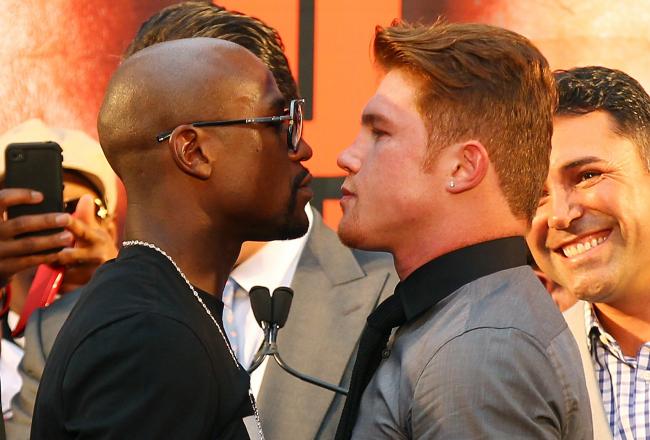 Mike Stobe/Getty Images
Stop us if you've heard this before.
Floyd Mayweather Jr. is preparing for a big-money fight in Las Vegas. His Latino opponent is younger, stronger and surrounded by a cadre of supporters with a litany of reasons why their man will be the one to knock the cocky "Money"—now 36 years old—from the ranks of the unbeaten.
Four months ago, the challenger's name was Robert "The Ghost" Guerrero, and from the instant the Showtime All Access cameras focused on him and his entourage, there was nary a glint of doubt within those ranks that the former two-division champ was up to the upset task.
Problem was, not so many other people believed it. And they were ultimately proven right when Mayweather won a unanimous May 4 decision—taking nine of 12 rounds on all three scorecards.
Four months hence, the next in line is Saul "Canelo" Alvarez, and, while he shares the Latino heritage with Guerrero as well as the edges in youth and strength over Mayweather, the feeling that he'll give the incumbent pound-for-pound king a push on Sept. 14 seems far more prevalent.
While Mayweather was anywhere from a 6-to-1 to a 9-to-1 favorite to handle the smaller, less-polished Guerrero, he's a much less-certain 2.8-to-1 pick to deny Alvarez—who turned 23 years old in July—a 43rd victory in his 44th fight since turning pro as a 15-year-old in 2005.
It's a view—albeit an admittedly partisan one—shared by Oscar De La Hoya, Alvarez's promoter and a longtime Mayweather rival dating back to their 2007 fight (won by Mayweather via split decision) that set a pay-per-view record with 2.4 million buys.
"I respect that (Mayweather has) beaten everybody and that he still has that 0 on his record," De La Hoya said. "But one thing that Mayweather has to understand is that my fighter is going to kick your ass."
Still Feuding After All These Years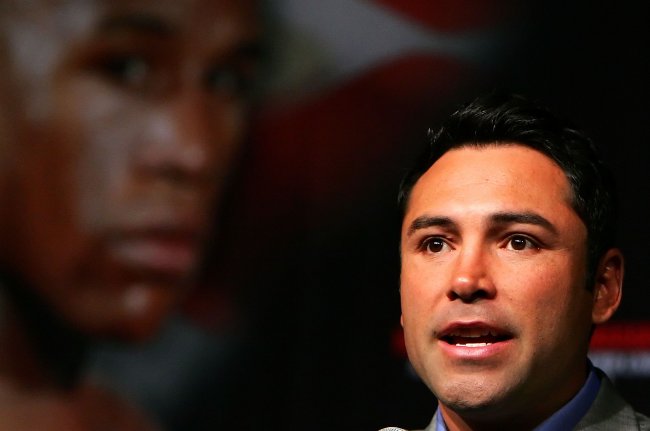 Al Bello/Getty Images
Though De La Hoya has since retired to the world of full-time promoting and the two men have worked together on several fights in the six years since they went head to head, it's clear that the man known as the "Golden Boy" still has some excess venom when it comes to Mayweather.
The two were frostily cordial throughout the 10-city press tour to promote the fight in late June and early July, though lingering tensions clearly manifested themselves on the final stop in Los Angeles.
Mayweather and business partner Leonard Ellerbe reacted with visible amusement when De La Hoya introduced Alvarez—who's had seven title fights as a pro—as "boxing's biggest star," and Mayweather upped the ante in his subsequent remarks, suggesting that he's the rightful owner of the Golden Boy nickname because, "I done beat everybody on your whole crew."
"Canelo is such a big star, but he's never been on pay-per-view unless he was on my undercard," Mayweather said. He then continued in a mock worshipping voice, as a grimacing De La Hoya sat one chair away, "But he's such a big star. He's such a big star, Oscar."
Fighting Father Time
Odds and rivalries notwithstanding, the timing of the match with Alvarez does constitute a break with recent tradition for Mayweather, who's been one of the sport's least-active big names in recent years.
If all goes off as planned on Sept. 14, it will be the first time Mayweather has fought twice in the same calendar year since 2007, when he defeated De La Hoya in May and stopped then-unbeaten Ricky Hatton in December.
Additionally, the four-month, 10-day turnaround since the Guerrero fight is his shortest between two fights since he beat Diego Corrales (TKO 10) and Carlos Hernandez (UD 12) on Jan. 20 and May 26, 2001, respectively.
Still, where some see the cracks of age, Mayweather intones the value of experience.
"It makes me feel good that a guy like Canelo was young, coming up watching me," he said. "He, of course, admired me as a kid. I've seen him fight a few times, seen him roll his shoulder. I've seen him try to use some of my defensive moves. My job is to go out there and just don't let him use none of my moves on me."
A Fighting Father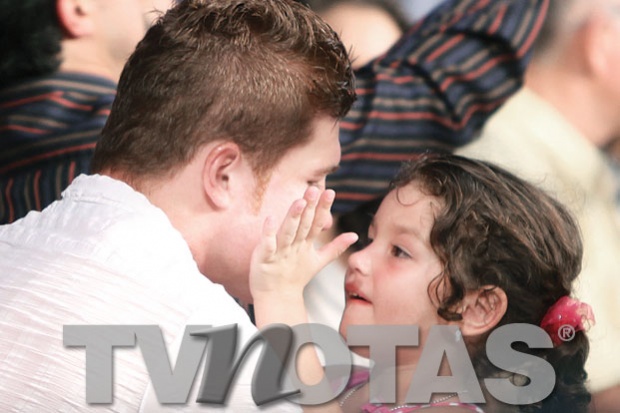 The initial episode provided a rare glimpse at a daughter Alvarez said he fathered when he was 16 years old, though he wouldn't allow her face to be shown directly.
"I don't like for her to be on camera," he said. "I don't like for her to be seen."
He claimed fatherhood has made him a better and more disciplined man, and that the youngster provides motivation for him to work hard to ensure her a good life.
Upon leaving his local training camp in Mexico for several weeks of more intense fight prep in Big Bear, Calif., Alvarez said the separation is more difficult than the workouts.
"The hardest part is leaving my daughter for such a long time," he said. "But besides that, everything is good."
Father Knows Best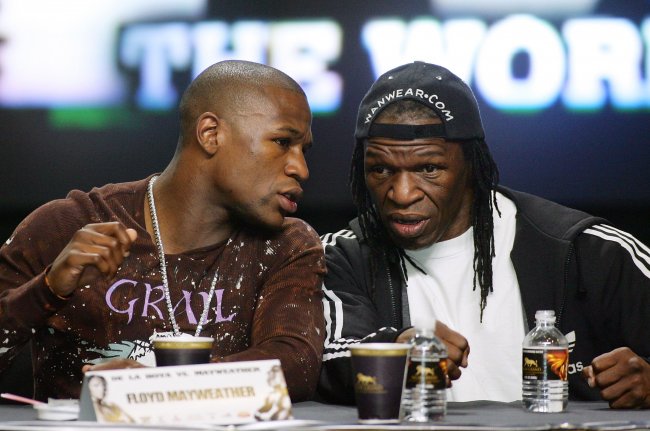 Ethan Miller/Getty Images
The Mayweather training camp, at least on a first pass, was noticeably free of the family infighting that had been front and center on previous pre-fight behind-the-scenes shows.
He said his father, Floyd Mayweather Sr., would be the lead trainer for the second consecutive fight, while his uncle, Roger Mayweather, was shown in the gym with him doing in-ring work on the pads.
Roger Mayweather had been the lead man in the corner on fight night for several years, but he was removed from that role after last working the Miguel Cotto fight in 2011—a night on which Mayweather won a unanimous decision but took more punishment than he'd become accustomed to.
Before the Guerrero fight, Mayweather claimed his uncle's diabetes had affected his vision to the point where a change was needed.
"I love my uncle and you know I love my father. We have a great team. We work good together," Mayweather said. "Me and my Uncle Roger, in the boxing gym, I think we're still sharp. My dad is a great guy. In the past, we weren't on the same page, but now we're on the same page. He respects my opinion and I respect his opinion."
Unless otherwise noted all quotes were obtained from Showtime's All Access Mayweather vs. Canelo Episode 1, which aired on Aug. 24, 2013.
This article is
What is the duplicate article?
Why is this article offensive?
Where is this article plagiarized from?
Why is this article poorly edited?