Burning Questions for the Green Bay Packers' 2013 Season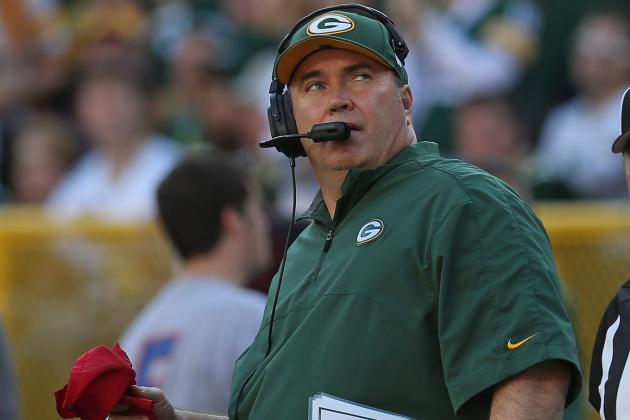 Jonathan Daniel/Getty Images

Now that the Green Bay Packers have finished their preseason schedule, which saw the squad go 1-3 versus their opponents, I have a number of questions regarding Mike McCarthy's 2013 team.
The Packers had a number of injury issues in training camp, plus McCarthy allowed the younger players on the team to get a lot of playing time this preseason. Some of those young players flashed excellent potential, while others did not fare so well.
General manager Ted Thompson and McCarthy will be deciding between today and tomorrow which 53 players will make the final roster going into the 2013 season.
Time will tell how that all will play out, but I do have some pressing questions that the 2013 Packers' team will need to answer this season.
Begin Slideshow

»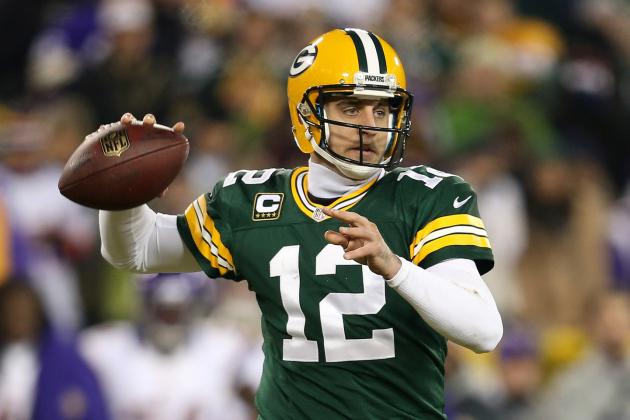 Andy Lyons/Getty Images

In the last two seasons, quarterback Aaron Rodgers threw 84 touchdown passes, versus just 14 interceptions. No. 12 also threw for 8,938 yards and had a combined quarterback rating of 115.3.
Rodgers also won the NFL MVP award in 2011, plus won NFL passing titles the past two years, and was named the starting quarterback in two straight Pro Bowls.
Can Rodgers do as well or better in 2013? I don't see why not. Rodgers still has the Big Three at wide receiver. I'm speaking of Randall Cobb, Jordy Nelson and James Jones. Plus, it looks like tight end Jermichael Finley is poised for his best season ever in the NFL.
The Packers also added talented rookie running back Eddie Lacy, which should bring the safeties closer to the line of scrimmage this year, which was not the case in 2012. Last year, teams more often than not played their safeties deep against the Packers because of a lack of respect for the Green Bay rushing attack.
That should change with Lacy in the backfield and give Rodgers more options in the deep passing game.
Yes, there are some questions on the offensive line, especially at left and right tackle. But Rodgers has one of the quickest releases in the NFL and has excellent mobility in escaping opposing pass-rushers. Even with that, Rodgers was sacked 51 times last year.
Some of those sacks were on Rodgers, as he is constantly looking for the big play, plus he refuses to force balls into tight coverage areas.
Bottom line, history is a great blueprint for the future in many ways, and I see Rodgers having similar success this season, just like he did the past two years.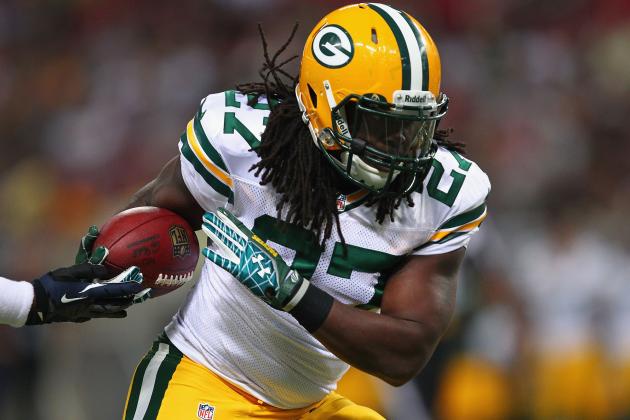 Dilip Vishwanat/Getty Images

The last time the Packers had a 1,000-yard rusher was in 2009, when Ryan Grant rushed for 1,253 yards. The last time the Packers had a 100-yard rusher in a game was on October 10, 2010, when Brandon Jackson ran for 115 yards versus the Washington Redskins.
That was 43 regular-season games ago. The Packers hope that they finally have a running back who will topple both of those marks in the near future with the addition of rookie Eddie Lacy.
Lacy had a fantastic senior season at Alabama last season, when he rushed for 1,322 yards, plus had 17 touchdowns. Lacy also came up big in the SEC Championship Game (181 yards rushing and two touchdowns), as well as the BCS National Championship Game (140 yards rushing and two total touchdowns), when the Crimson Tide won their third national title in four years.
No. 27 has shown enough in training camp this year and in the preseason to give the Packers some confidence for the future regarding their running attack. Lacy is a punishing runner, a solid receiving threat and has held up very well in pass-blocking in blitz-pickup drills.
Because of those traits, Lacy can be a three-down back who will be given plenty of opportunities to excel in the offense of the Packers this season and in years to come.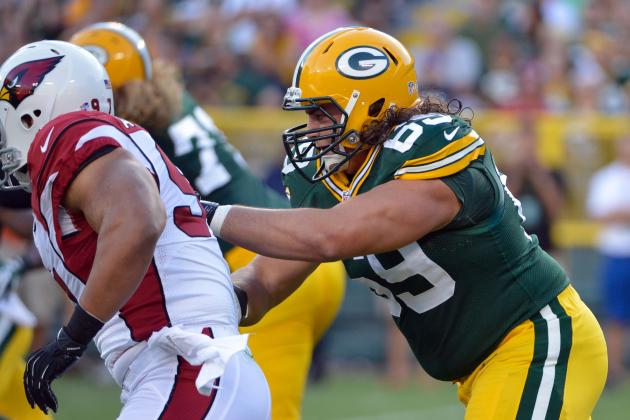 Benny Sieu-USA TODAY Sports

When the Packers take on the San Francisco 49ers on September 8, the Packers will be starting rookie David Bakhtiari at left tackle and second-year offensive lineman Don Barclay at right tackle.
Barclay started six games (including the postseason) at right tackle for the Packers last season, after making the team as an undrafted rookie.
The Packers were expecting to have Bryan Bulaga at left tackle this season, until Bulaga suffered an ACL tear during the Family Night scrimmage. That injury put Bakhtiari at that position, after looking good at right tackle early in camp.
Barclay was getting a lot of looks inside (guard and center) early in camp, but that changed after the Bulaga injury. Barclay has outperformed Marshall Newhouse at right tackle this preseason. Newhouse looks to be the backup at each of the offensive tackle positions.
Overall, Bakhtiari has played solidly at left tackle this summer, especially in pass protection. On the other side, Barclay is a very good run-blocker, who is working hard with his pass-blocking technique, where he has had issues with edge-rushers.
Time will tell how Bakhtiari and Barclay will hold up this season, but both young players certainly have the ability and a strong work ethic to play effectively.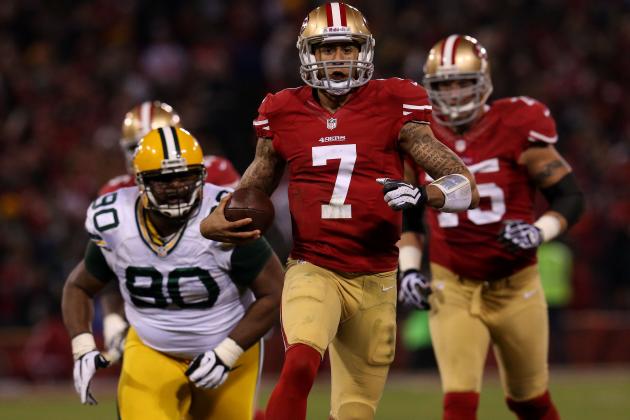 Stephen Dunn/Getty Images

The Packers and 49ers will play on opening weekend in San Francisco on September 8. The last time the two teams met there was in an NFC divisional game, when the Niners rolled up 579 total yards in a 45-31 win over the Packers.
Quarterback Colin Kaepernick had 444 total yards just by himself. The Packers just could not handle the read-option offense that the 49ers used often in that game.
Ted Thompson certainly remembered that game when he selected defensive end Datone Jones in the first round of the 2013 NFL draft. Jones had a very nice senior season at UCLA, when he had a lot of success playing against teams who used the read-option.
With Jones on hand, as well as players like outside linebacker Nick Perry, who plays the run very well, the Packers should be able to handle the read-option much more effectively, when the Packers play teams like the 49ers and Washington Redskins who utilize that scheme from time to time.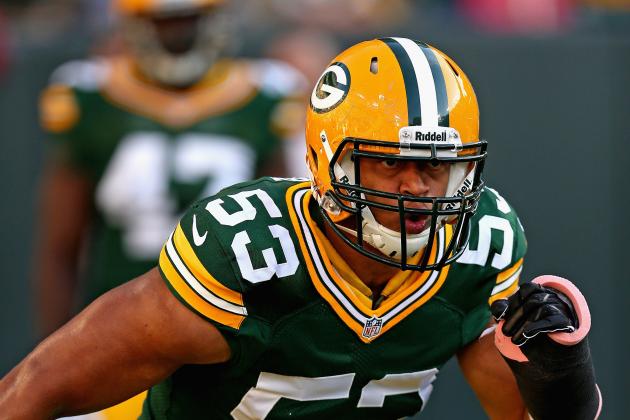 Jonathan Daniel/Getty Images

When the Packers drafted Nick Perry in the first round of the 2012 NFL draft , the expectations were that the team would have a bookend to complement Clay Matthews at outside linebacker. Matthews has 42.5 sacks in his four-year career so far and has been named to four straight Pro Bowls.
The process came slowly for the athletic Perry, who played defensive end at USC. Perry was also hampered by wrist and knee injuries, and the wrist injury caused Perry to be put on injured reserve after playing in just six games.
Outside linebackers coach Kevin Greene has worked very hard with Perry both last year and this summer, and Perry has had his moments. No. 53 is very good against the run and certainly has the ability to get after the passer.
Greene is also tutoring other young outside linebackers like second-year player Dezman Moses, as well as rookies Nate Palmer and Andy Mulumba.
In addition to that, Mike Neal has been getting a lot of lessons by Greene at the position too, as he has played there as well as getting some time at defensive end.
Bottom line, I see Matthews having a great season, thanks in part to the play of the effectiveness of his counterparts at outside linebacker.
Scott Rovak-USA TODAY Sports

You can't say the Packers haven't given kicker Mason Crosby some competition this training camp. First the Packers brought in Giorgio Tavecchio to push Crosby this summer and then later brought in another kicking prospect in Zach Ramirez.
Through it all, Crosby ended up winning the job, although restructuring his contract with the Packers helped his cause as well.
Crosby originally got that contract after having a great 2011 season, when Crosby made 24 out of 28 field goals that season (85.7 percent).
But the 2012 season was nothing like the 2011 campaign for Crosby, when he made only 63.6 percent of his field goals, as he made only 21 of 33 field-goal attempts.
The Packers want Crosby to be the kicker he was in 2011, and make over 80 percent of his kicks. In his career, Crosby has made 76.8 percent of his field-goal attempts.
Based on how he has performed this summer overall, even with a couple of bad days, Crosby looks to be more like he was in 2011, as opposed to 2012.
Benny Sieu-USA TODAY Sports

The 2013 regular season has not even started yet, and the Green Bay Packers have already had to place five players on injured reserve. Included in the group are starting left tackle Bryan Bulaga (ACL) and starting running back DuJuan Harris (knee).
The team also placed wide receivers Sederrik Cunningham and Kevin Dorsey, as well as linebacker Jarvis Reed.
The team also has four players on the PUP (physically unable to perform) list, as offensive tackle Derek Sherrod, safety Sean Richardson, offensive lineman J.C. Tretter and defensive lineman Jerel Worthy are part of that group.
The team also has an assortment of other key players who have had injuries. Wide receiver Jordy Nelson had a knee procedure earlier in camp, while fellow wide receiver Randall Cobb has been battling through a biceps issue.
The injury bug has also affected the defense, as both cornerback Casey Hayward and safety Morgan Burnett are dealing with hamstring issues, as has linebacker Brad Jones, while cornerback Tramon Williams just came back from a knee injury.
No. I pick Datone Jones is trying to recover from a sprained ankle. Jones has played the past two games with the injury at defensive end, and one can tell that his speed and quickness have been affected.
This almost looks like the 2010 Green Bay team, which ended up putting 15 players on IR that year. Through all of that, the Packers still went on to win Super Bowl XLV.
The Packers are talented enough to be Super Bowl contenders to battle through most of these injuries, but one person that the team can absolutely not afford to lose for any length of time is quarterback Aaron Rodgers.
Bottom line, you always want to put your best players on the field, and it is starting to look like the team is finally getting healthier.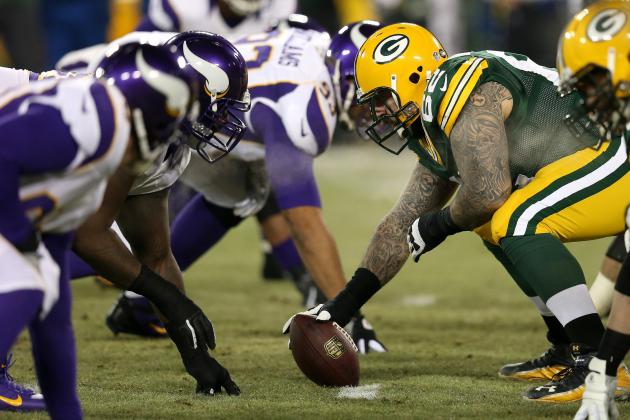 Jonathan Daniel/Getty Images

The Packers have won two straight NFC North titles. The NFC North is a very competitive division, which saw both the Minnesota Vikings and Chicago Bears have 10-6 records in 2012, which was a game behind the 11-5 Packers.
The Detroit Lions were 4-12 but were in the playoffs just the year before when they had a 10-6 record.
The Vikings, Bears and Lions have added talent to their teams this offseason, but the Packers still look to be the class of the division.
The main reason? Aaron Rodgers.
Rodgers is 6-4 versus the Vikings (regular season) and has thrown 24 touchdown passes compared to just four picks.
No. 12 is 8-2 against the Bears (regular season) and has thrown 19 touchdown passes versus just six interceptions.
Rodgers has also beaten both Chicago and Minnesota once in the postseason.
Against Detroit, Rodgers is 8-1 and has thrown 18 touchdown passes compared to five interceptions.
I see more of the same in 2013.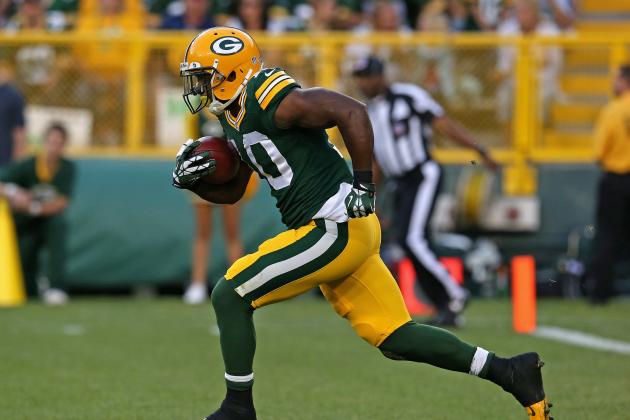 Jonathan Daniel/Getty Images

In his two years in the NFL, Randall Cobb has shown the ability to be a very good return man. Cobb has a career 26.5-yard return average on kickoffs with one touchdown, while he has 10.3-yard average on punt returns with two more touchdowns.
Because Cobb has become a big part of the Green Bay passing attack as a wide receiver (80 receptions for 954 yards and eight touchdowns last season), the Packers are looking at other options in the return game.
Last season after Cobb hurt his knee during a return, the Packers used Jeremy Ross on both kickoff and punt returns. Ross had a 28.7-yard average on three kickoff returns and had a 25.8-yard average on four punt returns.
Pretty impressive numbers for Ross, but he also fumbled a very costly punt in the playoffs versus the 49ers.
Ross has looked pretty good on returns this summer, as well as getting some looks as the No. 5 wide receiver for the Packers.
The Packers have also given defensive back Micah Hyde an opportunity on punt returns too. Hyde returned punts for Iowa in both 2011 and 2012. Hyde is considered to be very sure-handed, and he hasn't disappointed in that regard this preseason.
Between Ross and Hyde, I think the Packers will be fine in their return game.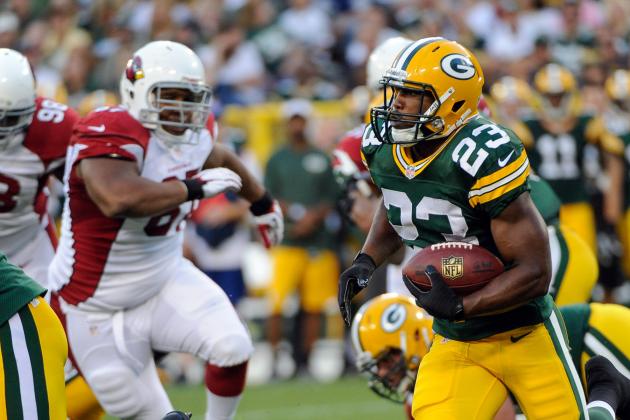 Benny Sieu-USA TODAY Sports

With DuJuan Harris going on injured reserve, it looks like rookie Eddie Lacy will get the majority of the carries for the Packers in their rushing attack.
We won't know how many running backs the Packers will keep on their roster until the final cuts are made, but there is a chance the team will keep four backs. Besides Lacy, the Packers also have young veterans James Starks and Alex Green, as well as rookie Johnathan Franklin.
Besides Lacy, all the backs have had their ups and downs this preseason, but Franklin may have gotten the edge as his backup after last night's performance versus the Kansas City Chiefs. Franklin had 23 yards on eight carries, plus had two catches for 11 yards.
Not earth-shattering stats to be sure, but Franklin ran hard and was exceptional on special teams.
Franklin is getting his act together at the right time, while both Starks and Green have been too inconsistent.
If Franklin, Starks and Green all make the team, I expect the Packers to go with the hot hand as the complement to Lacy's bruising running style.
Bottom line, the Packers want consistency in all phases of the game with their backs. Not just running the ball but as a receiver and blocker as well.