Aside from the moneybags Real Madrid and Barcelona who can afford to blow upwards of €50 million on benchwarmers, there is not a lot of cash around in the rest of La Liga. This sees most deals being made for very small amounts of money, in relation to the English game, with an awful lot of care being taken to make sure any incoming footballers have got the right stuff.
However, mistakes are always going to be made, so here are ten that may cost their clubs a pretty penny or two over the seasons to come. All transfer details courtesy of the very excellent, www.transfermarkt.co.uk
10 - Javier Arizmendi: Getafe to Deportivo - free transfer
A deeply indebted Deportivo can barely afford to pay for office coffee sachets, never mind the wages of a footballer who has been uniformly hopeless at every single club the striker has turned out for. Arizmendi's wages would be better spent betting on a three-legged horse in the Grand National.
9 - Neymar: Santos to Barcelona - €57 million
The one footballer this summer that can live on both best and worst signings lists simply for the potential of everything to go oh so right and and oh so wrong at the same time. The Brazilian is a true footballing paradox.
8 - Miguel De Las Cuevas: Sporting to Osasuna - €1.2 million
The midfielder is still dining off one good season for Sporting back in the 2009-2010 campaign that produced eight goals. Only four league efforts were scored by the former Atletico Madrid footballer in the past two seasons with Sporting. One of those campaigns was in the second tier of Spanish football. Which is not that good.
7 - Jairo: Racing Santander to Sevilla - €2.5 million
A curious signing if ever there was one. Why not blow a stack of millions, bringing in a young Cantabrian from a club that has just experienced back-to-back relegations to the third tier of Spanish football.
6 - Xavi Torres: Getafe to Real Betis - €2.8 million
A midfielder who gets a gig by pointing to the section on his resume marked "Barcelona", where the footballer spent three seasons. Torres did absolutely nothing of note at Getafe last year, along with most of his teammates. Apparently, the effort was sufficient to persuade Betis to bring the player in, to replace Benat who did one to Athletic Bilbao.
Gonzalo Arroyo Moreno/Getty Images
5 - Pedro Leon: Real Madrid to Getafe - €6 million
The astonishing fact about Pedro Leon's move to Getafe after two seasons on loan from Real Madrid is that the Coliseum club have bought the player twice now. In 2009, when the midfielder was admittedly half-decent, the Murcian moved from Valladolid for €4 million. A good season in south of Spain's capital city saw Real Madrid scoop the wide man up for €10 million.
After a total rejection by Jose Mourinho, the 26-year-old went back to Getafe and did precisely nothing in a second spell. Still, that has not stopped La Liga's most pointless team throwing more good money after bad on the footballer.
4 - Tomas Pina: Mallorca to Villarreal - €5 million
Two questions for two sets of people having a look at this transfer. Those who dabble in La Liga will ask who Tomas Pina is. The other group who are familiar with the footballer will wonder what on earth drove Villarreal into paying Mallorca €5 million for the midfielder's services.
This is not to say that the 25-year-old is not perfectly fine, despite playing 36 matches in a league campaign that saw his team relegated last season. It is just that Pina is a bit of place-filler of a player, not exactly a figure who especially stood out and shouted "hey, I'm worth five million, me."
3 - Kike Sola: Osasuna to Athletic Bilbao - €4 million
Finding a footballer who is vaguely competent in front of goal and can squeeze through Athletic's stringent "local club for local people" policy sees the Bilbao-based outfit being thoroughly ripped off by Osasuna for this particular purchase.
The former Osasuna striker is worth about €1 million, but the fact that Athletic are not exactly able to shop around for alternatives has driven up the price. Admittedly, the Navarre-born footballer scored nine for the Pamplona club, last season, but the forward's record reflects 12 strikes in five Primera campaigns for the 27-year-old who is now far too old to even hope of getting any better with Athletic Bilbao.
2 - Asier Illarramendi: Real Sociedad to Real Madrid - €30 million
The creative midfielder may blossom into the finest of footballers—after all, the former La Real man is already an excellent player—but as soon as the deal was announced, the first thought was that Real Madrid had lost their minds in the transfer market again.
If €30 million is going to be splurged on a midfielder, then better make it sure that it is someone who has a bit of league experience under the hood. Do not shell out that much on a player with just 53 La Liga games. Again, this is not to say that Illarramendi is not a great footballer, it is just that the fee paid out by Real Madrid is an awful lot for promise rather than long-term proven quality.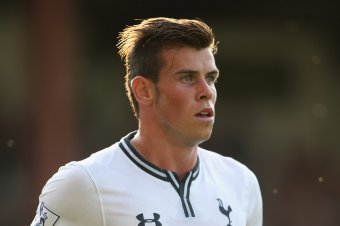 Mark Thompson/Getty Images
1 - Gareth Bale: Tottenham Hotspur to Real Madrid - Far too Much
Technically speaking, no move has taken place at time of writing. But it may do. Anyway, even at this hypothetical stage, the size of the transfer is so preposterously big that even the possibility of the deal has broken the dimensional barriers into our reality. Real Madrid could be spending €100 million on a footballer who is both not worth the money by a fifty percent margin, and is not needed at all at the Santiago Bernabeu. Madness. Utter madness.