Mexican Liga MX Player Power Rankings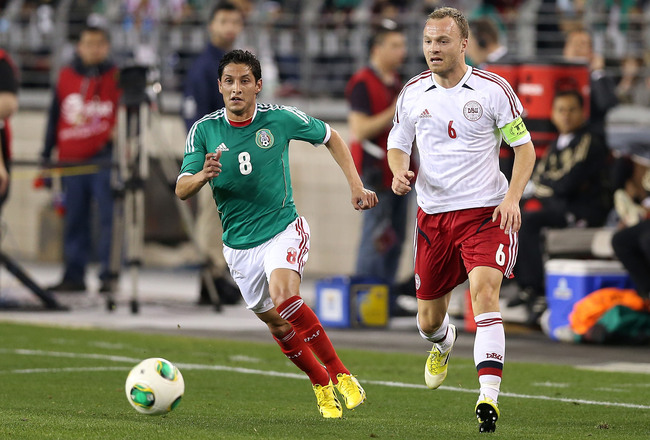 Angel Reyna made his professional debut with San Luis in 2005.
Christian Petersen/Getty Images
After seven matchdays we have seen some unforgettable performances in the Liga MX. Mexican and foreign players have battled to take their teams to the top of the general table.
Several have stood out for their consistency and leadership on the pitch. Some have surprised us with amazing goals; others with creativity and strategy.
Let's find out who are the footballers that have made the cut in these power rankings.
Honorable Mentions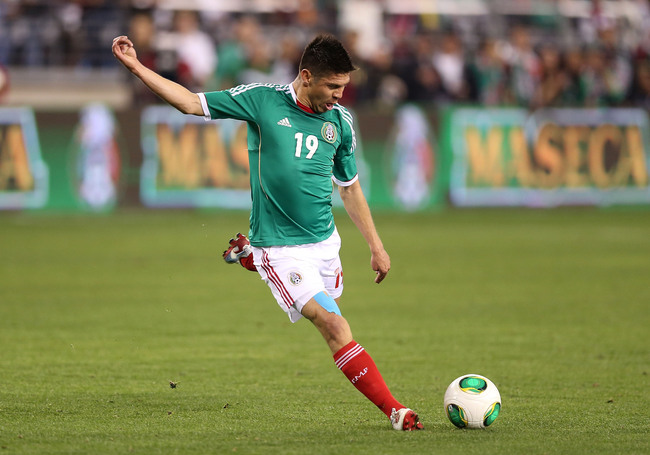 Oribe Peralta was named Best Player of the 2012 Clausura tournament.
Christian Petersen/Getty Images
Raul Jimenez (America)
At age 21, Raul Jimenez has already won one Liga MX title. This season, he has scored four of America's 12 goals. His club leads the general table despite having two pending games.
Walter Ayovi (Pachuca)
He arrived this summer from Monterrey. His tough defending from the left side of the pitch has helped Pachuca become the third-best defensive of the tournament.
Oribe Peralta (Santos)
After missing two games (one due to a knee injury and another for suspension), Oribe Peralta has scored five times in the 2013 Clausura tournament.
Luis Angel Mendoza (America)
El Quick arrived this season to America from San Luis. Luis Mendoza has given the club ball possession, creativity and clarity in the attack. He has scored twice already.
Aldo Leao Ramirez (Morelia)
The Colombian has helped Morelia organize the midfield. He is an experienced player that provides stability and ball control.
5. Rafael Marquez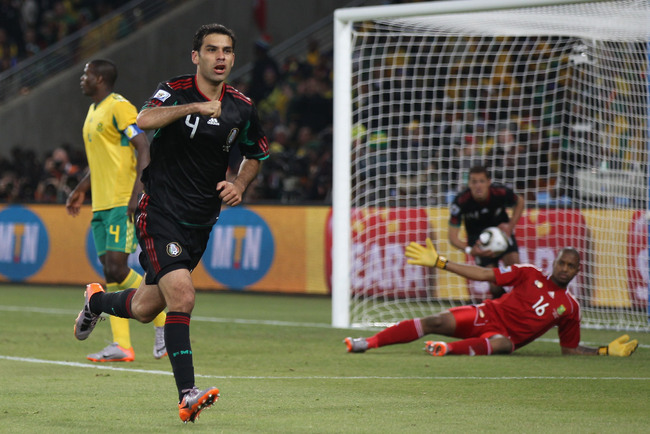 In Mexico, Rafael Marquez has played for Atlas and Leon.
Phil Cole/Getty Images
Despite being 34 years old, Rafael Marquez continues to be one of the best defenders in Mexican football. His leadership has helped Leon to second in the general table.
The Panzas Verdes have only five goals against, meaning they are the second-best defense in the 2013 Clausura tournament.
Physically, it is clear that Marquez is not at his prime, but his fine touch becomes a game-changer.
4. Joao Rojas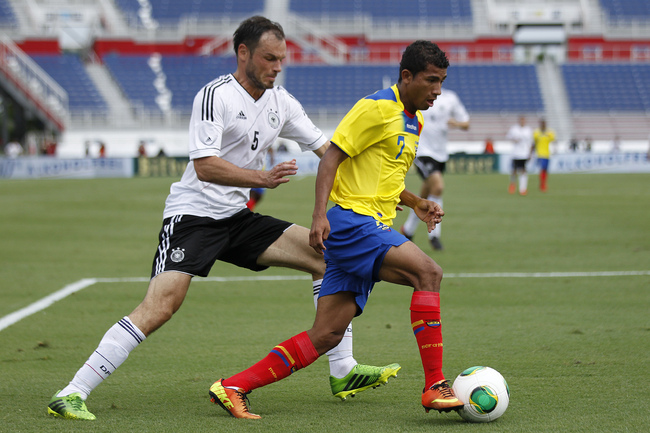 Joao Rojas has appeared 16 times with Ecuador national team.
Joel Auerbach/Getty Images
Joao Rojas arrived in Mexico in 2011 from the Ecuadorian club Emelec. His first experience in the Liga MX was with Morelia, and now he is playing for Cruz Azul.
This season, Joao has given La Maquina a new face in the left side, balancing what Pablo Barrera does on the right. He is very fast and his dribbling skills are superb.
Aside from being a very unbalancing footballer, he also has a gifted right foot.
3. Pablo Velazquez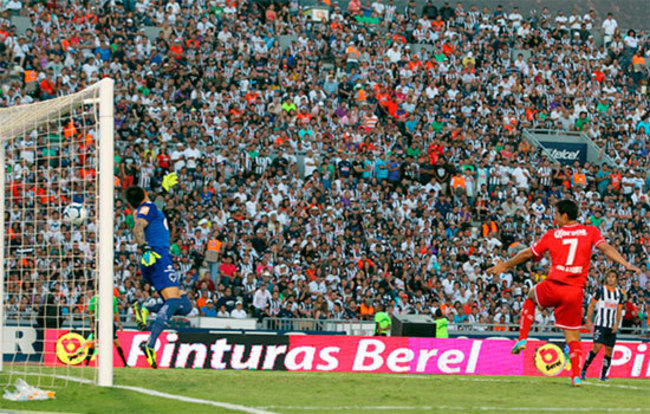 Pablo Velazquez has scored 73 goals since his professional debut. Photo: Toluca FC

Pablo Velazquez has surprised everyone in his first Liga MX tournament. He is a 26-year-old from Paraguay who plays for Toluca.
He is a very classy footballer that works hard to get the ball. Under the command of Jose Saturnino Cardozo, who used to play for Paraguay national team and Toluca, Velazquez has proven to be a very worthy buy.
His header is certainly his trademark, while his speed and strength give him the chance to run past the defenders with ease.
2. Jefferson Montero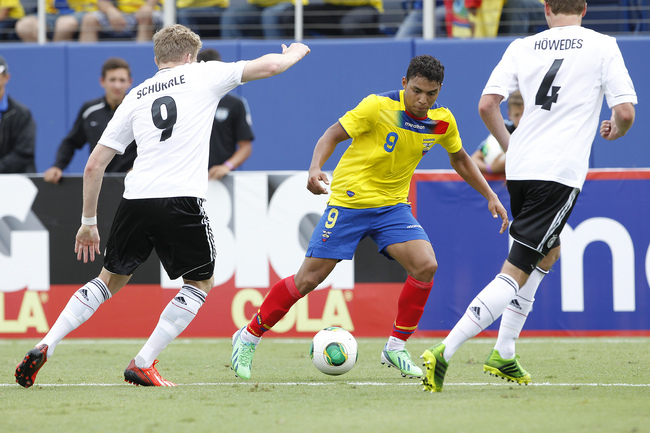 At age 23, Jefferson Montero has scored six times with the Ecuador national team.
Joel Auerbach/Getty Images
Jefferson Montero is one of the most complete footballers in the Liga MX right now.
The Ecuadorian has worn the Morelia jersey since last year. Montero has made a fantastic partnership with Hector Mancilla and Aldo Leao, giving Monarcas the second-best offense so far.
Jefferson is fantastic when coming from the left side. He is fast and skillful, especially when he cuts into the box and faces the goalkeeper. Montero is one of the most explosive footballers.
1. Angel Reyna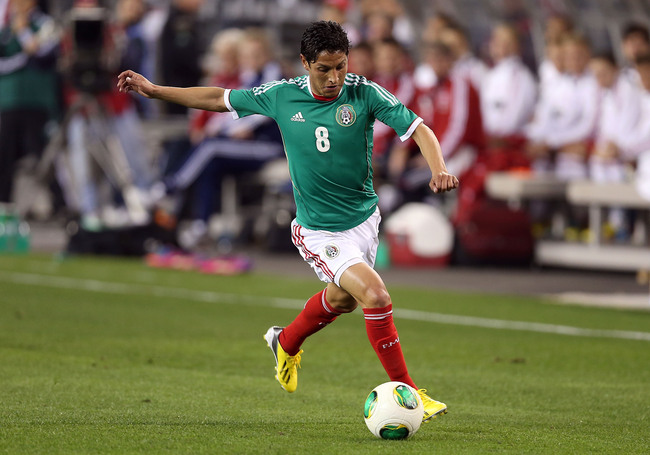 Angel Reyna was the Clausura's top scorer in 2011.
Christian Petersen/Getty Images
The Mexico international is going through his best moment; he is the top scorer with seven goals so far.
Reyna left Pachuca after one season and arrived in Veracruz for this tournament. With his help, the Tiburones Rojos have become a lethal club; they have only lost once and have scored 12 goals.
Reyna has developed an amazing touch, especially with the right foot, but also has an enviable creativity that gives depth to the team. He can help the club with goals, but also with playmaking.
Keep Reading