What We Learned from Cincinnati Bengals 'Hard Knocks' Episode 4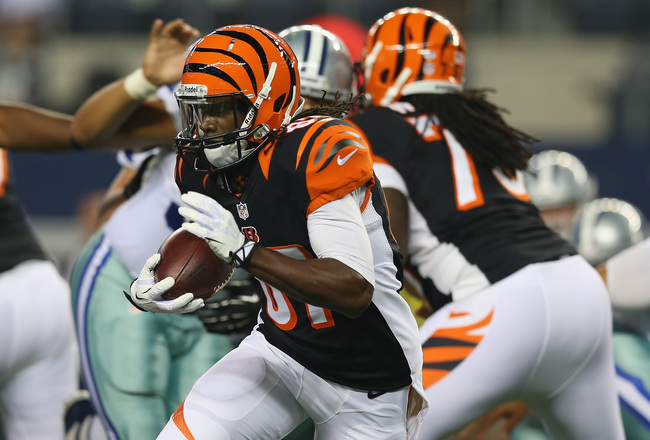 Ronald Martinez/Getty Images
Tuesday night marked the next-to-last episode of this season of HBO's Hard Knocks: Training Camp with the Cincinnati Bengals. Training camp is nearly over and the regular NFL season is approaching. That means less levity in the Bengals locker room and practice field as the business of the league—namely roster cuts—casts a dark cloud over those players on the bubble.
Here's what we learned from Tuesday's episode of Hard Knocks.
A Look at Rookie Linebackers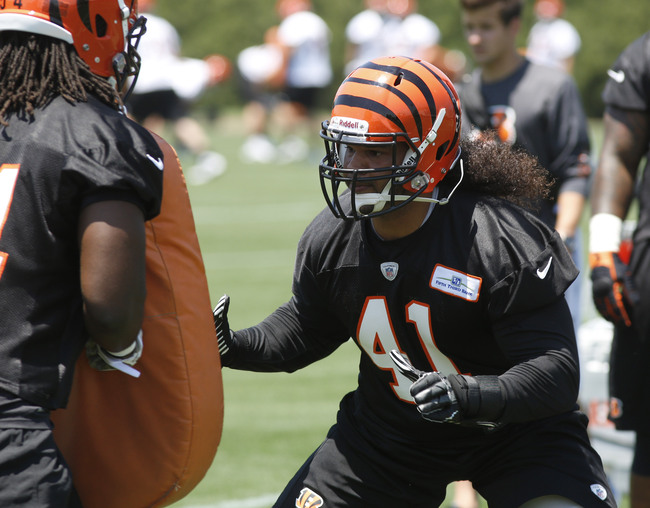 David Kohl-USA TODAY Sports
Early in episode four of Hard Knocks, we see linebacker Brandon Joiner go down with a torn ACL in an otherwise routine practice drill. As a result, rookie Jayson DiManche, whom we were introduced to last week, saw his practice time increase, both as a linebacker and on special teams. As unfortunate as Joiner's injury is, it creates opportunities for more marginal players to make an impression.
DiManche isn't the only linebacker trying to stand out during Bengals training camp. Another rookie, Jordan Campbell, was also featured in the episode. Campbell, who played multiple positions in college at tiny New Mexico Highlands University, also is trying to make the roster by standing out at his position and on special teams.
Campbell does make an impression—on his fellow linebackers. First, he beat J.K. Schaffer in an arm-wrestling contest before being demolished by the silverback himself, James Harrison, in his second bout.
However, arm-wrestling prowess and an injury higher up on the depth chart are more than Campbell and DiManche need to last through the first round of roster cuts, as we'll see later in the episode.
Veterans Support Rookies on the Defensive Line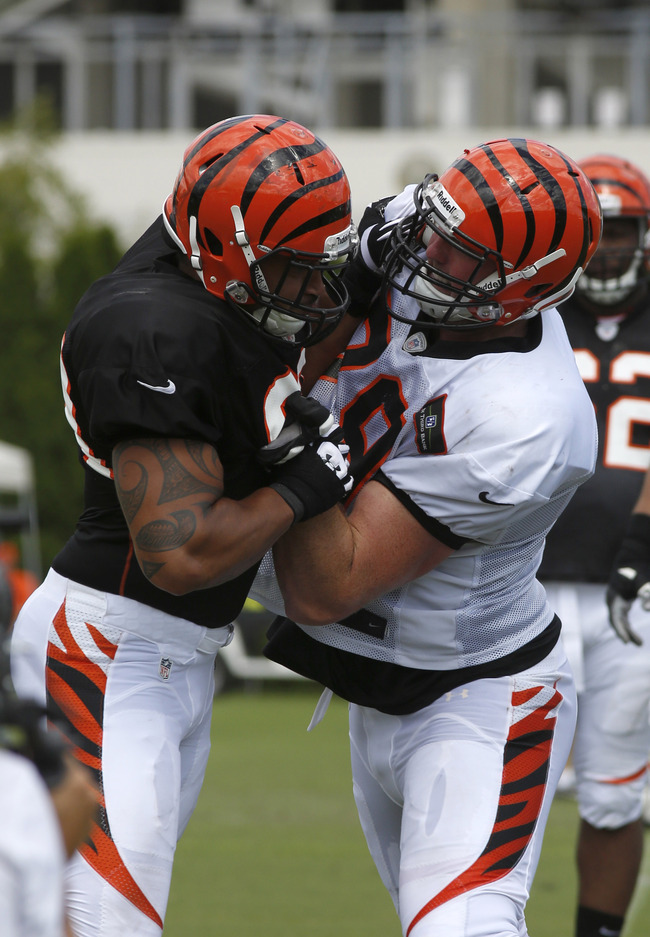 David Kohl-USA TODAY Sports
It's no secret that the Bengals have one of the best defensive lines in the NFL. However, Tuesday's episode of Hard Knocks proved it's not an exclusive club as long as you're on the team.
Where some NFL veterans may bristle at trying to help the rookies and younger players who may someday challenge them for their roster spot, that's not the case in Cincinnati.
From the support Devon Still received from defensive coordinator Mike Zimmer, who told him just because he's backing up some of the best defensive tackles in the league doesn't mean he can't work like and think of himself as a starter, to Terrence Stephens praising the support of his veteran teammates, we really felt the love from the defensive line Tuesday.
Another rookie, DeQuin Evans, explained how much he's learned after having fellow defensive tackle Geno Atkins as his locker mate, and Atkins was shown helping Evans with his technique. Carlos Dunlap said Evans' hands are "second-to-none," especially in pass rush, while Zimmer was more effusive, saying he "loves" Evans. All of this about a man who never played football until he was 20—he credits the game for saving his life, getting him out of Compton, Calif., and into college.
Though Cincinnati's defensive line is one of the most fearsome defensive units around, it's clear they view each other as equals and as family and are not as competitive with each other as one might think.
Checking in with Margus Hunt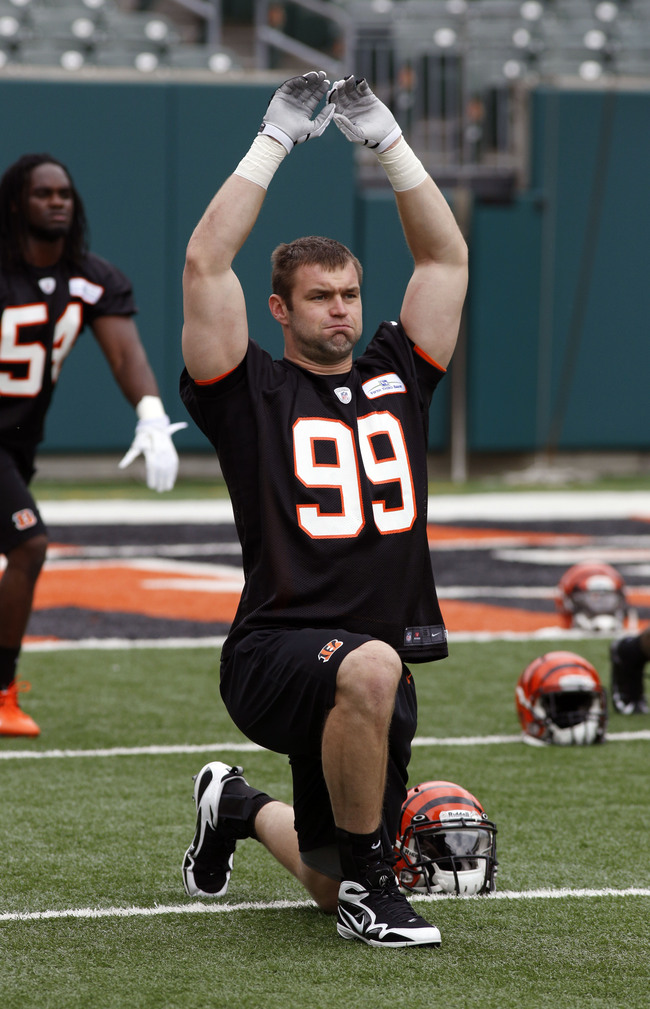 David Kohl-USA TODAY Sports
One of the stars of this season of Hard Knocks has been 2013 second-round draft pick Margus Hunt, the massive Estonian who has taken the jokes and strange questions from his teammates completely in stride.
For example, when asked by a teammate what Estonians eat, he replies dryly, "Plutonium," the radioactive matter that fuels nuclear reactors and bombs. When asked what plutonium is, he simply jogs on and says "straight-up growth hormones," clearly joking.
Hunt spent time with Greg Ellis, a former linebacker connected to Bengals defensive coordinator Mike Zimmer, to help improve his technique and to continue his development as a defensive end who can play outside in the base and inside in the nickel. Ellis told Hunt he can be "a $100 million player," if he can just learn his position quickly and make an impact.
Ellis' tutelage appeared to pay off in the team's Week 3 preseason loss to the Dallas Cowboys. After a shaky start, Ellis gives him a coaching-up and Hunt is able to notch a sack on Cowboys quarterback Alex Tanney. Hunt is certainly being groomed to be an impact player for the Bengals in the years to come.
Jheranie Boyd and A.J. Green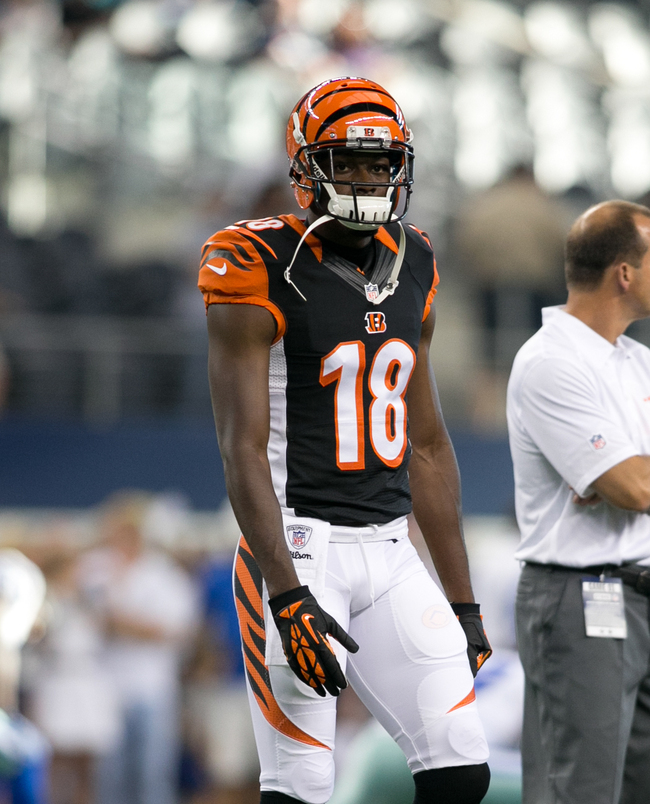 Tim Heitman-USA TODAY Sports
While bell-cow wide receiver A.J. Green continued to recover from his knee bruise, the Bengals needed to add depth to their receiving corps, so they signed promising rookie Jheranie Boyd (he of the one-of-a-kind name) to fill up a roster spot.
Boyd is fast and physical, but has a steep learning curve if he's to make the Bengals' roster, having joined the team well into training camp. He needs to catch up—learn the terminology, run the routes, build chemistry with his quarterbacks—fast if he wants to make a lasting impression.
However, Boyd's opportunities to do so shrank almost immediately—Green's knee healed and he returned to full practice.
Green immediately made plays both on the practice field and against the Dallas Cowboys a few days later. Boyd's practice reps thus disappeared, and he had no snaps against Dallas, foreshadowing what was to come.
Bengals vs. Cowboys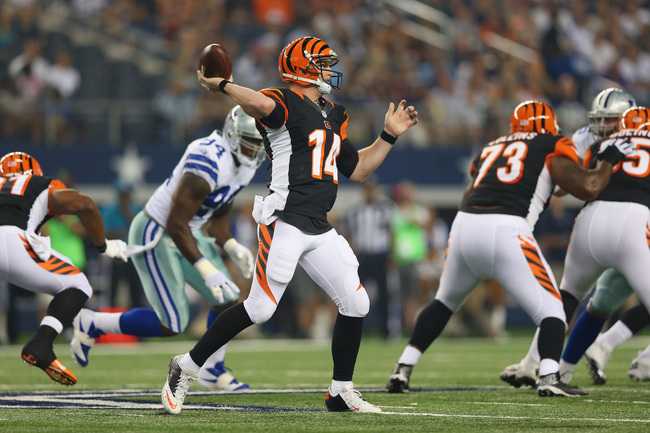 Ronald Martinez/Getty Images
The third week of the preseason is the most important of the summer. The games teams play that week are effectively dress rehearsals for how their starting offense, defense and special teams will look in the regular season.
With the Bengals coming off their worst practice of the year at Cincinnati-area Springboro High, both the starters and the second- and third-stringers have a lot to prove against the Dallas Cowboys.
The game began well—starting quarterback Andy Dalton looked effective with his favorite weapon, A.J. Green, back in the fold, Brandon Tate had a punt return for a touchdown and, as usual, linebacker Vontaze Burfict continued to make plays.
Dalton completed all six of his pass attempts in the Bengals' opening drive, but it was all for naught as the sixth of those passes, to second-year receiver Marvin Jones, resulted in a lost fumble. On their next possession, Dalton threw an interception on third-and-15, making it two back-to-back drives ending in turnovers.
Not helping matters was a minor knee bruise suffered by right tackle Andre Smith—not the news the Bengals wanted to hear with left tackle Andrew Whitworth still nursing a knee injury of his own. Though it was minor, it kept him from playing.
The defense began playing more inconsistently, with cornerback Dre Kirkpatrick being picked on in a touchdown pass from Dallas' Tony Romo to Dez Bryant and safety Taylor Mays giving up a score to Miles Austin.
Later, backup quarterback Josh Johnson threw an interception, raising the Bengals' turnover total to four—two interceptions, two lost fumbles. Those turnovers and the fact that Cincinnati converted only two of their nine third downs are what head coach Marvin Lewis pointed to as causes of the 24-18 loss.
'Everybody Is Useful, Nobody Is Necessary'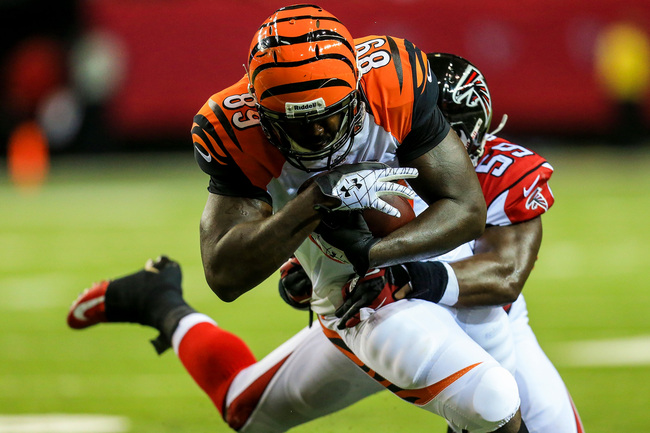 Daniel Shirey-USA TODAY Sports
For many players, this week is the darkest of the season. Teams must trim their rosters from the maximum 90 allowed to 75 and then down to 53, meaning nearly half of all players who participated in training camps will be out of jobs by Saturday evening.
As such, the Bengals reduced their ranks in this episode of Hard Knocks, beginning with the pre-practice release of guard Otis Hudson. Later, after the Dallas Cowboys game, the coaching staff met to discuss their next round of cuts.
After Hudson's release, the Bengals were at 89 men. Linebackers Brandon Joiner and Sean Porter both went to injured reserve, putting the roster at 87—meaning they needed to release 12 more players to be at the league-mandated 75-player Week 4 preseason roster.
On the episode, we witnessed the release of kicker Quinn Sharp, tight end Richard Quinn, linebacker Jordan Campbell and wide receiver Jheranie Boyd. Linebackers coach Paul Guenther spoke with Campbell, telling him that he has a future in the NFL, just not now in Cincinnati. Boyd, too, was dismissed with praise.
Also released by the Bengals this week were defensive tackle Vaughn Meatoga, cornerback Terrence Brown and tackle Jason Weaver, while quarterback Zac Robinson and fullback Chris Pressley were placed on the physically unable to perform list.
As director of player personnel Duke Tobin said, "Everybody is useful, nobody is necessary." It's a calming mantra during the otherwise uncomfortable, unpleasant business of cut week.
Hard Knocks: Training Camp with the Cincinnati Bengals re-airs at 6 and 11 p.m. ET tonight on HBO
Keep Reading

Cincinnati Bengals: Like this team?