West Virginia Mountaineers vs. William & Mary Tribe Complete Game Preview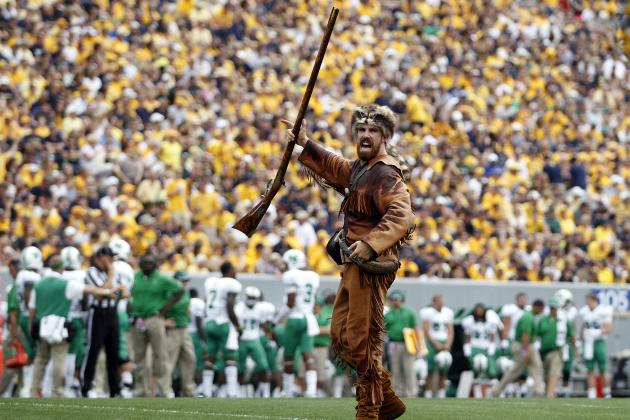 Justin K. Aller/Getty Images

After falling short of a massive upset against Maryland in 2012, FCS William & Mary will take another shot at an upset bid as it travels to Morgantown to take on West Virginia.
The Mountaineers will roll out an offense featuring an entirely new cast of players and a defensive unit out to rebuild its reputation after an ugly 2012 campaign.
Will the new-look WVU squad click in Week 1 or will W&M finish the job on its upset bid?
Time: 12:05 p.m. EDT kickoff
Place: Milan Puskar Stadium | Morgantown, W.Va.
TV: Fox Sports 1 | 12 p.m. EDT
Radio: WVUSports.com
Spread: WVU -32 via USA Today
Begin Slideshow

»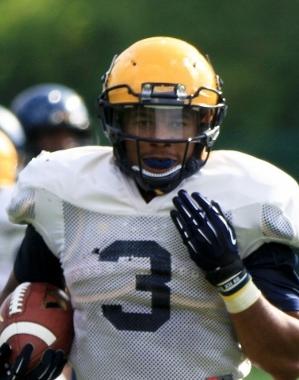 1. Keep Offense Rolling
West Virginia may play three different quarterbacks throughout its contest with William & Mary. No matter who is under center, the Mountaineers must consistently pick up first downs and avoid turnovers.
WVU is a heavy favorite and should have no problem winning this game. However, turnovers and stalled drives will give the Tribe a chance to pull off the upset.
2. No Long Drives
To complement their fast-paced offensive attack, the Mountaineers will need to shorten the W&M drives as much as possible. The Tribe will look to shorten the game and keep the clock running, minimizing West Virginia's offensive chances.
Third down will be key for the West Virginia defense to end the William & Mary drives and send its offense back on the field.
3. Just Relax
During his weekly press conference, head coach Dana Holgorsen talked about the possibility of some of West Virginia's new additions "getting wide-eyed" and playing below their potential.
Much of West Virginia's offense will be either playing or starting a game at Milan Puskar Stadium for the first time, so nerves are to be expected. For all of these newcomers, staying relaxed and focused will be key—otherwise mistakes will happen and give the Tribe hope for an upset.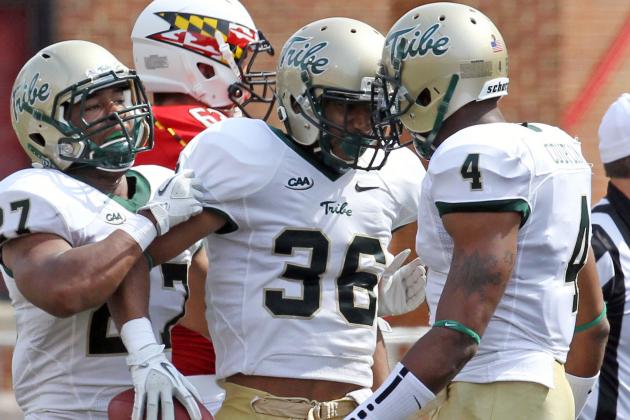 Mitch Stringer-USA TODAY Sports

1. Control the Clock
William & Mary will try to play a very complex game of keep-away with West Virginia. The longer the Tribe offense can stay on the field, the greater chance they will have to win.
Third-down conversions will be key on both sides of the ball, but will be especially crucial on offense for W&M. The Tribe will hope for a low-scoring affair, similar to when they almost upset Maryland in a 7-6 contest last year.
2. Win Turnover Battle
While limiting mistakes on and building long drives on offense, the W&M defense must try to force multiple turnovers.
Saturday's contest will be the first time many members of the WVU offense have played a meaningful game together, so mistakes are bound to happen. When those opportunities arise, the Tribe must swiftly take advantage.
3. Lead Early
William & Mary simply cannot start slow Saturday. If West Virginia gains a large lead early, W&M might as well load the bus and head back to Williamsburg.
On the other hand, if the Tribe can keep WVU off the scoreboard and build a lead early, no matter how small, their chances of victory will grow exponentially.
An early lead will keep the crowd out of the game and cause a spike in anxiety on the West Virginia sideline—a best-case scenario for W&M.
The worst case scenario: a raucous crowd and a relaxed opponent.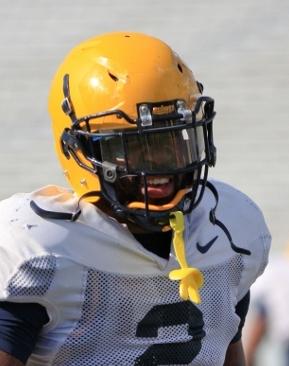 1. Paul Millard and Clint Trickett, QB
Or should I say "Paul Millard OR Clint Trickett" as seen in West Virginia's most recent two-deep depth chart, via 247Sports.com.
Listed as co-starters, Millard and Trickett will both see the field against the Tribe and their performance could end up dictating which of the two starts for the remainder of the season.
Needless to say, how this battle plays out will be crucial going forward.
2. Charles Sims, RB
All eyes will be on West Virginia's new star running back early. WVU fans are anxious to see what Houston transfer Charles Sims can do in gold and blue.
Whether he is returning kicks, catching passes or taking handoffs, Sims will have plenty of chances to show off against W&M.
If all goes to plan, it will be a short but exciting day for Sims.
3. Ishmael Banks, CB
Ishmael Banks is taking over at West Virginia's biggest problem position from 2012.
He'll also be matched up with one of William & Mary's best players in receiver Tre McBride.
If the WVU run defense can keep the Tribe in third-and-long situations, it'll be on Banks to keep tight coverage and send the offense back out onto the field.
Mitch Stringer-USA TODAY Sports

1. Keith McBride, RB
As William & Mary tries to shorten the game against WVU, junior Keith McBride will lead the way on the ground.
The Collierville, Tenn. native ran for 708 yards and three touchdowns last season and figures to be a major factor in the offense yet again this year.
Against West Virginia, McBride's performance could be the difference between an upset bid and a blowout.
2. Tre McBride, WR
While W&M had a carousel of three different quarterbacks in 2012, they all managed to find Tre McBride on the outside.
McBride tallied 897 receiving yards and 10 touchdowns—both of which were more than any three of his teammates combined.
The junior has the talent to give the West Virginia secondary fits and will be an excellent test of how the Mountaineer secondary has improved from 2012.
3. Jerome Couplin, FS
A 6'2", 215-pound safety, Jerome Couplin notched 91 tackles and three interceptions in 2012 to lead William & Mary in both categories.
Couplin has FBS-level talent and will be eager to show it against the high-flying West Virginia offense.
If the Tribe are able to force the WVU quarterbacks into any mistakes, don't be surprised if Couplin is on the receiving end of one those miscues.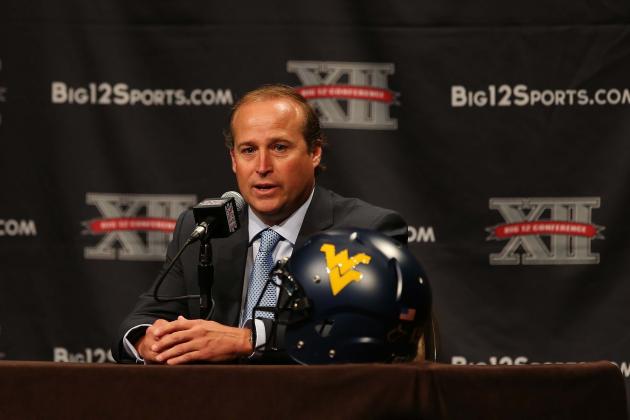 Kevin Jairaj-USA TODAY Sports

WVU head coach Dana Holgorsen on respecting William & Mary:
You can't overlook them or anyone else in that conference (the Colonial Athletic Association). Villanova has won a national championship. Delaware has won a national championship. They've beaten a lot of 1-A teams. Last year, William & Mary almost beat Maryland, and the year before they beat the University of Virginia. It goes on and on.

Do we want to be the next ones on that list? I don't think so.
Holgorsen on what he is looking for in the first game:
I just want to see what the kids' mentalities are like, and to see more than anything which guys get wide-eyed. Nothing gets guys more in position than a game does—you can figure out their mental toughness. Guys that haven't jumped offside all camp may get flinchy and jump off during a game because it's a game.
Holgorsen on the quarterback situation:
I feel good about having three quarterbacks that we can put out there ready to play ball. If it gets to that, we will deal with it. Who's going to start? I don't know. Paul or Clint will start. They will both play. Potentially all three of them will play. At this point, they've done nothing to warrant not playing quarterback here. It's going to take some game reps and putting these guys in situations where they have to respond to really know what we're working with.



William & Mary head coach Jimmye Laycock on the strengths of West Virginia:
They're explosive. They put a lot of points on the board against people. They have great athletes and a wide-open scheme where they spread the ball all over the field and a very aggressive defense.
Laycock on the opportunity to play at WVU:
It's going to be a tough place to play and a tough team to play. Our guys know that but they know this is a once in a lifetime opportunity and they've been preparing for it very hard.
W&M safety Jerome Couplin III on stopping the WVU offense:
The big thing is going to be running to the ball and not allowing them to get yards after the catch or breaking big gains. We want to make them run their offense, rather than giving them something.
Holgorsen quotes via WVUSports.com.
Laycock quotes via TribeAthletics.com.
Couplin quote via TribeAthletics.com.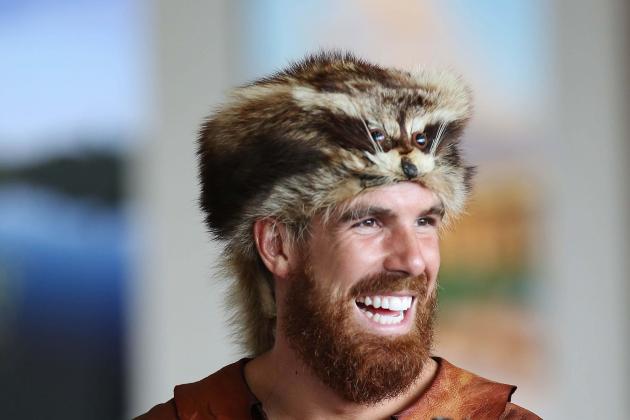 Kevin Jairaj-USA TODAY Sports

Dana Holgorsen's words will end up being a self-fulfilling prophecy, as the new-look Mountaineers will come out a bit wide-eyed early.
In a slow first quarter, William & Mary will match WVU offensively with a field goal and a touchdown reception by Tre McBride, leaving the score 10-10 after one quarter.
With time and a couple of substitutions, the West Virginia offense will start to click in the second quarter, which will also take pressure off the WVU defense. Running backs Charles Sims and Dreamius Smith will each find the endzone, giving the Mountaineers a 24-10 advantage at the half.
The third quarter will bring more of the same for the Mountaineers. Sims will put six more points on the board, this time off a screen pass. Joining him in the end zone will be freshman receiver Daikiel Shorts and senior Ivan McCartney.
After three, the game will be all but decided, with WVU ahead 45-13.
The action will slow down in the fourth, with each team adding another touchdown to the total.
Final: WVU 52, W&M 20