A year ago, the idea that Aaron Ramsey would become an invaluable player for Arsenal seemed unthinkable.
At that time, Ramsey had become something of a lightning conductor for the Arsenal fans' frustrations. His performances were uncertain and unconvincing. However, since the spring of 2013 the Welshman has enjoyed a wonderful renaissance. He has gone from pariah to fan favourite.
Ramsey had previously endured a difficult 18 months. After recovering from a broken leg that almost derailed his career, he needed time to be bedded back into the squad. However, when Cesc Fabregas and Samir Nasri were both sold close to the deadline in August 2011, Ramsey was thrown in the deep end. He was frequently asked to play as an attacking No. 10 despite his limited experience in the role.
Unsurprisingly, he came up short when compared to his starry predecessors, and his confidence suffered.
The early part of 2012/13 was similarly painful for the young midfielder. He was a victim of his own versatility, frequently being deployed out wide. Arsene Wenger liked to use Ramsey's work ethic on the flank in order to close down the opposition's full-back and flood the midfield. However, Ramsey has neither the pace nor the trickery to flourish as a winger. Again, his confidence took a battering.
Ramsey was a shell of his former self.
His broken leg may have healed but he was carrying a variety of new psychological scars. The crowd was on his back and the weight of the world was on his shoulders.
Everything changed in the second half of last season, when injuries afford Ramsey a rare opportunity to play in his preferred position of central midfield. Almost immediately, Ramsey looked more comfortable. His natural box-to-box style developed game by game, and he forged an effective partnership with the more disciplined Mikel Arteta.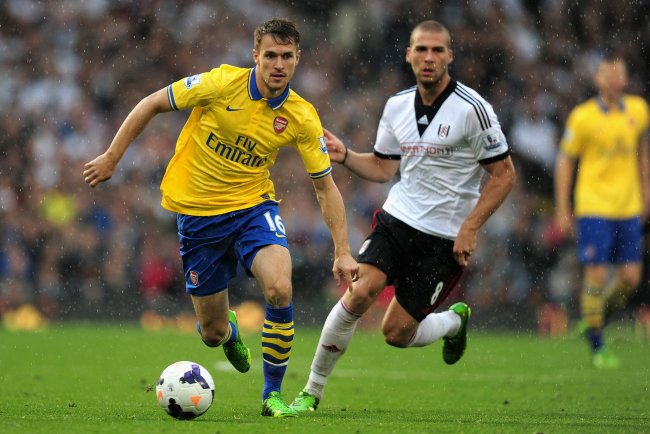 Jamie McDonald/Getty Images
That progression has continued into this campaign. In the first four games of Arsenal's season, Ramsey has been Arsenal's most effective player, outshining the more celebrated Jack Wilshere in the Arsenal midfield.
With Arteta injured, Ramsey has taken over as Arsenal's defensive fulcrum. However, his relentless energy means he is also capable of breaking forward to support the attack. He already has three goals to his name this season, including a sumptuous cushioned volley against Fenerbahce.
The key to Ramsey's improvement is the positional switch and simplification of his game. When deployed as an attacking midfielder or winger, he frequently attempted tricks and turns that were beyond his technical capabilities. This led to the loss of possession and incurred the wrath of the Emirates crowd. Ramsey was simply trying too hard.
Recently, Ramsey has focused on the basics. Rather than spraying 50-yard passes around the pitch, he's started playing a simple continuity game. This has allowed him to build up his confidence, and now we're seeing glimpses of his inherent flair returning.
Ramsey has made himself undroppable. If Arsenal are to stand a chance of contending for either the Premier League or the Champions League, his outstanding form will have to continue.
In a summer in which Arsenal's squad appears to have become weaker, Ramsey is one player who continues to go from strength to strength.
James McNicholas is Bleacher Report's lead Arsenal correspondent and will be following the club from a London base throughout the 2013/14 season. Follow him on Twitter here.