SEC Football: Top 10 Breakout Stars for 2013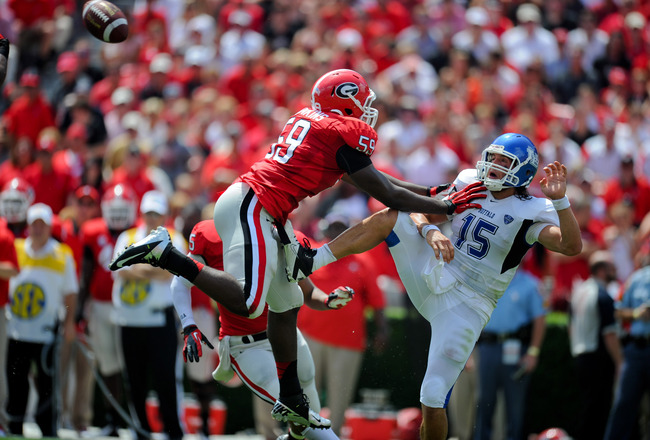 Kevin Liles-USA TODAY Sports
The SEC had 63 players selected in the 2013 NFL Draft, more than any conference in any year ever, forcing a new cast of characters to step in and become featured players in 2013.
Whether it be true blue-chip freshmen, transfer players or former SEC backups, the conference is loaded with talented pieces who casual fans haven't heard of. The Southeastern rosters are loaded, from top to bottom, with players who are begging to be realized.
The SEC dominated college football last season, as it has the whole past decade, and as it's set to do again in 2013.
But in order to do so, a crop of fresh faces will need to emerge.
RB Alex Collins, Arkansas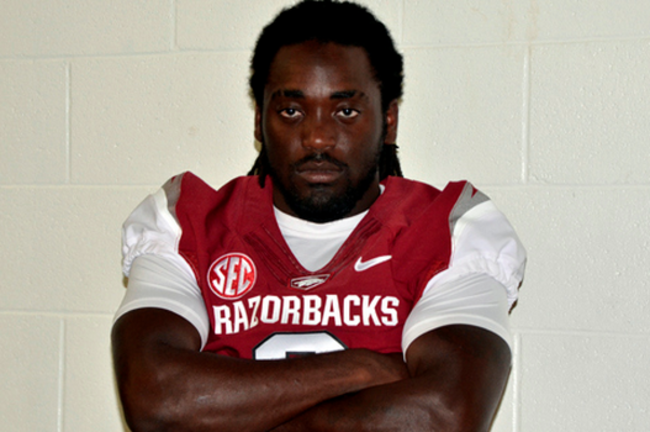 Photo Credit: 247Sports

New head coach Bret Bielema isn't shy about running the football. Even as the new fish in shark-infested waters, he will try to stuff the ball down SEC defenses' throats.
His main workhorse (in time) should be true freshman Alex Collins. Ranked No. 17 in 247Sports' rankings, the gritty Collins is a do-it-all type back—not dissimilar from James White at Wisconsin.
He might split reps with Jonathan Williams, but Collins will touch the ball enough times to become a household name. Bielema is no stranger to high-volume timeshares, and neither are Arkansas fans, who still remember the days when Darren McFadden and Felix Jones shared a backfield.
LB Reuben Foster, Alabama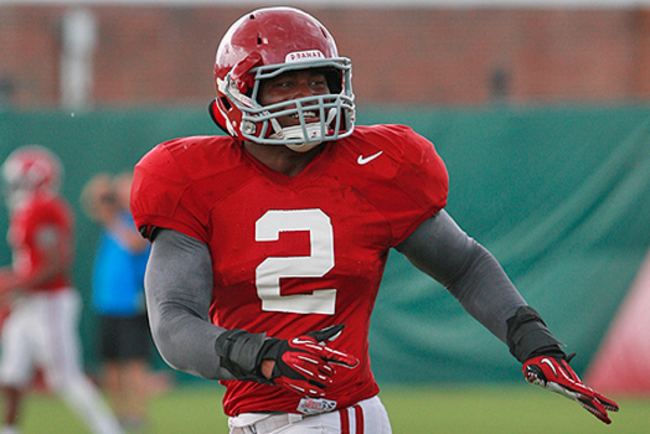 Photo Credit: 247Sports

People talk about how Alabama "doesn't rebuild, it reloads." Which is true. And in order to do so, on a defense that lost some important pieces from 2012, a few guys need to break through into the spotlight.
The Tide's defense is a star machine, and Foster is a star waiting to be born. He was the No. 7 prospect on 247Sports' composite and earned (very rare) praise from Nick Saban for the "tremendous progress" he's made during camp.
Other freshmen—even other Tide freshmen—are in a better spot to play right away. Foster might need to sharpen his sword in practice for the first few weeks, but eventually talent wins out.
Saban will not be able to keep this guy off the field.
WR Dorial Green-Beckham, Missouri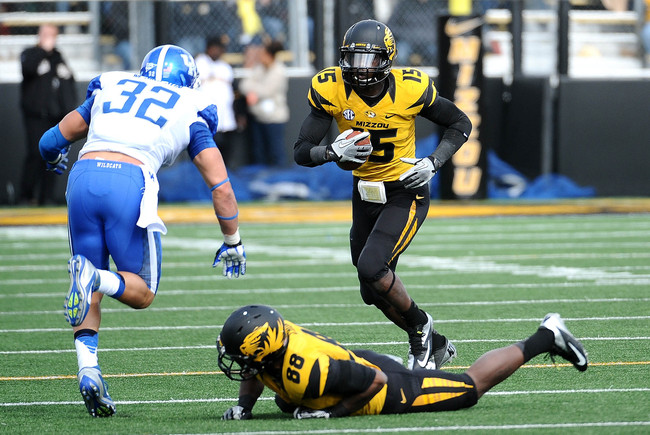 Dak Dillon-USA TODAY Sports
DGB wasn't bad last year, he just wasn't what people expected. When you enter college the No. 1 prospect in America—especially at a skill position—it's hard to justify such lofty expectations.
But all of Missouri was a small letdown last season, and the whole squad seems poised for an uptick in 2013. Green-Beckham is set to reap the benefits of stability under center; if QB James Franklin can indeed play with consistency, his sophomore wide receiver can truly be allowed break out.
The talent is definitely there. And he wouldn't be the first No. 1-ranked receiver to break out after a good-not-great freshman year. Don't give up on DGB quite yet.
LB Jordan Jenkins, Georgia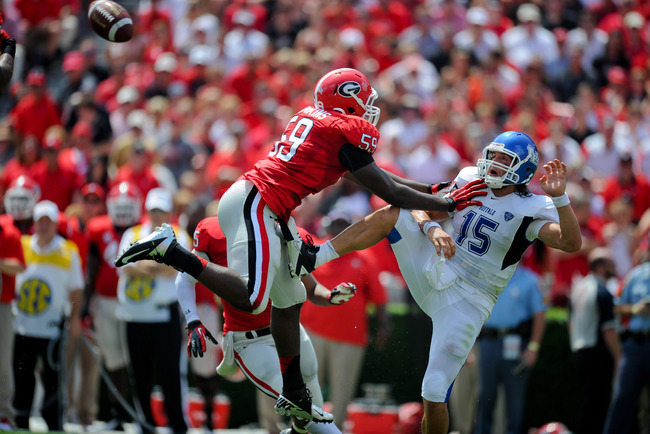 Kevin Liles-USA TODAY Sports
Jarvis Jones was Jenkins' blessing and curse last year.
On the one hand, he stood in the way of playing time, keeping Jenkins' freshman-year sack total at just five. But on the other, Jones became a perfect mentor for Jenkins who can now carve out a similarly dominant career in Athens.
The 'Dawgs defense is in desperate need of new playmakers, but thanks to players like Jenkins, they aren't overly concerned. He's had a great offseason—including this most recent hurdle rush—and looks every bit the part of an All-SEC pass rusher.
When one prolific J.J. leaves Georgia, another takes his spot.
DT Anthony Johnson, LSU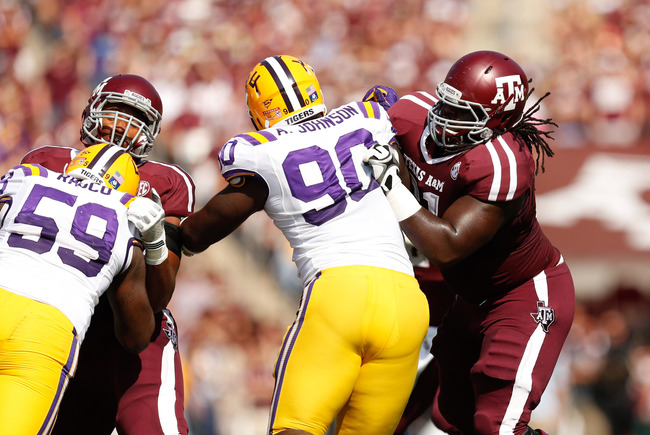 Thomas Campbell-USA TODAY Sports
The most debatable entry on this list, Johnson may or may not already be a known commodity. If you enter a college-football-obsessed domicile, he's already a household name. But a good portion of the country has yet to see what Johnson is capable of.
And that's going to change very soon.
Stepping in for departed Bennie Logan (now with the Philadelphia Eagles), Johnson is set to become a leader on LSU's new-look defense.
The front seven was ravaged by attrition, with productive players like Barkevious Mingo and Sam Montgomery also leaving for the NFL. But at LSU, as it's always been, the motto is "next man up."
The way Les Miles recruits, that has never been a problem. And in 2012, Johnson will be living, breathing proof of that.
C Ryan Kelly, Alabama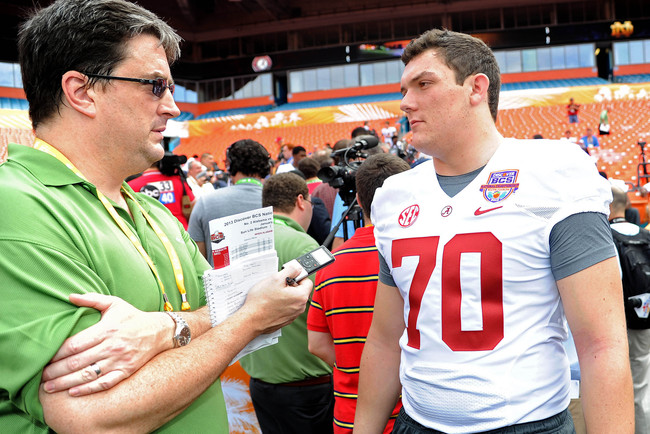 USA TODAY Sports
Only at Alabama can a center, in all good conscience, be considered a true breakout threat.
Such is the nature of the Tide's offensive line, which last year (and the year before that) made stars of D.J. Fluker, Chance Warmack and Barrett Jones.
The last on that list, Jones, manned the center position last year, was a four-year starter (all over the offensive line) and might one day be a College Football Hall of Famer. Those are massive cleats for the sophomore to fill, but Kelly is a true Alabama football player if ever there was one.
He and the Kouandjio brothers will help lead the next wave of greats in Tuscaloosa.
QB Nick Marshall, Auburn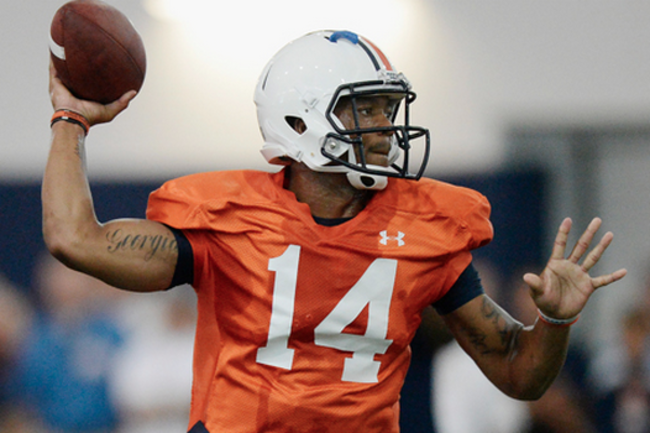 Photo Credit: 247Sports

The Cam Newton comparison is predictable, but unfair (and wrong). Marshall is five inches shorter and much more wiry than the former Heisman Trophy winner.
But as a JUCO transfer starting at quarterback in his first year at Auburn, he might be set to have a similar impact.
No, Marshall won't be winning any bronze statues this year. But he will be leading a much-improved Tigers team to what should be a much-improved record over last year's 3-9. He's mobile and he's certainly got the arm strength to do it, as he proved in the Mississippi Bowl last season.
Hopefully Marshall can lead at least one meaningful win this season; last year's three Auburn victims were Louisiana-Monroe, New Mexico State and Alabama A&M.
WR Marquez North, Tennessee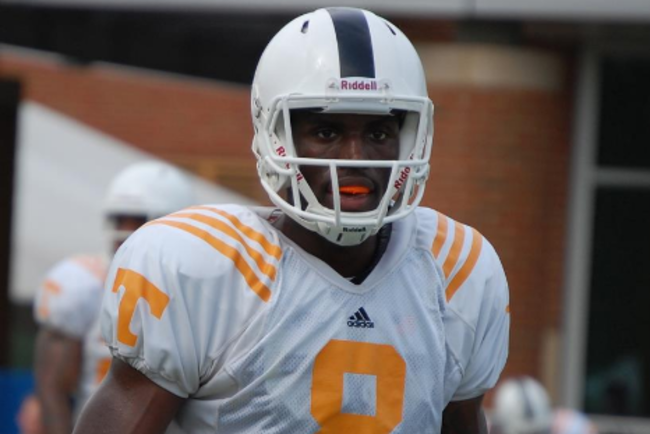 Photo Credit: 247Sports

Tennessee's passing game put up huge (often meaningless) numbers last season, bolstered by veteran quarterback Tyler Bray and future NFL receivers Justin Hunter and Cordarrelle Patterson.
But now all three are gone and someone has to fill the void.
The best option is true freshman Marquez North, who has the highest ceiling on Tennessee's offense and might be allowed to realize it sooner rather than later. He's already listed as the starter and should quickly develop into Justin Worley's top outside target.
The real question is whether Worley can take advantage of that.
DE Julian Obioha, Texas A&M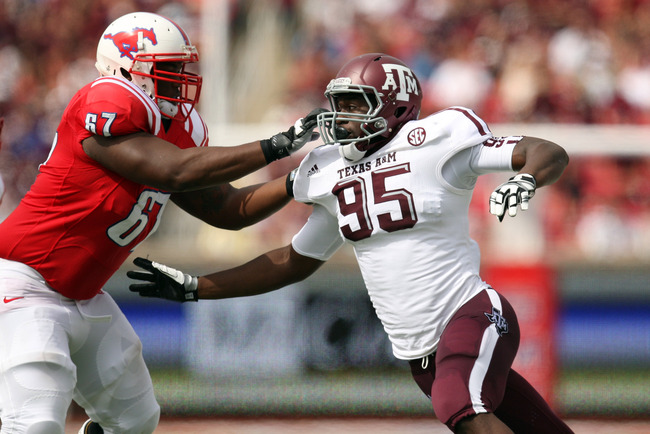 Thomas Campbell-USA TODAY Sports
The role of "lead pass rusher" at Texas A&M has quickly become hallowed ground. Von Miller set the gold standard in 2009 and 2010, followed by two productive years from Damontre Moore.
Now the job belongs to Obioha.
As a true freshman last year, he earned the starting job right out of fall and started all 12 regular season games. Though the stats were underwhelming—25 tackles, one sack, six batted passes—his play was often more visceral than tangible. Watching Obioha play, you could just tell he would be become a good one.
Now just a sophomore, he'll be expected to do much more on the outside of A&M's pass rush. If he can become a Moore-type influence, and if Johnny Football can stay on the field, the Aggies' title hopes aren't too farfetched.
WR DeMarcus Robinson, Florida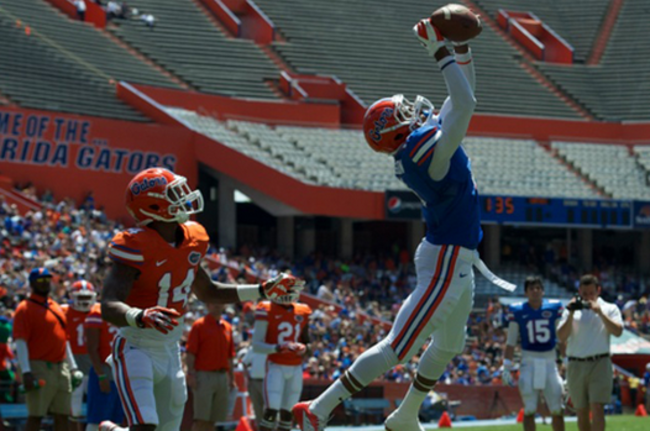 Photo Credit: 247Sports

Florida needs someone to break through on the outside, so much that it's flirted (and continues to flirt) with the idea of moving Loucheiz Purifoy—its best defensive back—to receiver.
But if Demarcus Robinson can become that guy out of the gate, that flirtation will become moot.
A 4-star freshman from Fort Valley, Ga., Robinson already looks the part of an upperclassmen. His advanced route running, sure-fire hands and physical maturity all suggest he can contribute beyond his years.
And people in Gainesville have taken notice.
Keep Reading