Burning Questions for the Detroit Lions in 2013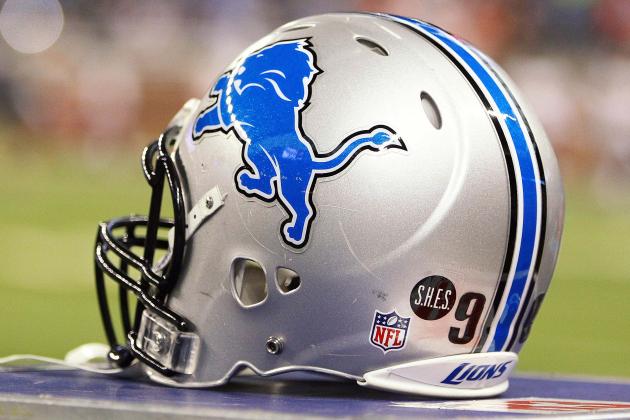 Mike Carter-USA TODAY Sports

Can you smell it? Oh yeah, that's the scent of regular season football!
The Detroit Lions kick off the regular season on Sept. 8 when the Minnesota Vikings come to Ford Field. Lions fans are as optimistic as they can be about a team coming off the epic disappointment of last year's 4-12 campaign.
And there is valid reason for optimism around these Lions. The den is loaded with strong talent at many key positions. On paper, this is a better overall team than the 2011 edition that finished 10-6 and made the playoffs.
Yet questions abound. What looks good on paper and in the preseason doesn't always translate once the outcomes really matter. The difference between a return to the playoffs or a return to drafting in the top ten next May lies in answering the following questions.
Begin Slideshow

»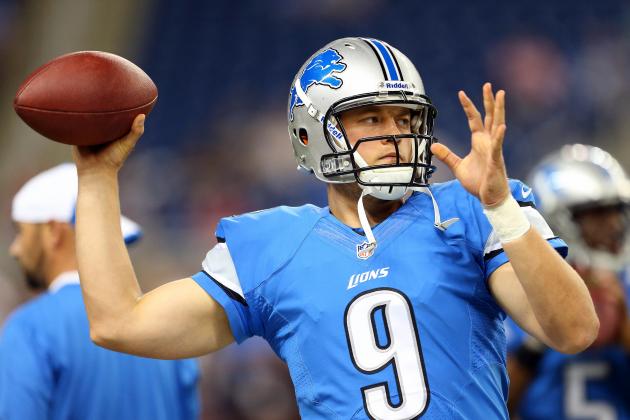 Mike Carter-USA TODAY Sports

Two seasons ago the young QB tore apart the league and rewrote the Lions passing record book, and he became just the fifth quarterback to ever top 5,000 yards in a season.
That 2011 season was magical, as Stafford was near the top of the league in a number of significant categories: He finished third in the NFL touchdown passes with 41, fifth in completion percentage at 63.5 percent (fifth), and seventh in yards per attempt (7.7). His passer rating of 97.2 was fifth best as was the four game-winning drives he engineered.
His vulgar display of firepower catapulted the Lions into the 2011 playoffs and established Stafford as one of the brightest young stars in the league.
Alas, 2012 was a different story. Stafford's numbers declined across the board. Even though his 727 pass attempts shattered the NFL record for a season with 727, Stafford failed to hit the 5,000-yard passing mark. More to the point, his still-gaudy 4,967 yards rang largely empty. His touchdown total plummeted by more than 50 percent, while his other primary statistical metrics all regressed back to right around the league average.
On five different occasions Stafford started a game 4-for-11, and the slow starts squandered too many opportunities for the Lions to build big leads. Detroit did not reward Stafford with a $76 million-dollar deal for the next five years for him to produce shallow, average numbers.
Matthew Stafford has proven he can be a star, but he's also shown that he is not yet among the league's elite QBs. In 2013 it is imperative he performs more like the 2011 comeback whiz kid than the mechanically lazy 2012 version who helped squander several fourth-quarter leads.
Which Stafford will we see?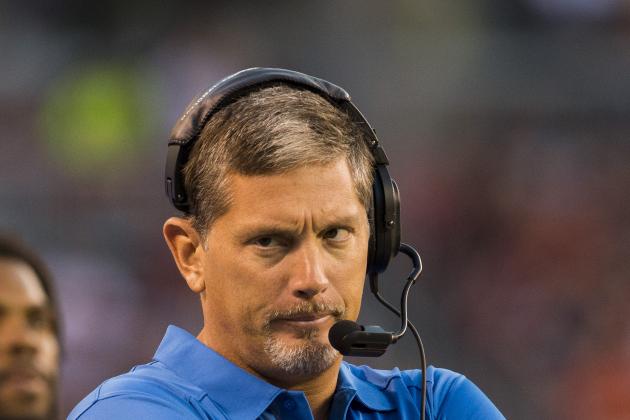 Jason Miller/Getty Images

The national image of the Lions is inarguably tainted by the series of mental mistakes and inexcusable penalties the team has racked up under Jim Schwartz.
From false starts to late hits to the coach himself illegally challenging a play, Detroit's play has been consistently pockmarked by avoidable penalties and a general lack of composure. Schwartz sets the tone with his combative persona.
Challenging the players to play harder and bringing a swagger to the team was an important part of starting over from the depths that the Millen era left the team. Restoring the Roar was a mantra and an attitudinal shift that was both welcome and necessary.
But that welcome has been worn out, and the lack of discipline is now backfiring in Schwartz's face. Racking up four post-whistle penalties in the preseason game against New England—a blowout win no less—shows that Schwartz still has no idea how to control the monster he created.
Maybe once the games really count, the message will sink in. Schwartz sent a message of accountability by banishing Willie Young to the bench after he wagged his finger in Tom Brady's pretty face.
As any parent can tell you, it's a lot harder to curtail negative behavior if you don't snuff it out right away. The more flagrant the negative behavior, the more serious the consequences need to be. Schwartz must hold his players accountable, but he himself needs to show accountability as well. Years of inadequate discipline leave the onus firmly on Schwartz to emphatically end the madness.
Has he learned?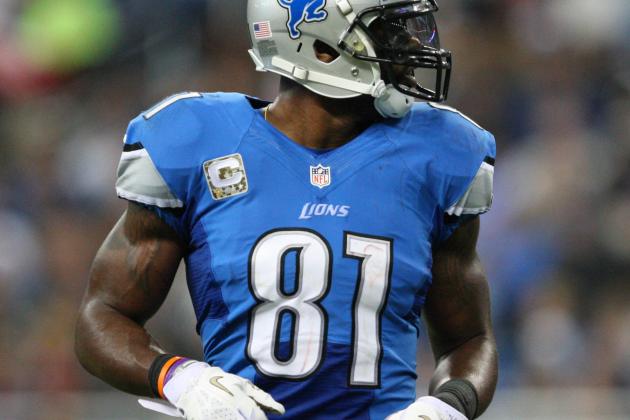 USA TODAY Sports

Megatron came awfully close to that unprecedented mark in 2012, with 122 receptions for 1,964 yards. Both those totals led the league, with the yardage shattering Jerry Rice's single-season record.
It's extremely unlikely that Johnson hits those amazing numbers again. Last year was a confluence of injuries to his supporting cast, a record-shattering number of pass attempts and Johnson's seemingly superhuman ability.
Still, it's not out of the question that Calvin Johnson hits that lofty target.
The biggest negative to Johnson's outstanding 2012 was his lack of touchdown production. A year after converting 16 of his 97 receptions into touchdowns, Johnson scored just five times last season. Just by sheer luck, Johnson will score more frequently in 2013, and that could means more yards. With a healthier supporting cast and a more viable rushing attack, Johnson figures to see fewer rolled coverages and double-teams.
As I predicted earlier, Johnson probably won't get those 2,000 receiving yards. Yet the fact that it's even a credible question speaks to his greatness.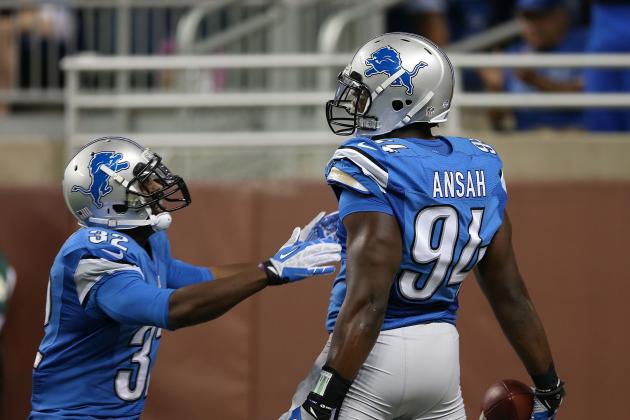 Leon Halip/Getty Images

When the Lions made Ziggy Ansah the fifth overall pick in last April's draft, they did so with the expectation that the BYU defensive end would produce right away.
Ansah did just that in the first preseason game, picking off Mark Sanchez and returning it for a touchdown on his first-ever defensive series. However, the regular season figures to be a different animal. With just a handful of collegiate starts and limited football experience in general, Ansah faces a steep learning curve. His natural athletic ability is impressive and should allow him to make plays from the start.
The Lions need Ansah to make those splash plays—sacks, forced fumbles and batted passes right off the bat. They also need the rangy rookie to hold up in the more rudimentary aspects of playing defensive end. Things like backside containment, leveraging the edge against the run and working in concert with the tackles and linebackers around him are also all important facets of Ansah's development.
Improving in those facets figure to be the bigger challenge.
How quickly he can handle the less glamorous parts of the game will determine how frequently he gets an opportunity to make the highlight reel plays that the Lions expect.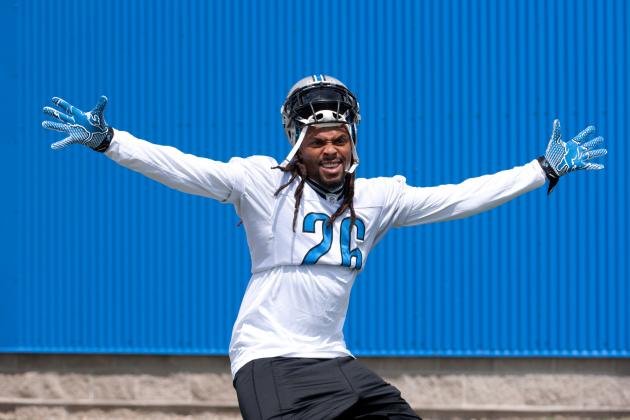 Tim Fuller-USA TODAY Sports

Lions fans got a taste of the safety's value in the preseason romp over New England. Delmas recorded a tackle for loss on the Patriots' first running play and later recovered a fumble.
That performance was reminiscent of Delmas as a rookie in 2009, when the hirsute safety made impact plays all over the field.
Delmas brings a tangible energy and confidence to the entire defense. His effervescent personality is part of the equation. Even back at the 2009 Senior Bowl, the Western Michigan product exuded a natural charisma that drew other players to him.
It's hard to bring that energy from the sidelines, however. That's where Delmas has spent more than half of the last two seasons, and the entire defense has suffered because of it. The Lions have proceeded quite cautiously with Delmas, giving him several practices off and using him sparingly in the preseason.
Will all the rest and precaution pay off? It could very well mean the difference between another season near the bottom of the league in the team defense rankings and a significant movement upward.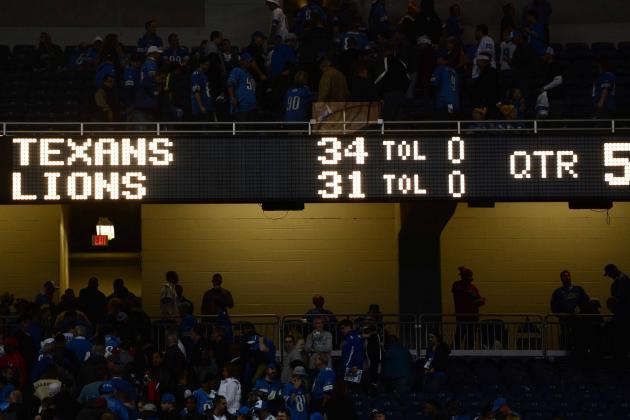 Andrew Weber-USA TODAY Sports

This is another area in which there is a great schism between what happened in 2011 and how 2012 played out.
Check out the shot of the scoreboard from last Thanksgiving. Detroit led that game 31-24 with under ten minutes to play. The following week Detroit wasted a 12-point lead in the fourth quarter in a heartbreaking loss to Indianapolis.
Detroit squandered five separate fourth-quarter leads in 2012.
No team surrendered more points in the game's most crucial time frame than the Lions, completely scuttling several opportunities to win games. One season earlier, Detroit ranked 12th in that category. According to teamrankings.com, the 160 fourth-quarter points Detroit allowed in 2012 is the highest total since the 2004 Dallas Cowboys.
If the Lions are going to win more games in 2013, playing better when the game is on the line is a major imperative.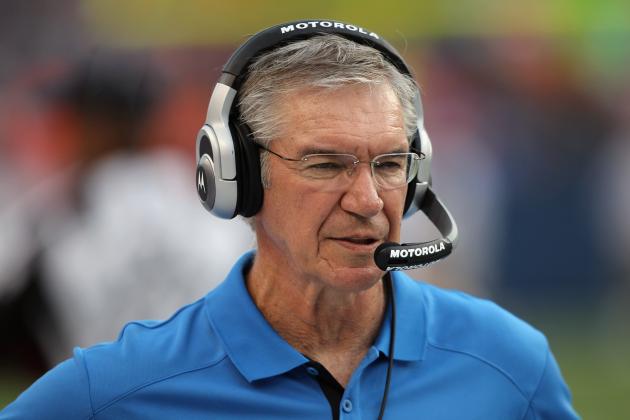 Doug Pensinger/Getty Images

All offseason and through training camp the focus for coordinator Gunther Cunningham's defense has been about making impact plays.
Foremost among those impact plays are creating turnovers.
One of the big reasons for the decline in wins last season was the steep drop-off in takeaways. The Lions fluctuated wildly, going from plus-11 to minus-16 in turnover margin from 2011 to 2012. The takeaway column was halved, from 34 down to 17. Only the Eagles, Colts and Chiefs secured fewer takeaways than the Lions did a year ago.
One of the quickest ways to change fate in the NFL is to flip around the turnover margin. The Lions do a pretty strong job of taking care of the football, so the way to improve that mark is for your defense to create takeaways.
To that end, the Lions made a concerted effort to import playmakers. Rookie corner Darius Slay will give up big plays but brings the potential to make them as well. New safety Glover Quin and a healthy Louis Delmas present much more big-play opportunities from the back end, as does recent import Rashean Mathis. The fearsome front has worked on stripping the ball and getting hands on more balls too.
The potential for rapid improvement is certainly here, but it's a wide margin between +11 and -16. If the Lions can make that turnover figure positive in 2013, nothing but positives will come from it.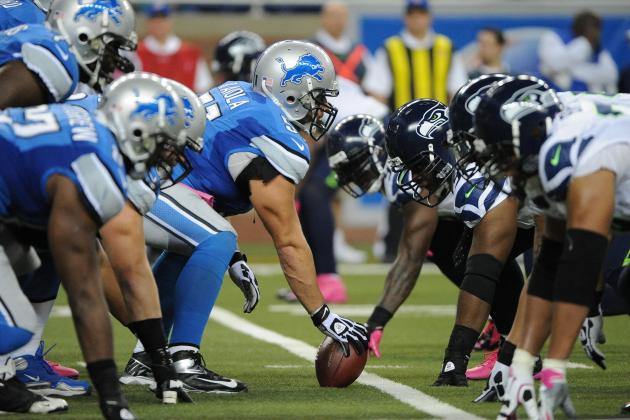 Tim Fuller-USA TODAY Sports

For three straight years the Lions trotted out the same starting five up front. Other than a missed game here and there due to injury, the continuity of the offensive line produced a unit that often exceeded the sum of its parts.
This season will feature three new starters. Left tackle Jeff Backus retired, right tackle Gosder Cherilus cashed in with the Colts and right guard Stephen Peterman played his way out of the league.
Riley Reiff takes over for Backus at left tackle. The 2012 first-round pick played well in a limited role as a rookie, but that was primarily as an extra tackle on designed running plays. Handling the likes of Jared Allen, Clay Matthews and Julius Peppers and their pass rushing skills within the NFC North is a significant uptick in degree of difficulty for Reiff.
The general consensus is that Reiff will be at least as good as Backus has been, but that remains to be seen.
The right side of the line is still unsettled. Third-round pick Larry Warford was expected to slide right in at right guard, but he has not met expectations during preseason play. Dylan Gandy and Jake Scott have made claims to the starting spot, but nothing has been decided.
At right tackle, the camp battle between Jason Fox and Corey Hilliard has essentially been a stalemate. Because neither seized the role, undrafted rookie LaAdrian Waddle threw his name into the ring. As I wrote earlier this week, Waddle could wind up earning the nod.
Regardless of who takes over at the right guard and right tackle spots, it figures to take time to establish continuity and chemistry across the line. The individual talent level is probably better than a year ago, but will those individuals congeal into a strong overall unit?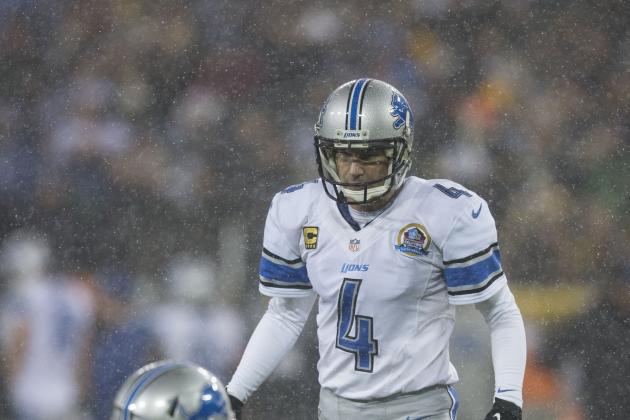 Tom Lynn/Getty Images

For years Jason Hanson proved to be a granite rock of consistency and acumen as the Lions kicker. Over the last 20 years, Hanson went about his placekicking business as well as anyone. His retirement was not a surprise, but it created an opening for a position that has had just two employees since 1980.
After warding off my personal favorite Harvard Rugland, veteran David Akers inherits the kicking gig. He won't hold it for longer than a couple of seasons, but this regime isn't worried about carrying on one of the more remarkable longevity strings in NFL history.
Akers appears fully recovered from the combination of injury and erratic kicking that disappointed San Francisco last year, leaving the Lions once again in solid hands, err, legs at kicker.
Detroit will also have a new punter in fifth-round draft pick Sam Martin. The rookie was nothing short of spectacular in two of the first three preseason games, although his unimpressive performance against the Browns allows for some doubt to creep in. Martin also takes over as the holder and kickoff specialist, adding to his value.
It appears the team is intent on trying out long-term stability at punter and short-term payoff at kicker—the antithesis of what we know as Lions football. It will be interesting to see how that new philosophy pays off.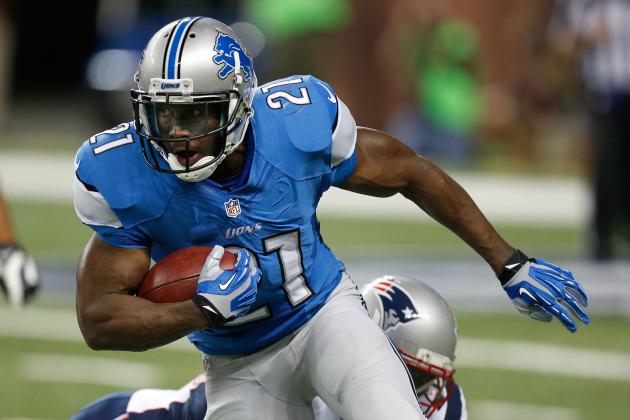 Gregory Shamus/Getty Images

General manager Martin Mayhew targeted Reggie Bush in the early hours of free agency and for good reason.
The elusive running back is expected to breathe life and diversity into the Lions moribund rushing attack.
Bush brings the ability to create something out of nothing. His ability to make tacklers miss in tight quarters is something the Lions haven't really had since Barry Sanders. Lions fans got a teaser with Jahvid Best in the 2011 season before concussions sadly ended his career.
The impact Best made in that short time is helpful in evaluating what Bush can do in Detroit. Bush also possesses that open-field flair, the receiving ability out of the backfield and the big-play threat that can fundamentally alter how defenses choose to combat the Lions offense.
It is incumbent upon offensive coordinator Scott Linehan to use Bush creatively and effectively. Last season the Lions' running game sorely lacked a big-play threat. One of the byproducts of that Linehan dialing up a record number of pass plays in order to try and produce big plays and points. Now that Bush is in the den, the Lions can attack with more balance but also more diversity.
The question is, just how much can Linehan & Co. take advantage of what Bush offers?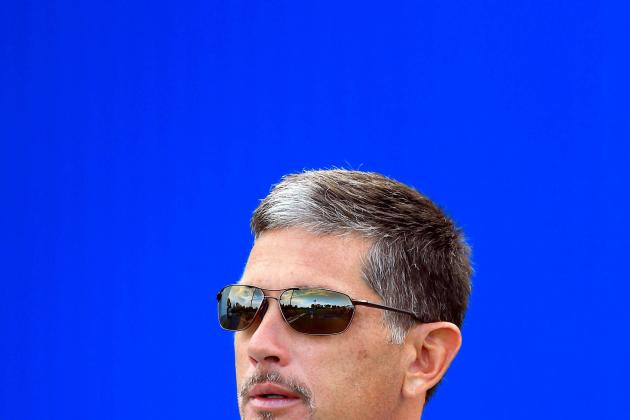 Andrew Weber-USA TODAY Sports

It's no secret: Jim Schwartz is on the proverbial hot seat. With an expiring contract at the end of 2013 and one winning campaign in four seasons, Schwartz is under fire to produce a winner.
Should the Lions sputter out of the gate, and given the schedule that is entirely possible, the calls for Schwartz's head will be deafening. Even his staunchest advocates will face an uphill battle to make a legitimate argument that Schwartz should stick around.
The key game is Dallas, as it's a home game before the bye week. Anything less than a competitive 3-5 record after that Cowboys game will almost certainly spell the immediate end of Schwartz. He might not last that long if the team suffers yet another penalty-filled, embarrassing loss in which Schwartz's utter inability to properly prepare his team to play is on full display once again.
Getting off to a fast start is a real imperative for the Lions. This is a very talented team but also a young unit that hasn't tasted much success. If they fail to win some games early on, the confidence the players have in Jim Schwartz will erode quickly.