Picks, Predictions and Prognosis for Every Week 1 SEC Football Game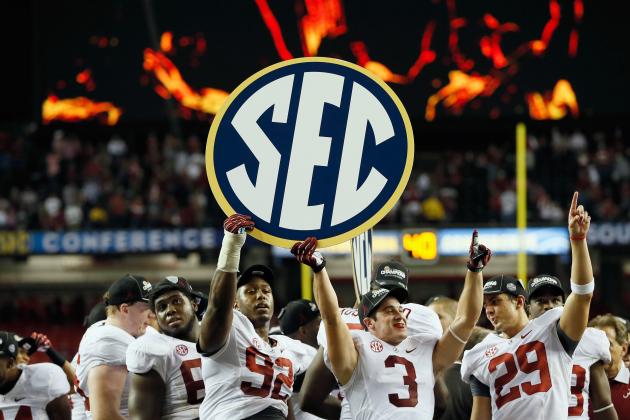 Kevin C. Cox/Getty Images

That sound you hear is the clock ticking down to triple zeros.
Toe is about to meet leather in the nation's toughest college football conference, and the quest for the SEC's eighth straight BCS National Championship will be off and running.
With AP No. 5 Georgia traveling to No. 8 Clemson, No. 12 LSU taking on No. 20 TCU in the Cowboys Classic and a conference game between Ole Miss and Vanderbilt, Week 1 is loaded games that have potential conference and national championship implications.
How will the opening week of the season shake out? Weekly picks are in this slideshow.
2013 Record: 0-0 (0-0 ATS)
All Lines Courtesy: VegasInsider.com
Begin Slideshow

»
Thursday, Aug. 29 at 6 p.m. ET
The 2013 season kicks off in style, as South Carolina defensive end Jadeveon Clowney kicks off his Heisman Trophy campaign on national television as he and the Gamecocks host ACC foe North Carolina in the first FBS game of the 2013 season.
Even though the scores don't always indicate it, the typically Gamecocks come out sloppy in openers. Thursday won't be any different.
Mike Davis emerged as head coach Steve Spurrier's top option at running back in fall camp, so expect the coaching staff to test him early to see if he can handle the responsibility of being the every-down back. Ideally, the staff would like to protect quarterback Connor Shaw as much as possible in the running game. If Davis can handle the load, it'll be a good sign for this game and the 2013 season.
Defensively all eyes will be on Clowney, but Tar Heel left tackle James Hurst was featured prominently on preseason All-ACC teams for a reason. The Hurst vs. Clowney battle will be what truly dictates this game. Hurst is certainly capable of playing at an elite level, but if the Tar Heels pay too much attention to Clowney, defensive tackle Kelcy Quarles and defensive end Chaz Sutton could have big games.
Ah, who are we kidding? Clowney is going to hit somebody so hard that your television shakes and a North Carolina helmet rolls through your living room. Or, as Clowney calls it, "a normal day at the office."
Prediction: South Carolina 28 - North Carolina 17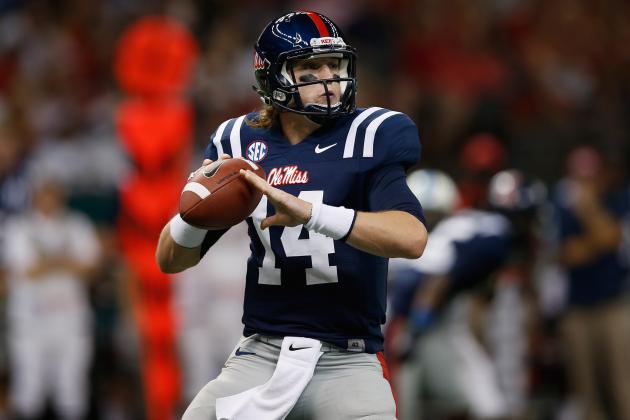 Chris Graythen/Getty Images
Ole Miss QB Bo Wallace
Thursday, Aug. 29 at 9:15 p.m. ET
The first conference game of the season is one that could have major implications on which team "takes the next step" from competitor to contender.
That team will be Ole Miss, not Vanderbilt.
With the majority of its starters returning on both sides of the ball and the talent injection head coach Hugh Freeze orchestrated this season with a top-10 recruiting class, the Rebels will prove that they are legit on Thursday.
Are there some concerns with quarterback Bo Wallace's surgically-repaired shoulder? Sure. He tossed 22 touchdowns and 17 picks last season with that shoulder nagging him. Now that it's fixed, expect those touchdowns to go up and interceptions to plummet.
All-SEC linebacker Denzel Nkemdiche led a defense that got better as last season went on, and he's joined by his brother—consensus No. 1 overall prospect Robert Nkemdiche—who will start at defensive end.
This game will be a shootout late into the night, and considering Vanderbilt is breaking in quarterback Austyn Carta-Samuels and wide receiver Chris Boyd is still suspended, the 'Dores won't be able to hang for a full four quarters.
Prediction: Ole Miss 41 - Vanderbilt 31
Saturday, Aug. 31 at 12:21 p.m. ET
Florida has new pieces on defense, No. 1 running back Matt Jones out and a wide receiving corps that's been searching for answers for years. Needless to say, there are quite a few questions in Gainesville as Florida heads into the opener versus Toledo.
The coaching staff needs to see Jones' backup (Mack Brown) at running back perform well. Jones is fully capable of being a No. 1, but if the passing game doesn't improve, having a deep and versatile running game is a nice insurance policy for the Gator offense.
Who's going to be the guy who steps up outside? Quinton Dunbar? Freshman Demarcus Robinson? Florida needs to find somebody—anybody—who can stretch the field to prove to themselves and everybody else that a second dimension exists.
If quarterback Jeff Driskel completes more than five passes of 10 or more yards, will that be enough to prove that this team will be more explosive in 2013?
Of course not. After all, it's Toledo.
Florida wins, Driskel will look polished at times, but a couple of gambles downfield will bite the Gators and prevent this from getting out of hand.
Prediction: Florida 27 - Toledo 13
Saturday, Aug. 31 at 1 p.m. ET
Will Texas A&M quarterback Johnny Manziel play or won't he? It turns out both will happen, actually. Manziel will serve a half-game suspension versus Rice stemming from his recent autograph scandal, according to Billy Liucci of TexAgs.com.
When he gets in, expect him to work on a lot of the things he's been working on this offseason—staying in the pocket, proper footwork and going through his progressions before bailing. In other words, expect a slightly different Manziel than we saw last season with some inconsistency early (oh look...he's distracted...everybody panic!).
Head coach Kevin Sumlin needs Manziel to familiarize himself with new wide receivers Ricky Seals-Jones and JaQuay Williams, and get some of the inexperienced members of that four-headed monster at running back some work.
A&M will accomplish both goals, and make this a successful day at the office.
With running back Ben Malena being preserved a bit and Brandon Williams unlikely to play a ton of snaps, Trey Williams will have a big day, Manziel will be solid even without video-game numbers and A&M will cruise.
Prediction: Texas A&M 45 - Rice 20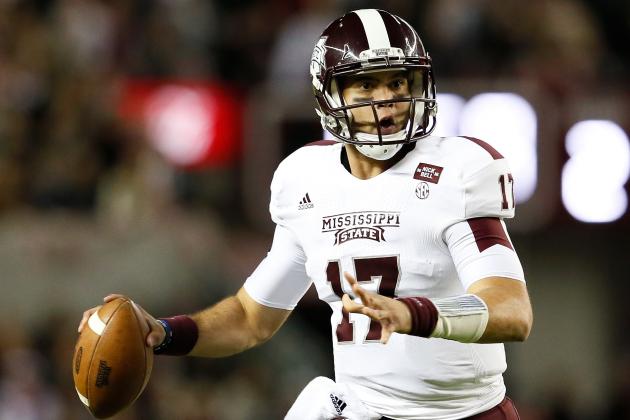 Kevin C. Cox/Getty Images
Mississippi State QB Tyler Russell
Saturday, Aug. 31 at 3:30 p.m. ET
Which Mississippi State team will show up to Reliant Stadium: the one that started last season 7-0 or the one that lost five of six to close the 2012 season?
The latter.
Mississippi State has a solid offensive line and a good running back with LaDarius Perkins, but quarterback Tyler Russell struggled against decent competition last season and has a brand new wide receiving corps to work with this season.
It doesn't matter that Oklahoma State will rotate quarterbacks J.W. Walsh and Clint Chelf, the Pokes can play dial-a-score against anybody. With cornerbacks Darius Slay and Johnthan Banks gone, Mississippi State will find this out early and often.
Cowboys head coach Mike Gundy will dial up a big score on Saturday, and Mississippi State simply won't be able to hang.
Prediction: Oklahoma State 42 - Mississippi State 28
Wesley Hitt/Getty Images
Arkansas head coach Bret Bielema
Saturday, Aug. 31 at 4 p.m. ET
The Bret Bielema era kicks off in Fayetteville with a very sketchy matchup with the Louisiana-Lafayette Ragin' Cajuns. Bielema better make sure his team doesn't sleep on this one, because Mark Hudspeth's team is very capable of leaving Arkansas with a win.
The key for Arkansas is controlling the clock. Running backs Jonathan Williams and Alex Collins need to be focal points of this offense, and getting both of them looks early and often will allow the coaching staff to know what they need to work on and—more importantly for this particular game—keep Louisiana-Lafayette's offense off the field.
Ragin' Cajun quarterback Terrance Broadway was efficient in the passing game last season with 17 touchdowns and only nine picks, while adding 769 yards and nine scores on the ground. Arkansas' front four is solid led by ends Chris Smith and Trey Flowers, but behind them, there's not much to work with.
Williams will top the century mark, quarterback Brandon Allen will be efficient but not flashy and Arkansas will grind out an ugly, old-fashioned win.
Just the way Bielema wants it.
Prediction: Arkansas 28 - Louisiana-Lafayette 17
Saturday, Aug. 31 at 5:30 p.m. ET
It seems like everybody is overlooking Virginia Tech, and all eyes are pointing to Alabama's Week 3 showdown in College Station versus Texas A&M. But if the Crimson Tide isn't careful, it could very easily fall victim to one of the biggest upsets of the college football seas....
...Ok, not really. Alabama is going to run and hide in this one.
Quarterback AJ McCarron is a legitimate Heisman Trophy candidate this season, and you'll see that early as he will establish the downfield passing game with Amari Cooper, Kevin Norwood, Chris Black, DeAndrew White and the rest of that talented and deep receiving corps. Once Saban gets up by a couple of touchdowns, they'll play ground-and-pound with T.J. Yeldon, Dee Hart and Derrick Henry.
In other words, it'll be the same script Alabama follows for virtually every game.
Virginia Tech quarterback Logan Thomas is talented but way too inconsistent to be a star. Inconsistency gets you beat against a team like Alabama.
Prediction: Alabama 38 - Virginia Tech 14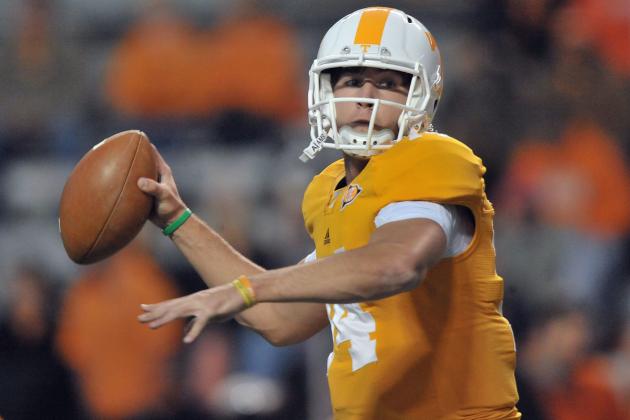 Jim Brown-USA TODAY Sports
Tennessee quarterback Justin Worley
Saturday, Aug. 31 at 6 p.m. ET
World, meet Marquez North. Marquez North, meet world.
The 6'4", 215-pound true freshman wide receiver for the Tennessee Volunteers has been the talk of fall camp, and he will show the world why on Saturday when he lights up Neyland Stadium. He has the size to go up over opposing defensive backs, will be a force over the middle and has speed to burn.
A six-catch, 100-plus yard afternoon is not out of the question. After all, it's Austin Peay.
Justin Worley won the quarterback job exiting fall camp, but the opponent in this one suggests redshirt freshman Nathan Peterman will get in for an extended period of time. If he impresses the coaching staff in game situations, don't be surprised if he finds the field in specific packages with the starters moving forward.
The biggest thing for first-year head coach Butch Jones in this one is on defense, where the Vols are switching back to the 4-3 after posting the conference's worst defense a year ago (471.3 YPG). As long as the secondary stays disciplined and the front four can control the line of scrimmage, the Vols will be fine.
The game will never be in question, but if they suffer some breakdowns, it's a bad sign for the future.
Prediction: Tennessee 45 - Austin Peay 6
Saturday, Aug. 31 at 7 p.m. ET
Lots of offense and not much defense...that's the plan for this one.
Auburn has talent on both sides of the ball and should handle Washington State with relative ease, but this is the team that looked lost, out of shape and eventually gave up last season. Is a new coaching staff led by head coach Gus Malzahn what Auburn needs to turn the page? We'll see.
Malzahn will find success with this offense for one reason—Auburn has running backs. Tre Mason was a 1,000-yard rusher last season, Cameron Artis-Payne looked like a Ben Tate clone in the spring game and Corey Grant is a burner that can take it to the house from anywhere. As long as junior college transfer quarterback Nick Marshall can manage the game and not make mistakes, Auburn will be fine.
Washington State doesn't run often, so we won't find out much about Auburn's front seven in that department on Saturday. But if the front four can get consistent pressure on quarterback Connor Halliday, that's a good sign of the future.
How much will newcomers Carl Lawson, Elijah Daniel and Montravius Adams factor in? It'd be better for Auburn if the incumbents take the job and run with it. If guys like Craig Sanders, Gabe Wright and Ken Carter have big days, it will allow the newcomers to get some experience and create valuable depth down the road.
Marshall will toss three touchdowns and rush for another, but he'll make some mental mistakes in the passing game that give the coaches something to work on next week in practice. Auburn's defense won't be impressive, but it will force a couple of key turnovers to put this one away.
Prediction: Auburn 38 - Washington State 27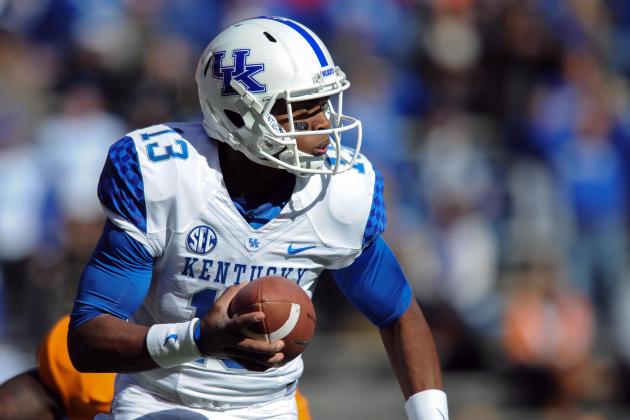 Randy Sartin-USA TODAY Sports
Kentucky QB Jalen Whitlow
Saturday, Aug. 31 at 7 p.m. ET
Kentucky couldn't settle on a starter at quarterback, so head coach Mark Stoops will roll out quarterbacks Jalen Whitlow and Max Smith versus the Western Kentucky Hilltoppers.
That puts the Wildcats in a precarious spot, because Western Kentucky won this matchup in Lexington last season, upgraded with head coach Bobby Petrino taking over and has the talent to spring the upset again.
Whitlow was solid in the spring and has dual-threat capabilities to add a different dimension to the Wildcats' air-raid attack, but Smith is a pure passer who could thrive in offensive coordinator Neal Brown's offense if given consistent snaps.
Which one will emerge. Whitlow appears to have the edge, but don't be surprised if Smith is the more impressive quarterback during this matchup. He tossed eight touchdowns and four picks last season before an ankle injury ended his season, and that experience will help him once toe meets leather.
Can linebacker Avery Williamson and the Wildcat defense shut down running back Antonio Andrews and what will be a potent Hilltopper offense? They'll do it enough, but there will be some nervous moments for Big Blue Nation.
Prediction: Kentucky 24 - Western Kentucky 17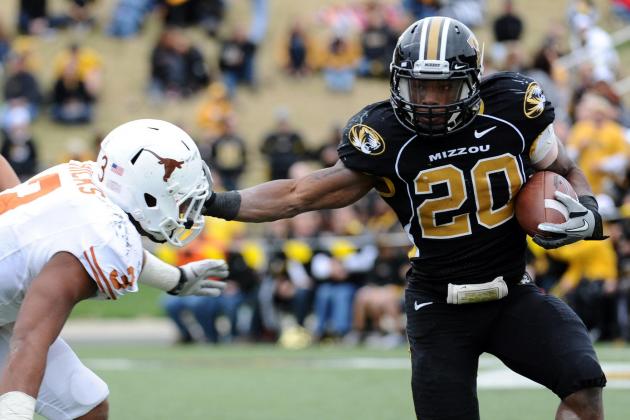 Dak Dillon-USA TODAY Sports
Missouri RB Henry Josey
Saturday, Aug. 31 at 7 p.m. ET
Wow, Missouri. You're really challenging yourself in the opener, aren't ya?
This game will be all about developing chemistry for the Missouri Tigers. Running back Henry Josey—who rushed for 1,168 yards and nine touchdowns two seasons ago—returns after a knee injury sidelined him last year.
Will he be back to his 2011 form? Will his presence help quarterback James Franklin re-emerge as a dual-threat weapon? Just how good can wide receiver Dorial Green-Beckham be? Who will replace Sheldon Richardson as the force in the middle of the defensive line?
Missouri needs to find out the answers to these questions before the SEC schedule kicks off in October, but we won't find them out against Murray State, because the starters won't be in long enough.
Prediction: Missouri 42 - Murray State 10
Saturday, Aug. 31 at 8 p.m. ET
Shootout? In this game?
That's the general consensus—even from Las Vegas—but that's not what's going to happen.
Georgia's offense is so dynamic and versatile that it can dictate the style of this game, and it will do its best to make this one an SEC-style slugfest. That means heavy doses of running backs Todd Gurley and Keith Marshall behind that talented and deep offensive line, and then shots deep when Clemson's safeties start to creep up.
Clemson has a potent offense led by quarterback Tajh Boyd and wide receiver Sammy Watkins, and that certainly suggests that it can exploit a new-look Bulldog defense that features linebackers Jordan Jenkins and Amarlo Herrera, safety Tray Matthews and nose guard Mike Thornton.
Those guys will be fine long term, but considering the stakes in this game, Georgia's best defense is a ball-control offense.
Gurley will go north of 100 yards, Marshall will flirt with the century mark as well, and Georgia leaves Death Valley with a hard-fought win over one of the ACC's top teams.
Prediction: Georgia 35 - Clemson 24
Saturday, Aug. 31 at 9 p.m. ET
Week 1 in the SEC closes with a Texas-sized showdown between LSU and TCU in the Cowboys Classic at AT&T Stadium in Arlington, Texas.
TCU head coach Gary Patterson is playing coy with who's going to take the snaps for him at quarterback, Casey Pachall or Trevone Boykin. Pachall was solid for the Horned Frogs with 10 touchdowns and only one pick before leaving the team in the middle of the season for personal reasons. Boykin wasn't as polished in the passing game, but he added a different dimension with his legs.
That gives LSU head coach Les Miles and defensive coordinator John Chavis plenty to prepare for with that new-look defense, but the mystery at quarterback for TCU won't be an issue for these Tigers.
Anthony Johnson and Ego Ferguson provide a solid foundation up front, linebacker Lamin Barrow has been solid throughout his career and the secondary is loaded with cornerbacks Jalen Mills and Jalen Collins, and safety Craig Loston.
Keep an eye on free safety Ronald Martin. The 6'1", 218-pounder put on some weight but maintained the athleticism to keep Boykin and the shifty Brandon Carter in check.
LSU will pound the rock with Alfred Blue and Kenny Hilliard, quarterback Zach Mettenberger will manage the game well with a couple of long touchdowns and the Tigers will leave Jerryworld with a big win over TCU.
Will this be a statement that LSU is squarely in the national championship hunt? Absolutely.
Prediction: LSU 24 - TCU 6