Los Angeles Dodgers: 5 Players Who Need to Step It Up in September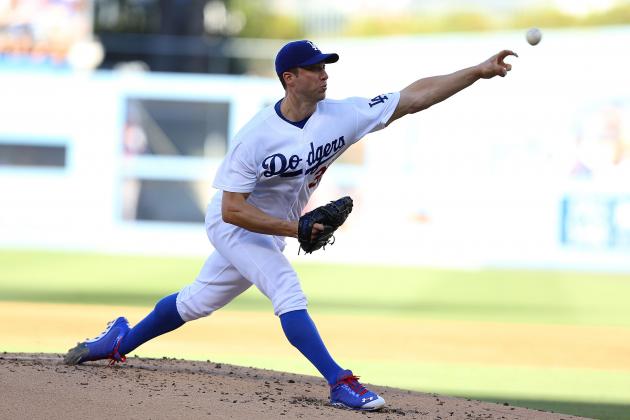 Victor Decolongon/Getty Images

The Los Angeles Dodgers' scalding summer streak had taken the world by storm, but as August comes to an end, the Blue Crew is fizzling out.
In their past 10 games, the Dodgers have gone 5-5 and lost their first series since June in an interleague series against the Boston Red Sox at Dodger Stadium.
While the Dodgers seem to have everything under control as they abate in the final days of August, there are a few Dodgers players who haven't been pulling their weight lately.
As we enter the final month of the 2013 season, let's take a look at which Dodgers players need to step it up in September.
Begin Slideshow

»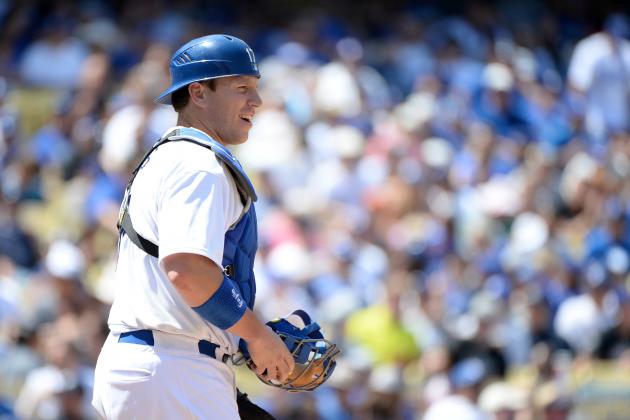 Harry How/Getty Images

A.J. Ellis remains one of the hardest-working players on the Dodgers, but his results didn't quite back up his efforts in August.
Ellis has been, and will likely always be, an unsung hero for the Dodgers, but dropped off after having his best month of the season in July (.278 BA .337 OBP 2 HR 14 RBI).
The 32-year-old journeyman remains a prominent leader and significant force behind the plate. However, his performance in the batter's box has left much to be desired as of late.
During his recent slump, Ellis' timing appears to be off and his batting average has subsequently fallen 18 points in August because of it.
August: 56 AB 10 H .179 BA .284 OBP 1 HR 11 RBI 9 BB 7 SO
Season: 317 AB 78 H .246 AB .333 OBP 6 HR 43 RBI 41 BB 61 SO
Marc Serota/Getty Images

Perhaps Hanley Ramirez is actually a human being and not a laser-hitting robot.
Perhaps.
After posting nearly identical astonishing numbers in June (.375 BA .414 OBP 5 HR 17 RBI) and July (.365 BA .420 OBP 5 HR 17 RBI), Ramirez has surfaced back to Earth in August.
In the penultimate month of the season, the Dodgers' shortstop's average and on-base percentages dropped to .218 and .271, respectively.
While his mini-slump has been glossed over as the Dodgers continue to excite in August, it's a slightly concerning side note for the team.
Ramirez has been seeing the ball well all season with some of the hardest hits we've seen in a while, but it seems as though his power went to his head in August, as he has consistently popped up good pitches while swinging for the fences.
August: 55 AB 12 H .218 BA .271 OBP 3 HR 8 RBI 3 BB 11 SO
Season: 238 AB 82 H .345 BA .394 OBP 14 HR 43 RBI 18 BB 42 SO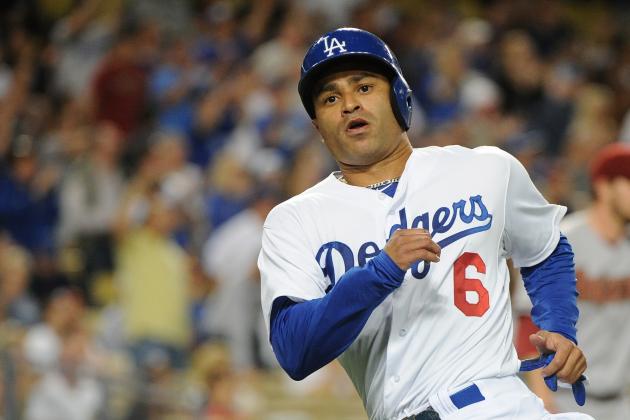 Lisa Blumenfeld/Getty Images

His offensive numbers have never protruded as phenomenal, but Jerry Hairston Jr. has been a reliable utility man for the Dodgers the entire season.
Barring this August, that is.
Hairston, who has filled in for the Dodgers at the infield corners and in outfield, has tanked this month and transformed from clutch to inconsistent at the plate.
Perhaps his age of 37 years and his 15 years in the majors are finally catching up to him in the latter stages of the season, but whatever the cause may be, Hairston hasn't been his usual energetic and clutch self.
After posting excellent numbers in May and June, Hairston has had two crummy consecutive months and is hitting .136 in his last 22 at-bats.
August: 35 AB 7 H .200 BA .256 OBP 0 HR 9 RBI 3 BB 1 SO
Season: 169 AB 40 H .237 BA .298 OBP 2 HR 22 RBI 14 BB 15 SO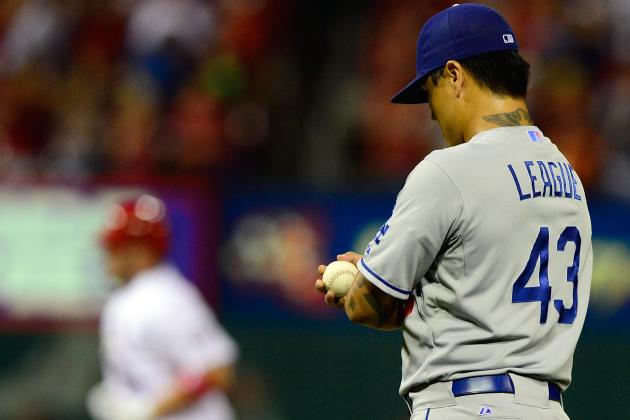 Jeff Curry/Getty Images

While nearly every player on the Dodgers has had something to rejoice about this season, Brandon League has yet to find even the thinnest of silver linings.
League began the season as a closer after signing a three-year deal that suggested that the Dodgers were expecting him to be their steady closer for a few years.
That plan quickly went awry.
The 30-year-old was demoted from the prestigious closer role to a spot reliever two months ago and has yet to fully recover from his early-season tribulations.
Although League looked as though he had put his troubles behind him in July (3-0 2.89 ERA 9.1 IP 7 SO), he soon reverted to his subpar ways early in August with a terrible outing against the Cardinals in which he surrendered two home runs in a third of an inning.
His bad outings continued throughout August, as he posted a 7.36 earned run average (6 ER in 7.1 IP) and gave up three home runs.
August: 0-1 7.1 IP 7.36 ERA 1.77 WHIP 0 SV 1 BLSV 3 HR 3 BB 5 SO
Season: 6-4 46 IP 5.48 ERA 1.48 WHIP 14 SV 5 BLSV 8 HR 14 BB 25 SO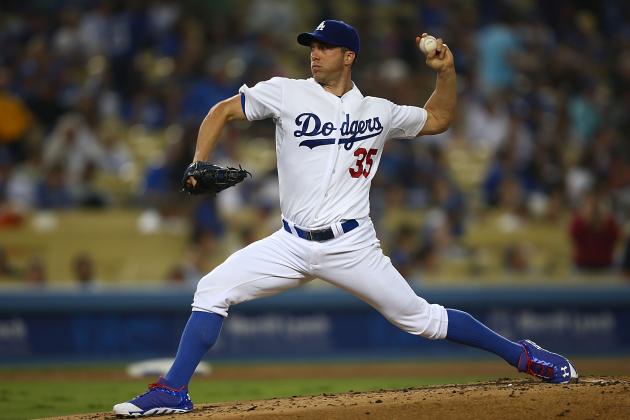 Joe Scarnici/Getty Images

This season has been an odd one for Chris Capuano.
With the influx of talented starters in the Dodgers' rotation, Capuano was relegated to the bullpen, but then quickly brought back into an injury-plagued rotation.
Pitching at the back end of the rotation, the veteran left-hander has been the Dodgers' most inconsistent starter. That was epitomized by Capuano in following a scoreless six-inning-plus outing with a pitiful start in July (4.1 IP 5 ER 1 BB 2 SO).
Capuano seemed to settle in through June and July after a rough start, but he has fallen apart in August.
What very well may be the result of late-season fatigue has yielded Capuano's worst stretch of starts this season. In all but one of his five August starts, the Duke alum gave up three or more earned runs and lasted five innings or less.
Fortunately, the red-hot Dodgers managed to win four of his five starts in August, but the team cannot afford to fall into early holes due to its starting pitching on a routine basis, particularly with the postseason drawing near.
August: 1-1 25.2 IP 5.26 ERA 1.71 WHIP 1 HR 6 BB 15 SO
Season: 4-7 95 IP 4.74 ERA 1.44 WHIP 10 HR 22 BB 69 SO