Making the Call on St. Louis Rams' Hardest Remaining Cuts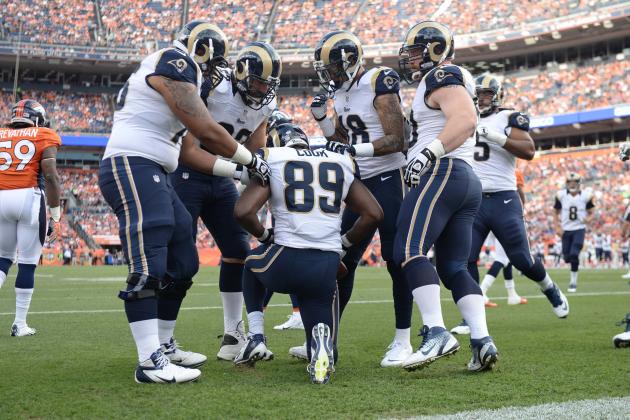 Ron Chenoy-USA TODAY Sports

At least 22 more players will be cut from the St. Louis Rams roster before the start of the 2013 season. It's a safe assumption that more than 22 will be cut, because someone, somewhere will probably waive/release somebody in whom the Rams have a bit more interest than they do in the very fringe guys on their roster.
Before that happens, though, St. Louis will have to make decisions regarding which uniform numbers will continue to be in use this year and—more importantly—who will wear them.
The first iteration of the Rams' 53-man roster last season included: two quarterbacks, four running backs, six wide receivers, four tight ends, eight offensive linemen, four defensive ends, five defensive tackles, six linebackers, six cornerbacks, five safeties and three specialists.
For simplicity's sake, we'll assume a similar setup this time around. Chances are, the roster will look different after it gets down to 53 for the first time, anyway.
One last note: Suspended players do not count against the roster limit for the duration of their suspension. Since Isaiah Pead is suspended for a game, the Rams can conceivably delay their decision of whether to keep Benny Cunningham or Chase Reynolds for another week or so.
Or they could just proceed with Daryl Richardson, Zac Stacy and Cunningham for Week 1 and use the extra spot elsewhere for their matchup with the Arizona Cardinals.
Begin Slideshow

»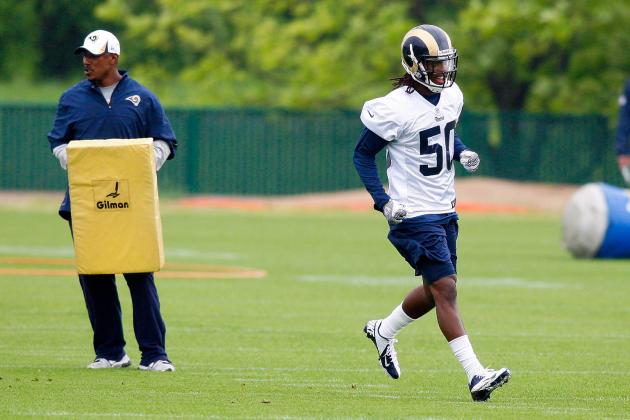 Scott Kane-USA TODAY Sports

It's not an overly difficult decision for the St. Louis Rams to keep Ray Ray Armstrong onboard. The safety-turned-linebacker from Miami has looked at home in his new role on the second level, showing up as a 'backer and a special-teamer in camp.
As if his versatility and speed—adjusting well to a new position and, you know, running—weren't enough, the Rams are only looking at five outside linebackers on the roster right now. One of them (Jo-Lonn Dunbar) is suspended for the first quarter of the season, which leaves them with four.
They're going to need four outside linebackers.
Armstrong is just an undrafted rookie who switched positions and survived first cuts, but he might have already made the team.
Decision: Stays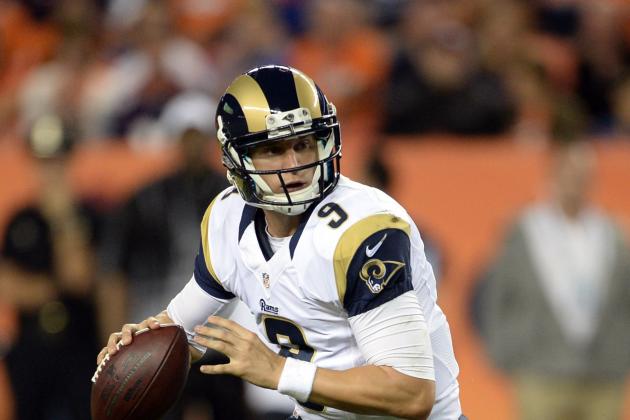 Ron Chenoy-USA TODAY Sports

Austin Davis hasn't exactly separated himself from Kellen Clemens in camp. It's down to just the two of them behind Sam Bradford, though, and the St. Louis Rams only kept one backup for their former No. 1 pick last season.
Davis should have the edge due to his youth and the fact that he already held the position last year. Through three preseason games, he is 21-of-40 passing the ball for 250 yards, one touchdown and no picks. Clemens is 10-of-29 for 161 yards, two touchdowns and four picks.
Decision: Stays
Scott Rovak-USA TODAY Sports

Four preseason interceptions isn't exactly going to help Kellen Clemens' case to stay on the St. Louis Rams roster for the 2013 regular season. It's not like he's had a steep learning curve to deal with; he's worked with offensive coordinator Brian Schottenheimer plenty of times before.
He'll be on the Rams' speed dial in case Sam Bradford or Austin Davis goes down.
Decision: Goes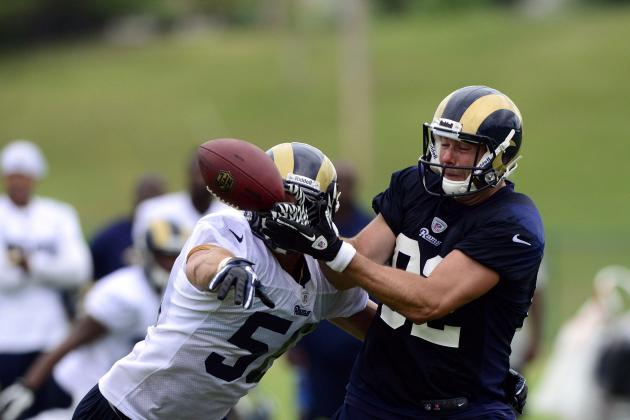 Jeff Curry-USA TODAY Sports

Perhaps the most difficult group to whittle down for a fit into the 53-man roster picture is the St. Louis Rams' tight ends. The free-agent signing of Jared Cook greatly increased the upside of the position, but the Rams have enjoyed guys showing out from all over the depth chart in camp.
Cory Harkey made some impressive catches while I was in Earth City, suggesting that he's more than a pure blocker. He was injured against the Denver Broncos thereafter, though.
Cook and Lance Kendricks aren't going anywhere, and Harkey's in the second year of a three-year deal (no guaranteed money). The only other tight end who's signed up beyond 2013 is undrafted rookie Philip Lutzenkirchen. He's got $3,100 guaranteed over the next three years—a relatively small amount in NFL terms, of course, but it could provide a hint of where the Rams are leaning.
That could leave both Mike McNeill and Zach Potter in an auditioning role in the fourth preseason game, unless Rams brass has already decided they want to keep the 265-pound Potter around as extra beef up front.
Decision: Goes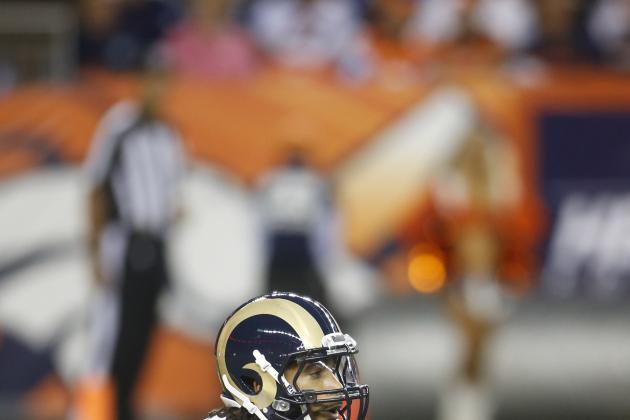 Chris Humphreys-USA TODAY Sports

Justin Veltung has been my favorite undrafted wideout at St. Louis Rams camp this summer. The 5'11" receiver with tremendous ups managed to outlast 6'4" Raymond Radway.
Veltung's story also could introduce a little divisional intrigue, if the storyline of the Rams' record vs. the rest of the NFC West in 2012 grows tiresome. The Seattle Seahawks signed him first.
Decision: Stays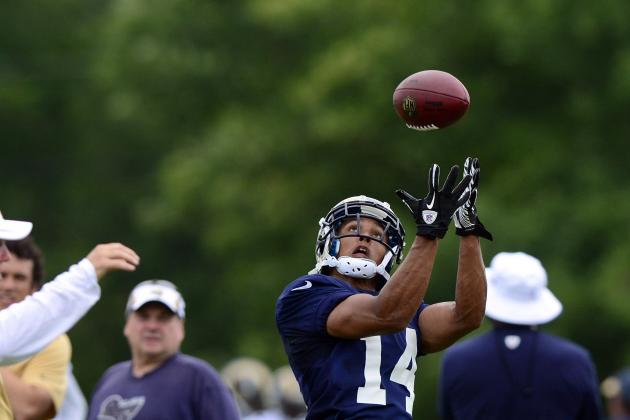 Jeff Curry-USA TODAY Sports
Nick Johnson
If Justin Veltung claims a spot on the 53-man roster, he will probably be the last man to do so. Behind Tavon Austin, Stedman Bailey, Chris Givens, Austin Pettis and Brian Quick is only space for one more wideout.
Nick Johnson and Emory Blake, necessarily, would be on the outside looking in. Veltung can return kicks, just like nearly every other receiver the Rams have rostered.
Decision: Goes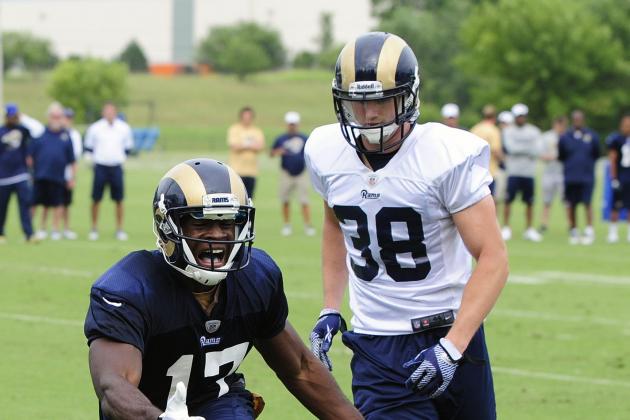 Jeff Curry-USA TODAY Sports

Cody Davis made plays in training camp. The fact that he was an undrafted free agent matters even less to the St. Louis Rams than it would to other NFL teams, too—five of their seven current safeties weren't drafted.
He fits in fine.
Coach Jeff Fisher will also like his toughness from the safety spot, as Davis' aggressive style discourages runners and receivers from entering his assigned area of coverage.
Unless they enjoy getting hit, that is.
Decision: Stays
Jamal Collier graduated from Washington University in St. Louis and is now a law student who covers the St. Louis Rams in his spare time. His work also appears on Yahoo!. Follow him on Twitter: Follow @JCollierD