Players Who Must Step Up for Washington Wizards This Season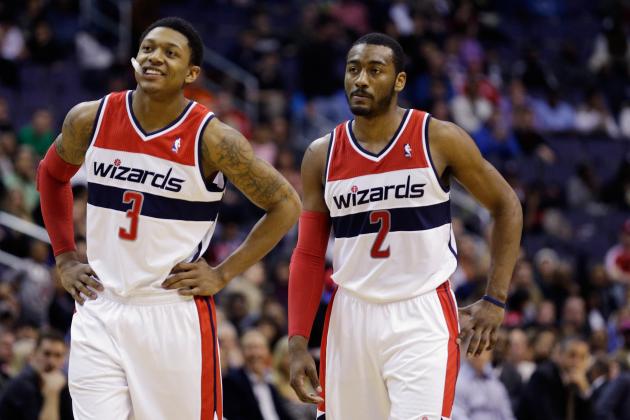 Rob Carr/Getty Images
Bradley Beal, John Wall and the rest of the Washington Wizards are making a push for the playoffs in 2013.
With the regular season only two months away, the Washington Wizards have several players who need to use these seven weeks to prepare to help the team get to the playoffs.
Now that the NBA draft and the NBA Summer League are over, Washington's roster is essentially set and fans have an idea of who they will see on the court this season.
Point guard John Wall is back, healthy and ready to lead the team and is surrounded by some incredible young talent, along with several veteran players.
Although there is a lot of talent on this young team, that doesn't mean there's no room for improvement. These five players need to step up their game if they want to be a part of a playoff team.
Now, just because a player has to improve their game doesn't mean they had a bad 2012. It just means there are tweaks that could really make a difference in Washington.
These improvements aren't a requirement for the team's success, but three or four of these players making improvements would almost guarantee a spot for the Wizards in the postseason, especially given the uncertainty of the Eastern Conference.
Begin Slideshow

»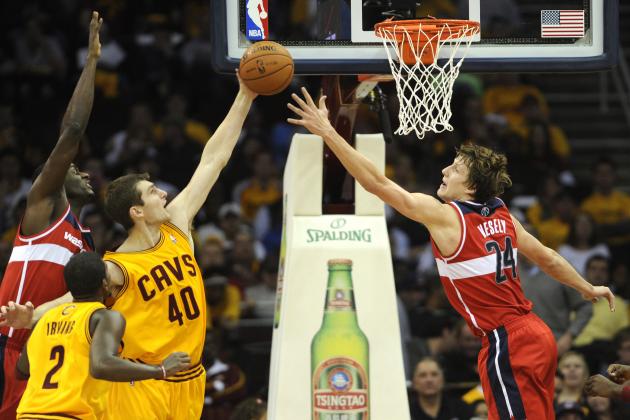 Jason Miller/Getty Images
Former first-round draft pick Jan Vesely has thus far proven to be a bust.
Just over two years removed from being the No. 6 overall selection in the 2011 NBA draft, Jan Vesely has yet to prove his worth in Washington.
In his two years with the Wizards, Vesely has become nothing more than the punchline to jokes and has become the new Kwame Brown-like draft bust.
But there's still time for the Czech to turn it around, and this is his last chance to make a difference on the team, given that his spot on Washington's roster for the 2014-15 season hinges on a team option this offseason.
Vesely has shot more than 50 percent from the floor in his two years in the NBA, but he only averaged 2.5 points and 2.4 rebounds during the 2012-13 season.
He also finished the season with a laughable 30 percent free-throw shooting.
Power forward is a deep position for the Wizards this season, so Vesely isn't likely to get much playing time with Al Harrington, Nenê and Trevor Booker ahead of him.
But an improvement in play could make Vesely a possible trade piece, or even a quality seven or eight minutes per game would be a huge improvement over his first two years.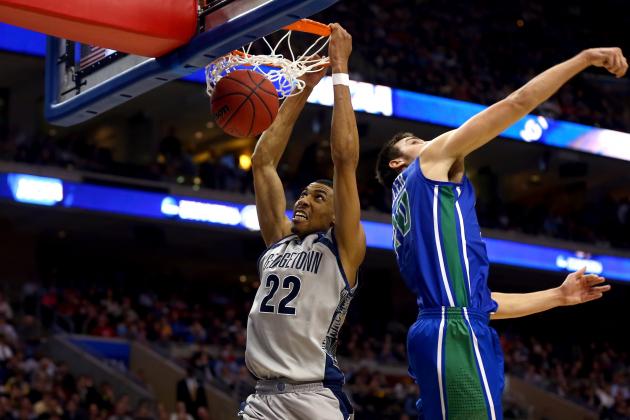 Elsa/Getty Images
Otto Porter Jr. will likely come off the bench at small forward for Washington, but a solid 10 points per game from Porter would be huge for the Wizards.
Yes, Otto Porter hasn't seen a NBA court during the regular season yet, but a quality season out of the Wizards' No. 3 overall draft pick would be huge.
Porter has struggled out of the gate in the NBA, going 4-of-13 in Washington's Summer League game against the New York Knicks and 3-of-13 in its game against the Golden State Warriors.
The rookie out of Georgetown also missed summer league time because of an injury and hasn't had a ton of opportunities to work out the kinks.
Veteran Trevor Ariza played fairly well at backup small forward last season, averaging more than nine points and four rebounds. Porter has the ability to do even more than that in the backup role behind Martell Webster, given that he averaged 16 points in college on 48 percent shooting.
No one knows what Porter can do in the NBA yet, but he needs to have a big year to put the Wizards over the hump and into the postseason, making Washington's lottery pick valuable.
If Porter can average about 10 minutes and six rebounds in 26 or so minutes per game, it would be an improvement over Ariza from last year and would give the Wizards a spark off the bench, and a possible spot starter at small forward.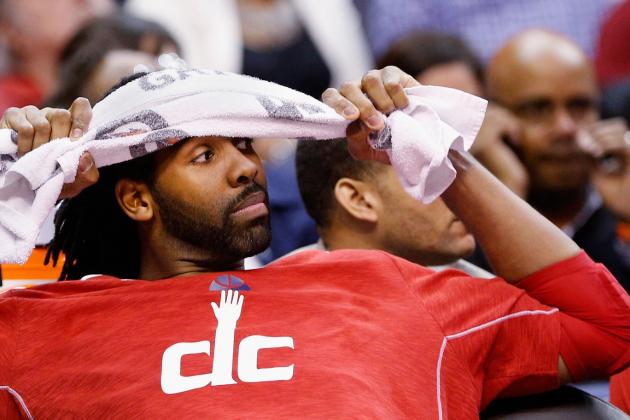 Rob Carr/Getty Images
Power forward Nenê has constantly struggled with injuries in his career but is making $13 million per year with the Wizards.
One of the oldest players on the Wizards, Nenê could afford to improve his game more than anyone else on the team.
His talent has never been a question, it's just been his health holding him back from being an elite power forward in the NBA.
The Wizards brought in Al Harrington to stretch the floor, but they still need Nenê to stay healthy and be a bigger and more aggressive power forward.
Nenê missed 21 games last season and only played in 39 games during the 2011-12 season with the Wizards and the Denver Nuggets.
Although his health is beyond his control, Nenê should work with the coaching staff to limit his minutes, especially with Harrington on the team.
When he's healthy and on the court, Nenê needs to improve his mid-range game. According to NBA stats, Nenê only shot just over 30 percent between eight and 16 feet last season, which is far below the league average.
He's never been a long-range shooter, but developing a better game outside of the key would give Washington's offense another dimension they lacked last season.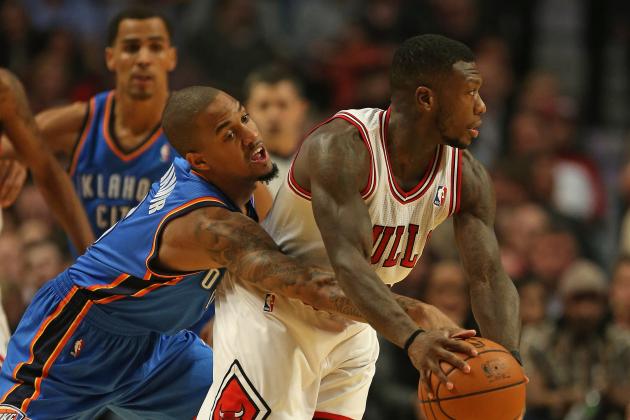 Jonathan Daniel/Getty Images
Point guard Eric Maynor was brought in to back up John Wall and could end up playing some games if Wall's injury history continues.
Although Eric Maynor hasn't played a single minute with the Wizards, he could afford to step up his game from his time with the Oklahoma City Thunder, Utah Jazz and Portland Trail Blazers.
For his career, Maynor has only started two games and averages 4.5 points and three rebounds.
Washington brought him in to back up star point guard John Wall, who has had issues with injuries in the past, so there's a chance Maynor could see some starts.
Starting or not, Maynor really needs to improve to be a valuable signing for the Wizards.
A.J. Price, who primarily backed up Wall last season, only shot 39 percent from the floor and played terribly as a starter when Wall missed the first part of the season due to injury.
Maynor is only making $2 million this season, but he needs to play better than he has in his first four seasons in the NBA if the Wizards want to say they have a true backup point guard.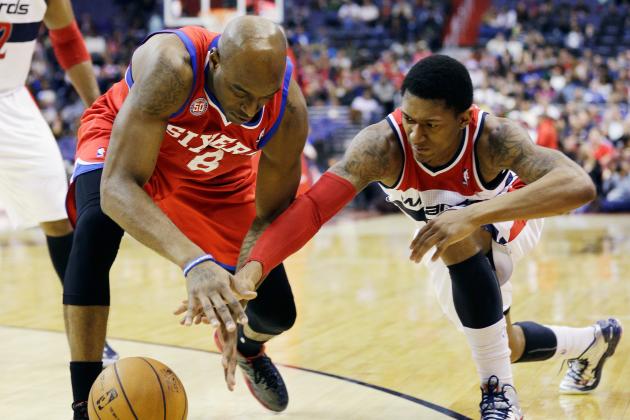 Rob Carr/Getty Images
Shooting guard Bradley Beal is entering his second year in the NBA and is looking to become a premier player alongside John Wall.
There were times when Bradley Beal carried Washington's offense last season, mainly when John Wall was out, but that doesn't mean Beal can't make some improvements.
The Wizards' 2012 No. 3 overall pick started 46 games in his rookie year out of Florida and averaged 13.9 points and 3.8 rebounds.
Certainly not bad for a rookie campaign, but if Beal wants to be considered one of the best shooting guards in the league, he needs to improve his shot selection.
Beal did shoot 38 percent from behind the three-point line, but that mainly came from his almost 40 percent shooting from the right-side center from three, according to NBA stats.
From the center, Beal only made 25 percent of his shots and oftentimes took shots that seemed hurried during the first half of the year.
Closer to the hoop, Beal shot below the league average from the left and right side of the baskets as well, and he needs to improve on getting to the hoop. Driving would open up more room for Harrington to shoot threes when he's on the court, and it would make Beal a better overall player.
There's no doubt Beal is on his way to being a top-10 shooting guard in the NBA, but if he wants to help Wall drive Washington's offense, he needs to work on taking better shots and distributing the ball when there's no open looks.