LSU vs. TCU: Four Burning Questions for the 2013 Cowboys Classic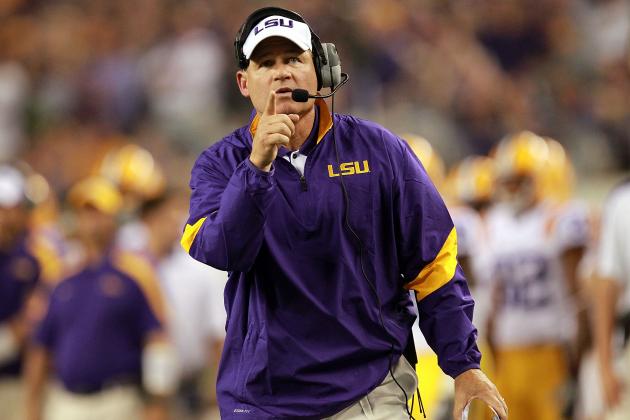 Ronald Martinez/Getty Images
Miles coaching his Tigers the last time LSU played in the Cowboys Classic
Gameday is near. Let LSU tackle football fans rejoice and be glad in it.
This weekend is considered holy in the south. College football is back. And that means LSU will be taking the field in search of a National Championship.
It all starts in Jerry's World for the Cowboys Classic. LSU will face TCU in a Top-25 showdown that features two teams who love to smash their opponents in the mouth.
The biggest question heading into the game is the status of a star player from each team.
LSU running back Jeremy Hill is still waiting to hear from Les Miles regarding his disciplinary verdict for his bar offseason sucker-punch.
Meanwhile, TCU defensive end Devonte Fields was suspended in May for two games, but will be dressed out on Saturday. Frogs coach Gary Patterson told the media "you'll find out at game time" when asked if Fields would play.
While those situations remain fluid, there are other storylines that make this game fascinating to the neutral viewer. Here are four questions to ponder before the Tigers face the Horned Frogs on Saturday.
Begin Slideshow

»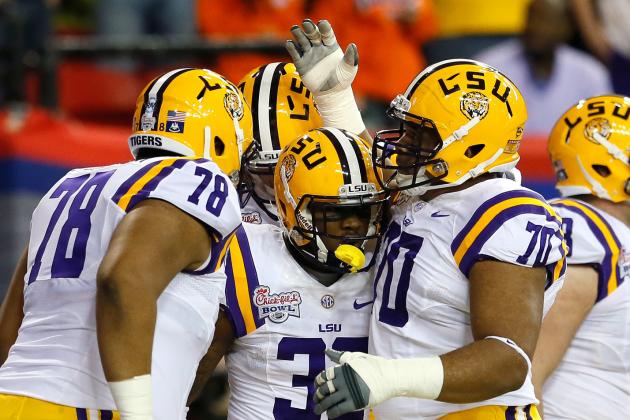 Kevin C. Cox/Getty Images
La'el Collins and Vadal Alexander celebrate with running back Jeremy Hill.
Elite SEC teams have always found ways to wear down non-conference foes with their size, speed and depth in the trenches. LSU will hopefully follow the same script versus TCU.
The Tigers did exactly that the last time they opened their season in the Cowboys Classic. In 2011, the Oregon Ducks only trailed the Tigers by three at halftime. But the Tigers pounded a tired Oregon defense with simple running plays in the second half.
LSU dominated time of possession during that span, holding the ball for eight more minutes than the trailing Ducks.
The Tigers took a hit to their offensive line when senior Josh Williford's career was ended with a second concussion in a year. Williford now serves as assistant "student coach".
In an unusual position flip, right tackle Vadal Alexander will now move to left guard in place of Williford. Redshirt freshman Jerald Hawkins will replace Alexander at right tackle.
Injuries up front are nothing new for LSU. The Tigers lost former left guard Josh Dworaczyk before the Oregon game and did just fine filling his role for the rest of the season: Dworaczyk continued to contribute off the field.
Like Williford, he became an assistant coach after his season-ending injury. His wisdom helped the line out exponentially. Williford will do the same for LSU in 2013.
TCU has a stout defense, one LSU fans are taking for granted. TCU lead the Big 12 in rushing defense, only allowing opponents 3.2 yards per carry.
Defensive tackle Chucky Hunter is their best player in the front seven. Hunter is a native of West Monroe, La., home of many legendary LSU defensive lineman. His game resembles former LSU defensive tackle Drake Nevis, as he uses his quickness to "gap-shoot" into the backfield to make plays. Look for TCU to line him up over center to take advantage of LSU's inexperience at that position.
The Horned Frogs are inexperienced at linebacker. Marcus Mallet started only two games last season. Paul Dawson played in all 13 games last season, yet only registered 14 tackles. Former safety Jonathan Anderson is the most explosive of the bunch.
Now the question remains if the Tigers can take advantage of their opponent's lack of depth. The status of Hill is still in question. LSU fans are not petrified about Hill's status because of capable backups Alfred Blue and Kenny Hilliard.
Yet people should be a little more skeptical about how Hill's absence could affect the team, as there is no aspect of Blue or Hilliard's game that is better than Hill.
Blue and Hilliard shredded non-conference opponents to start the 2012 season. They should both have solid outings versus TCU if LSU is able to get their initial surge up front.
LSU should rake in at least 150 yards rushing.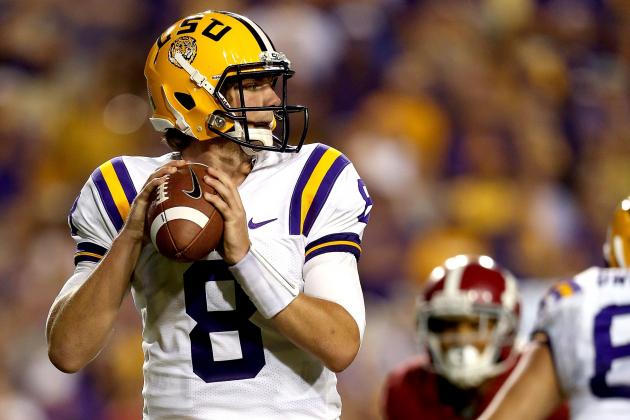 Matthew Stockman/Getty Images

There have been plenty of stories filled with the quotes all saying the same thing: Mettenberger will turn the corner as a quarterback because of new offensive coordinator Cam Cameron.
Yet few writers have actually said why or how. Instead, they just assume Cameron will make Mettenberger great.
In the words of Walter White, tread lightly, LSU fans.
People cite Cameron's amazing ability to develop quarterbacks. Yet few mention his best two, Drew Brees and Joe Flacco, became better quarterbacks when they moved on after Cameron.
But Mettenberger will only be with Cameron for a year. Flacco had a solid rookie season in his first year under Cameron's teaching. Flacco and Mettenberger are of similar build and skill set, which is a positive for LSU fans.
The problems facing the LSU passing attack from last year are still the same this year.
The Tigers are lacking a proven deep threat. Odell Beckham Jr. and Jarvis Landry are great receivers, but do not the fit the build of a guy who can scare defenses over the top. The loss of Rueben Randle to the NFL Draft severely hurt the offense in 2012.
LSU was the only school in the SEC to not have a receiver with a reception over 60 yards or have more than one receiver with a 50-yard reception. The Tigers put forth the effort to push the football down the field but could not ever connect.
Landry and Beckham will become more potent down-field. Travin Dural, Kadron Boone, Quantavius Leslie and others are candidates to make explosive plays. LSU also has better receiving tight ends to help Mettenberger attack the middle of the field.
Pass protection was an issue for LSU last season, too. The Tigers ranked 89th in the country in sacks allowed per game. Pass protection is still suspect, especially as the offensive line shifts bodies to cope with Williford's injury. But TCU will, more than likely, not have their best pass rusher in Fields.
TCU has a savvy secondary. Their best playmaker is Sam Carter, a safety who can do a little bit of everything. Kevin White and Jason Verrett are top-notch corners.
The best part of of Landry and Beckham's game is their crisp route-running. Yet the biggest challenge to those type of receivers are smart corners who work well with body leverage. Verrett and White both fit the mold.
The TCU secondary defended West Viriginia superbly last year. Tavon Austin and Stedman Bailey struggled because of the Horned Frogs' physicality. So the Horned Frogs are accustomed to stifling great receivers.
If LSU can run the ball, the passing game becomes easier. Yet there will be times where Mettenberger will need to fit the ball in tight windows.
Mettenberger eclipsed 200 yards passing in his last four regular season games. He will have some success, but will barely miss out on stretching the streak to five games.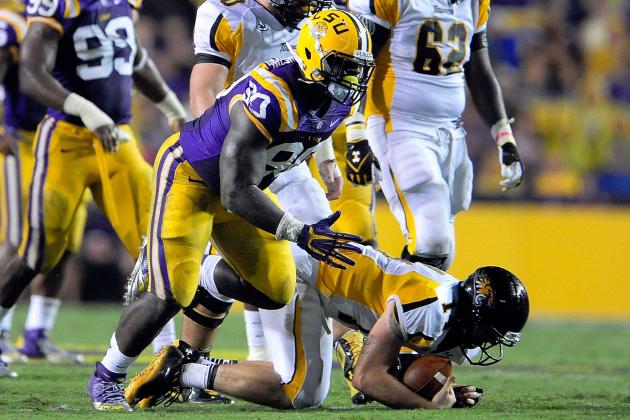 Stacy Revere/Getty Images
Anthony "Freak" Johnson will be a force in the middle of the LSU defense.
LSU lost plenty of talent to the NFL Draft. But LSU fans should not panic. Outside of Kevin Minter, every defensive underclassman who left the program underachieved.
There is plenty of hungry talent to step in and be effective. But who and how will defensive coordinator John Chavis rotates into the game is the question.
Up front, expect upperclassmen in defensive tackles Anthony "Freak" Johnson and Ego Ferguson to play the majority of the snaps in LSU's base 4-3 formation. Jermauria Rasco is the most experienced defensive end on the team. Danielle Hunter is leading the candidate to start at other end.
Yet there is plenty of room for young guys to step in and play. Johnson, Ferguson, Hunter and Rasco are talented, but have done little to prove themselves. Look for Christian LaCouture, Maquedius Bain, Jordan Allen, Lewis Neal, Kendell Beckwith, Greg Gilmore, Tashawn Bower, Jordan Allen and Frank Herron to all be in the mix for playing time.
The back seven will also have plenty of rotating pieces.
The loss of Kevin Minter opens up playing time alongside Lamin Barrow, who finished the season with 104 tackles last year. Tahj Jones, D.J. Welter, Deion Jones and others will receive playing time.
But the next great star on defense is outside linebacker Kwon Alexander. Alexander was the best player on the field at the Purple and White Game. He began to catch his stride last season as a freshman, but suffered an injury versus Florida that sidelined him for the rest of the regular season. He is LSU's most versatile linebacker who will give TCU fits in the run and passing game.
LSU has been tabbed as Defensive Back University for their trend of elite play in the secondary. Jalen Mills, Jalen Collins and Craig Loston return as starters. Micah Eugene became a pest for offenses as a Nickel and Dime back.
But, like the other positions, it remains to be seen who will play alongside the returning starters. LSU has at least 13 defensive backs who could be in consideration to play snaps on Saturday, including Corey Thompson, Ronald Martin and true freshman Tre'Davious White.
The depth at all three positions is good to have. There is some uncertainty with inexperience, but LSU has the talent to overcome it. Expect to see some of the players named play special teams at the very least for the Tigers on Saturday.
Simply put, TCU can throw the football.
The Horned Frogs finished in the bottom half of the Big 12 in passing. But pass-happy schools such as Texas Tech, West Virginia, Oklahoma State, Oklahoma and Baylor will out-throw almost everybody.
Casey Pachall started the season 4-0, yet was suspended for the final nine games of the season. Backup Trevone Boykin took over and TCU went 3-6 in those games. Boykin showed flashes of brilliance, throwing for over 2,000 yards and 15 touchdowns.
TCU has yet to name a starter, but Miles says his team is prepared to defend both.
The Horned Frogs were the only team in the Big 12 to average less than four yards per carry. They do get Waymon James back healthy after an injury plagued 2012. TCU should get close to the century mark, but expect for LSU's front to stifle the run.
Notice in the highlight tape above: Gary Patterson's offense loves to use pre- and post-snap motion to confuse and widen safeties and defensive ends. This usually creates space over the middle of the field. Alabama and Florida did this effectively versus LSU last season.
The easiest way to prevent a passing attack from flourishing is getting to the quarterback without blitzing. Despite LSU's recent track record of great defensive lineman, they have struggled in getting pressure through traditional four-man rushes. But the Tigers pass-rushing moves looked crisp in the LSU Spring Game.
LSU's most effective pass rushing weapon has been defensive coordinator John Chavis' creativity. His 3-2-6 "Mustang" formation has quietly revolutionized the LSU defense. It subs out a defensive lineman for a defensive back to help maximize speed on the field. It was the kryptonite of Johnny Manziel when Texas A&M fell to LSU last season.
The exotic blitzing Chavis does from this formation causes headaches for opposing quarterbacks. On an artificial surface, the speed of LSU should overwhelm Pachall at times.
TCU should have some optimism versus the Tigers. LSU has great corners, but it does not have the elite shutdown players they have had in years past to lock up on the outside. Slant-route assassin Brandon Carter and the rest of the receiving core needs to create space with their precise route running.
The Horned Frogs will have some success through the air. Carter is arguably TCU's best offensive weapon. He is a crafty speedster who is deadly out of the slot. Yet he is the only one under six feet tall. LaDarius Brown, Cam White, David Porter form a receiving core that plays big.
To counter, LSU has size in their secondary. But defensive backs coach Corey Raymond needs to fix simple technical errors his unit made in the final few games of the season.
LSU overall does a great job versus the TCU air raid, but gives up two explosive plays in the secondary.
TCU will give LSU a fight, but the Tigers will eventually wear down the Horned Frogs in the second half.
Special teams will be an interesting development. The Tigers are having to replace their starting punter and kicker. TCU returns two freshmen at both positions respectfully. Yet the Tigers coverage units always rank amongst the nation's best.
Coaching on the field will also be a relief. Neither Miles or Patterson had the smoothest of offseasons.
Although special teams units are about even, LSU holds an advantage on both sides of the football.
One side note: the biggest problem with the 2012 LSU Tigers was not the offense. It was the defense.
If there was one criticism of Chavis during the Miles tenure, it would be his inability to close games. It cost LSU their chances to play in the national championship last year. In the final three minutes versus Alabama, South Carolina, Texas A&M and Clemson, the Tigers gave up an alarming 30 points.
If a program wants to be known for its defense, it makes the clutch stops. Defenses are never remembered for how many stops they make, but if they make them when they matter the most.
Pachall can move the ball quickly. If the game is close, can LSU close them out?
LSU fans should breathe a sigh of relief, as the game will not get to that point. The spread is set at -4.5. I see Vegas being somewhat close until late in the fourth quarter, with LSU winning this one by double digits.
LSU 28 - TCU 17