5 NBA Players Who Could Wind Up on Trade Block Heading into 2013-14 Season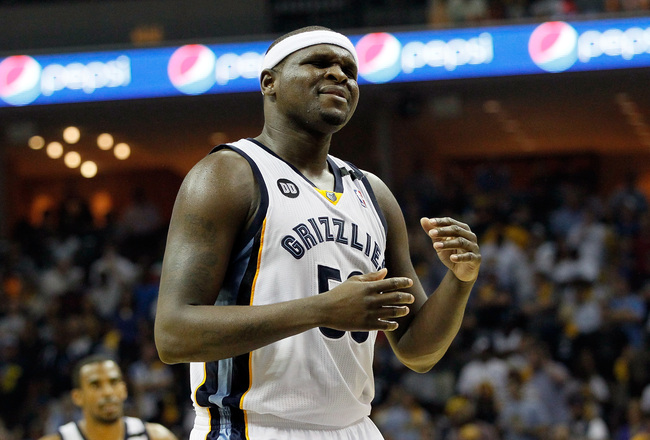 Kevin C. Cox/Getty Images
There are three large reasons why an NBA team might find itself motivated to participate in a high profile trade.
After witnessing a Miami Heat team that may have already crested in last year's NBA Finals, Team A might think they're one piece away from catching a lucky break and competing for the title.
The

CBA

has Team B's ownership worried about the luxury tax, both this season and for years to come.
With the 2014 lottery in sight, and Team C already finding themselves out of title contention and safely under the tax, its biggest incentive now is to rid themselves of highly priced, productive players.
Here are five players who could find themselves on the move for one of those three reasons. They're ranked from low to high on the probability of being dealt. All financial information used in this article can be found at ShamSports.com.
5. Zach Randolph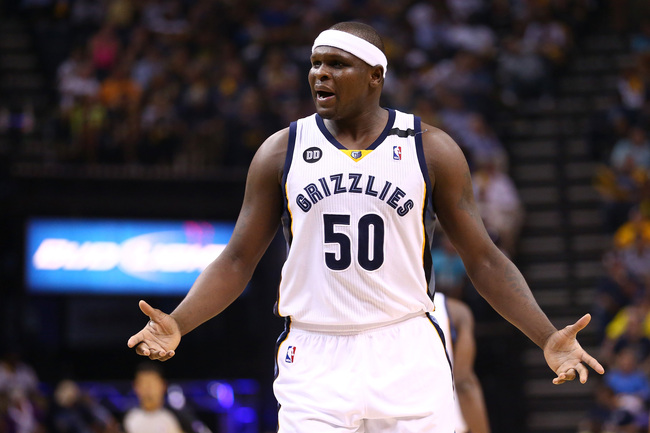 Ronald Martinez/Getty Images
Given his brilliant fit with the Memphis Grizzlies' identity, and the undeniable success their marriage has seen over the past few years, including Zach Randolph on this list feels blasphemous.
But after taking a step back and analyzing Randolph's relationship with his team a little closer, you'll see his inclusion here makes quite a bit of sense.
Randolph is 32 years old. He's also Memphis' highest paid player, owed $35.1 million over the next two seasons (including a $16.9 million player option in 2015). He'll enter next season as arguably the third best player on the Grizzlies roster, behind Marc Gasol and Mike Conley.
Memphis' management understands how important he is to the team's contemporary structure, but they also know Randolph is in the latter stage of his career, worth a ton of money and inconsistent on the defensive end.
Should they choose to trade Randolph, Memphis has Ed Davis (who posted a player efficiency rating of 18.1 with the Toronto Raptors last season before being traded to the Grizzlies) and Kosta Koufos (a 24-year-old 7-footer who started 81 games for the Denver Nuggets last season) on board to presumably slide in beside Marc Gasol.
Are those two players good enough to keep Memphis afloat as a title contender? On the offensive end, probably not.
But giving them more minutes and factoring in whatever Memphis receives in return for Randolph could keep the team competitive in the short term, while simultaneously extending the Gasol/Conley core's window in the future.
While Randolph is obviously productive on the offensive glass, and a fatal force facing up a defender below the free-throw line, he's already a borderline liability on the defensive end.
Last season Memphis was a smidgen better defensively when Randolph sat, holding opponents to 0.5 fewer points per 100 possessions than when he played, per NBA.com/Stats.
He struggles mightily defending the pick-and-roll, and the San Antonio Spurs and Tony Parker turned him into a turnstile during the Western Conference Finals.
It feels inconceivable for the Memphis Grizzlies to advance far in the Western Conference without one of their best players, but this team adapted its basketball identity due to a financial constraint once before (after trading Rudy Gay), and it's possible they do so again.
4. DeMarcus Cousins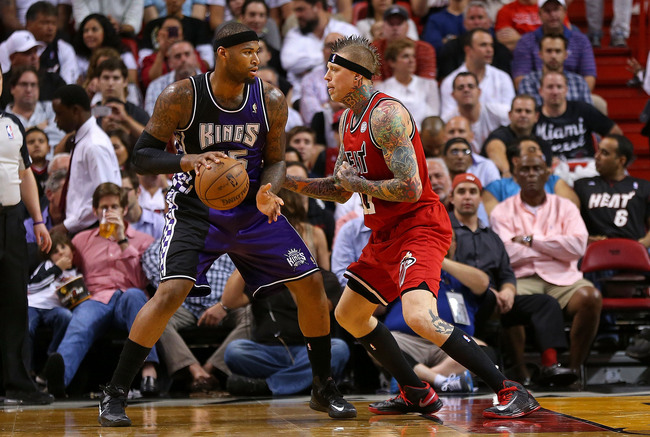 Mike Ehrmann/Getty Images
DeMarcus Cousins entered the NBA as someone with enough talent to answer a struggling franchise's most pressing questions. Instead, he's created some questions of his own.
The Sacramento Kings and their new ownership group appear committed to Cousins in the long-term, but the fact is they're still a struggling franchise in search of star to build things around, on the court and off.
Forgetting Cousins' many disciplinary issues, through his first three years in the league he's been a total disaster on defense, which is troublesome since he plays in the frontcourt and figures to be on the floor at least 30 minutes a night.
Right now Cousins is up for a big money, multi-year contract extension. If the Kings view themselves as the team that wants to fit the bill, it's a risky move that could set them back longer than if they decided to cash out with a blockbuster trade, and started over with whatever they get back for Cousins plus the young talent on their roster that's all ready to develop (most notably Ben McLemore).
3. Danny Granger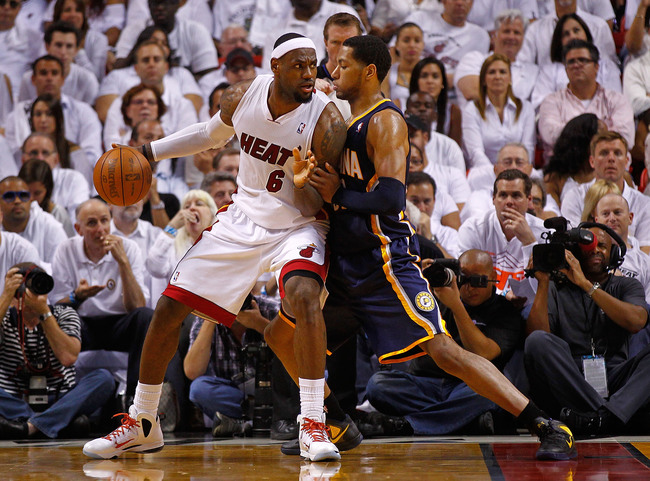 Mike Ehrmann/Getty Images
Last season the Indiana Pacers were four quarters away from making the NBA Finals. Due to an inept bench and offensive woes, they fell short. But what got them that far was a starting five that might have been basketball's very best.
According to NBA.com/Stats, only the Oklahoma City Thunder's five-man unit of Kevin Durant, Russell Westbrook, Serge Ibaka, Kendrick Perkins and Thabo Sefolosha logged more minutes during the 2012-13 regular season than Indiana's George Hill-Lance Stephenson-Paul George-David West-Roy Hibbert hurricane.
That starting five—with Stephenson replacing Danny Granger from the previous year—outscored opponents by 12.1 points per 100 possessions, a stunning figure that places them amongst the league's elite.
Assimilating Granger back into that lineup could create unnecessary issues.
The Pacers already dealt with their poor bench this summer, adding the offensive minded Luis Scola, replacing the erratic D.J. Augustin with the dependable C.J. Watson and signing Chris Copeland (a 42.1 percent shooter from behind the arc) to a two-year contract.
Where does this leave Granger? Should he re-enter the starting lineup and push a growing Stephenson to the bench? Is it worth having a 30-year-old forward take shots that might've been allocated to Paul George?
Granger isn't all bad, of course, and had he been healthy last season who knows how Indiana's season might've ended.
But with Hibbert and George clearly establishing themselves as the team's two best players, now and in the years ahead, the Pacers might be wise to see what they receive in exchange for a player five years removed from his only All-Star appearance.
2. Rajon Rondo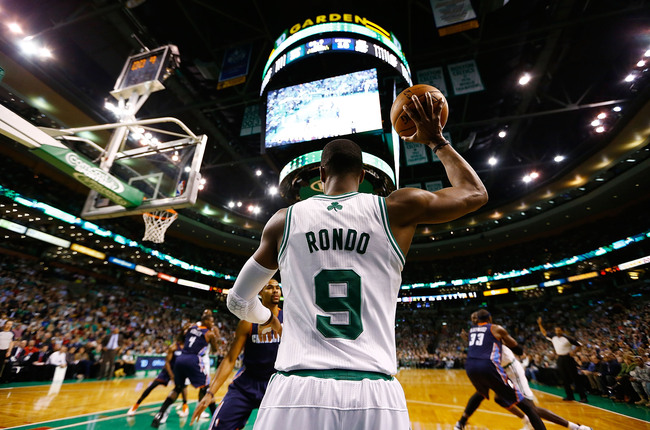 Jared Wickerham/Getty Images
Seeing Rajon Rondo's name on a list of players who might be traded shouldn't be unexpected, even after taking his ACL injury into account.
He's the last man standing in Boston, the only player still on a Celtics roster that won the championship in 2008. He's also 27 years old now, coming off a four-year run where he was named an Eastern Conference All-Star each season.
Right now the Celtics aren't necessarily in the business of winning basketball games, though, which is a problem, since Rondo is one of the league's four or five finest point guards, when healthy.
And when you factor in Rondo's contract situation with the organization's new direction, his days in green are most likely nearing an end.
Rondo becomes a free agent in 2015; he'll turn 30 midway through year one of his next contract.
There's little to no chance he doesn't seek as much money as possible, but for a team that's young and most likely still looking up at several teams in their conference, having a highly paid point guard in his 30s isn't smart.
Moving on before this year's trade deadline would allow Boston to receive a higher return on Rondo than if they waited until the summer, when he'd be entering the final year of his contract and looking for a mega payday at year's end.
He's been arguably their best player for a couple years now, but it might be time for the Celtics and Rajon Rondo to finally part ways.
1. Thaddeus Young
Bruce Bennett/Getty Images
Once they traded All-Star point guard Jrue Holiday for two draft picks (one being Nerlens Noel, who's recovering from a torn ACL and won't be healthy in time for the start of the season) the Philadelphia 76ers were instantly projected to be the NBA's worst team next season.
It's the league's most obvious rebuild, and by default, Thaddeus Young is now Philadelphia's highest paid player, due $28.2 million over the next three seasons with a $9.9 million early termination option in 2016.
Pending the health of Noel's knee, and how his frame is able to translate on defense at the NBA level, Young is also currently Philadelphia's best player.
An underrated two-way highlight reel with explosive ability in the open court and a scoring touch that stretches above the free-throw line, Young is still young enough to contribute for a team that's actually competitive (he turned 25 in June).
Judging from their decision to trade Holiday, the Sixers are looking ahead to the 2014 draft, foregoing any ambition this season. Young's a quality player, and if losing is really on Philadelphia's mind, shipping him out of town for an asset that could be of more use later on might be a foregone conclusion.
Keep Reading