Liverpool vs. Notts County: 6 Things We Learned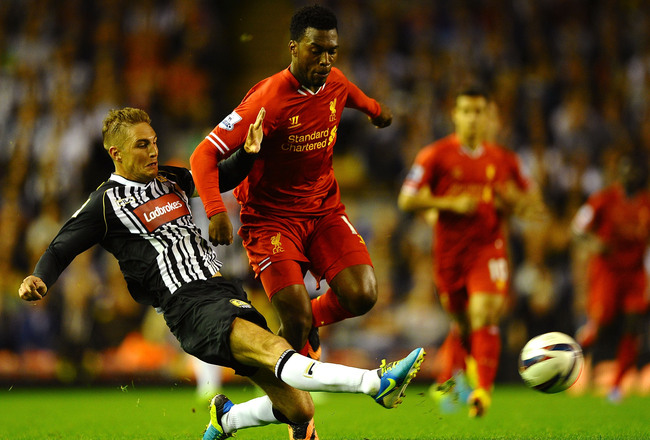 Laurence Griffiths/Getty Images
Liverpool survived an almighty scare from League One side Notts County before booking their place in the third round of the Capital One Cup with a 4-2 win after extra-time.
The Reds, who hold a competition-record eight League Cup titles, looked as though they were going to sail into the next round when Raheem Sterling burst through a couple of challenges to fire them into the lead. Then Daniel Sturridge doubled the advantage from a precise Steven Gerrard pass.
Brendan Rodgers then saw his side crumble in the second period.
A header from Yoann Arquin reduced the Magpies' deficit, before Adam Coombes sparked delirious scenes in the away end when he tapped home the equaliser with just six minutes left.
Liverpool lost to third-tier opposition last season when Oldham Athletic dumped them out of the FA Cup. They would have been fearing another defeat when the match entered extra-time, especially when Kolo Toure was stretchered off to join Aly Cissokho and Joe Allen on the injured list, leaving the Reds with 10 men.
However, Sturridge came to the rescue when his low shot squirmed through the grasp of goalkeeper Bartosz Bialkowski to make it 3-2 at the end of the first extra period, with substitute Jordan Henderson adding a fourth in the second half.
Here's what the Reds will have learned from an eventful night.
A Much-Needed Wake-Up Call?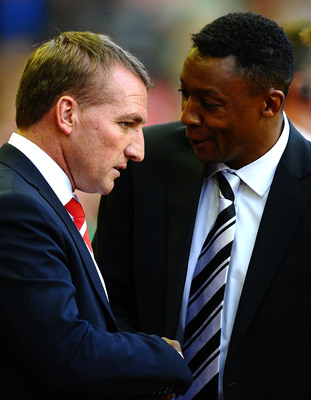 Laurence Griffiths/Getty Images
Chris Kiwomya's side were excellent in coming from two goals down to draw level with Liverpool at Anfield, but the Reds should never have allowed them to do so.
The top sides simply wouldn't have crumbled like that. Brendan Rodgers will know, despite his side's promising and 100 percent start to their league campaign, that there is still an awful lot more work to do.
Whether that work involves new signings being made, increased efforts on the Melwood training pitch or more likely a combination of both remains to be seen, but anyone thinking that Liverpool were on a smooth route to the top four got a wake-up call by a team in the League One relegation zone.
Not for the first time, there were some people connected with Liverpool who were looking to run before they can walk. This will remind them that simply isn't possible.
Daniel Sturridge Has Never Been More Important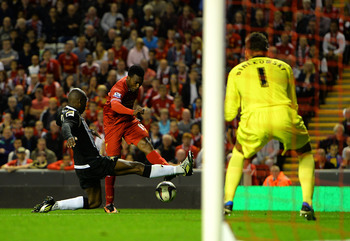 Laurence Griffiths/Getty Images
Over the years, questions have often been asked about where Liverpool would be without certain individuals―Luis Suarez, Fernando Torres, Steven Gerrard, etc.
Right now it is Daniel Sturridge who holds that mantle.
The answer to the question of where Liverpool would be without Sturridge now would almost certainly be centred on the three wins out of three that he's inspired this season. The forward was again on form on a night when he took his tally for the Reds to 15 goals in 18 games.
His movement and goalscoring ability is so important to a Liverpool side without Suarez. Whilst he does still have a slightly erratic nature about him, it is good to see him fit, healthy and scoring goals.
His two strikes against Notts County summed up everything about him since he moved to Anfield in January, and that importance thrust upon his shoulders will surely continue for some time yet.
The Reds Are Now Walking Wounded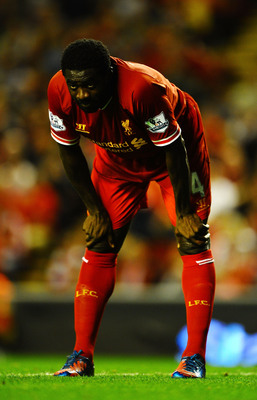 Laurence Griffiths/Getty Images
Other than the eventual victory, things seemed to be intent on going wrong for Liverpool on Tuesday night.
Chiefly―and with a match against Manchester United on the horizon at the weekend―the injuries picked up by the Reds could turn into hugely damaging ones.
That Aly Cissokho was forced off so early into his first Reds start was hugely regrettable, and so too the blow suffered by Joe Allen midway through the second half.
The key problem, though, was the groin injury suffered by Kolo Toure.
Rodgers admitted that "it doesn't look good" for the Ivorian (LiverpoolFC.com), who had so impressed everyone during his first couple of games for Liverpool and would have been relishing the meeting with Robin van Persie when Manchester United come calling on Sunday.
The task of handling the Dutchman is now likely to fall to Martin Skrtel, but Rodgers is almost certain to be scouring the transfer market for a central defender in the coming days.
The Value of Sterling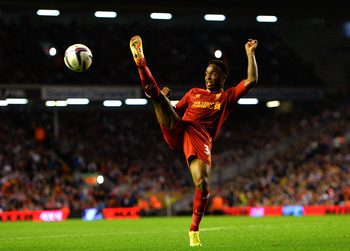 Laurence Griffiths/Getty Images
Things looked as though they were going to be incredibly smooth for Liverpool when Raheem Sterling cut through the Notts County defence to score just four minutes in, but then cup drama is never usually too far away from the Reds.
Regardless, this was an impressive performance from the young winger, who earlier in the day had been called back into the senior England squad.
The injury to Toure saw the 18-year-old end the match playing at right-back as Andre Wisdom moved back inside. Again he showed maturity and a desire to help out his team, albeit occasionally coming close to giving away dangerous fouls.
This game will be another one in the memory bank for the youngster, who continues to make his presence felt.
Cups Are Important to the Reds and Rodgers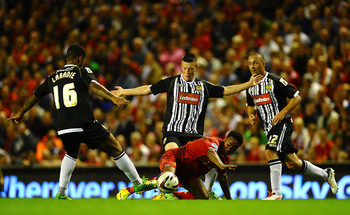 Laurence Griffiths/Getty Images
The mere fact that Liverpool were playing in the second round of the Capital One Cup―as all teams who aren't in European competition do―underlined just how far they've fallen recently, but it is the cups which can get them back on their feet.
Last season, Rodgers inherited a side that had reached both the FA and League Cup finals in 2011/12. Yet he only managed to win one match in each competition, crashing out to Oldham Athletic and Swansea City respectively.
Liverpool supporters don't settle for weak form like that. This time around he needs a sustained run in one or both tournaments.
The last time Liverpool weren't in any European competition during a season, they went on to win the League Cup. Although there were times on Tuesday when it looked as though Notts County were going to embarrass them this time around, that they are still in it this year means that they should look to win it again.
Rodgers has been given a reprieve, and now he needs to use it.
Henderson's Energy Is Always Useful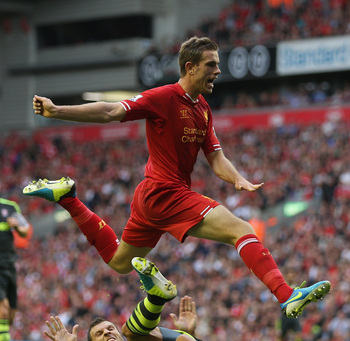 Clive Brunskill/Getty Images
The introduction of Jordan Henderson for the injured Joe Allen shortly after Notts County's first goal proved crucial. It was the latest in a growing line of the ex-Sunderland man's impressive displays.
His arrival came at a time when the passing and probing of Allen had to be replaced by sheer energy and will to win, and for the remainder of the match it was Henderson who was looking to be first to every ball.
Where others tired he simply ran. His importance was underlined with the burst through the visiting defence, producing the cool finish which finally killed off the Magpies in the second half of extra-time.
He might not possess the silkiest skills or the deftest touch, but at times when Liverpool need someone to display energy, heart, courage and commitment, they can usually rely on a player who is seemingly growing by the game.
Keep Reading

Liverpool: Like this team?