Tennessee Volunteers vs. Austin Peay Governors: Complete Game Preview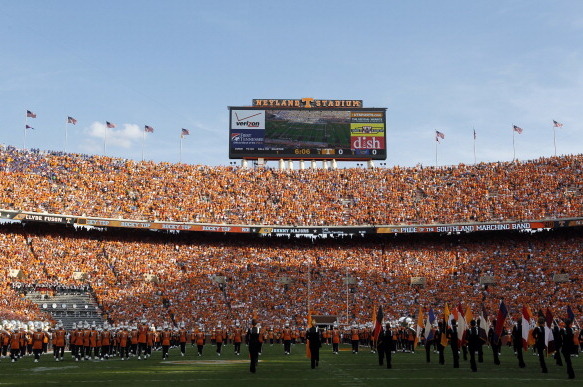 John Sommers II/Getty Images

The Tennessee Volunteers kick off their 2013 season this Saturday evening against the Governors of Austin Peay. Excitement for this season and the seasons to come under Butch Jones is at a fever pitch.
The Vols must get off to a good start if they hope to right the ship and get back to a bowl game for the first time in three years. Winning games you're supposed to win is vital.
Here's all the info you need to know about this weekend's matchup.
Time: 6:00 PM ET
Place: Neyland Stadium, Knoxville, TN
TV: Pay-per-view, ESPN3 (blacked out in Tennessee)
Radio: Sirius 137, XM 196, Knoxville 99.1 FM, Nashville 104.5 FM, Memphis 92.9 FM
Spread: Tennessee -50.5
Begin Slideshow

»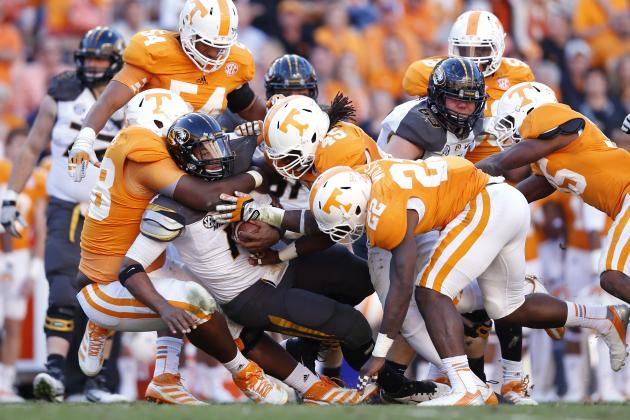 Joe Robbins/Getty Images

Tennessee is coming off one of the worst three-year stretches in school history. With a record of 16-21 over that span, 2012 marked just the third time in 116 years of playing football that the Volunteers suffered three consecutive losing seasons.
Luckily, the Governors have had an even worse three-year stretch. Since 2010, Austin Peay has gone 7-26. There is simply no comparison between these two teams in terms of talent, tradition or coaching.
The key for Tennessee is to get on the board early and expel any notion of an upset or even a close game. Doubling down on fundamental football is key in these games, as it's easy to let the basics slip away in matchups where your absolute best simply isn't required to win.
Of course, just winning won't be enough for Butch Jones. The 2013 squad is expected to excel in everything they do. That includes playing to maximum potential on each play against an in-state foe from the Ohio Valley Conference.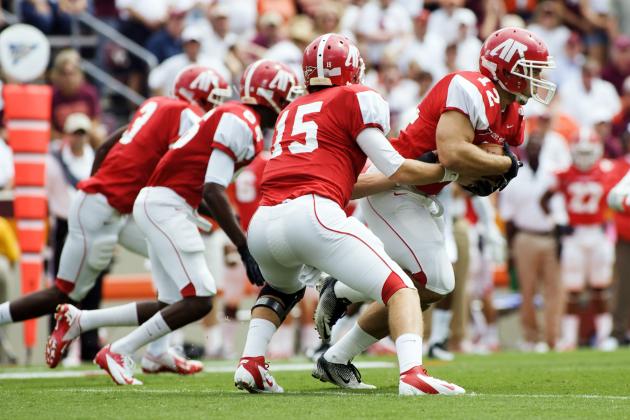 Peter Casey-USA TODAY Sports

There is nothing specific to their game against the Vols that the Governors can do to win. Instead, Austin Peay will have to tap into the time-old underdog strategies of hanging around, playing through the whistle and seizing every opportunity for a big play.
Hey, Appalachian State could do it; so can Austin Peay.
The third quarter will be key for the Governors. This is typically the quietest quarter of the football game, and the Neyland Stadium crowd is likely to be softer by then. If they can pounce and put a few points on the board after halftime, anything can happen.
Austin Peay might also test the skills of true freshman Cameron Sutton in the passing game.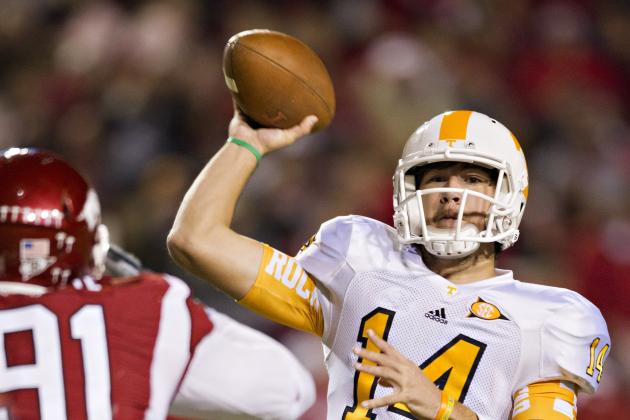 Wesley Hitt/Getty Images

Marquez North, WR
The wide receiver was named a starter on Monday and has had an excellent offseason by all accounts.
Replacing two top-35 picks in the NFL Draft is no easy task, but if there's any player on the Vols roster who can do it, it's North. He turned Butch Jones' first recruiting class from a nice start at a new school to an attention-grabbing statement in college's biggest conference.
He's 6'4" and can do just about everything an elite college receiver needs to do. Look for him to get in a rhythm with the new quarterback Saturday and set the tone for a sparkling Tennessee career.
Daniel McCullers, DT
Now down to a "slim" 350 pounds, McCullers has the college football world's antennas up for a big 2013 season.
After turning in decent season last year, the second-year JUCO transfer out of Georgia Military Academy has been named a preseason All-American by Phil Steele, All-SEC by numerous outlets and has been added to the 2013 Outland Trophy Award Watch List.
Justin Worley, QB
It begins and ends with the quarterback in football. Worley was finally named the starter on Monday after two years of backing up Tyler Bray.
He already has four games of SEC experience, including starts against South Carolina and at Arkansas. The former Gatorade National Player of the Year has been waiting his turn and was able to beat out three freshmen for the job.
Let's see what Worley can do as the unquestioned No. 1.
Peter Casey-USA TODAY Sports

Tim Phillips, RB
Phillips will be running against the man who recruited him to Central Michigan this weekend. Butch Jones liked the athleticism of the 5'7", 170-pound running back in 2008, but Phillips was never able to find his way once Jones left for Cincinnati.
Earlier this month, Phillips followed Austin Peay's new coach, Kirby Cannon, who also coached at Central Michigan, to Clarksville, Tennessee, hoping to get a chance to start during his last year of eligibility.
Andrew Spivey, QB
JUCO transfer Spivey led the City College of San Francisco to the California Community College Athletics Association Championship last. He threw for over 3,000 yards with a 54 percent completion rate.
Cannon wants to make a name for his new school with fast-moving offenses based around the pass. Saturday will mark Spivey's first game to work in that kind of scheme with the Governors.
Iosua Siliva, DE
Silivia is a 6'5", 250-pound defensive end who is considered one of the Governors' best chances at postseason awards. He tallied 5.5 tackles for a loss last year, including two sacks.
Phil Steele named him All-OVC in the preseason. Siliva has experience about both defensive tackle and end, showing his versatility.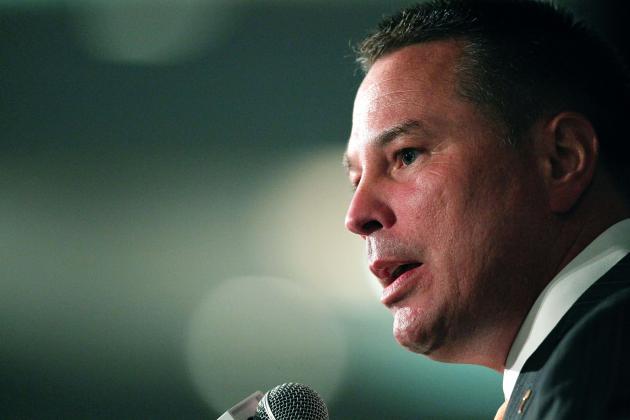 Marvin Gentry-USA TODAY Sports

Tennessee is a 50.5-point favorite against Austin Peay, which is ridiculous. The best offense in school history didn't beat a single opponent by more than 38 last year, and that schedule included Georgia State, Akron and Troy.
Butch Jones: "They will be prepared. I have been on the other side. They are coming in here with the mindset that they are coming in to win."
Kirby Cannon: "We're going to be a work in progress on offense. If we throw it 50 times Saturday, I wouldn't be surprised. ... We have to go back to some of the basics [on defense] and just rely on effort. ... Special teams wise, we're going to jazz it up a little bit."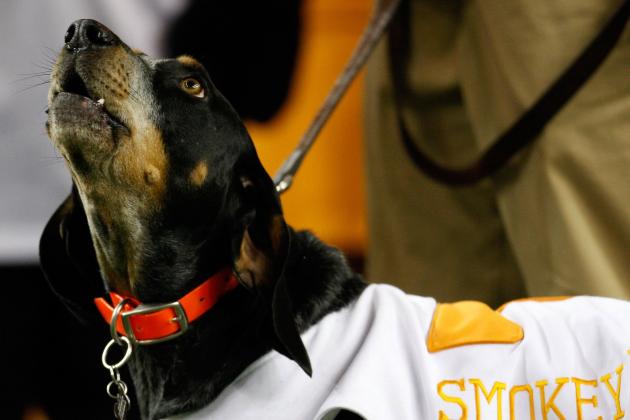 Mike Zarrilli/Getty Images

While I think the betting line is ridiculous, it's certainly directional: Tennessee is going to win big.
The crowd will be big and loud because of the excitement the new coaching staff has brought in. I'll be surprised if Neyland doesn't top 100,000 in attendance after the Orange and White Game had over 60,000 in the seats and nearly 40,000 visited an open practice on August 17th.
Tennessee 40, Austin Peay 13