Dark Horse Heisman Candidates Who Must Shine in Week 1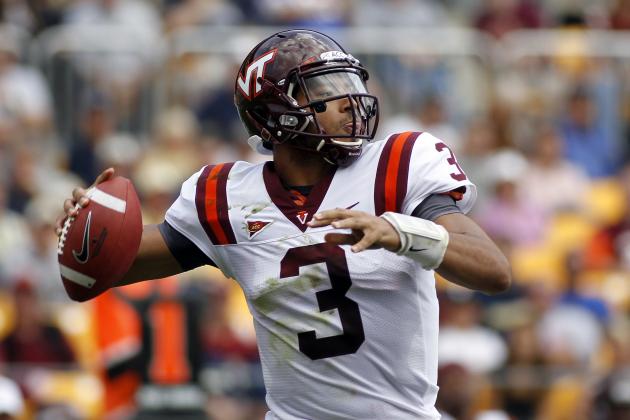 Justin K. Aller/Getty Images

It's difficult for a dark-horse Heisman candidate to win the award. They're climbing an uphill battle while competing against players who receive all of the media attention and play on all of the prestigious teams.
But recently, underdogs have done a nice job of winning the Heisman. Nobody knew who Johnny Manziel was in the beginning of the season. Robert Griffin III had a little hype, but very few were taking him seriously when the season began. It even took Cam Newton a while before folks started to believe a JUCO transfer was really that good.
Getting off to a quick start is the best way to enter the Heisman spotlight.
With the season soon to kick off, there are a couple of SEC players and an ACC running back who must shine this weekend.
Begin Slideshow

»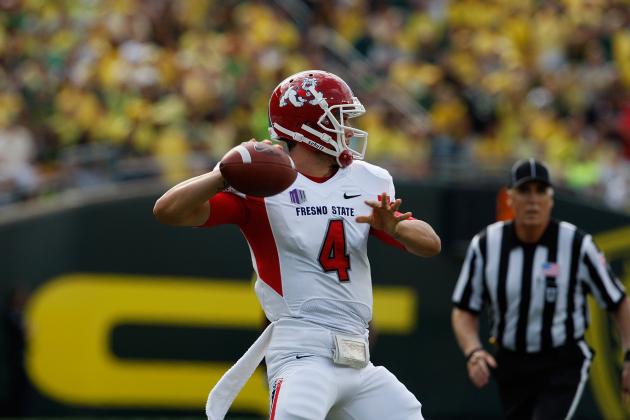 Kevin Casey/Getty Images

If Fresno State can improve on last year's 9-4 record, Derek Carr will begin entering serious Heisman discussions. The younger brother of former NFL draft first overall pick David Carr, Derek was incredible last season.
He completed 67.3 percent of his passes for 4,104 yards and 37 touchdowns. He also threw only seven interceptions on 511 pass attempts. Carr has the statistics to become a legitimate Heisman candidate if the Bulldogs can go on a winning streak.
A player no longer needs to play for a big program to win the award, as Robert Griffin III of Baylor won the Heisman in 2011 and Louisville's Teddy Bridgewater enters this year as a serious candidate.
Fresno State hosts Rutgers this weekend and although Carr should have no problem leading his team to victory, head coach Kyle Flood will field an aggressive and competitive Scarlet Knight team. Carr must have a clean game and help his team win in convincing fashion.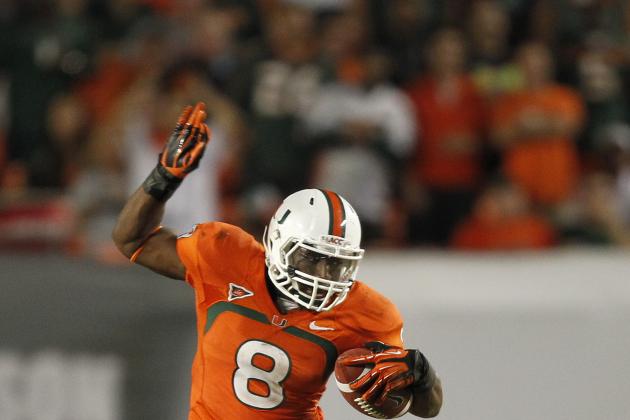 Joel Auerbach/Getty Images

No, a big game against FAU isn't going to impress many people. It's FAU. But Duke Johnson can use this game as a stepping stone to build his Heisman stock.
Quick, name some of the top running backs in college football. Usually, for whatever reason, Johnson isn't one of the first names mentioned. If he was, he wouldn't be considered a dark-horse Heisman candidate. Maybe it's because he played for a mediocre Miami team or the fact he was a true freshman.
Even though the season opener is against a lousy opponent, Johnson needs to remind folks that he is one of the elite backs in the country. The game will also be played Friday night on ESPNU at 8 p.m. ET. What else are you going to be doing besides watching football?
Johnson will have plenty of eyeballs on him and his Hurricanes. It's time to produce and build momentum heading into next week's game against Florida.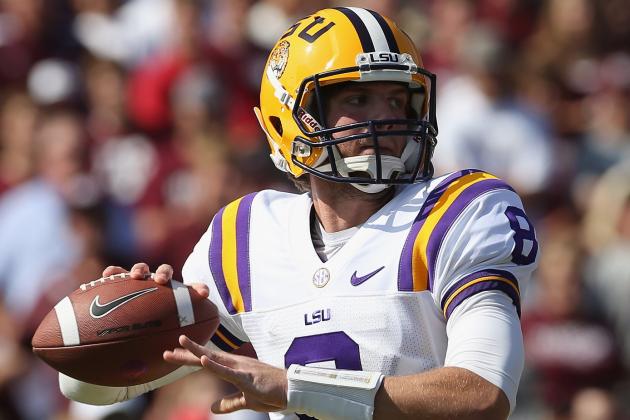 Ronald Martinez/Getty Images

Could LSU actually have a Heisman candidate?
The Tigers struggles at quarterback have been well-documented over the years, but Zach Mettenberger did show promise late in the year. He shredded Alabama for 298 passing yards and threw three of his 12 touchdowns in the final three games. Now he'll have a solid offensive coordinator in Cam Cameron who will help open up the passing game.
If Mettenberger can pull off the improbable, he'll need to play extremely well against TCU. It's one of the biggest games of the weekend and is against the best defense in the Big 12. He needs to quickly establish himself as one of the top quarterbacks in the SEC, and a huge performance under the lights of AT&T Stadium could do the trick.
LSU's lone Heisman winner was Billy Cannon in 1959; Mettenberger will have a chance to add to that history.
Lance King/Getty Images

Remember when Logan Thomas was the next big quarterback?
He entered last year as a Heisman candidate and was considered by many to be the best NFL quarterback prospect in the country. Completing only 51.3 percent of his passes and throwing 16 interceptions quickly changed things.
One way to get back in good graces with the Heisman committee is leading your team to an upset over the top team in the nation. Thomas has the toughest task of the weekend, as Virginia Tech will play Alabama in the Georgia Dome. The Hokies are considerable underdogs, but Thomas does have the ability to close the gap with a lights-out performance.
Heisman voters want to witness Heisman moments. The stage doesn't get much bigger than playing against the two-time defending national champions. Thomas could soar to the top of the Heisman rankings if Virginia Tech manages to upset the Tide.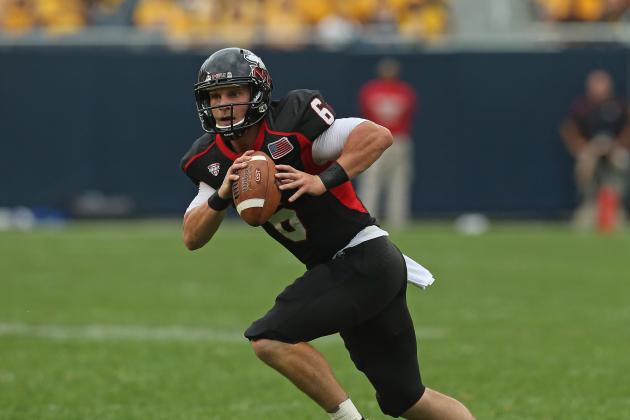 Jonathan Daniel/Getty Images

Jordan Lynch had his 15 minutes of fame come to an end when Florida State beat Northern Illinois 31-10 in the BCS Orange Bowl. But let's not act like Lynch can't recapture your attention and rebuild his Heisman buzz.
There aren't many players in the country who can match Lynch's statistics. Last season, the dual-threat quarterback passed for 3,138 yards and 25 touchdowns. He also rushed for 1,815 yards and 19 touchdowns, making him a one-man wrecking crew.
The only thing Northern Illinois must do is win ball games, which can start with a road game against Iowa. Last year's meeting came down to the wire, but the Huskies lost a 17-18 heartbreaker. The Hawkeyes return 14 starters and will be eager to prove last season's 4-8 record was a fluke.
Lynch is the forgotten man in Heisman discussions, but he has the power to change that with a key victory over a BCS opponent.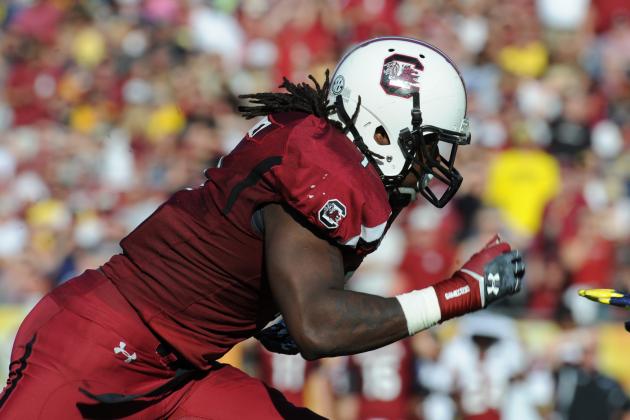 Al Messerschmidt/Getty Images

Jadeveon Clowney is the most popular player on this list and somebody who may have a decent shot of winning the award. However, he is a defensive player, and that side of the ball has never produced a Heisman winner. (Charles Woodson also played special teams and offense).
No matter how big Clowney is in the media or how great he is on the field, he needs to impress every game to truly have a chance at the Heisman. Regardless of what pundits are saying, quarterbacks and running backs always have the advantage for individual awards, which makes Clowney a dark horse.
Offensive players consistently score touchdowns and put up the crazy numbers, Clowney needs to sack the quarterback and force fumbles to remain relevant.
There's no better way to get his Heisman campaign started than a big game against North Carolina on Thursday night. Everybody will be watching the game because it's the first game of the year, and it's a perfect chance for Clowney to steal the show.
Yes, there will be better competition later in the year where Clowney must shine, but taking advantage of national television will help his stock get off on the right foot.