After a 279-day layoff, the Miami Hurricanes will return to the football field and once again emerge from the smoke at Sun Life Stadium.
Quarterback Stephen Morris and running back Duke Johnson will lead the Hurricanes' much-discussed offense against its first 2013 opponent, the Florida Atlantic Owls.
Miami finished the 2012 campaign at 7-5 and won a share of the Coastal Division crown for the first time in school history. The Owls, on the other hand, finished 3-9 last season as a member of the Sun Belt Conference before moving to Conference USA this offseason.
The Aug. 30 matchup will be the first-ever meeting between Miami and Florida Atlantic, and the three-game series was started as a tribute to legendary coach Howard Schnellenberger. He made "The U" a national label, and Schnellenberger eventually created the FAU football program.
According to Tim Reynolds of The Associated Press, Schnellenberger will be an honorary captain for both teams.
But as the 'Canes honor the 1983 national championship-winning team, the 2013 group will attempt to silence the Owls. According to Bovada, Florida Atlantic is a 32-point underdog to the 'Canes.
TV Note: This game can be seen on ESPNU at 8:00 p.m. ET.
Passing: 22-of-32, 268 yards, 2 TDs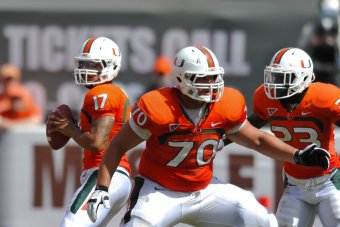 Steve Mitchell-USA TODAY Sports
Stephen Morris was on a torrid hot streak at the conclusion of last season, and the senior leader is looking to begin 2013 the same way.
Stephen Morris: 19-of-27, 237 yards, 2 TDs
Ryan Williams: 3-of-5, 31 yards
Rushing: 37 carries, 204 yards (5.83 average), 3 TDs
Sophomore Duke Johnson is the undisputed starter and will receive lots of carries early, but as the Hurricanes pull away from the Owls, a few backups will get some touches.
Dallas Crawford and Eduardo Clements are expected to take the bulk of second-string reps.
Duke Johnson: 16 carries, 108 yards, 2 TDs
Dallas Crawford: 8 carries, 43 yards
Eduardo Clements: 7 carries, 31 yards, 1 TD
Maurice Hagens: 3 carries, 8 yards
Stephen Morris: 2 carries, 12 yards
Gus Edwards: 1 carry, 2 yards
Receiving: 22 catches, 268 yards, 2 TDs
The Hurricanes have tons of talent at receiver, so Morris has plenty of weapons to utilize all game long.
Between Phillip Dorsett's straight-line speed, Allen Hurns' consistent hands, Rashawn Scott's versatility and Stacy Coley's breakout potential, FAU's secondary could be in for a frustrating day.
Phillip Dorsett: 4 catches, 63 yards, 1 TD
Which Miami receiver will have the best game?
Allen Hurns: 4 catches, 53 yards
Rashawn Scott: 3 catches, 52 yards, 1 TD
Herb Waters: 3 catches, 26 yards
Stacy Coley: 2 catches, 18 yards
Clive Walford: 2 catches, 17 yards
Duke Johnson: 2 catches, 12 yards
Malcolm Lewis: 1 catch, 8 yards
Beau Sandland: 1 catch, 7 yards
Asante Cleveland: 1 catch, 6 yards
Maurice Hagens: 1 catch, 4 yards
Defense: 2 sacks, 5 TFL, 2 INTs, 1 FF, 0 FR, 0 TD, 9 points allowed
Matt Porter of The Palm Beach Post notes the 'Canes defense is looking for a fast start against FAU's read-option attack.
According to Porter, middle linebacker Jimmy Gaines believes the Miami defense is more prepared as a unit than in recent years.
In previous years we weren't always on the same page. This defense is definitely more together. We really understand the vision of what we're trying to do. That's why we fly around a little better.
And considering the struggles Miami had throughout 2012, a couple quickly forced turnovers—let alone a few tackles for loss—would be a welcomed sight for the Hurricanes.
Kicking

Matt Goudis: 2-of-2, 28, 36 yards
Overview
Despite Florida Atlantic's 12 returning starters, Miami simply has too much talent for the Owls to handle for four quarters.
Granted, in 2012, FAU stuck with the Georgia Bulldogs and was tied at halftime with Mark Richt's squad, but UGA eventually pounded the Owls 56-20.
Dieter Kurtenbach of the South Florida Sun Sentinel notes FAU head coach Carl Pelini says four quarterbacks could see playing time against the 'Canes.
Pelini re-iterates that four qbs could play for FAU against Miami.

— Dieter Kurtenbach (@dkurtenbach) August 26, 2013
But that's not necessarily a good thing; more does not always mean better.
Due to the constant shifting at quarterback, the Owls' offense will struggle to find a rhythm. Even if Pelini elects against playing all four, Miami will take advantage of FAU's shot-callers. The Owls' read-option system will find a few gaps in the 'Canes D, but an over-zealous quarterback will result in FAU committing a few turnovers.
The Hurricanes will score early and keep Pelini's team off balance for the majority of the first half before putting the game out of reach during the second half.
With a 1-0 record, Al Golden will turn his attention to preparing Miami for a marquee matchup against the University of Florida next weekend.
Follow Bleacher Report's Miami Hurricanes football writer David Kenyon on Twitter @Kenyon19_BR