After a long offseason, college football will finally return with a battle between North Carolina and South Carolina.
The first game of the year features the No. 6 team in the country with arguably the most dominant player in the sport in defensive end Jadeveon Clowney. The junior will look to lead the Gamecocks to new heights this year after they finished 11-2 last season.
Meanwhile, the Tar Heels posted an 8-4 record a year ago and will look contend in the ACC behind senior quarterback Bryn Renner.
Although the season runs until January, this first game will provide a good indication about what to expect over the next few months. Therefore, make sure you catch all of the action in this upcoming battle by utilizing this guide.
When: Thursday, Aug. 29 at 6 p.m. ET
Where: Williams-Brice Stadium, Columbia, S.C.
Watch: ESPN
Live Stream: WatchESPN
Betting Line: South Carolina -12 (via Vegas Insider)
North Carolina Injuries (via USA Today)
Out: WR Dalton Stogner, LB Nathan Staub, LB Shakeel Rashad
Questionable: RB A.J. Blue
Probable: None
South Carolina Injuries (via USA Today)
Out: DE Devin Washington
Questionable: WR Bruce Ellington, TE Rory Anderson, LB Cedrick Cooper, T Cody Gibson, DE Gerald Turner, LB James King, LB Kyle Morini, T Mike Matulis
Probable: WR Damier Byrd, DE Chaz Sutton, DE Jadeveon Clowney
Top Storyline: Is South Carolina a Legitimate Title Contender?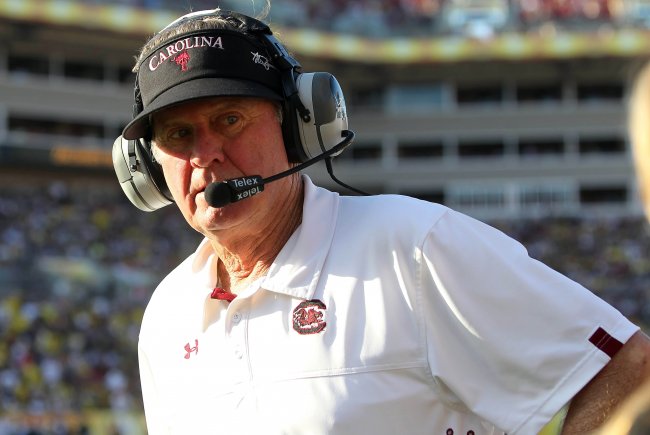 Kim Klement-USA TODAY Sports
As the No. 6 team in the AP Poll, there are high expectations for South Carolina. Of course, there were high expectations last year as well, but two losses in the middle of the SEC schedule doomed the Gamecocks' title hopes.
Obviously, playing in the toughest conference in the country is going to lead to some tough games. However, someone has to win, and the Gamecocks have as good of a chance as anyone.
The team has two viable options at quarterback between Connor Shaw and Dylan Thompson, and either of them can be trusted to lead the offense. On the other side of the ball is one of the most intimidating defenses in the country.
A strong showing in this opening game on national television would prove that South Carolina is a team to beat for the upcoming season.
Prediction: South Carolina 27, North Carolina 14
Jeremy Brevard-USA TODAY Sports
A year ago, South Carolina opened up the season against Vanderbilt and had an underwhelming 17-13 win. This time around, expect the Gamecocks to do a better job of running up the score.
North Carolina simply has no answer defensively for the athleticism its opponent will showcase. South Carolina has improved since last season and should be able to run up the score early.
When the Tar Heels are on offense, it will be up to tackle James Hurst and others to protect the quarterback. This will be very difficult to do consistently over the course of the game.
Although North Carolina has enough skill to put points on the board, the team will not be able to keep up, and it will lead to a loss in Week 1.
Follow Rob Goldberg on Twitter for the latest breaking news and analysis.