Madden 25 Review: Rounding Up the Latest Expert Opinions from EA Sports' Release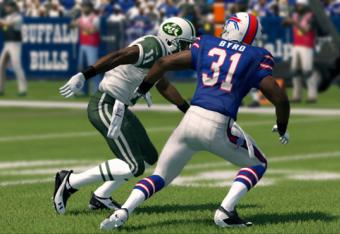 Via EASports.com

NFL season has arrived—well at least for those of us who own an Xbox 360 or PS3 gaming console.
Yes, that means exactly what you think. Madden holiday has officially arrived, as EA Sports officially launched Madden 25 to the public on Tuesday. (Subscribers to the company's EA Sports Season Pass were given access to the game over the weekend.)
If you're wondering why the 25 is there instead of the successive lineage of years past (e.g. Madden 13 last year), this year's release marks the 25th edition of the NFL's trademark game. Gamers can also buy the Madden 25: Anniversary Edition if they so please, which includes special perks like NFL Sunday Ticket on your mobile and tablet devices.
If you want to take a look at how far the gaming world has come in a mere quarter-century—Madden is only three years removed from "college"—here's a handy video of the original, John Madden Football:
Now? Let's just say things are a little bit more high-tech:
But just because a game is of a higher quality than it was when Seinfeld made its debut doesn't necessarily mean it's "good." I mean, after all, no sitcom has quite matched what Jerry, Elaine, Kramer and George brought to the table all those years ago.
Luckily, the developers at EA Sports have done more in these past 25 years than the American sitcom. While reviews are still trickling in from across the interweb, suffice it to say Madden 25 lives up to its predecessors. Review aggregator Metacritic, which cobbles scores from the most respected entities from around the web and formulates an overall score, currently gives Madden 25 an 81, denoting "generally favorable reviews."
For a frame of reference, last year's Madden 13—an innovative game that brought the introduction of Connected Careers and Infinity Engine—finished with the exact same score.
In fact, the only Madden not to be in the "generally favorable reviews" category during the current generation of consoles was Madden 06—otherwise known as the first release on Xbox 360. And, if we look at the reviews for the comparable versions on the PS2 and Xbox, the reviews tend to sway back in the positive direction. (There are always kinks the first time a sports game tries out a new console.)
In other words: You don't become a gaming monolith without consistent excellence. There are some who will buy anything with NFL branding they can play in the comfort of their own home. But if it starts looking like this, the remainder of the fanbase would fall off. (Well, OK. You got me. I'd totally buy a Madden game it they turned Tim Tebow into a seal. But you would too.)
It's a difficult proposition for any gaming company to churn out a quality product year in, year out. Based on the experts' opinions and my own limited experience with the game—I just got my hands on it this morning—folks should have an easier time tithing themselves over until next Thursday.
Let's check in with a few of the top reviewers and see what gamers have to look forward to.
"It's So Much Football" - Jack DeVries of IGN
Well, I mean, I'd hope so. Wouldn't that just be some you-know-what? Drop $60 on a game just for EA Sports to pull a fast one and give us this. (OK, sorry. Last time linking to that. Pinky swear.)
Interesting headline phrasing aside, DeVries does not mean it's "so much" football as a criticism. He notes a few hems and haws with some additions he'd like to see to presentation and modes for next year, but the overarching takeaway from his 8.5/10 review is that this is—in his opinion—the "best football game experience I've had to date."
Here is the real nut of what he's trying to say, while giving a glowing review to EA's new Infinity Engine 2:
The other noticeable enhancement to moment-to-moment play is a much better set of tools for the running game. Maneuvers like spins, dives, stiff arms, and hurdles have all been improved and expanded, making great running backs and tight ends more awesome to play with. If you're playing with a superstar athlete like Adrian Peterson, you can use a new Precision Modifier to really amp up the moves – if a player's stat in, say, Hurdles, is high enough, he can leap greater bounds, jumping over diving defenders.
Also, DeVries notes that the Infinity Engine worked out a majority of bugs that frustrated some gamers last year. Apparently we'll no longer see players flailing to the ground after a play, tripping on a toppled-over opponent. As a gamer, that's obviously a good thing. As a fan of unintentional comedy, I say stop being so good at your jobs, EA developers.
"This Year, [Connected Careers] Was Taken to the Next Level..." - Mike Suszek of Joystiq
One of the most disappointing subtractions—for me at least—from the Xbox-PS2 era to our current generation of consoles was the loss of owner mode. I'm a bit of a micromanager at heart, so the ability to choose how much a foam finger costs in my stadium—and where my team plays, especially—is more important to me than it would be others.
For others, though, merely building a team and playing the games is enough. And some just want to relive their dreams of becoming an NFL player by, well, becoming an NFL player—in a video game.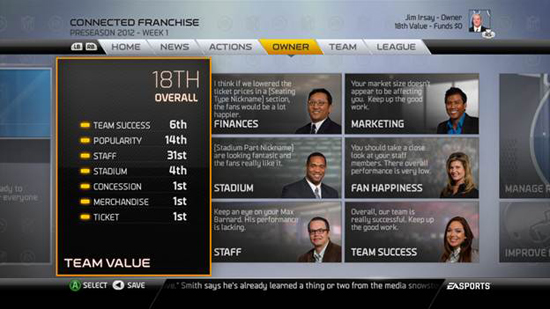 Well guess what? The developers in charge of Madden 13 have made it so we all have our specific little niches covered this year. The great thing about Connected Careers, which has been rebranded to Connected Franchise this year, is that you have all three options. Within Connected Franchise, you can choose to begin as a head coach, player or owner.
If you don't really care how much your stadium charges for hot dogs, head coach option returns mostly the same as a year prior. Same goes for the player options, receiving some small, well-received tweaks here and there. Which, if you played last year's edition, should be more than fine for everyone who cops Madden 25.
But the new and most major addition comes in the return of owner mode. Like the player and head coach options, there are different "types" of owners. You can be a Mark Cuban-esque multi-billionaire, whisked in to throw some dolla dolla bills on a struggling franchise. Or you could even live out every Wisconsinite's dream and become a fan-turned-owner with the Green Bay Packers. (You can also choose to be a current owner.)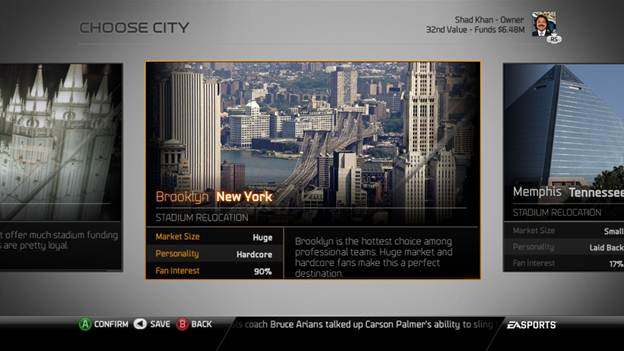 Each option has their pitfalls and benefits, making for a true experience. And, as Suszek points out, if you don't like the treatment of your fanbase, you can hightail it to one of 17 select cities:
Among the options in owner mode, players can also relocate teams to one of 17 cities. It seems like an unreasonable restriction at first, but EA Tiburon opted to make each city and its also-limited team name options stand out as being more realistic. Turning the Dallas Cowboys into the Oklahoma City Bisons resulted in a team with a logo and colors that actually looked like something that could debut in the NFL, and they were greeted with appropriate banter from the game's returning commentary team, Jim Nantz and Phil Simms.
In other words, have fun relocating the Jacksonville Jaguars 17 times, folks.
Selected Quotes From Other Top Reviewers
- "Madden 25 Caters to Feature Junkies and Casual Fans Alike" - Dan Rubenstein of Polygon
- "We're More Than Ready to See This Famed Franchise Make the Xbox One Leap, but Even So, What's Here Comprises a Totally Stellar Current-Gen Sendoff." - Andrew Hayward of Xbox Magazine
- The Interface is Striking, and Setting Up Online Matches and Leagues is Seamless." - Scott Marriot of Game Trailers
- "For Madden Football's 25th anniversary, EA's given us a whole new running system—Run Free—that offers the game a whole new sense of balance." - Marc Cameron of EGM
Follow Tyler Conway on Twitter:
This article is
What is the duplicate article?
Why is this article offensive?
Where is this article plagiarized from?
Why is this article poorly edited?