Nebraska Cornhuskers vs. Wyoming Cowboys: Complete Game Preview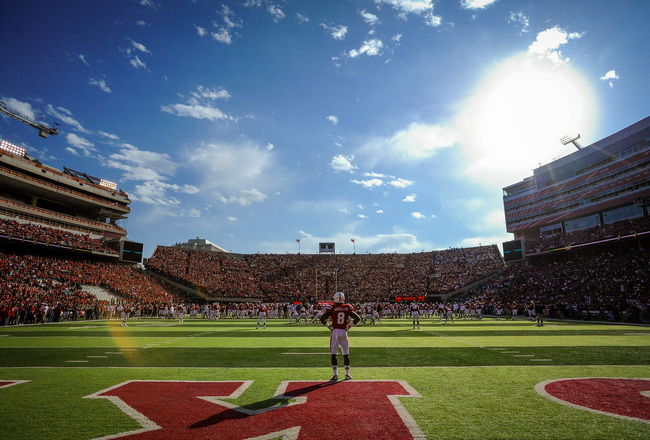 Eric Francis/Getty Images
Nebraska enters the upcoming season ranked 18th by the Associated Press and the USA Today Coaches Poll.
A strong offense is projected to keep the Huskers going, while a young and talented defense is going to be tested to keep the Huskers in the lead. The 70-31 blowout in the Big Ten Championship and the 45-31 Capital One Bowl loss are both things of the past. Nebraska is ready to move forward.
This marks the seventh time Nebraska and Wyoming have met, with the last meeting in Laramie, Wyo., two seasons ago. The Huskers won that matchup 38-14 and currently hold a 6-0 series advantage over the Cowboys.
Nebraska quarterback Taylor Martinez leads an experienced offense that is out to win, according to Huskers.com. While the Huskers have an offense worth talking about, so do the Cowboys. The Wyoming offense will test Nebraska's defense right away. This could easily be a high scoring game for both teams.
Who will come out victorious in this Week 1 matchup?
Where: Memorial Stadium, Lincoln, Neb.
When: Saturday, August 31 at 8 p.m. EST
Watch: Big Ten Network
Listen: Husker Sports Network or Sirius Channel 128, XM 191
Betting Line: Nebraska (-29)
Video Preview

Nebraska Cornhuskers Video Preview

Bleacher Report's Michael Felder, Adam Kramer and Barrett Sallee preview the 2013 Nebraska Cornhuskers.
Nebraska's Keys to Victory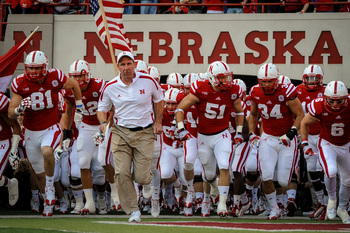 Eric Francis/Getty Images
1. Throw or Hand the Ball Off
Nebraska is a projected four-touchdown favorite over Wyoming. A lot of this has to do with the fact that Wyoming's defense was a mess in 2012.
While the Cowboys look to have switched things up a bit for 2013 (going from the 4-3 to the 3-4), it doesn't appear that the defense will be much better this season. Due to this, Martinez should focus on handing the ball off to running back Ameer Abdullah or passing to one of his many talented wide receivers.
Martinez will need his legs to be 100 percent in the next few weeks, so why waste them when it's not necessary?
2. Confidence from the Defense
By this point, everyone knows Nebraska's defense is young. The part that gets left out of the conversation is that this group is also very talented.
There are plenty of question marks that will remain unanswered until kickoff, but there should also be a lot of excitement around the potential. Since Wyoming's offense has been touted as potent, this will be a good first test as to what the Nebraska defense can provide in 2013. Confidence will be key for this group.
3. Be Loud
Memorial Stadium will need to be loud. It shouldn't be too difficult with the extra seats that will take Memorial Stadium to more than 90,000 fans.
Regardless of the new addition, fans will need to be on their feet cheering, especially when the defense takes the field. Crowd support can shift momentum and Nebraska needs to hang tight to all momentum.
It's going to be a hot day but there shouldn't be any excuse why Memorial Stadium can't be rocking.
Wyoming's Keys to Victory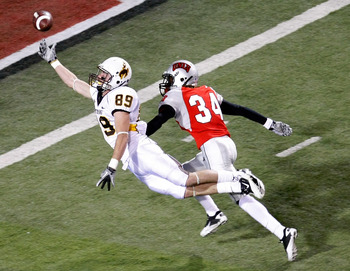 Ethan Miller/Getty Images
1. Keep It Close
In 2012, the Cowboys lost three games by a field goal or less. In another, they lost by a touchdown in overtime. While many may look at that and conclude that Wyoming was unable to get the win in a close situation, it can also be viewed that the Cowboys know how to get themselves in a close game.
With the right leadership, those games could have easily been swung in Wyoming's favor. If the Cowboys can keep it close with the Huskers, there is a potential to reverse the inability to win when close. Let the Huskers get too far ahead and the possibility to get the win diminishes significantly.
2. Pass the Ball
Wyoming quarterback Brett Smith is one of the nation's top returning passers. In 2012, he averaged a total of 2,837 offensive yards and threw 27 touchdowns. He ended the season with a 62 percent completion rate and only six interceptions overall.
Similar to how Martinez will lead the Huskers, Smith will be very much the leader of the Cowboys. The veteran quarterback should take his ability to pass the ball and put it to use. With Nebraska's secondary being a bit of a sore subject over the last couple of years, Smith could benefit from exploiting that weakness for the Huskers.
3. Block Out the Noise
Wyoming is the first team to face Nebraska in the updated Memorial Stadium. The 90,000-plus fans have the potential to be loud. That can be intimidating for any team.
Block out the noise and the Cowboys could find their groove. Let it get the best of the team and things could fall a part quickly. Wyoming should be preparing for as much noise as possible.
That preparation will pay off if executed correctly.
Players to Watch from Nebraska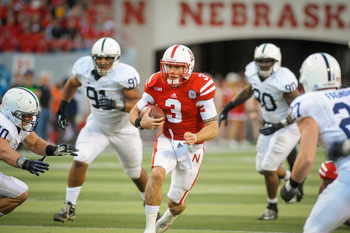 Eric Francis/Getty Images
Taylor Martinez (QB, Sr.)
This seems like an easy choice but the senior quarterback is a must-watch.
Facing a defense that isn't that impressive, Martinez will be presented with a whole slew of new decisions to make. How the veteran reacts to a defense that struggles to stop him will prove of interest. After all, Martinez will want to save his legs for games where he needs them.
In place of running, throwing the ball to one of his countless talented receivers would be ideal. There is no doubt that offensive coordinator Tim Beck has a solid game plan in place for Wyoming that involves as little work from Martinez as needed. Everyone knows Martinez is capable of running when presented the opportunity.
It will just be interesting to see how Martinez reacts when it's not necessary.
Zaire Anderson (LB, Jr.)
Linebacker Zaire Anderson missed most of the 2012 season with a torn ACL. Before sitting out though, the junior played on his bum-knee, showcasing talent that left many wondering what he would be like fully healthy.
The match-up with Wyoming will provide the opportunity to find out. At 5'11" and 220 pounds, Anderson has shown his ability to make plays from sideline to sideline.
He is projected to start at the weak-side linebacker spot and is poised to make an impact for the Huskers. His first true test against Wyoming will provide a dual-threat quarterback that will require Anderson to show off what he's capable of.
Full Depth Chart: Click Here
Players to Watch from Wyoming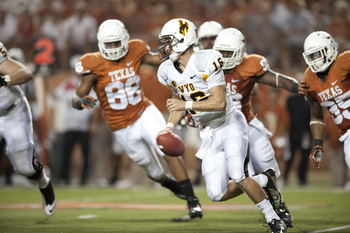 Cooper Neill/Getty Images
Brett Smith (QB, Jr.)
Quarterback Brett Smith is truly a shining star for the Wyoming Cowboys. A dual-threat, Smith is the leader of a potent offense that handles many defenses well. Smith possesses everything the Cowboys need to snag a bowl berth in 2013.
Coming off the 2012 season and a disappointing end, Smith should still have a little momentum going for him. In fact, in his last four games of the season, Smith threw for 13 touchdowns alone. If he can carry that into the new season immediately, the quarterback's arm should prove valuable, especially when targeting senior wide receiver Brandon Miller.
Smith is a smart quarterback that could take advantage of Nebraska's young defense. He's worth the watch.
Brandon Miller (RB, Sr.)
There is no doubt that running back Brandon Miller will be a challenge for the Nebraska defense. The senior is a dual-threat in his own right, taking snaps as both a running back and a wide receiver.
In 2012, Miller boasted 352 rushing yards and 309 receiving yards. He had two touchdowns as receiver and one as a running back. Whichever position Miller lines up at, his style of play is explosive and one any opposing team should focus on.
After all, this is Miller's fifth season with the Cowboys and the veteran has experience. He'll be a force to be reckoned with if he has it his way.
Full Depth Chart: Click Here
What Are They Saying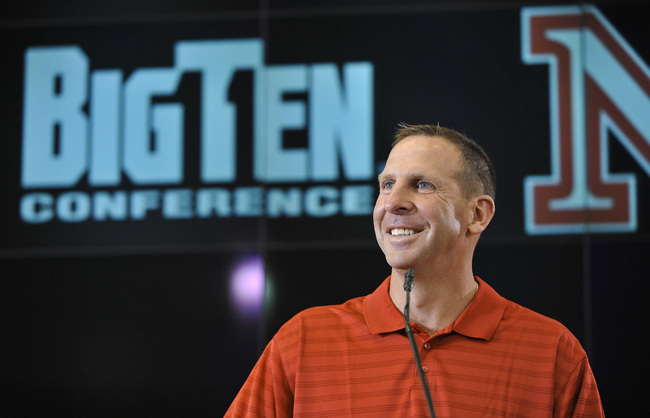 Eric Francis/Getty Images
Unless otherwise noted, all quotes are from Nebraska's weekly press conference on Aug. 26 via Huskers.com.
Nebraska Coach Bo Pelini
On what to expect from Wyoming:
"Honestly I don't know what to expect. They could come out and throw us a curveball and we'll be ready to adjust."
On Wyoming quarterback Brett Smith:
"I came out of that game thinking he's far along for a true freshman. He's very poised and he has excellent feet. I don't know what he runs or anything like that, but he's very elusive in the pocket, he buys time. I think he's a really good player."
On which defensive players we'll see on Saturday:
"You're going to see some old faces, you're going to see some new faces. It's going to be a good mix. I think a lot of guys have come a long way and earned playing time. It's going to be fun to watch."
Wyoming Head Coach Dave Christensen (Quote via Trib.com)
On Nebraska's offense:
"It's got a chance to be the best offense in the Big Ten and maybe one of the top offenses in the country. They are explosive and they have a lot of variety in what they can do."
Nebraska Quarterback Taylor Martinez
On senior wide receiver Quincy Enunwa:
"A lot of people are going to be shocked by how good Quincy is going to be this season. He's taken huge strides this offseason. He's big and physical. I never seen just one person take him down."
Nebraska Running Back Ameer Abdullah
On the last time the Huskers faced the Cowboys in Laramie, Wyo.:
"I couldn't breathe. They have a really good atmosphere down there."
Prediction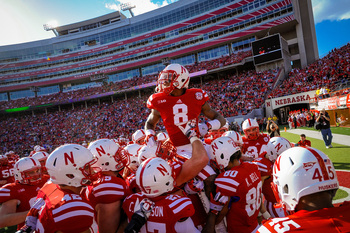 Eric Francis/Getty Images
While Wyoming's offense will test Nebraska's defense, this game will go to the Huskers. Taylor Martinez will keep the offense well ahead, despite a few mistakes from the young defense that allows the Cowboys to put a decent amount of points on the board.
Expect the Cowboys to keep the game close in the first half with quarterback Brett Smith leading the way. The Husker defense will have moments of struggle as the young unit works to find their identity. Wyoming will find a way to score during these moments of confusion.
Regardless of any Nebraska defensive struggles, Wyoming's defense will ultimately be the one to putter out in the second half. Martinez will keep the Nebraska offensive unit moving, pulling away from the Cowboys and sealing the game for good.
Wide receivers Kenny Bell and Quincy Enunwa, alongside running back Ameer Abdullah, should have big games. They'll secure a Husker win at least three touchdowns ahead.
Prediction: 45-18 Nebraska
For complete team coverage and everything Huskers, you can follow Erin on Twitter at @helloerinmarie.
Keep Reading

Nebraska Huskers Football: Like this team?