5 Crucial Mistakes Canelo Alvarez Must Avoid Against Floyd Mayweather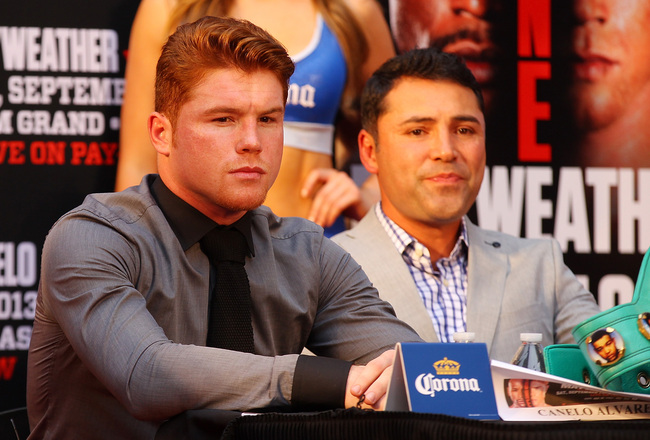 Is Canelo "The One?"
Mike Stobe/Getty Images
Saul "Canelo" Alvarez might well turn out to be the next big thing in boxing, but before he can get there, he has a date with the current pound-for-pound king on Sept. 14.
Floyd Mayweather is undefeated in 44 professional fights. There have been 43 separate men that have stepped through the ropes with him believing they had what it takes to stain his record with its first defeat. And all of them have walked out of the ring defeated and dejected.
But could Alvarez be different?
There is certainly no shortage of people who believe he can. The 23-year-old Mexican champion is the biggest, strongest and most dangerous fighter of Mayweather's 17-plus-year career. In order to win this fight, though, he'll need to avoid making these five crucial mistakes.
Don't Get Lost in the Moment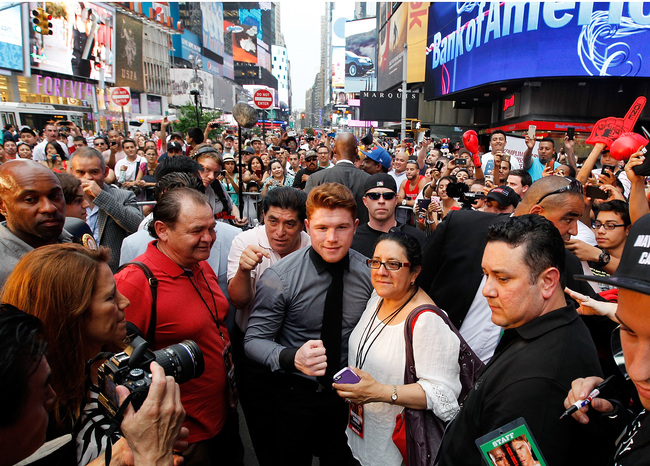 Canelo is no stranger to expectations, but this is a whole different world.
Mike Stobe/Getty Images
Saul Alvarez is only 23 years old, but he's accomplished a lot in his relatively short career. In his native Mexico, he's not just a fighter, he's a rockstar, and he carries the weight of expectations and hope of an entire nation whenever he steps in the ring.
That's an immense level of pressure for anyone, much less someone of Canelo's young age, and it must be hard to carry under normal circumstances. But these aren't normal circumstances. Everything is amplified when you're fighting in Las Vegas and when you're fighting Floyd Mayweather.
This is a fight against the best fighter on the planet, with the hopes of millions on your shoulders and a chance at immortality.
For his part, Mayweather knows what's at stake, and he knows the pressure that it brings.
"He's a young champion, and he earned his right to be up here with me, and come Sept. 14 it's the best versus the best," Mayweather said.
Canelo must be able to handle the pressure, and he can't allow himself to get lost in it.
Floyd Mayweather is the consummate professional. He's been here before, and he'll be here again. He knows how to handle the pressure of performing on the biggest of stages. Many of his opponents have allowed themselves to be subsumed by the hype, and they entered the ring already beaten.
Alvarez needs to put in his work, get in the ring and not allow himself to get caught up in all the hype. If he does, he's already lost.
You're the Bigger Man so Fight Like It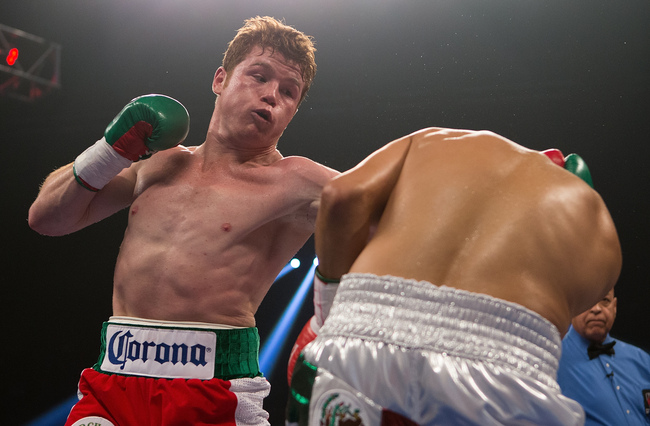 Canelo can't be afraid to use his size.
Josh Hedges/Getty Images
Floyd Mayweather knows he'll be significantly smaller than his opponent on fight night.
That's nothing new for the pound-for-pound king, but what is potentially new is how much more his opponent could weigh. The fight will be contested at a 152-pound catchweight, but that's just the weigh-in limit, and there are no upper limits on what the fighters can weigh when they step into the ring.
Mayweather is a natural welterweight, and he keeps himself in prime physical condition at all times. In order to fight at junior middleweight he needs to pack on a few pounds, and he rarely comes into the ring more than a pound or two higher than his weigh-in weight.
Alvarez on the other hand will likely rehydrate after the weigh-in to somewhere near the level of a light heavyweight. That's a massive size advantage, and it's something he'll need to exploit.
If you're Canelo, you can't be lulled into simply following Mayweather around the ring, flat-footed and eating a steady diet of potshots. That's what happened to Robert Guerrero and the 40-plus others before him. You need to fight like the bigger, stronger man, and that means putting pressure on the smaller guy.
Don't Forget the Body
Mayweather is extremely difficult to hit, even along the ropes.
Al Bello/Getty Images
One of the worst things you can do against Floyd Mayweather is go headhunting. His head movement and footwork are the best in the sport by a mile, and he creates angles that make it extremely difficult to hit him at all, much less cleanly.
Canelo is best suited to zero his attack in on Mayweather's body, and not get goaded into attacking a target virtually nobody has ever hit.
The best bet is to instead zero in with a withering body assault that will zap some of Floyd's speed and raise questions about his ability—at 36 years old—to withstand the type of assault Canelo is capable of unleashing downstairs.
Alvarez is fast, accurate and hits with tremendous power on his punches. He has the stuff to hurt anyone—including Mayweather—but should try and attack the body to slow his foe and setup his punches upstairs.
Pace Yourself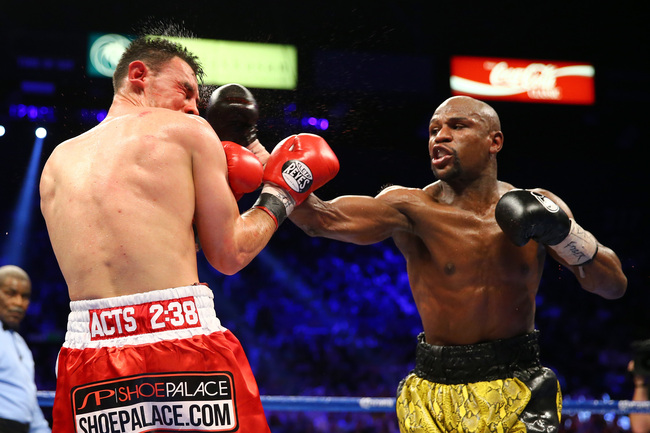 Mayweather's pace and stamina are unmatched.
Al Bello/Getty Images
When Canelo met Austin Trout to unify the junior middleweight championship earlier this year, he was forced out of his comfort zone. Trout, who was the slicker boxer, was able to keep the younger man on the outside more than we've seen before, and forced him into more of a tactical boxing match.
But Canelo passed the test.
He surprisingly utilized his superior power to outbox Trout from the outside en route to a unanimous decision victory. It was his most impressive performance—given the level of competition—to date, but it also raised some potentially troubling questions for his fight with Floyd Mayweather.
Primary amongst these being: Does he have the stamina to keep pace for the full 12 rounds?
Against Trout, he appeared to fade a bit down the stretch, and that's something Floyd is probably banking on happening again.
It's odd to say that the younger man needs to watch his stamina—while the older man doesn't—but that's the reality of this fight.
Canelo needs to be aggressive, but he needs to be smart about it. He can't afford to simply follow Mayweather around the ring, but he also can't be overly aggressive and start flailing his hands around without getting some return for his investment.
Effective aggression is hard to come by against Floyd Mayweather, but ineffective aggression—particularly for a fighter with known stamina issues—could be fatal.
Come to Win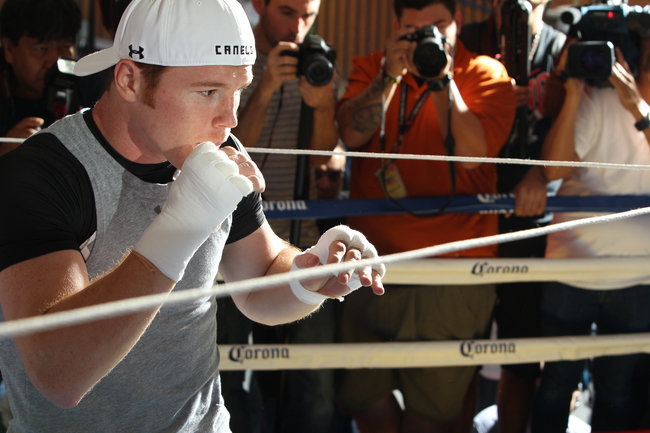 You're made it to the big stage, but that isn't enough.
Alexis Cuarezma/Getty Images
For the past several years, fighting Floyd Mayweather has become boxing's equivalent of winning the lottery. It presents an opponent with the biggest payday of his career, on the biggest stage in boxing and a chance to permanently etch their name in the history of the sport.
To some, just getting there is enough.
Canelo Alvarez has certainly seen his profile rise to another level as a result of the hype and promotion for this fight. With massive press conferences from New York City to Mexico City—and everywhere in between—you could argue that Alvarez is easily now one of the faces of the sport with legions of raucous fans behind him.
And he's achieved all that before the fight night.
In an interview conducted with Bleacher Report, Alvarez was very clear about his intentions coming into the fight.
"I'm not underestimating anybody, but you know I feel I'm going to be ready for this fight, and I'm going to be able to do it," Canelo said.
The "it" is obviously in reference to winning the fight, and that's the type of mentality Alvarez must maintain throughout however long the bout lasts. He's not here to be an opponent. He's not here to give it a good shot. He's here to win and nothing less will do.
Kevin McRae is a featured columnist for Bleacher Report. Unless otherwise noted, all quotes were obtained personally by the writer on June 24, 2013.
Keep Reading