The 1 Position Every Team Needs to Improve for 2014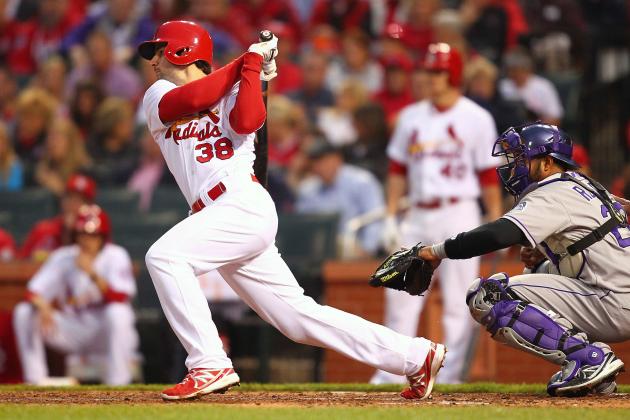 Dilip Vishwanat/Getty Images

We're still a month from the MLB postseason and another month from the start of the offseason, but teams are already no doubt considering what moves they could make when November rolls around.
Big or small, glaring or not, every team has at least one area it could stand to upgrade moving forward, whether it's through promotion of an in-house option or acquiring someone through trade or free agency.
So here is a look at the one position every team needs to improve for 2014 and an overview of sorts on what to expect each team's top priority to be when the offseason begins.
Begin Slideshow

»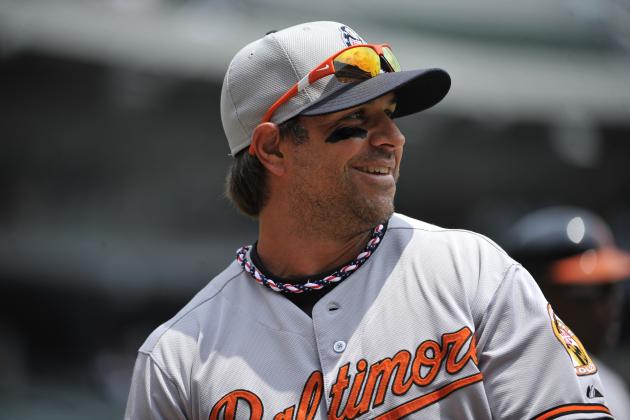 David Banks/Getty Images
The Brian Roberts era in Baltimore is likely over at the end of the year. Who will replace him at second base?
Baltimore Orioles: Second base
With Brian Roberts in the final season of a four-year, $40 million deal and him having played a grand total of 163 games over the duration of that contract, second base is a clear area of need for the Orioles. The hope is no doubt that Jonathan Schoop will step into the everyday job, but he's put up subpar numbers in Triple-A and the team may need to consider a stopgap option at the very least.
Boston Red Sox: Late-inning relief
Following injuries to Joel Hanrahan and Andrew Bailey, the Red Sox bullpen was a disaster early on this season. Luckily, offseason addition Koji Uehara has stepped up in the ninth-inning role and pitched like an elite closer to bail the team out. Uehara will be back next year, but the team will likely look for more of a long-term solution as the 38-year-old is no sure thing to repeat this performance next year.
New York Yankees: Starting pitcher
For as many issues as there have been in the Yankees' lineup this season, they really don't have much in the way of openings to fill. Robinson Cano will likely be re-signed to a big deal, and a full season of Alfonso Soriano and healthy Mark Teixeira should give them a boost. Instead, the Yankees' biggest need looks to be starting pitching, where Hiroki Kuroda and Andy Pettitte are both getting on in years and Phil Hughes will likely be gone in free agency.
Tampa Bay Rays: Catcher
The past two seasons have seen the Rays turn to veteran Jose Molina as their primary backstop, but the 38-year-old has provided little in the way of offensive production. Jose Lobaton has put up decent offensive numbers as his backup this year, but he's 28 himself and has never been more than a reserve. With top catching prospect Nick Ciuffo still a long ways off, this is an area the team will need to target moving forward.
Toronto Blue Jays: Starting pitcher
It's been a disappointing season all-around for the Blue Jays, but the 5.05 ERA their starting pitchers have put up has been the biggest disappointment of all. With Josh Johnson on the way out in free agency, the team will no doubt look to add an impact arm to replace him in the rotation, though practically anyone with a pulse could replace his performance this year, as he's 2-8 with a 6.20 ERA in 16 starts.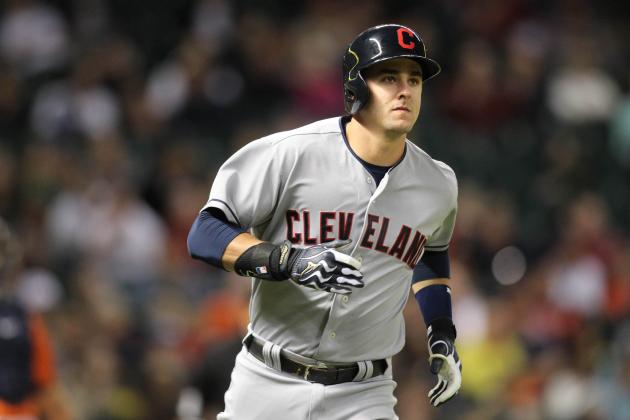 Brett Davis-USA TODAY Sports
Can Lonnie Chisenhall still be the answer at third base for the Indians long-term?
Chicago White Sox: Catcher
After eight years with the team, the White Sox let catcher A.J. Pierzynski walk in free agency this past offseason, opting to turn the position over to longtime prospect Tyler Flowers. With Flowers hitting under .200 on the year, they have turned to the next prospect in line in Josh Phegley, who, after a terrific Triple-A season, has struggled at the big league level as well.
There are in-house options, but it's an area that needs to be improved one way or another.
Cleveland Indians: Third base
The Indians signed Mark Reynolds to a one-year, $6 million deal in the offseason. Reynolds came out of the gates hot, with a 1.019 OPS and eight home runs in the season's first month. He fell off from there, though, and eventually gave way to prospect Lonnie Chisenhall.
Chisenhall has failed to seize the everyday job, with an OPS of just .619 over 244 at-bats. Still just 24, he may very well get another chance, but the Indians need more production from the hot corner one way or another.
Detroit Tigers: Catcher
This is assuming top prospect Nick Castellanos can provide the team the upgrade it needs in left field by early next season, as the trio of Andy Dirks, Don Kelly and Matt Tuiasosopo are a below average-option combined.
The 26-year-old Alex Avila was an MVP candidate in 2011, but he has struggled mightily at the plate the past two seasons. Meanwhile, veteran backup Brayan Pena is having a nice season at the plate with a .303 average, but he is just a .258 career hitter and is nothing more than a reserve moving forward.
Kansas City Royals: Right field
With Emilio Bonifacio looking like the answer at second base, at least for next season, the biggest need for the Royals now looks to be adding a power bat in right field. Rookie David Lough has been decent as a rookie this season, but the 27-year-old is likely no more than a fourth outfielder next year. James Shields has been a nice pickup, but a Wil Myers-type player is exactly what the Royals need right now.
Minnesota Twins: Starting pitcher
The Twins added Kevin Correia, Mike Pelfrey and Vance Worley this past offseason in an effort to bolster their starting rotation, but it's done them no good, as they rank dead last in the MLB in starting pitcher ERA at 5.06. Young arms Samuel Deduno and Andrew Albers have some potential, and Worley could still be a useful arm, but there is no question that the staff needs a lot of work.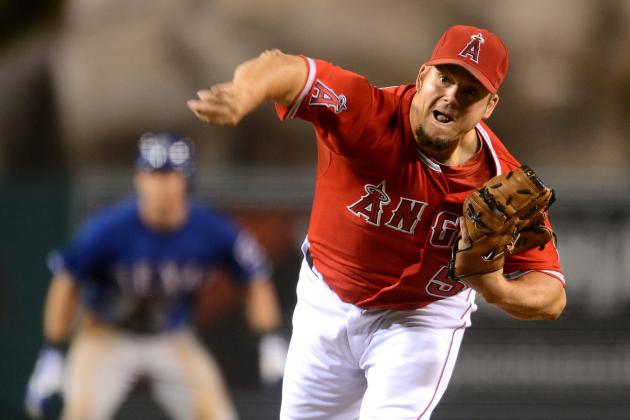 Jayne Kamin-Oncea-USA TODAY Spor
Joe Blanton has not been the answer in the Angels' starting rotation this year. Who will they look to add this winter?
Houston Astros: Veteran leadership
It's not necessarily a position, but as the Astros continue to incorporate their young talent at the big league level, having a veteran presence in the clubhouse will be a necessity. Carlos Pena provided that this season prior to being released, and the team will need to find another low-cost veteran to fill out the roster in what will likely be another long season next year.
Los Angeles Angels: Starting pitcher
The Angels overhauled their rotation behind Jered Weaver and C.J. Wilson this offseason, adding Jason Vargas, Tommy Hanson and Joe Blanton, and it's far to say that things have not worked out as planned on that front. Vargas will be gone in free agency, Hanson struggled to the point of being demoted and Blanton has been arguably the worst starting pitcher in all of baseball at 2-14 with a 6.12 ERA.
The Angels will need to try again when it comes to building the staff this offseason if they hope to contend.
Oakland Athletics: Second base
Alberto Callaspo was acquired at the deadline from the Angels and is signed through next season, but he is best used as a platoon player facing exclusively left-handed pitching. Eric Sogard has done a respectable job as the other half of that platoon, but moving him back to a utility role and finding an offensive upgrade at second base looks like the easiest way for the A's to upgrade what is a very complete roster heading into next year.
Seattle Mariners: Outfield
Depending on what the Mariners do this offseason, there is a good chance they'll be in the market for at least one outfielder, perhaps even two. Dustin Ackley looks like his future will be in center field after starting his career as a second baseman, but veterans Raul Ibanez and Michael Morse are both free agents and could be departing.
It will be interesting to see how the Mariners handle shoring up those spots as they transition between rebuilding and contending.
Texas Rangers: Left field
Much was made of the loss of Josh Hamilton this offseason, but David Murphy was expected to hold his own in an everyday role after putting up terrific numbers in a fourth outfield role in 2012. That has not been the case, though, as he's hit just .221/.281/.377 over 393 at-bats, and he will likely depart in free agency.
Suspended Nelson Cruz is also a free agent at season's end, so finding a third everyday outfielder alongside Leonys Martin and Alex Rios will be a priority.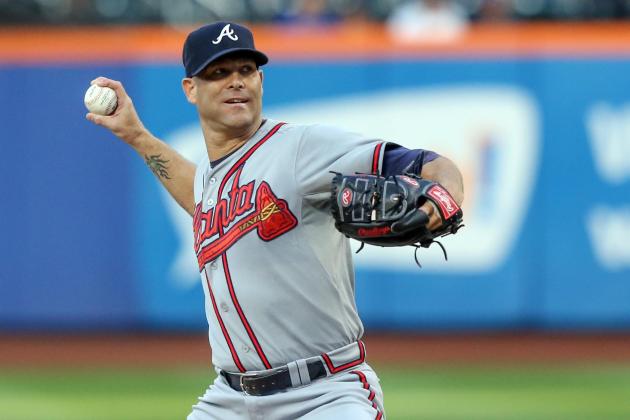 Anthony Gruppuso-USA TODAY Sport
Tim Hudson has spent the past nine seasons with the Braves, but he will likely depart in free agency this offseason. Who replaces him?
Atlanta Braves: Fifth starter
The Braves' starting lineup is essentially locked in for next season, with the only real decision being whether or not/how long to re-sign Brian McCann. The bullpen will be solid once again and should get Jonny Venters back, and the rotation features a terrific young core in Kris Medlen, Mike Minor, Julio Teheran and Alex Wood.
The only real area they could look to address is the back end of the rotation, as Paul Maholm and Tim Hudson are both free agents and adding an arm would shore things up.
Miami Marlins: Third base
Pinpointing one area the Marlins need to address may seem like a tall order, but they have a good crop of talented young players in place right now that should only get better as more prospects reach the big leagues.
Third base is one area where they have no clear-cut long-term option, though, with 31-year-old Ed Lucas currently filling the position. Former Cardinals prospect Zack Cox could get a look at third, but if there is one area the team will look to upgrade, it appears it's the hot corner.
New York Mets: Outfield
Part of the reason the recently traded Marlon Byrd, via the Associated Press, was able to enjoy a surprise bounce-back season this year was the fact that the Mets outfield was so thin, he quickly played his way into everyday at-bats, despite being a non-roster invitee.
Prospect Matt den Dekker could get a look in center field next year, and the group of Juan Lagares, Lucas Duda, Eric Young and Kirk Nieuwenhuis will all be in the running for a roster spot, but it's clearly a weak crop to choose from that could use an impact addition.
Philadelphia Phillies: Starting pitcher
As the Phillies begin to rebuild at least to a point, rotation staple Roy Halladay will likely be on his way out in free agency this year. Cliff Lee and Cole Hamels will be back to anchor the staff, and Jonathan Pettibone, Kyle Kendrick and Ethan Martin will all be in the running for a rotation spot, as could top prospect Jesse Biddle at some point in 2014. That said, adding a veteran arm to fill out the back of the staff makes sense.
Washington Nationals: Starting pitcher
The trio of Stephen Strasburg, Gio Gonzalez and Jordan Zimmermann is among the best in all of baseball, even with all of them falling a bit short of expectations this year. However, free-agent signing Dan Haren likely won't be brought back, and Ross Detwiler has fallen off greatly after a good start to the year.
All the pieces are still there offensively for next year if they can turn things around, but the rotation will need another arm.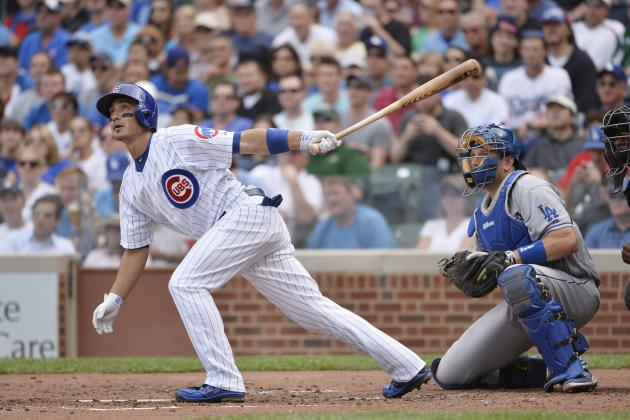 Brian Kersey/Getty Images
The defense of light-hitting Darwin Barney may not be enough for him to keep his job next season.
Chicago Cubs: Second base
With Chris Rusin and Jake Arrieta looking like potential rotation pieces next season, the Cubs may hold off on adding an impact arm until the 2015 season, when they're expected to contend once again. Instead, it's second base that most needs an upgrade, where reigning Gold Glove winner Darwin Barney (.217 BA, .597 OPS) simply doesn't hit enough to justify an everyday job.
Prospects Arismendy Alcantara and Christian Villanueva could get a look, but a decent stopgap veteran wouldn't hurt either.
Cincinnati Reds: Left field
The Reds have as complete a team looking ahead to next year as any in baseball, but left field has been an issue this season and could be addressed. Ryan Ludwick is signed for $8 million next year, but he has missed significant time this year with a shoulder injury and has struggled to get things going since returning. That's a lot of money for a backup, but the team could look to sign someone to at least push Ludwick for the job.
Milwaukee Brewers: Starting pitcher
In 2012, it was a shaky bullpen that held the Brewers and their potent offense back. This time around, the Brewers rank fourth in baseball with a 2.97 bullpen ERA, but they have struggled to get consistent performances from their starting rotation.
Kyle Lohse and Yovani Gallardo will be back, unless one or both are moved, and there are a handful of young arms that will vie for a rotation spot, but adding another proven veteran seems like a necessity.
Pittsburgh Pirates: Shortstop
The Pirates have moved light-hitting Clint Barmes to the bench of late in favor of Jordy Mercer, who has hit .273/.328/.399 over 278 at-bats this year. However, Mercer is probably better served as a backup, and Barmes is headed for free agency, so this will be an area of need.
Top prospect Alen Hanson likely needs at least another year in the minors before he steps into the job, and unless his defense comes around, his future may be at second base anyway.
St. Louis Cardinals: Shortstop
After Rafael Furcal landed on the DL before the season even started, the Cardinals turned to rookie Pete Kozma as the everyday shortstop. And despite a .218/.275/.275 line, they've stuck with him for much of the season.
They have no long-term options at the position in the minors right now, and it's clear Kozma is not an everyday option moving forward, which makes shortstop the only glaring hole on a complete Cardinals roster.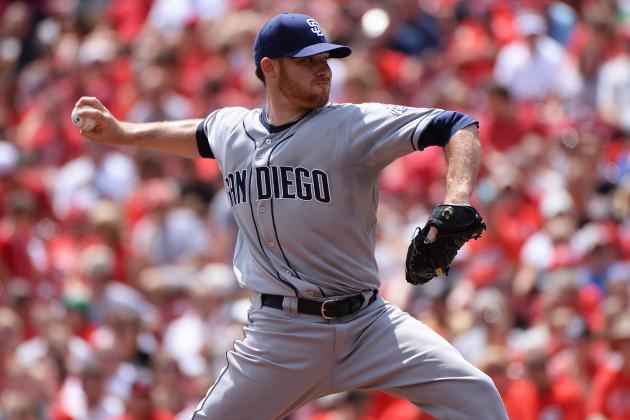 Jamie Sabau/Getty Images
Even if Ian Kennedy turns things around, the Padres could still use a frontline arm to anchor their staff.
Arizona Diamondbacks: Closer
While Heath Bell and J.J. Putz are both signed through next year and Brad Ziegler is still under team control, that trio has gone just 28-of-42 on save chances this season. With a good young pitching staff in place and the core offensive group returning, the late-inning roles look to be the area in most need of an upgrade.
Colorado Rockies: Starting pitcher
The Rockies have one of the best offenses in baseball top to bottom, and their bullpen has been significantly improved as well, trimming its ERA from 4.52 in 2012 to 3.86 this season. By all accounts, the team's rotation has been improved as well, but it remains the weak spot of the team.
Veterans Jorge De La Rosa and Jhoulys Chacin have been solid, and both Tyler Chatwood and top prospect Eddie Butler have a chance at making an impact, but the Rockies could no doubt use a veteran presence atop their staff.
Los Angeles Dodgers: Third base
Juan Uribe has turned things around after hitting just .191/.258/.284 last season, bumping his numbers up to .271/.330/.401 on the year and seizing the everyday third base job. That said, the 34-year-old likely won't be brought back in free agency, and the Dodgers will likely be top suitors for any available players at the hot corner.
San Diego Padres: Starting pitcher
Eric Stults, Andrew Cashner and Tyson Ross have all pitched well this year, and deadline acquisition Ian Kennedy remains a bounce-back candidate who is just two years removed from being one of the best pitchers in all of baseball. That said, the Padres are a team on the rise, and they would benefit greatly from adding a proven veteran arm to slot in at or near the top of their rotation.
San Francisco Giants: Starting pitcher
Great starting pitching had been the hallmark of the Giants' recent run of success, but with Tim Lincecum and Barry Zito on their way out the door and questions about Ryan Vogelsong moving forward, the starting rotation is in a state of flux. Matt Cain and Madison Bumgarner are solid arms to build around, but if the Giants hope to turn things around quickly, they'll need more than that.