Predicting the Georgia Bulldogs' Stats vs. Clemson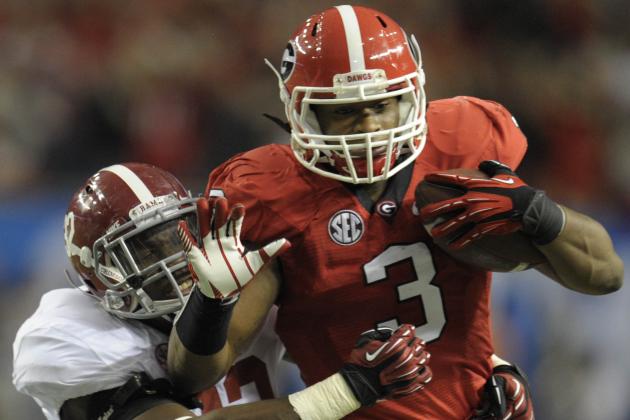 USA TODAY Sports

It's game week for the Georgia Bulldogs and they are looking to get the 2013 season off on the right foot with a win against Clemson.
This game has the potential to have a lot of fireworks, which will also make it more of a marquee contest.
In order for the Bulldogs to take down the Tigers, the leaders and the playmakers will have to be on top of their game. Aaron Murray will have to be efficient, Todd Gurley will have to run with authority and the defense will have to slow down the Tigers' offense.
It won't be easy, but if the offense is as good as advertised and the defense can be disciplined, there is no reason the Bulldogs can't come out of Death Valley with a smile on their face.
Here's a look at the projected stats vs. Clemson.
Begin Slideshow

»
Dale Zanine-USA TODAY Sports

Aaron Murray
22-of-32, 310 yards, 3 touchdowns, 1 interception
With this being the final season for Aaron Murray, he wants to get the season started off on the right foot.
And with the Tigers being thin at secondary, he should have no problems making big plays through the air.
Because this game is being played at Death Valley, Murray will likely have somewhat of a rough start to the game and could have an early pick. But once he and the rest of the offense settles down, he will play like the quarterback Georgia fans know and love.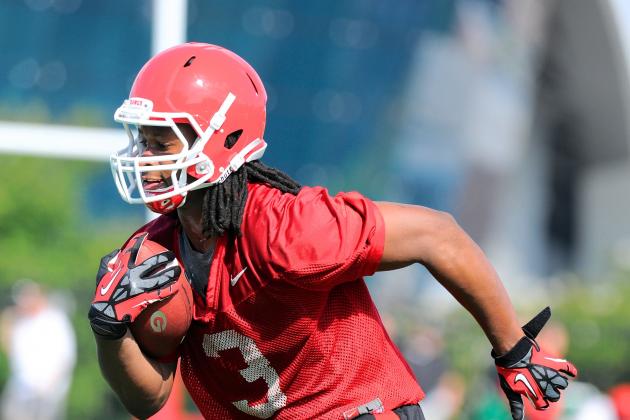 Dale Zanine-USA TODAY Sports

Todd Gurley
22 carries for 117 yards and two touchdowns
Keith Marshall
12 carries for 80 yards
The Tigers' defense has a chance to be better than last season because they have six of their front seven starters returning. But they haven't faced a running back duo like Todd Gurley and Keith Marshall.
Gurley will show no signs of slowing down and he tends to play his best in the big games (just look at the Florida and Alabama games from last year).
Marshall will have the same role he did last year and be the change-of-pace back. However, he did put on some weight in the offseason and could have a chance to not only run past defenders, but run over them as well.
Marshall and Gurley will have no issues running against the front seven of Clemson.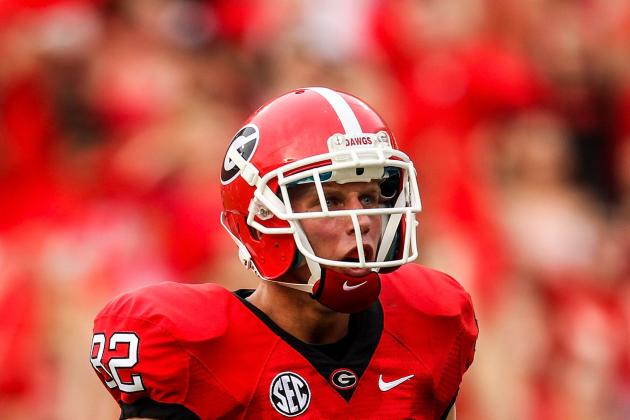 Daniel Shirey-USA TODAY Sports

Malcolm Mitchell
7 receptions for 90 yards and a touchdown
Michael Bennett
8 receptions for 95 yards and a touchdown
Arthur Lynch
5 receptions for 75 yards and a touchdown
Murray is good at spreading the ball around and with Michael Bennett back in the fold, the receivers should be able to play big against Clemson.
Malcolm Mitchell has been working exclusively at receiver this offseason, and he has a chance to have a huge year because of the playmaking ability he showed in 2011 and 2012.
Michael Bennett was the team's leading receiver last year before going down with an ACL injury. He has great hands and has also showed great athleticism the last two seasons.
Arthur Lynch improved as a receiver towards the end of last season and Murray will go to him a lot this season. Lynch is a big target that has all the tools to have a big 2013 season.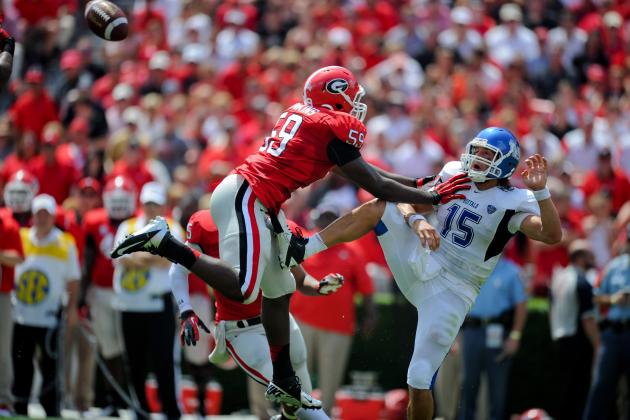 Kevin Liles-USA TODAY Sports

Amarlo Herrera
9 tackles
Ramik Wilson
8 tackles
Jordan Jenkins
6 tackles, 2 tackles for loss, 1 sack
Tray Matthews
6 tackles, 2 passes defended
Damian Swann
5 tackles, 1 interception
The defense will have a challenge ahead of them because the offense of Clemson has talent and experience.
But the key playmakers should be able to make plays when it matters the most.
Amarlo Herrera is an underrated linebacker that will prove he is the leader of the unit when they go against the Tigers.
Jordan Jenkins played solid all last year and should provide enough pressure off the edge.
The secondary has a major test when the face the Tigers receivers, led by Sammy Watkins. Damian Swann and Tray Matthews will get their tackles, but both players will also break up a few passes thrown by Taj Boyd.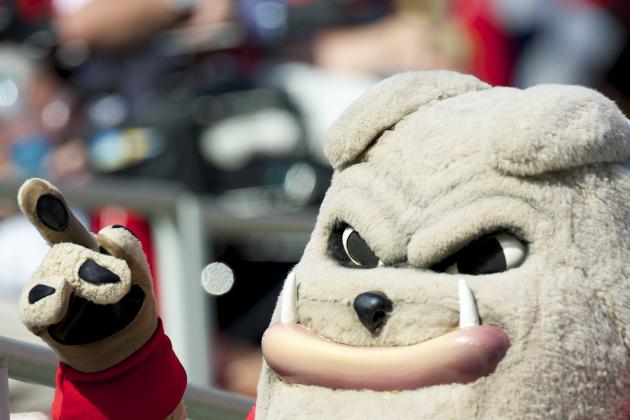 Dale Zanine-USA TODAY Sports

When it comes down to it, the Bulldogs will produce 500 yards of total offense. If they do that, they will win the game.
But if the Bulldogs want to win big, the defense has to play fundamentally sound football. They have a chance to keep the Tigers at 300 yards of total offense if they can be disciplined and play their assignments.
With a game like this, turnovers will be key. The Bulldogs will suffer that one early turnover, but because of the speed the Bulldogs have on defense, they will force two turnovers and that will be the reason they come away with a win.