Retired Players Who Would Make Great Celebrity Big Brother Housemates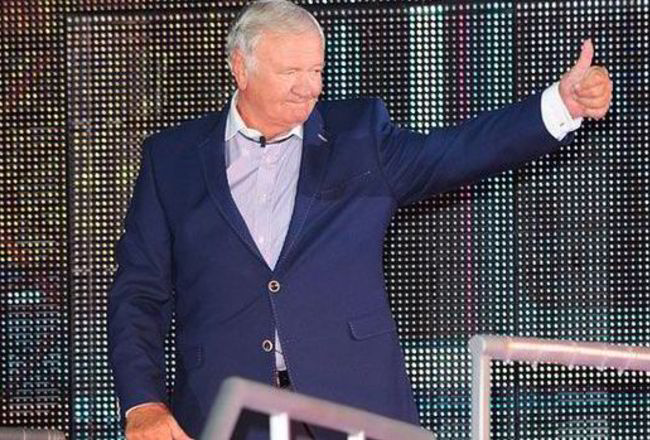 (express.co.uk)

Ron Atkinson is currently residing in the Celebrity Big Brother house, making UK TV viewers privy to his every waking move... and controversial racist jibe.
Big Ron's encampment in the house where famous careers go to die has got us thinking: Which other former professional footballers would make great CBB housemates? Here's our thoughts...
Diego Maradona
If we learnt anything from the first series of Big Brother and "Nasty Nick," it's that the house dynamic is most successful when there is a villain among the ranks.
So, who better to play this role than one of the most villainous characters in English football history? Diego Maradona—the man who robbed the Three Lions in the 1986 World Cup—would be a perfect pantomime heel.
Just imagine the booing when he enters the house with obnoxious amounts of jewellery poking through his unbuttoned shirt, blowing kisses to the masses.
If he was put up for eviction, Saint Diego certainly wouldn't last too long in the public vote.
Julian Dicks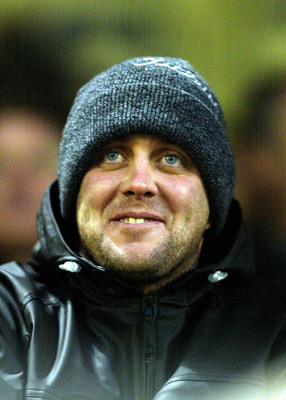 Gary M. Prior/Getty Images
After hanging up his boots in 2002, West Ham hard man Julian Dicks opened a kennel and tried to become a professional golfer, before buying his own pub.
The man nicknamed "The Terminator" was famous for his short fuse on the pitch, and even admitted that he would often smash his golf clubs in frustration while on the fairway.
It doesn't take a high-flying Channel 5 TV producer to know that needless destruction while playing golf will almost certainly lead to temper tantrums during overly competitive housemate challenges. The 44-year-old would be ratings gold.
Plus, there's a precedent for strong performances from 90s hard men on CBB, as Vinnie Jones finished third in 2010.
Phil Neville
Phil Neville is currently busy holding down a job as a first team coach at Manchester Utd, but Gary's younger brother would be a brilliant CBB contestant, simply because they could play the "Yes or No" game as a housemate challenge.
Deco
Lars Baron/Getty Images
Former Chelsea star Deco retired this week, so he may now have the time to hang around in a house full of cameras.
His English is very poor and there's no suggestion that he has a stellar personality, but the world deserves to see more of those mesmerising eyebrows. I would happily watch him furrowing them for hours, as he tries to figure out exactly why all the people around him are famous.
René Higuita
Colombian goalkeeper René Higuita is best known in the UK for the scorpion kick he pulled off at Wembley in 1995, but that represents a mere drop in his ocean of his craziness.
The 46-year-old, nicknamed "El Loco" ("The Madman"), scored 41 career goals (many from open play), missed the 1994 World Cup because he was in prison for his involvement in a kidnapping arranged by Pablo Escobar, tested positive for cocaine in 2004, and completely changed his appearance with cosmetic surgery in 2007.
Higuita also has celebrity reality show experience after his appearance on La isla de los famosos: Una aventura pirata, a South American version of Survivor.
He is as mad as a box of frogs and could easily out-crazy any homegrown CBB talent.
Roy Keane
Despite a very successful career in which he won eight league titles and a European Cup, Roy Keane is still very angry about everything. And at no point is he more angry than when a camera is pointing at him. Extrapolate that anger to dozens of cameras whirring 24 hours a day!
If Keane made it into the house, the other contestants would soon be forced to quietly elect him as their leader, or face the consequence of a ten-minute death stare.
For added hostility value, producers could throw Patrick Vieira or Alf-Inge Håland into the mix.
Jamie Carragher
Every CBB series needs a loveable rogue, and that role could be filled by Liverpool legend Jamie Carragher.
The recently retired defender isn't afraid to speak his mind on camera—as Sky Sports' bumbling reporter Andy Burton found out last year—and would certainly come across as a working-class hero to the British public.
Of all the men on this list, Carra feels like the most likely CBB winner.
Ian Holloway
BBC producers must be delighted that Crystal Palace are back in the Premier League this year, as it means more golden sound bites from manage Ian Holloway on Match of the Day.
The former QPR midfielder would provide the comic relief in the house for the moments when Roy Keane becomes too unbearably tense.
If he escaped an eviction, lucky viewers might also be treated to his fabulous dance moves.
Who else should make it into Celebrity Big Brother? Have your say below and follow Ryan Bailey on Twitter
Keep Reading