Examining the Strength of Tag Team Division Compared to Previous Eras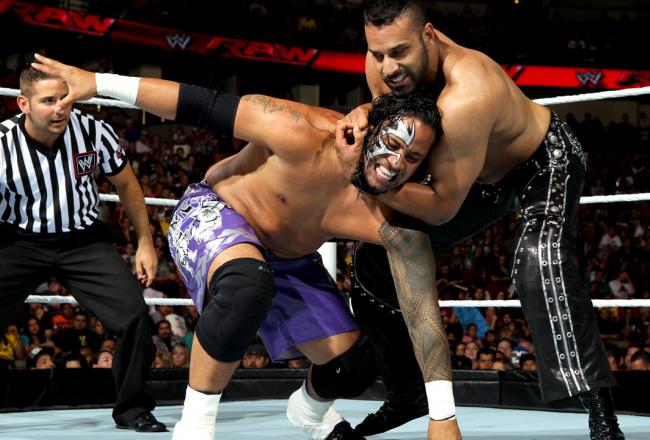 (Photo: WWE)

Today's WWE tag teams have to battle nostalgia as well as their opponents.
The Wild Samoans, Legion of Doom and The Hardy Boyz will be life-long favorites of some fans, depending on when they were born. Are there teams today that can earn the same storied place in wrestling history?
While the current tag team division is not as deep and star-studded as previous eras, there is ample talent waiting to be showcased.
WWE fans so often see a spark in the division and call it a fire too soon. Memories of tag team's golden age have so many of us pining for a revival.
Digging into the current crop of tag talent doesn't reveal promise of eclipsing the best of the past, but the teams' potential offers hope for the optimistic among us.
Not counting the incoming Los Matadores or any team that may reform once folks like Tyson Kidd and Rey Mysterio are healthy, here are the teams in the tag team division today:
The Shield (Roman Reigns and Seth Rollins)
The

Usos

Big Show and Mark Henry
The Prime Time Players
The Real Americans
The Wyatt Family (Luke Harper and Erick Rowan)
3MB
Tons of Funk
The bottom of the division is occupied by comedy teams Tons of Funk and 3MB. Big Show and Mark Henry along with Harper and Rowan haven't had many opportunities together yet, but both could be entertaining brawling duos of big men.
That leaves four teams at the top for the moment.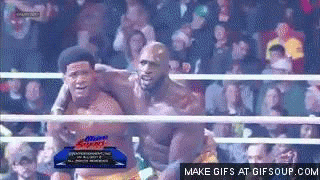 The Usos are exciting high-flyers who haven't shown much on the microphone yet. The Prime Time Players are a charismatic, fun duo with solid in-ring skills. Both The Shield and The Real Americans possess enormous amounts of talent, even if the former squad has been booked far better than the latter one.
Comparing the division as a whole to the past both stirs up nostalgia and makes the present easier to appreciate.
The Golden Age
WWE had an oversupply of great tag teams in the late '80s and early '90s.
The British Bulldogs, The Hart Foundation, The Rockers and Demolition stood atop a stacked division. Comparing the current division's top four teams to these will have one aching for the past.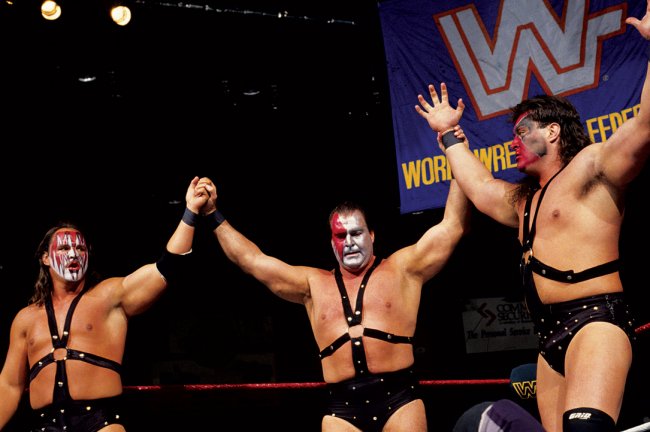 Without even mentioning duos like The Brain Busters, Strike Force and Powers of Pain, today's teams have a hard time living up to the division of that period.
Both The British Bulldogs and The Hart Foundation are generally considered among the best tag teams ever. Behind them you had an innovative pair of athletes in The Rockers and a compelling, leather-clad team of brawlers in Demolition.
Take a look back at a match between The Rockers and The Brain Busters.
The cohesion, energy and storytelling on display are not things we often see from tag teams today. The Shield has put on great matches, but the lists of classics for the Prime Time Players and The Usos are short.
Blame some of that on lack of opportunity. The division's teams, other than The Shield, don't get a lot of matches this long. There is also a gap in talent.
WWE once plucked the best talent from All Japan Pro Wrestling, World Championship Wrestling and American Wrestling Association. These teams came into the company with championships and experience already on their resumes.
We're now watching teams in earlier stages of development.
Not measuring up to the teams of this era doesn't equate failure, though. Just because an artist isn't as good as the Impressionists doesn't make him a bad artist.
How, then, do today's teams compare to WWE's less-than-golden age?
The New Generation Era
Looking back at the tag division from 1993 to 1997 will have fans thankful for the present.
Imagine if today's division had far more teams akin to Tons of Funk than to The Shield. This was an era where two large rappers in shiny purple gear, a pair of pig farmers and a duo of fitness fanatics all held the tag titles.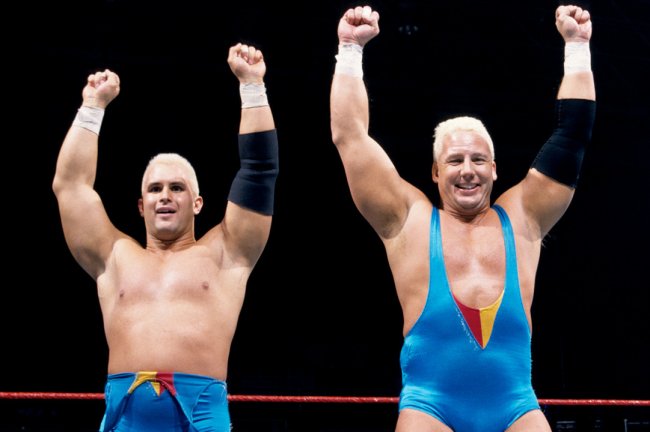 The best this period had to offer included the pairings of British Bulldog/Owen Hart and Shawn Michaels/Diesel.
Those were entertaining teams comprised of talented individuals, but they just aren't remembered the same way that history's best teams are.
There was a surplus of over-the-top gimmicks and teams we look back at with embarrassment. Today's era looks mighty fine in comparison.
An Usos vs. Real Americans match has tons more appeal than a Smoking Gunns vs. Men on a Mission battle.
Even though WWE is about to insert a pair of matadors into the division, there are far less corny characters paired together today than back then. The rest of today's teams have sustainable gimmicks and could be entertaining teams for a long time.
One of the division's issues today is depth, which is something made apparent when looking back at WWE between 2002-05.
Ruthless Aggression Era
While the late '80s saw singles stars emerge from great tag teams, this was a time of singles stars joining forces to make new tag teams.
Kane teamed with Rob Van Dam. Chris Benoit partnered with Edge. Chris Jericho and Christian joined forces.
In addition, the Dudley Boyz, Los Guerreros, Team Angle and Booker T and Goldust all competed during this time. Star power made the division must-see, even if filler teams were present as well.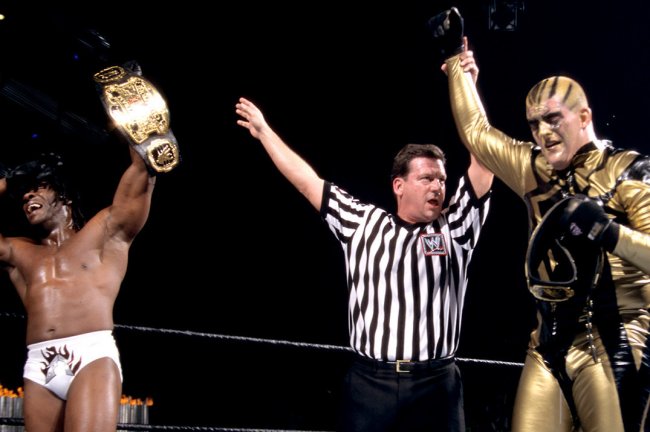 Today's division has some strong duos on top, but slide down the depth chart, and it's hard to find a wealth of challengers for the tag titles.
The Ruthless Aggression Era tag division felt like it rested on a set of tectonic plates with guys like Kane moving from partner to partner, but there always seemed to be a long list of teams worth watching. The list of A-level teams is much longer than what today's division offers.
This was an era that produced classic tag matches like Kurt Angle and Benoit taking on Edge and Mysterio at No Mercy 2002.
It's hard to imagine a match like that playing out today, especially with Team Hell No out of the picture. It was a match that featured one Hall of Famer, two guys who were shoe-ins to join him and one whose in-ring work would have got him inducted had his life ended differently.
Are the members of today's tag teams headed for the Hall of Fame? Maybe not, but they certainly won't get a chance to earn their tickets in if they aren't given adequate opportunities to shine.
Booking
Today's teams are too often slid to the back burner.
Bret Hart agreed. In an interview with Rodolfo Roman, Hart said that tag teams are "not getting the highlight that they should."
The Shield hasn't been challenged nearly enough since winning the title. Once that team's rivalry with Team Hell No was over, it felt like WWE was unsure what to do next. Reigns and Rollins need to have challengers chasing them down.
Bringing in Henry and Big Show is a great start.
Inserting two former world champions into the division bring star power a la the Ruthless Aggression Era pairings. It also adds depth, giving teams like The Usos someone else to battle.
To compete with tag team's golden ages, WWE can certainly help by adding teams comprised of stars with no direction, but there is a stock of talent waiting to be used.
Allow The Real Americans to have matches with The Prime Time Players as long as the aforementioned Brain Busters vs. The Rockers bout. Give The Wyatt Family a storyline with Big Show and Henry. Utilize tournaments like the one that ended with Angle and Benoit vs. Edge and Mysterio.
Today's tag division doesn't shine as brightly as WWE's best, but it's hard to do so with short matches and benchwarming. There is plenty to build on if WWE commits to the construction.
This article is
What is the duplicate article?
Why is this article offensive?
Where is this article plagiarized from?
Why is this article poorly edited?