In the main event of UFC 164 Saturday night, it was Anthony Pettis (17-2) that stunned the world and stole the lightweight championship from longtime for Benson Henderson (19-3) via submission.

UPDATE: Sunday, Sept. 1, at 1:15 a.m. ET
From UFC:
Dana on what's next for Pettis: "Anthony's knee popped in the fight, so no sense even talking about it." http://t.co/hvMlYe08sV

— UFC (@ufc) September 1, 2013
---End of update---
Pettis had previously won against Henderson via unanimous decision for the WEC Lightweight Championship in the Fight of the Year winning bout, and the challenger was once again able to take the champion to his limit and walk away with the title.
It didn't take long for Pettis to claim his new belt. In the first round, he turned to his underrated submission game by throwing an arm bar on Henderson after the titleholder took him down. Henderson, despite being known for escaping submissions, couldn't get out and this one was over.
UFC added this detail:
Pettis says he heard Henderson's arm "pop" and then Henderson said "tap tap tap" #UFC164

— UFC (@ufc) September 1, 2013
This stunning victory throws the lightweight division of the UFC into turmoil. Henderson's three-straight title defenses warrant the first chance at squaring off against Pettis and his new championship.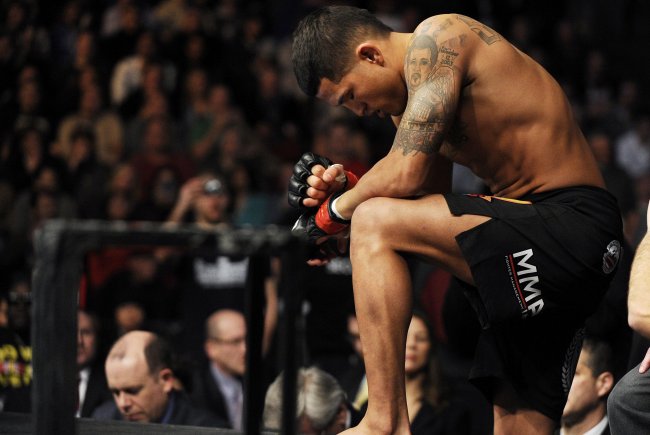 David Banks-USA TODAY Sports
With talented fighters like T.J. Grant, Gilbert Melendez and more looking to get a shot at the belt, the rubber match in a heated battle between Henderson and Pettis would be a superfight for MMA.
Pettis will be launched into the upper echelon of fighters with the win over Henderson, and the focus on the third in-ring battle between these two fighters would have the sport at a fever pitch.
Henderson must return to the Octagon more focused than ever.
Should Benson Henderson get an immediate rematch?
There is no questioning the raw skill and athleticism of the former champion, but
Pettis
was able to match everything thrown his way. He must change his style and regain the hunger that brought him the title.
The new lightweight champion should undoubtedly celebrate his well-earned victory, but must be back to work almost immediately to prepare for his first UFC title defense.
With Henderson knowing exactly what it takes to win that belt and why he lost before, the third meeting in this battle could be the best yet.
MMA need another great trilogy and it may have found it with the Pettis vs. Henderson feud.