UFC Fight Night 27 Results: Matches to Make for the Entire Fight Card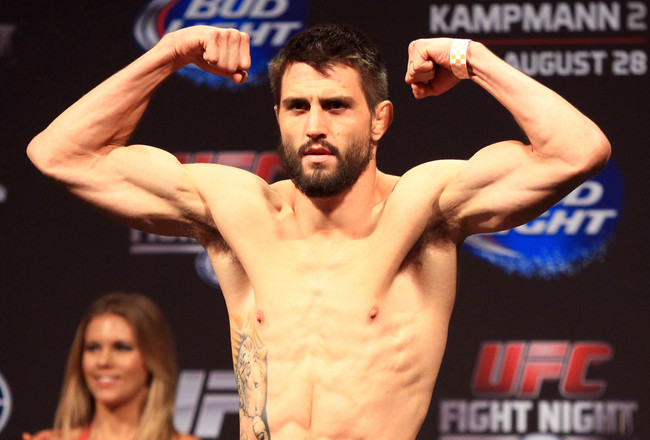 Pat Lovell-USA TODAY Sports
Carlos Condit's win at UFC Fight Night 27 on Wednesday went a long way toward proving he's the best welterweight not involved in the division's next championship bout.
After losses to champion Georges St-Pierre and top contender Johny Hendricks, Condit made a statement with a fourth-round stoppage of Martin Kampmann. In doing so, Condit showed he's capable of beating just about any 170-pound fighter in the world.
Unfortunately, with such fresh losses to St-Pierre and Hendricks, Condit probably won't have an opportunity to move upward any time soon.
While he awaits an event that could change that, here is who Condit and the rest of the UFC Fight Night 27 competitors should meet next.
Roger Bowling vs. Abel Trujillo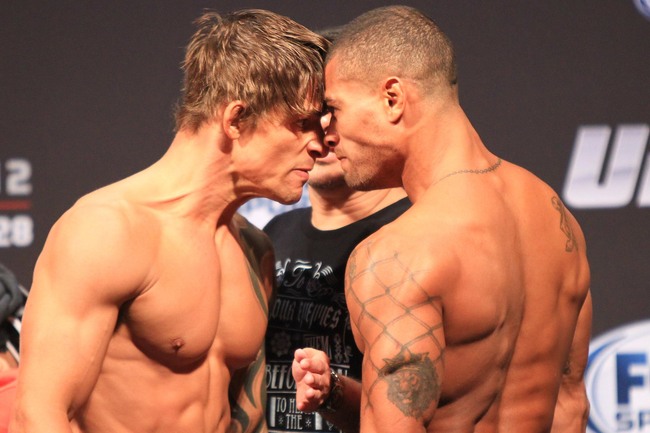 Pat Lovell-USA TODAY Sports
Roger Bowling and Abel Trujillo were producing a Fight of the Night candidate on Wednesday before their bout ended in controversial fashion.
During the second round, Bowling found himself against the fence and on his knees. With his opponent in poor defensive position, Trujillo looked to land two knees to the body. Unfortunately, both knees arguably made contact with Bowling's head, leading to a stoppage due to illegal strikes.
Many MMA media members felt Trujillo's infraction was blatant enough to warrant a disqualification. Some, including UFC president Dana White, believed Trujillo didn't even make contact Bowling's head and should have won.
Referee Rob Hinds carried the only opinion that mattered, though. He decided Trujillo unintentionally landed an illegal knee and deemed the fight a no-contest.
With all the fuss around the result of this matchup, it may be best to simply do it again. If the first round of Wednesday's fight was any indication, Bowling and Trujillo would put on an entertaining rematch that would hopefully bring some closure to their first meeting.
James Head vs. Lance Benoist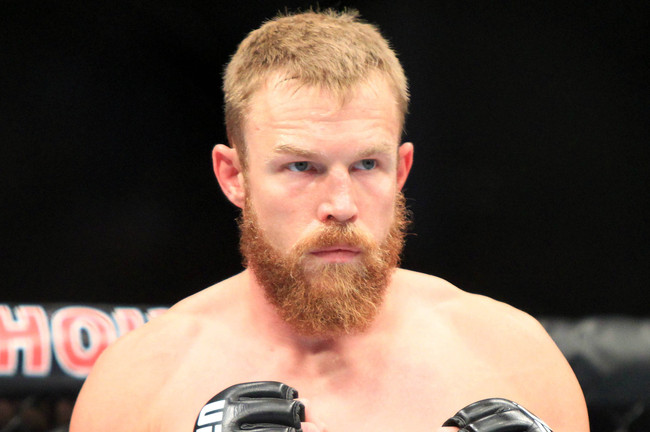 Pat Lovell-USA TODAY Sports
After a big win over Brian Ebersole, James Head has now dropped back-to-back fights.
The 29-year-old ran into a solid grappler in Jason High on Wednesday and suffered his second submission loss inside the Octagon. Less than two minutes into his bout, Head was taken down and caught in a tight mounted guillotine that now has him on the verge of losing his UFC roster spot.
Head's next fight will likely be a loser-leaves-town matchup with another welterweight coming off of two straight losses. With that in mind, Lance Benoist seems like the right opponent for Head.
Jason High vs. John Hathaway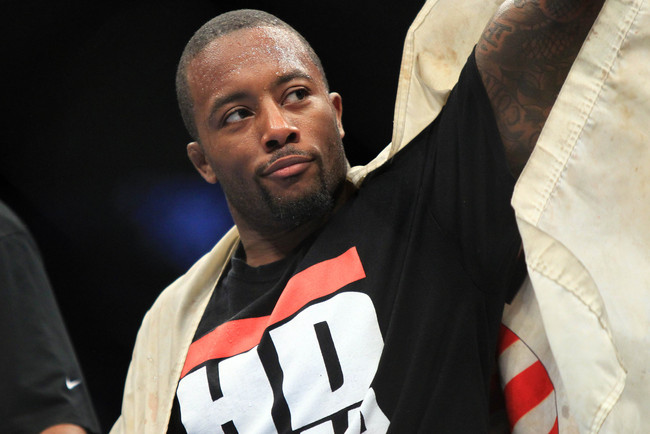 Pat Lovell-USA TODAY Sports
After a rough UFC debut against Erick Silva, Jason High showed he belongs inside the Octagon at UFC Fight Night 27.
High quickly took James Head down on Wednesday and picked up a submission win in the first round. The finish gave High his eighth career submission win and helped him prove he's better on the ground than he showed opposite Silva.
The most entertaining matchups for High are against capable grapplers. So, a bout with Englishman John Hathaway could result in an entertaining battle on the ground.
Hatsu Hioki vs. Jimy Hettes-Mike Wilkinson Loser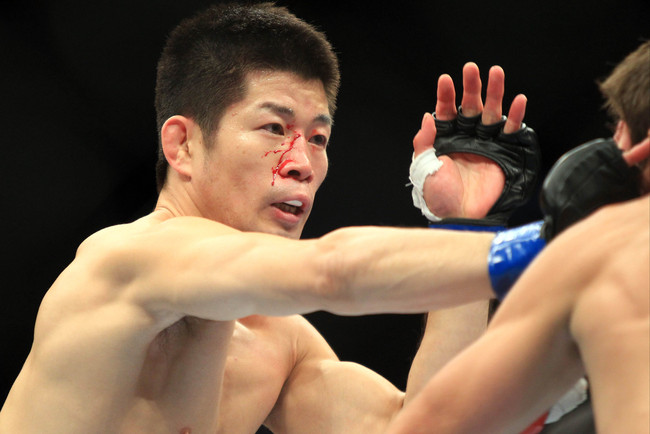 Pat Lovell-USA TODAY Sports
Although he entered the UFC as a potential title threat, Hatsu Hioki has lost his last three bouts inside the Octagon.
Following a decision loss against Darren Elkins, Hioki is in jeopardy of being released. However, all three of his UFC defeats have come against very tough competition. The Japanese featherweight deserves a chance to take a step down in competition and prove he belongs on the UFC roster.
If Hioki does get another shot to compete under the UFC banner, he should meet the loser of a UFC Fight Night 30 matchup between Jimy Hettes and Mike Wilkinson. Either fighter would come out looking to test Hioki's takedown defense, which has been his greatest flaw recently.
Darren Elkins vs. Nik Lentz-Dennis Bermudez Winner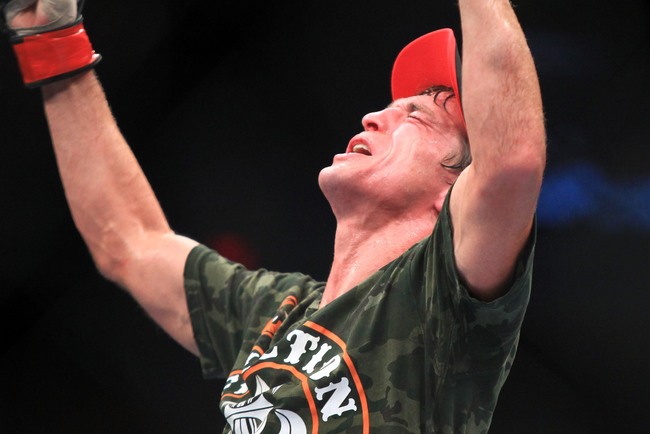 Pat Lovell-USA TODAY Sports
Darren Elkins continues to prove he's got one of the biggest hearts on the UFC roster.
After having his midsection battered by Hatsu Hioki's shin throughout the first round, Elkins battled back in the final two frames. On the scorecards, Elkins' wrestling and conditioning proved to be the difference. With six wins in seven featherweight bouts, Elkins remains one of the most underrated competitors in the 145-pound division.
While he's only one fight removed from a loss to Chad Mendes, Elkins showed he's ready to compete with another top-10 featherweight by beating Hioki. Should Nik Lentz beat Dennis Bermudez at UFC Fight Night 31, a bout between "The Carny" and Elkins would feature two of the best grinders in the featherweight class.
Justin Edwards vs. Benny Alloway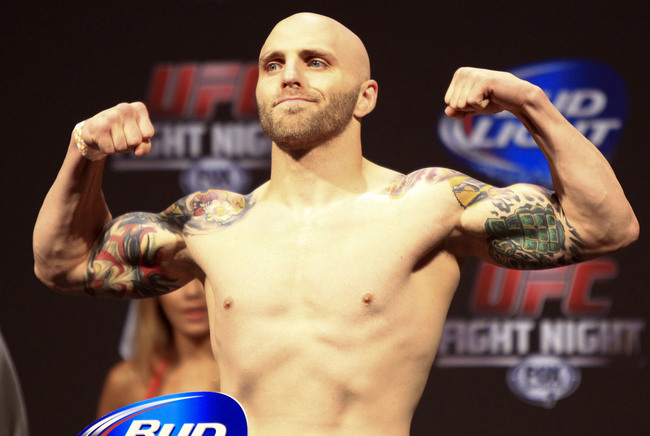 Pat Lovell-USA TODAY Sports
UFC Fight Night 27 was not kind to The Ultimate Fighter veterans Justin Edwards and Benny Alloway.
Edwards ended up on the wrong end of a slugfest with Brandon Thatch. The 30-year-old was looking to earn back-to-back wins for the first time in his UFC career, but he now finds himself back in the loss column.
Alloway, meanwhile, was submitted by fellow TUF competitor Zak Cummings. With two straight losses, the Australian is now in danger of being cut from the UFC roster.
Since both fighters are now coming off of losses and should be ready to go again at approximately the same time, a matchup between Edwards and Alloway could make sense early in 2014.
Brandon Thatch vs. Zak Cummings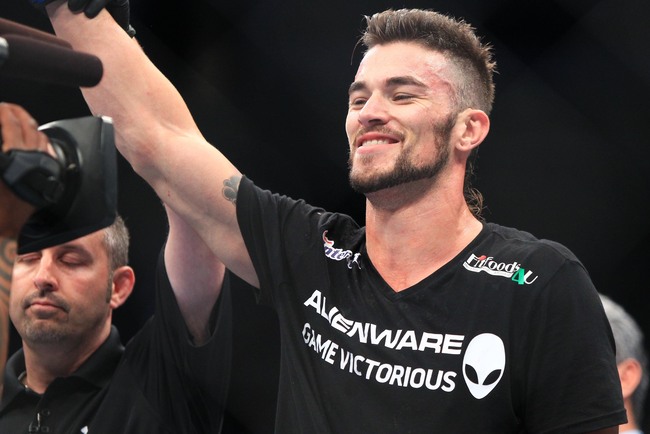 Pat Lovell-USA TODAY Sports
Brandon Thatch and Zak Cummings laid the groundwork for bright futures inside the Octagon on Wednesday.
In his first UFC appearance, Thatch overwhelmed Justin Edwards. The 28-year-old came at Edwards early and scored his ninth straight first-round stoppage victory.
Following an appearance on TUF 17, Cummings finally made his UFC debut on Wednesday's fight card. Cummings made the long wait count by submitting Benny Alloway with a D'Arce choke in the first stanza.
Two very bright prospects in the welterweight division, Thatch and Cummings could both be ready to go before the end of 2013. If so, they should meet with a big step up in competition.
Papy Abedi vs. Buddy Roberts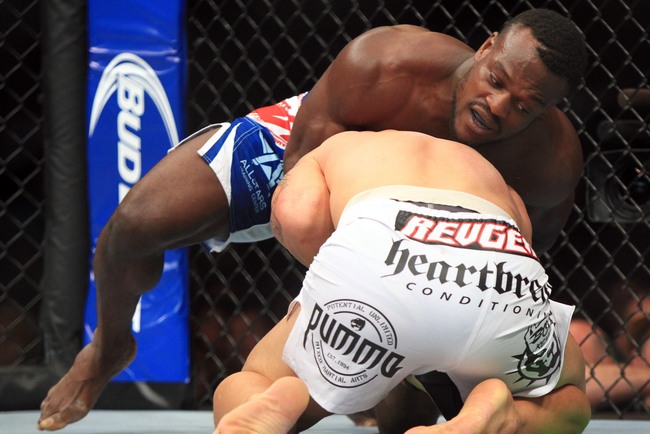 Pat Lovell-USA TODAY Sports
Papy Abedi is once again headed in the wrong direction after his third UFC loss on Wednesday.
After avoiding being released with a split-decision win over Besam Yousef, Abedi was unable to keep the momentum going against Dylan Andrews. Abedi started strong at UFC Fight Night 27, but he was clipped with a series of punches in the third round that put him away.
With only one win in four UFC showings, Abedi still hasn't really proven he belongs at this level. A potential matchup with Buddy Roberts in early 2014 could be a must-win for Abedi.
Dylan Andrews vs. Antonio Braga Neto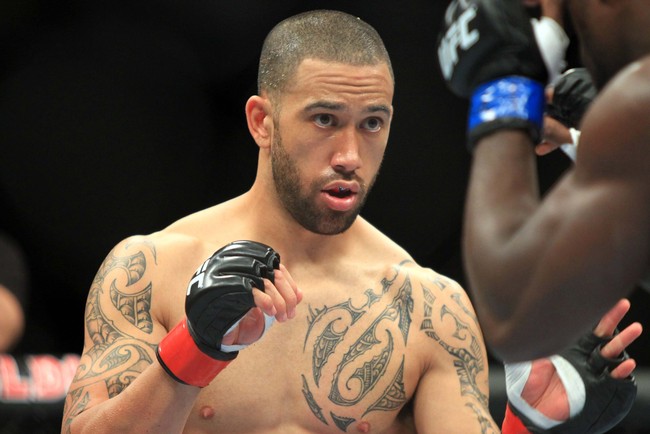 Pat Lovell-USA TODAY Sports
It wasn't pretty, but Dylan Andrews kept his official UFC record spotless at UFC Fight Night 27.
Although Andrews was taken down and rocked by Papy Abedi, he kept his calm and scored a come-from-behind knockout win in the third round. At 33 years old, Andrews may not have enough time to make a run to the top of the middleweight division, but he has the potential to make a name for himself inside the Octagon.
Because his showing against Abedi was shaky, Andrews probably isn't going to receive a big step up in competition. However, the New Zealand native should meet a fellow up-and-coming middleweight like Antonio Braga Neto, who is also coming off of a win in his UFC debut.
Bubba McDaniel vs. Jared Hamman-Magnus Cedenblad Loser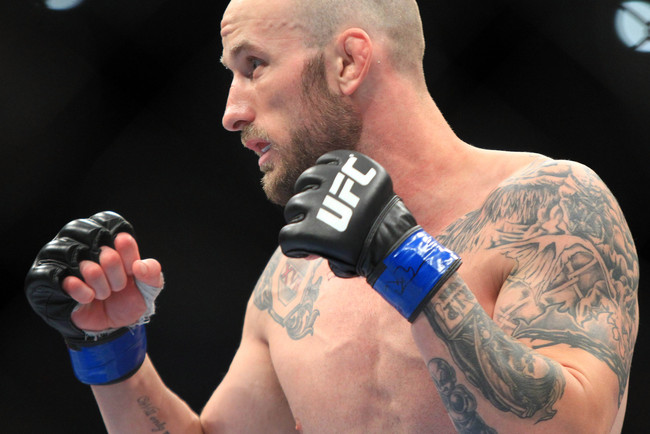 Pat Lovell-USA TODAY Sports
Bubba McDaniel is short on fans and now short on time to prove he is deserving of a UFC roster spot.
While McDaniel extended his stay with the promotion by beating Gilbert Smith in April, a loss to Brad Tavares on Wednesday put him back on the chopping block. There's a good chance McDaniel's job will be on the line the next time he steps into the Octagon.
If that's the case, a bout with the loser of UFC 164 matchup between Jared Hamman and Magnus Cedenblad would be likely. The loser of that fight will have lost multiple bouts in a row and will also be up for release from the world's top MMA organization.
Brad Tavares vs. Rafael Natal-Tor Troeng Winner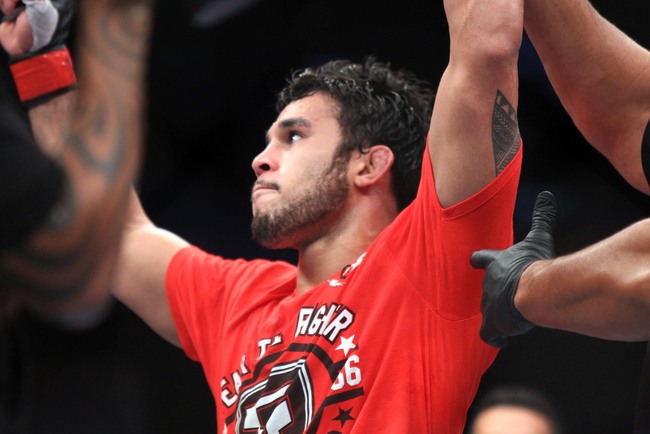 Pat Lovell-USA TODAY Sports
Brad Tavares may have won a fourth straight fight on Wednesday, but he took a step backward in the minds of many.
Heavily favored against Bubba McDaniel, Tavares ended up coasting his way to a decision win at UFC Fight Night 27. Tavares previously looked like a fighter with the potential to become a contender in the middleweight division, but he showed he has a long way to go in this outing.
There won't be a big step up in competition coming for Tavares. Instead, the 25-year-old could meet another TUF veteran or opponent who is also coming off of a win over a TUF 17 contestant. A bout with the winner of a UFC Fight Night 28 matchup between Rafael Natal and Tor Troeng would be fitting.
Erik Perez vs. Iuri Alcantara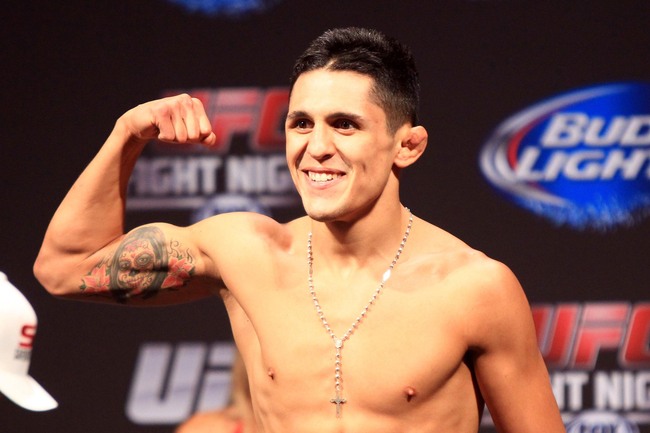 Pat Lovell-USA TODAY Sports
Erik Perez came up short at UFC Fight Night 27, but he still looks to be very close to becoming a contender in the bantamweight division.
The wild Perez lacked experience against a tough gatekeeper in Takeya Mizugaki, and it showed. Mizugaki's patience paid off as the fight progressed and led to Perez's first UFC loss.
While Perez will need a win or two to regain the momentum he had heading into Wednesday, he deserves to continue competing with fringe contenders. A matchup with Iuri Alcantara, who recently put together a respectable performance against Urijah Faber, would give Perez a chance to get back on track toward the top-10 rankings.
Takeya Mizugaki vs. Raphael Assuncao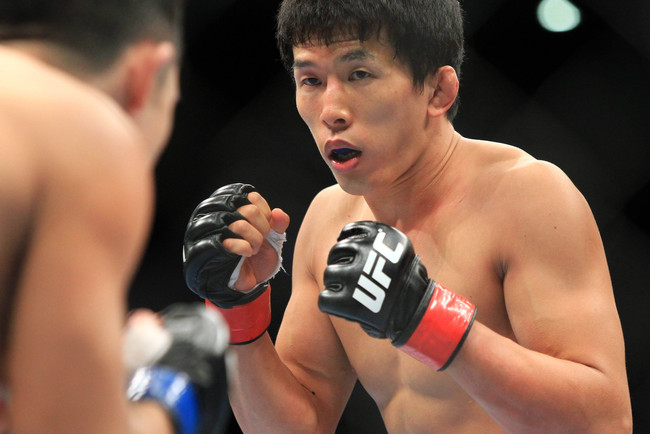 Pat Lovell-USA TODAY Sports
It may not be the title he is gunning for, but Takeya Mizugaki showed why he is the premier gatekeeper in the bantamweight division on Wednesday.
Facing a very bright prospect in Erik Perez, Mizugaki displayed the importance of experience by staying calm in a close fight en route to a narrow decision win. Now with three straight wins, it's time for Mizugaki to get a shot at an opponent ranked above him.
A bout with Raphael Assuncao would give Mizugaki an opportunity to prove he's more than a measuring stick in the 135-pound class.
Robert Whittaker vs. Elias Silveiro-Joao Zeferino Loser
Pat Lovell-USA TODAY Sports
Court McGee provided Robert Whittaker with a good test to determine if the TUF: Smashes winner was ready for more experienced UFC competition. As it turned out, Whittaker isn't quite there yet.
Although Whittaker took McGee to a split decision, he showed some holes in his game that suggest he could use some more seasoning. At 22 years old, there's nothing wrong with that.
There's a good chance Whittaker will see a step down in competition now. A bout with the loser of a UFC Fight Night 30 matchup between Elias Silveiro and Joao Zeferino would make sense.
Court McGee vs. Paulo Thiago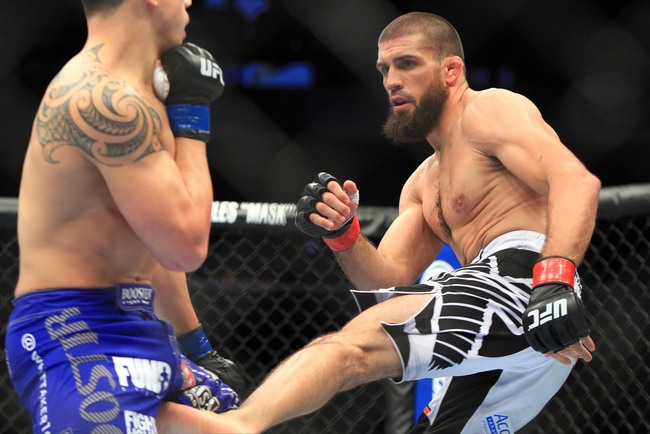 Pat Lovell-USA TODAY Sports
Court McGee wasn't overly impressive in victory at UFC Fight Night 27, but another workmanlike performance should move him upward in the welterweight division.
McGee keep a fast pace through three rounds and did enough to beat fellow TUF winner Robert Whittaker on the scorecards. While it wasn't as thorough a beating as his win over Josh Neer in February, McGee's victory over Whittaker makes him deserving of a fight with a bigger 170-pound name.
Since McGee's still a few wins away from a bout with a contender, he should meet a well-known welterweight on the decline. Paulo Thiago is coming off of a win, but he's much further down the ladder than he once was, making him an ideal opponent for McGee's next outing.
Brian Melancon vs. David Mitchell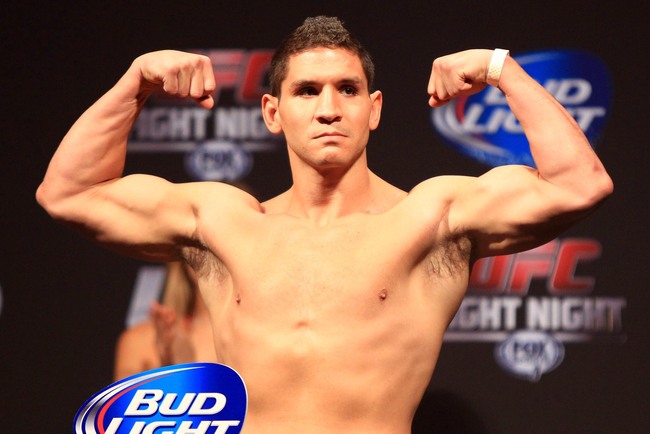 Pat Lovell-USA TODAY Sports
After an impressive UFC debut, Brian Melancon tasted defeat for the first time inside the Octagon on Wednesday.
Melancon was simply overwhelmed in all areas by TUF winner Kelvin Gastelum. After being taken down, Melancon was rocked and submitted before the midway point of the first round.
There are plenty of options for Melancon now. A matchup with David Mitchell, who also holds only one UFC win and is coming off of a loss, seems to be the most logical.
Kelvin Gastelum vs. Sergio Moraes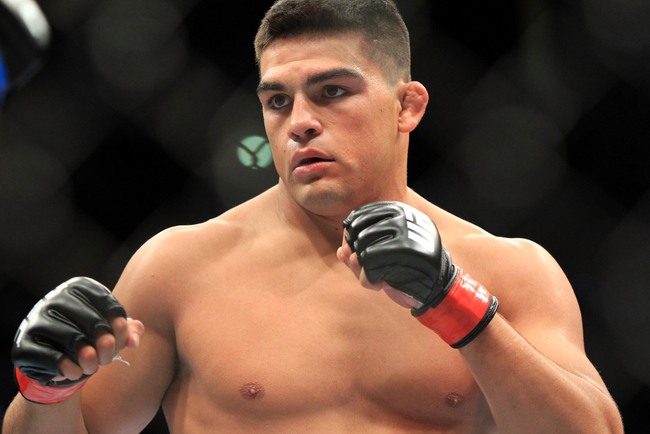 Pat Lovell-USA TODAY Sports
Beating Uriah Hall was one thing, but defeating an opponent with an official UFC win took Kelvin Gastelum to another level following UFC Fight Night 27.
Gastelum put his strong wrestling on display once again, but he also made an impact with his boxing against Brian Melancon on Wednesday. After rocking Melancon, Gastelum locked up a rear-naked choke in the first round.
While some may be in a rush to see Gastelum moved up the welterweight ladder, it makes more sense to move the 21-year-old along slowly. A matchup with jiu-jitsu ace Sergio Moraes would test Gastelum in a way he hasn't been tested inside the Octagon.
Donald Cerrone vs. Evan Dunham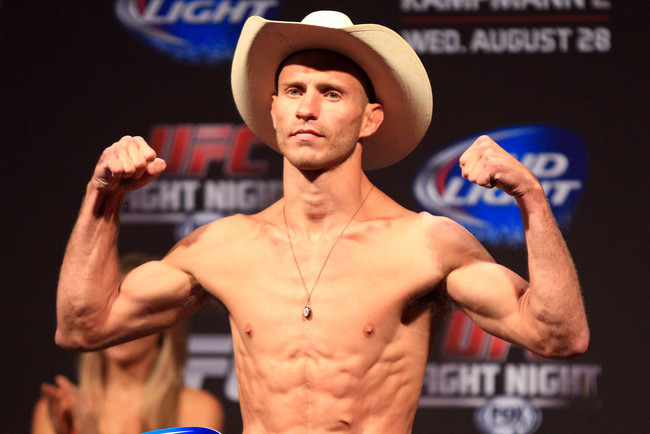 Pat Lovell-USA TODAY Sports
With losses in two of his past three fights, Donald Cerrone is slipping out of title contention.
Cerrone was dropped by Rafael dos Anjos in the first round of his bout at UFC Fight Night 27 and could never close the gap afterward. Thrown off by the more varied attack of Dos Anjos, Cerrone had trouble getting much offense going on Wednesday.
Despite the loss, Cerrone is one of the biggest names in the lightweight division and remains a fringe contender at worst in the weight class. A bout with Evan Dunham, who is also coming off of a decision loss to Dos Anjos, could give Cerrone a chance to bounce right back into title shot talks.
Rafael Dos Anjos vs. Jim Miller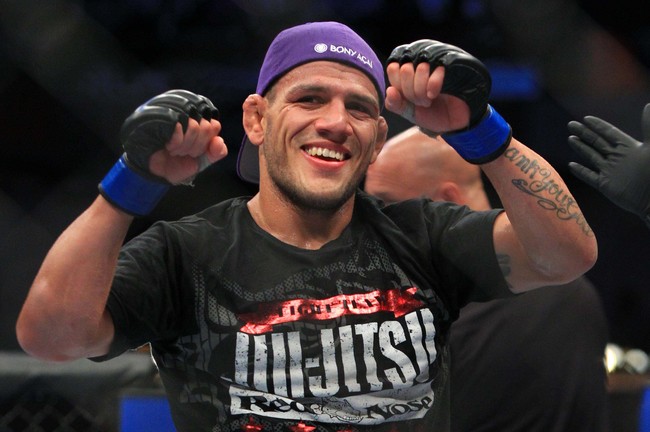 Pat Lovell-USA TODAY Sports
Although he was already a top-10 lightweight heading into UFC Fight Night 27, Rafael dos Anjos truly arrived as a 155-pound contender on Wednesday.
Dos Anjos beat Donald Cerrone in all aspects en route to a clear decision victory. Previously viewed as a grappler, Dos Anjos should now receive plenty of respect for his striking ability.
While the Brazilian is one of the top contenders in the lightweight class, there are some fighters ahead of him in the line for a title shot. Dos Anjos will need another win or two before he is in T.J. Grant's current position, and a bout with Jim Miller could move him closer to that top contender spot.
Martin Kampmann vs. Mike Swick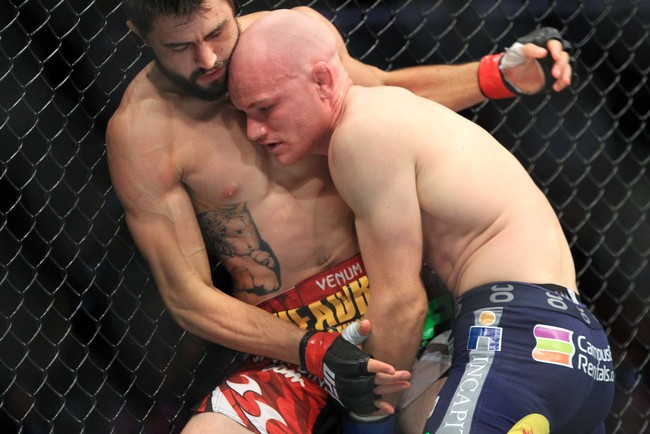 Pat Lovell-USA TODAY Sports
Martin Kampmann suffered another setback at UFC Fight Night 27.
Coming off of a loss to Johny Hendricks, Kampmann was given a huge opportunity to rebound against Carlos Condit. Although he stated strong, Kampmann began to gaffe in the third round and was eventually stopped with knees in the fourth stanza.
Kampmann remains a top-notch welterweight, but he needs to take a step down after back-to-back losses. A bout with Mike Swick could produce some entertaining striking.
Carlos Condit vs. Tarec Saffiedine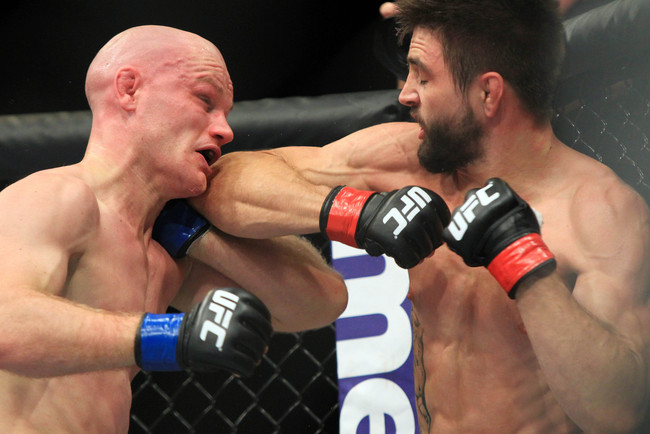 Pat Lovell-USA TODAY Sports
Following losses to the two best welterweights in the world, Condit showed he's still elite on Wednesday.
"The Natural Born Killer" overcame some early troubles with his takedown defense to beat Martin Kampmann with conditioning.
While Condit has proven he's the third-best welterweight going right now, he's going to have to pick up a couple more wins before he has a chance to improve his standing. As he waits for Georges St-Pierre and Johny Hendricks to work things out at the top, Condit should meet former Strikeforce champ Tarec Saffiwdine in a striking match.
Keep Reading