5 Reasons Why Manuel Pellegrini Is the Perfect Fit for Manchester City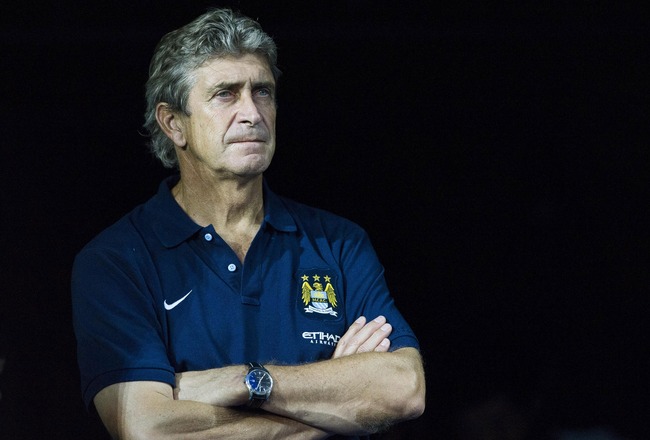 Victor Fraile/Getty Images
After ruthlessly despatching Roberto Mancini a year to the day after winning the Premier League, Manchester City recruited Manuel Pellegrini as manager for the next stage of their quest to dine at football's top table.
Untried in English football, yet boasting a CV including relative success at unfashionable Villarreal and Malaga, the Chilean looks to be very different to his predecessor. But why is he suited to one of the most scrutinised roles in the world game?
Man Management Skills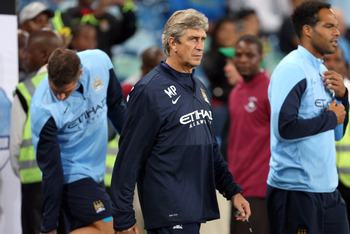 Gallo Images/Getty Images
Mancini's natural manner was one of aloofness and "do as I say." It worked perfectly when he brought silverware back to City, but when it failed to bring results last season, the club decided to look elsewhere.
Pellegrini's reputation is one of someone who speaks to and encourages players to get the best results from them. It's a trait of the modern game that players hold all the aces, and the squad's unhappiness with Mancini played a big part in seeing to it that it was he rather than some of the playing staff who headed for the exit door.
Samir Nasri, one seemingly unhappy with Mancini, went public in the Manchester Evening News and elsewhere this summer with his admiration for Pellegrini's methods. So far so good—until the recent defeat at Cardiff.
Whether Pellegrini tries the stick rather than the carrot will be interesting to see.
Recent European Credibility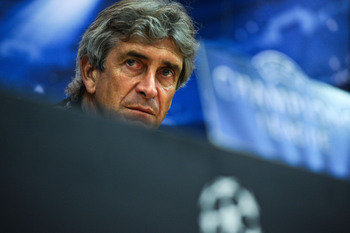 David Ramos/Getty Images
The Champions League was Roberto Mancini's Achilles heel at both Inter Milan and City, with two group stage exits with the Blues marking his card badly.
Pellegrini, by contrast, coaxed Villarreal to the semi-finals and was a few minutes from guiding Malaga there last April until eventual runners-up Borussia Dortmund ensured that Spanish eyes were crying rather than smiling.
These relative successes were with squads a lot less stellar than City's, so the implication from the Blues' owners is that he has to turn the club into a European force with greater resources than before.
That said, his year at Real Madrid included a last-16 exit to Lyon. Whether elimination at the same stage will be good enough for Sheikh Mansour is open to question, but getting out of what could be a tough group is, surely, bare minimum.
An Attacking Approach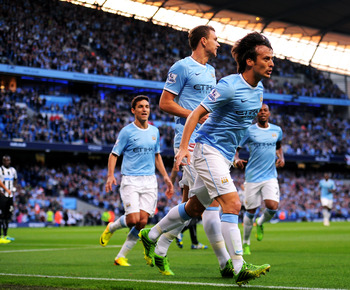 Michael Regan/Getty Images
While Mancini could argue with justification that he was charged with winning things regardless of how stylish (or not) City were, Pellegrini has been tasked with doing so with more style.
He seems happy with this, and the initial signs seem promising. Newcastle United were swept aside 4-0, with David Silva and Edin Dzeko, two players whose form dipped last season, well to the fore.
They both looked good against Cardiff before the wheels came off, but don't expect Pellegrini to park the bus from now. His City side will be entertaining, one way or another.
An Approachable Approach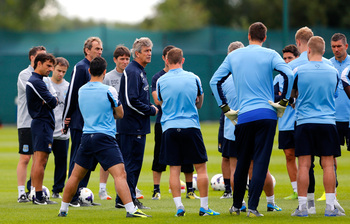 Paul Thomas/Getty Images
Following his dismissal, stories of Mancini's somewhat dictatorial style emerged, but as I said earlier, his way seemed OK when City were winning things.
The club's now famous use if the word "holistic" in their statement announcing Mancini's sacking was all-important. Put it another way, touchy-feely is the way to go, but they also want Pellegrini to take an interest in the club beyond the first team.
With a ground-breaking new Academy and training ground facility being built near to the Etihad Stadium, the club's owners want their new man to keep an eye on the future development of the new talent. I can only go off what I've seen through the media, but the Chilean seems affable enough, and stories of staff unhappiness died the moment Mancini left.
Quietly Does It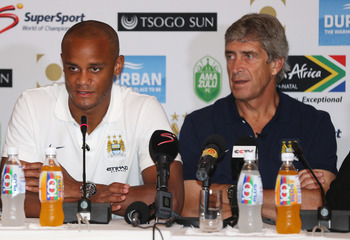 Gallo Images/Getty Images
While some people around the club were happy to see Mancini go, the press were not, as a juicy story was often around the corner while the Italian was in the job.
A lot of the media who reported on City regularly liked Mancini, and having met him myself a few times, I can say I always found him good to deal with, but the good thing about Pellegrini is that he will offer something new in the way of how he goes about his huge task.
His command of English is excellent enough for him to already look askance at some of the bland offerings he has to field at the largely anodyne pre-match press conferences that provide the media with mileage toward the end of a week.
Crucially for the club, he does not look like the type to provide the media with ammunition. The high-ups at the Etihad Stadium want the club to make the right headlines for their football stories and nothing else after Mario Balotelli and Carlos Tevez, and Pellegrini's methods—if they work, it is early days yet—will help them do that.
Keep Reading

Manchester City: Like this team?