UFC 164 Preview: Frank Mir vs. Josh Barnett Head-to-Toe Breakdown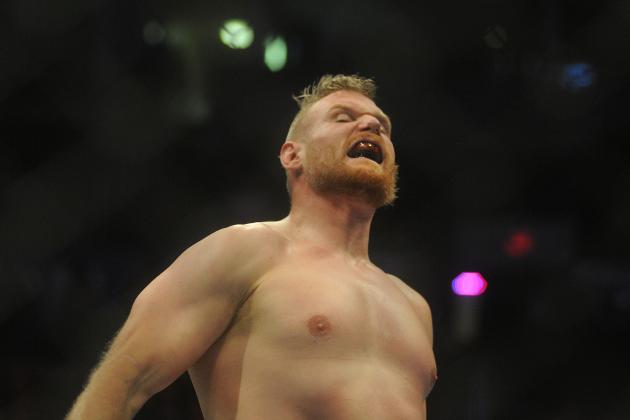 USA TODAY Sports

UFC 164 hits Milwaukee, Wis. this Saturday, and in the co-main event two heavyweight veterans step inside the Octagon against one another for the first time.
Former UFC Heavyweight Champions Frank Mir and Josh Barnett will finally go toe-to-toe in a top-10 battle. Mir, ranked No. 6, and Barnett, ranked No. 10, have been in the sport for a long time and have accomplished many things. They are still ranked, and they are still looking for that one last chance at glory.
Mir is coming off back-to-back losses to two of the division's elite, and Barnett returns to the Octagon for the first time since winning the gold back in 2002. After years of speculation, we will finally get to see which heavyweight will get his hand raised in victory.
Looking ahead to the weekend, this is your head-to-toe breakdown of this vital heavyweight showcase between Barnett and Mir.
Begin Slideshow

»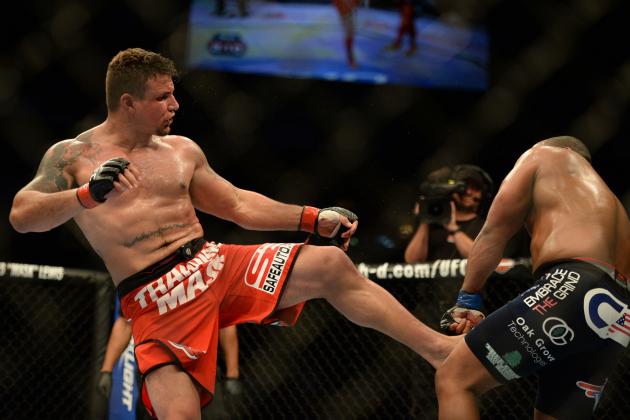 Kyle Terada-USA TODAY Sports

Neither fighter is known for their incredible stand-up, but Mir's striking is actually an underrated part of his game.
Mir has shown improved striking in his fights. He also mixes it up quite well. Barnett isn't known for such diversity. Between the two, I lean Mir.
Barnett will be hard to stop, but Mir has shown some power in the past. It is more likely that Mir will simply have to use his striking in an attempt to run up the score on the judge's scorecards rather than look for a finish.
Mir will need to score on the feet in this fight. Barnett likes to close the distance and get the takedown. If Mir can utilize good footwork he can use his hands to take the fight instead of relying on his submission game.
Edge: Mir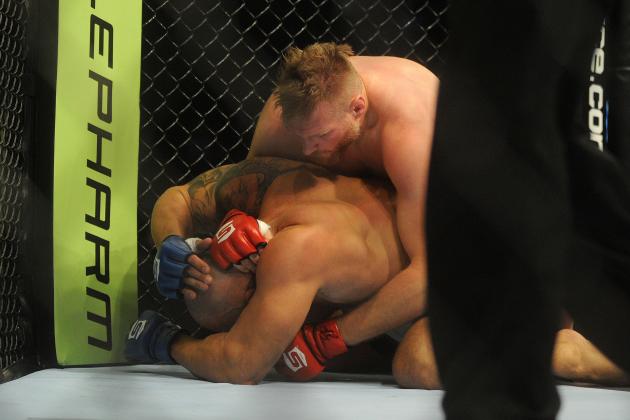 USA TODAY Sports

Mir will want to submit Barnett like he wants to do to everyone, but it will be difficult to take Barnett to the floor.
Barnett is the superior wrestler, and he will also have the advantage against the fence. If the fight hits the canvas, it will most likely be Mir with his back on the mat.
Mir has never been known for his wrestling, but it is something he has continually worked on over his career. Unfortunately for him, he constantly goes up against superior wrestlers who nullify his work. It is hard to compete against a lifetime of wrestling.
Positionally, this is Barnett's fight. He should be able to dictate where the fight goes.
Edge: Barnett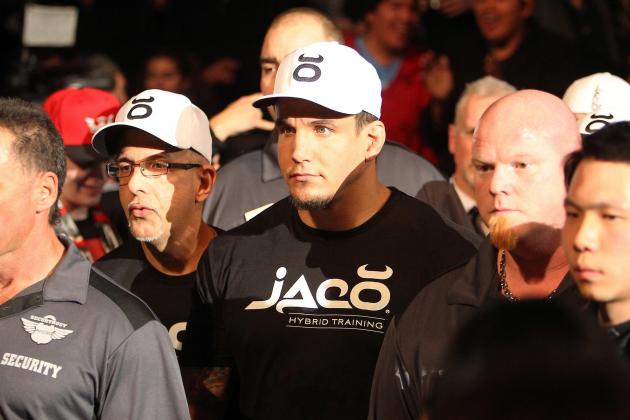 Tom Szczerbowski-USA TODAY Sports

Mir is the greatest heavyweight submission artist in MMA history.
That title belonged to Antonio Rodrigo Nogueira until Mir broke his arm with a Kimura. Now, that title has to belong to the former UFC Heavyweight Champion. Mir also shows no mercy with his submissions. It quite literally is "tap or snap" with him.
Barnett has only tapped once in his career, but that was due to Mirko Cro Cop's striking punishment. He has a credible submission game himself. That will make it an interesting test for Mir, but he has shown the ability to submit the absolute best in the business.
What will be more difficult for Mir is the battle for position. Barnett's superior wrestling may force Mir to seek the submission off his back. That's a tall order. However, no one should doubt Mir's ability to find it. The fight could end quickly, and violently.
Edge: Mir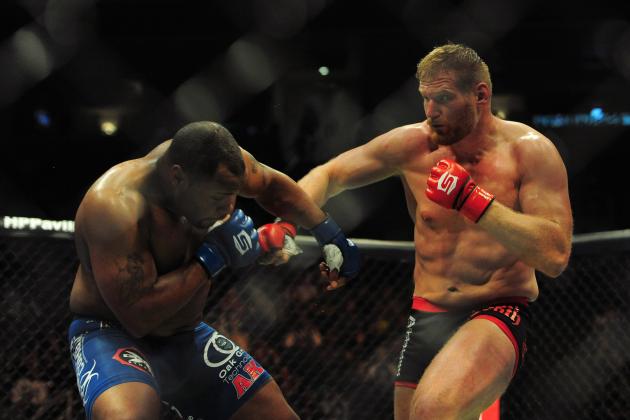 Kyle Terada-USA TODAY Sports

Barnett's X-Factor: Pace
Josh Barnett has the ability to make this a fast-paced heavyweight bout, and with his superior cardio he may look into doing just that. He can pressure Mir right away and drag him into deeper waters. Mir has shown that he tires in the past.
Barnett has excellent cardio. He can be methodical when need be, but against Mir he needs to rough him up. Several of Mir's losses have been due to the pressure he gets put under. He has wilted in the past, and Barnett can do the same.
Mir's X-Factor: Control From His Back
It would seem that at some point Barnett will take Mir down. Once there, Mir needs to control him from his back.
Easier said than done.
Posture control will save him from heavy ground and pound, and wrist control will potentially result in a fight-ending submission. A sweep is unlikely with Barnett's heavy base. Barnett will try to do heavy damage from the top, and Mir should use his superior jiu-jitsu to stifle Barnett.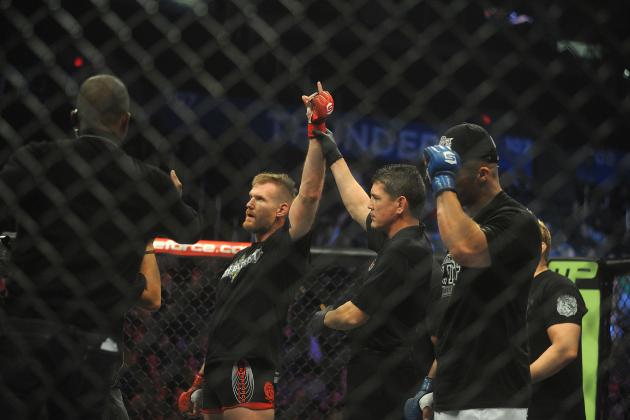 USA TODAY Sports

This fight could end in a variety of ways. They are well-rounded fighters with many outs. The evenness of the two top 10 heavyweights make me think a finish is not on the way.
Barnett will be difficult to submit, and Mir's jiu-jitsu will allow him to tie up Barnett. The result will be Barnett's takedown and position winning the fight over the course of the three rounds.
Points will need to be scored on the feet from Mir. His mobility will be an important factor, and Barnett will look to cut him off at every turn. I just see the return of Barnett being successful. Takedown after takedown will put him up on the cards.
A third straight defeat for Mir will all but end any hope he had of getting into contention and reclaiming the UFC Heavyweight Championship.
Prediction: Barnett defeats Mir by unanimous decision