Manchester United or Manchester City: Who Has Made the Brightest Start?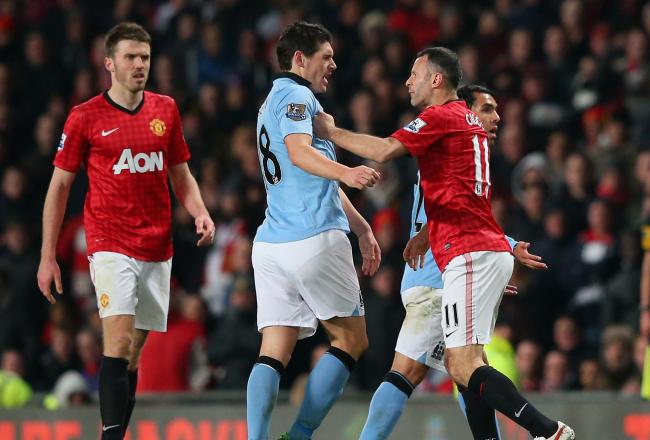 Alex Livesey/Getty Images
Having each dropped points in the opening phases of their Premier League campaign, neither Manchester City nor Manchester United have gotten off to the 100 percent start some may have anticipated.
Seventh and fifth in the table, respectively, after playing two matches each, both clubs are adapting to life under new managers.
So far, the Citizens have blinked first in terms of sacrificing their unsullied record after falling victim to a shock defeat at Cardiff City this weekend. Such surprises can often be a pitfall of complacency among a division's biggest teams, with Manuel Pellegrini quickly being exposed to the harsh natures of his new environment.
Premier League Table After Gameweek Two

| | | | | | | |
| --- | --- | --- | --- | --- | --- | --- |
| Position | Club | Played | Goals For | Goals Against | Goal Diff. | Points |
| 4 | Man. United | 2 | 4 | 1 | +3 | 4 |
| 5 | West Ham | 2 | 2 | 0 | +2 | 4 |
| 6 | Southampton | 2 | 2 | 1 | +1 | 4 |
| 7 | Man. City | 2 | 6 | 3 | +3 | 3 |
PremierLeague.com
On the other hand, the Red Devils are yet to lose and managed to run out a stalemate draw in their first reunion with Jose Mourinho this week.
Considering the money at their disposal, it's highly likely that the two English giants will be in the title race come the end-of-season run-in, but just who's in better shape right now?
Statistical Comparison
Using the tools provided by Squawka, let's first look at those which, while subjective in their application, can often be the most solid evidence: the facts.
Both having scored four goals in their opening fixtures—City a 4-0 win against Newcastle and United a 4-1 victory at Swansea—it's clear that the attacking ranks are just as potent within each squad.
For the Red Devils, it's good to see that Danny Welbeck matched in 90 minutes what he could only amass in an entire season last term, netting two goals at the Liberty Stadium and helped on by a Robin van Persie brace. These remain the club's only goals of the league season.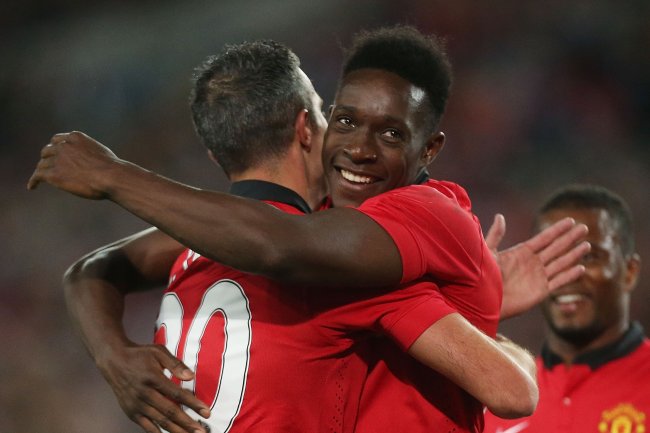 Mark Metcalfe/Getty Images
For City, however, things are far more spread out, with six goals scored in their two outings so far and all from six different sources.
On one hand, it's encouraging to see that Edin Dzeko, Sergio Aguero and newcomer Alvaro Negredo are off the mark. It's even more so to see that Yaya Toure, David Silva and Samir Nasri are all capable of pitching in, however.
In that sense, Pellegrini can be happier with the way his side have come about their scoring, as a manager would undoubtedly prefer to have attacking options all over the pitch than just several prolific assets.
What hasn't changed under Moyes is United's tendency to sacrifice possession and territory in favour of quick, smash-and-grab manoeuvres. In their first two matches of the campaign, the Red Devils have managed just 51 percent possession compared to the Citizens' tally of 61 percent.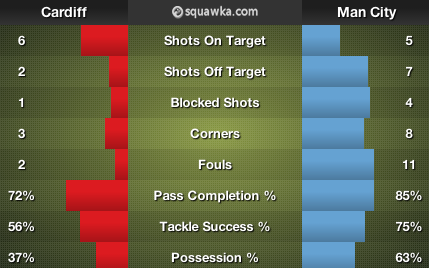 However, considering the former are ahead of their local rivals by a point after two matches, it's just shows that possession means little without the finishing touches, something that was painfully evident in City's loss at the Cardiff City Stadium.
That possession has also eased the burden placed on Pellegrini's defence for the large part. Averaging just 34 defensive actions per game, the Chilean's strength in midfield has meant that his back four need not do as much in their role, especially when one considers that United have had to perform 66 defensive actions per game on average.
Granted, one could put that down to the fact that Moyes' men have faced more difficult opposition in their first two games, however.
Manager's Moments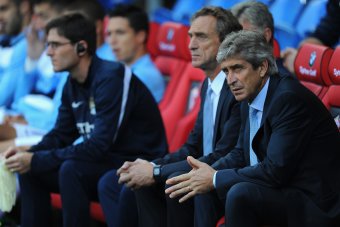 Stu Forster/Getty Images
As a newcomer to the division, one might expect Pellegrini to experience some growing pains in his new role as Manchester City manager, regardless of how well he might have done at Malaga.
That being said, Moyes isn't under any less pressure after taking over one of the biggest clubs in the world, with the pressure to perform even weightier on his shoulders when taking into account the man he's replacing.
This summer, the two bitter rivals have gone about their transfer business in near opposite fashion, with City characteristically splurging more than £80 million on a handful of signings, whereas United's sole acquisition is a young Uruguayan prospect.
While that may not be the blockbusting business that many were hoping for at Old Trafford, it's good to see that United aren't hitting panic stations in the absence of Sir Alex Ferguson and spending every penny in sight just for the sake of it.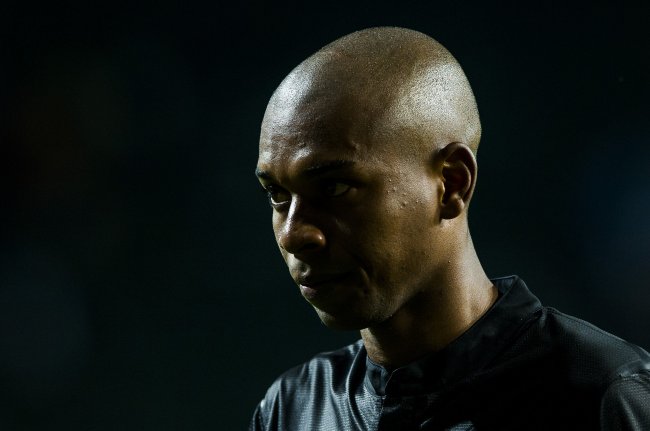 Victor Fraile/Getty Images
In a way, this only results in a win-win situation for Moyes, as he looks all the more savvy if managing to succeed with the options afforded to him or could be given increased funding in the next window if standards are sub-par.
This lack of squad renovation could also be helpful in terms of continuity. Moyes is working largely with the same team he inherited at the end of last season, a team that won the Premier League and has the potential to do better in other competitions.
Just as it did for Mancini, the wealth of options at Pellegrini's disposal mean that tactical choices are nearly limitless for the manager.
With that being the case, City nevertheless look similar to how they left things last season, a 4-2-3-1 formation once again seeming to be their preference, depending on the impetus of Sergio Aguero.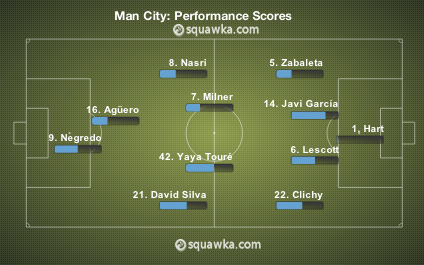 Already, injuries have begun to take their toll on the side however, with the lack of depth in defence all too obvious in their 3-2 loss to Cardiff this weekend. Considering the riches spent on the squad, one would think that a few missing starters shouldn't have such a massive impact that City are unable to see off a promoted side, but affect the team it did.
In that sense, Moyes may have been luckier, but he has had to contend with his own absence as Phil Jones once again filled in for the inured Rafael against Chelsea, showing that United perhaps can rely on better cover at the back.
Brightest Performers
So far, team fluidity and a willingness to work for one another has stood out for the Reds, although some players, such as Shinji Kagawa for example, are still slight victims to strategy and circumstance.
For Pellegrini, it's a far different story. The influx of new faces means appeasing more playing staff, not to mention easing those players into their new surroundings as seamlessly as possible.
Based on early season performances, do United really need heavy squad investment?
So far, Negredo and Jesus Navas have looked hopeful having both arrived from Spain earlier this summer, although perhaps not quite satisfying the fees paid for their services just yet.
On the other hand, Stevan Jovetic's injury has restricted the Montenegrin from featuring as of yet, while Fernandinho's impact is yet to really be felt.
For £30 million, one might expect the Brazilian to give a very rounded approach from central midfield, but a record of five fouls committed, two defensive actions per game and a passing accuracy of just 82 percent versus Cardiff isn't quite what the club will have been looking for from such an expenditure.
In contrast, David Silva, Yaya Toure and Aguero have been some of the more impressive performers, it's just a shame that City's biggest issues right now are in defence.
Such is the pressure of spending so much money in a transfer window, with Moyes looking arguably as comfortable as his City counterpart despite spending a pittance in comparison.
For the Scotsman, no one player is yet to stand out as particularly disappointing in truth.
Michael Carrick and Tom Cleverley are doing a fine job in central midfield despite many seeing that area as United's weak point, with Carrick actually one of the the most prolific interceptors in the league right now, according to WhoScored:
Michael Carrick: No player has made more interceptions in the Premier League this season than Michael Carrick (10) #MUFC

— WhoScored.com (@WhoScored) August 27, 2013
Having netted two goals apiece, as aforementioned, van Persie and Welbeck are doing a fine job of leading the attacking line, but the standards of Wayne Rooney will also be looked upon as a massive boost to the side after it looked likely would lose him at one stage.
Rooney's well-rounded showing against Chelsea was hardworking and influential—everything one hopes to see from a player muddled in transfer exit rumours his entire summer, especially against the club he's most frequently linked to.
So, to conclude, it looks as if the lack of transfer activity and increasing sense of unity at the Theatre of Dreams may be Moyes' saving grace in the end, whereas the heap of changes at the Etihad could be City's undoing.
You can follow me on Twitter:
This article is
What is the duplicate article?
Why is this article offensive?
Where is this article plagiarized from?
Why is this article poorly edited?