NBA 2K14: Latest Buzz on Gameplay, New Features and More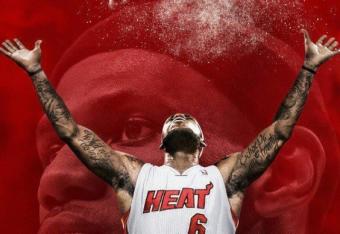 NBA 2K14 on Facebook.

It's been a long wait, but the latest edition of NBA 2K is just over one month away from release and looks to be well worth the immense hype.
There hasn't been a better sports video game in the modern era, as the series is constantly improving and reinventing itself.
Although NBA 2K13—headed by executive producer Jay-Z—is going to be a tough act to follow, it seems that NBA 2K14 is more than up to the challenge.
Let's take a look at the trailer for the game, highlight some of the latest talk and hype concerning it and more.
Release Date: Oct. 1 (PlayStation 3, Xbox 360, PC), TBA (Xbox One, PlayStation 4)
Cover Athlete: LeBron James
Trailer
Back in June, the producers of this game—2K Sports—released an epic trailer featuring the biggest star in the league to drum up some buzz around their game.
If you haven't seen it yet, look below to catch the funny, awe-inspiring conversation between LeBron James and his video game contemporary, as the differences are becoming quite negligible.
The four-time MVP seems to be quite impressed by the job the developers at Visual Concepts have done, and the actual alpha footage from the PlayStation 4 version of the game looks downright stunning.
For those of you planning to adopt a next-generation system early, make sure you wait to pick up NBA 2K14 at launch.
Soundtrack
Much like Jay-Z did last year, King James is lending his talents and providing his services to help this game succeed.
One unconventional way LeBron has made his impact on the game is the soundtrack. The two-time NBA Finals champion has apparently selected the music that gamers will listen to when playing NBA 2K14.
Here's a complete listing of the tracks you'll be rocking out to soon enough.
NBA 2K14 Soundtrack

| | |
| --- | --- |
| Artist/Band | Song |
| Big K.R.I.T. | Cool 2 Be Southern" |
| Cris Cab | Paradise (On Earth)" |
| Coldplay | Lost!" |
| Daft Punk ft. Pharrell Williams | Get Lucky" |
| Drake | Started from the Bottom" |
| Eminem | Not Afraid" |
| Fly Union | Long Run" |
| Gorillaz ft. Del tha Funkee Homosapien | Clint Eastwood" |
| Imagine Dragons | Radioactive" |
| Jadakiss ft. Ayanna Irish | Can't Stop Me" |
| Jay-Z | The Ruler's Back" |
| John Legend ft. Rick Ross | Who Do We Think We Are" |
| Kanye West ft. Rihanna | All of the Lights" |
| Kendrick Lamar ft. Mary J. Blige | Now or Never" |
| Macklemore & Ryan Lewis ft. Ray Dalton | Can't Hold Us" |
| Nas ft. Puff Daddy | Hate Me Now" |
| Robin Thicke ft. T.I. and Pharrell Williams | Blurred Lines" |
| The Black Keys | Elevator" |
| The Black Keys | Howlin' for You" |
Gamespot
Gameplay
With the latest installment of 2K so close to release, footage of the game in action is starting to pop up all over.
It's the perfect opportunity to evaluate the game and see if any bugs or hindering features have made their way back in.
Fortunately, it seems that Visual Concepts and the folks at 2K Sports have done a wonderful job of eliminating many of the pesky issues that have plagued NBA 2K13 and previous editions of the game on modern consoles.
According to Robert Christie of HNGN, awkward layups have been removed. It was maddening to see defenders alter your layups into something unbearable and also players making circus shots when driving despite a tough "D."
This is a great change and goes hand in hand with the next one.
Alley-oops have been made more realistic, which means that athletic superstars won't just rise above the competition and slam home sick jams on every single possession.
Are you going to buy 2K14?
It's fine when it happens sometimes, but the presence of a defender should all but deter the play—unless that defender's name is Brandon Knight, of course.
Defense, as a whole, looks to be vastly improved, which is a nice touch considering much of the focus has been on the revamped passing scheme and finding easier ways to score.
Overall, this game looks to be yet another fine installment in a top-notch series. With the improvements across the board, you simply can't afford to miss it as a basketball fan.
This article is
What is the duplicate article?
Why is this article offensive?
Where is this article plagiarized from?
Why is this article poorly edited?