Gareth Bale and the 20 Biggest Real Madrid Galactico Transfers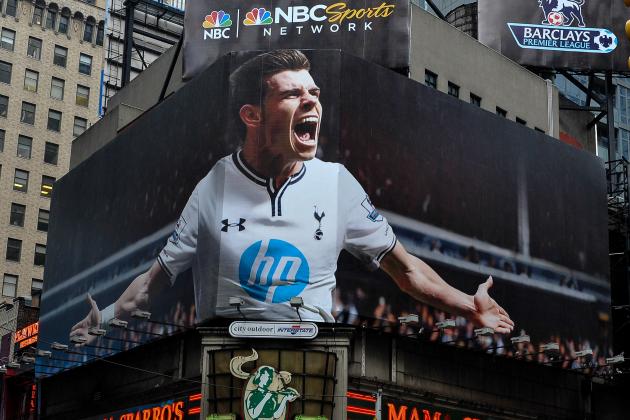 D Dipasupil/Getty Images

It hasn't quite made it into the dictionary yet, but galacticos has at least got its own Wikipedia page:
Galacticos (Spanish for galactics) are expensive, world-famous Real Madrid football players recruited during the "galacticos" policy pursued during Florentino Perez's presidency at Real Madrid, where in his first tenure he purchased at least one galactico in the summer of every year.
With Gareth Bale set to join Real Madrid very soon according to The Telegraph (has he joined yet?), it seems like a good time to rake back through past galactico signings.
It is possible that the term did originate with Alfredo di Stefano and co in the 1950's, but the following slides focus on the players signed since the term came into widespread use across Europe.
All fees are taken from transfermarkt.com, and, although playing a major part in the ordering, the price of the player is not the only feature used to rank the signings—that would be too easy, too laissez-faire and wouldn't account for inflation.
Also take into account this is about the galactico status when they signed—not what they may or many not have grown into.
Begin Slideshow

»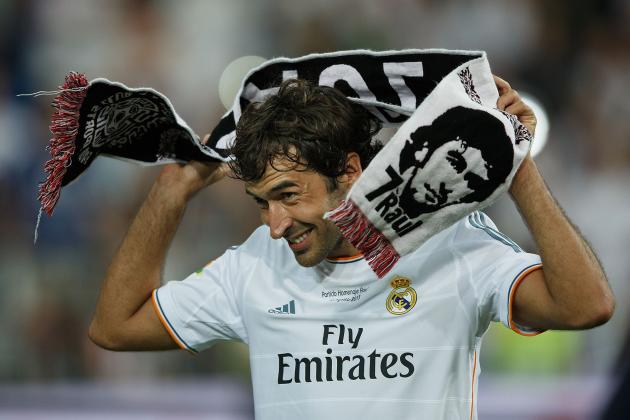 Gonzalo Arroyo Moreno/Getty Images

Raul
A large part of what will forever be known as the traditional galactico era, Raul misses out because the fanfare which surrounded his arrival from Atletico Madrid as a teenager was not befitting of a galactico arrival.
Roberto Carlos
Like Raul, Roberto Carlos is a victim of arriving at the Bernabeu too early. An astute £5.28 million signing from Inter Milan, the left-back grew into his role as a galactico.
Marcelo
Marcelo was, by today's standards, a snip at £5.7 million. However his arrival in the Spanish capital was not of the level of some of Real Madrid's other signings—despite proving better than most in the long run.
Klaas-Jan Huntelaar
Real Madrid shelled out £23.8 million for Klaas-Jan Huntelaar in January 2009. He only stuck around for half a season though, scoring eight goals and missing out on this list.
Sami Khedira
German international Sami Khedira has formed a solid partnership with Xabi Alonso in recent seasons, but his £12.32 million arrival from Stuttgart isn't enough to earn him a place in the top 20.
Nicolas Anelka
Arsenal got £30.8 million for their young French striker in 1999, but Nicolas Anelka was never labelled a galactico—too early possibly?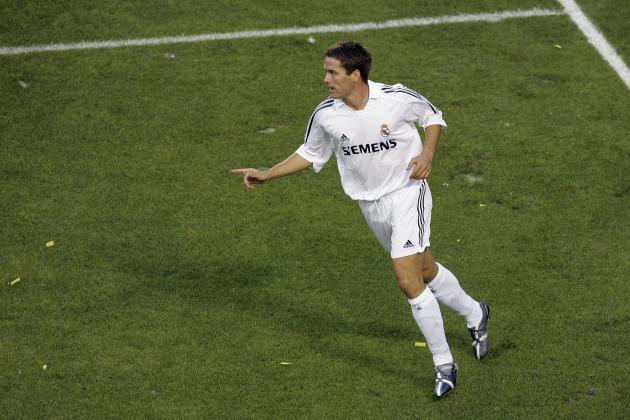 Stephen Dunn/Getty Images

20. Mesut Oezil
If a club signed Mesut Oezil tomorrow it would probably be met with much more adulation than his signature brought at Real Madrid. However when he signed for £15.84 million in 2010, there was still plenty of excitement following a string of fine performances for Germany at that summer's World Cup.
19. Fabio Coentrao
Another to have a fantastic World Cup in 2010, Portuguese defender Fabio Coentrao arrived at the Bernabeu in 2011. Jose Mourinho shelled out £26.4 million for his countryman—quite the fee for a left-back.
18. Luka Modric
It's nothing new to see Daniel Levy making Real Madrid wait to secure the signing of Gareth Bale, he did exactly the same thing with Luka Modric last summer. The Croatian eventually arriving for £26.4 million and enduring a difficult start to life in Spain due to the drawn out negotiations.
17. Asier Illarramendi
After propelling Real Sociedad into the Champions League with a string of fine midfield performances, Real Madrid spent £26.4 million (and rising) to bring the Basque midfielder to the club. The entourage which followed him to his unveiling would have made any bygone galactico proud.
16. Michael Owen
Did Florentino Perez really want to sign Michael Owen? Or was he forced into doing so due to the fact the Liverpool man was an ex-Ballon d'Or winner? Either way, Owen actually enjoyed a decent season in Spain. After arriving for £11 million, he managed 16 goals for the club before leaving for Newcastle.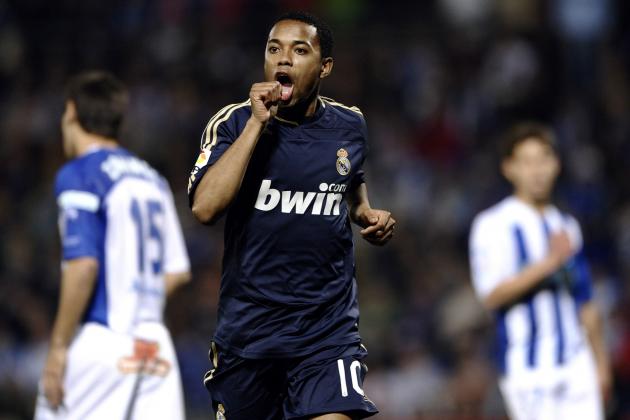 Manuel Queimadelos Alonso/Getty Images

15. Wesley Sneijder
Wesley Sneijder inherited David Beckham's No. 23 when he arrived at Real Madrid, and expectations were high. Having been signed from Ajax for £23.8 million, the Dutchman scored the winner against Atletico Madrid on his La Liga debut and went on to enjoy an exciting first season with the club. Unfortunately injuries took their toll from there.
14. Robinho
Robinho was the next great Brazilian. Real Madrid signed him from Santos for over £20 million in 2005, and he took over the No. 10 shirt vacated by Luis Figo. He enjoyed plenty of good performances with Los Blancos but never quite took the world by the storm which was once anticipated.
13. Angel Di Maria
Madrid dished out £29 million to sign Benfica's pacy Argentinian winger Angel di Maria in 2010. The 25-year-old has spent three impressive, if often inconsistent, years at the club, although Gareth Bale's arrival could force him out the door.
12. Pepe
You don't often see particularly huge sums of money being splashed out on defenders, so when Madrid spent £26.4 million on Pepe, football took notice. He joined from Porto in 2007 and has since gone on to form one of European footballs' most established partnerships in defence with someone set to appear in this list soon.
11. Isco
The most recent addition to this list, Isco joined Real Madrid from Malaga this summer in a deal which will eventually stretch to over £30 million. He's already began paying the fee back though, scoring the winner against Real Betis on his competitive debut for the club. Still just 21, he could have a huge future in the Spanish capital.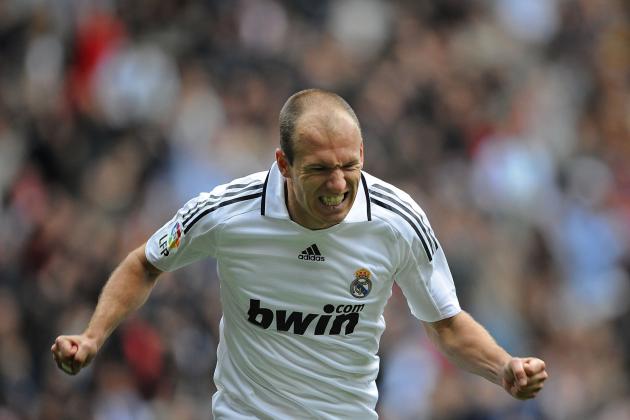 Denis Doyle/Getty Images

Real Madrid tempted Chelsea's hand when the offered £31 million for Arjen Robben in 2007.
The winger joined what was then a growing contingent of Dutchman playing in the Spanish capital.
Robben spent two seasons at the Bernabeu before being sold to Bayern Munich in 2009.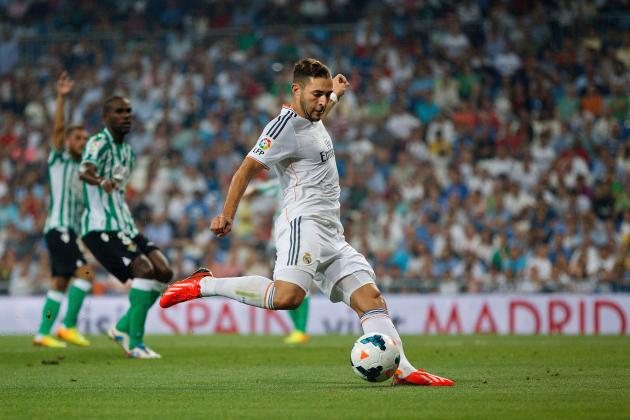 Gonzalo Arroyo Moreno/Getty Images

Karim Benzema joined Real Madrid at the same time as Cristiano Ronaldo and Kaka, all three forming part of Florentino Perez's entrance back onto the scene.
Having impressed at Lyon, Madrid were happy enough to pay £30.8 million for the French forward.
Almost 100 goals later, Benzema is still at the club and, following Gonzalo Higuain's sale, appears to be their stellar No. 9 for the new campaign.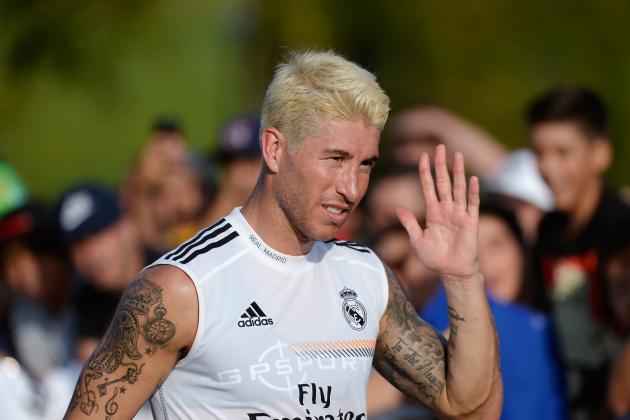 Kevork Djansezian/Getty Images

To spend £23.8 million on a defender is a lot of money.
To spend £23.8 million on a teenage defender is even more money.
It's proved totally worth it though. Sergio Ramos has developed into one of the world's finest centre-halves since joining from Sevilla, and Real Madrid will hope he's around for plenty more years to come.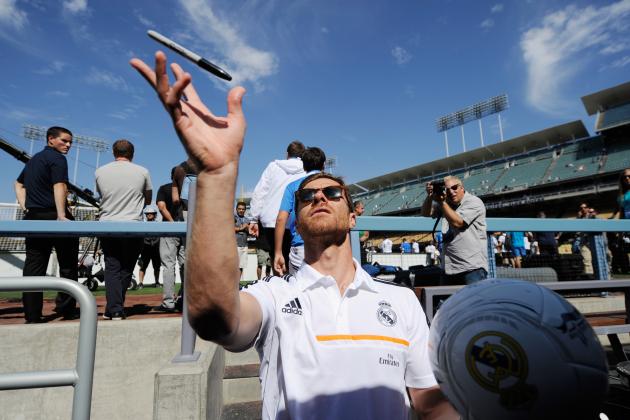 Kevork Djansezian/Getty Images

Like Karim Benzema, Xabi Alonso is another to have arrived in that busy summer of 2009.
Real Madrid splashed out £31.2 million to bring the midfielder back to Spain from Liverpool, and he's proved his worth since.
The former Real Sociedad midfielder is knocking on the door of 200 appearances for the Bernabeu club, and his current contract situation will be of interest to many European sides.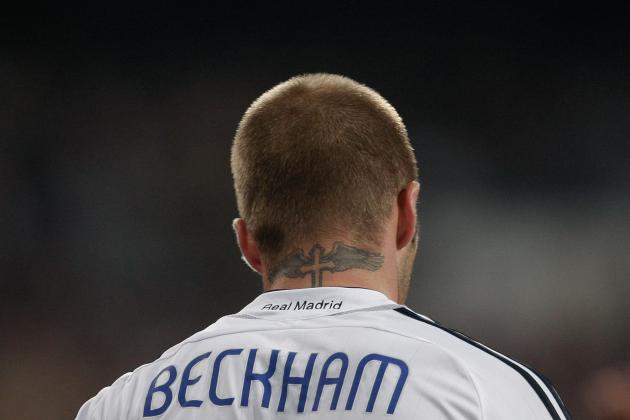 Denis Doyle/Getty Images

One of, if not the first player to be signed because of the mass marketing potential of his image rights.
Real Madrid eventually paid Manchester United £33 million to bring the Englishman to Spain.
And despite a lack of success during his time with the club, Beckham became a favourite with Madrid's fans due to his endeavour and set plays, while also helping the club bring in millions in merchandise and advertising.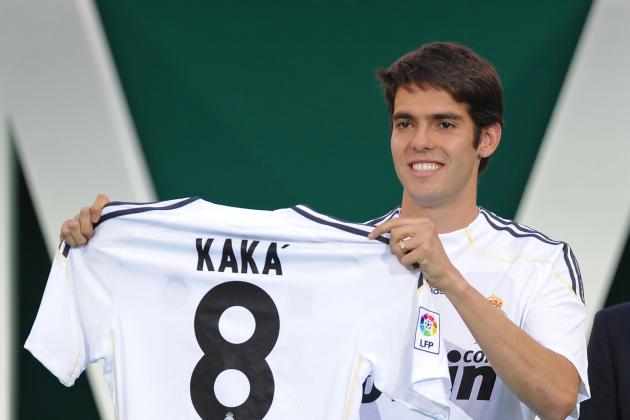 Denis Doyle/Getty Images

For the fee and the expectations that came with it, it's hard to argue that Kaka has not been a flop at Real Madrid.
Leaving AC Milan for Spain in 2009, £57.2 million was the sum placed on his head.
For whatever reason though, the Brazilian has been unable to replicate his Milan form for Madrid, and in a recent friendly he was booed by sections of the Bernabeu crowd.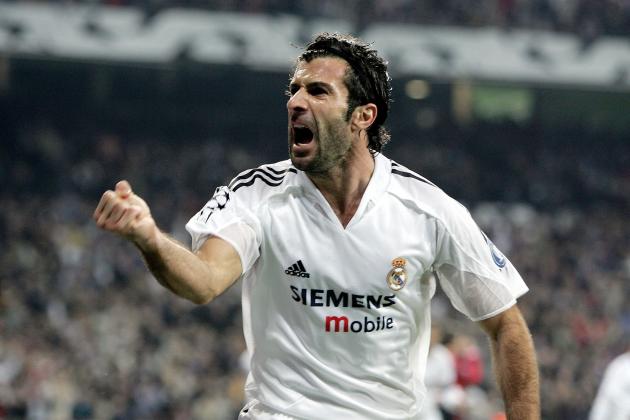 Richard Heathcote/Getty Images

Most people are well drilled in Luis Figo's controversial arrival at the Santiago Bernabeu.
A Camp Nou favourite and Barcelona's best player, the Portuguese midfielder traded it all in for a move inland to the Spanish capital.
Barca received £52.8 million for their troubles, while Madrid received one the best players in the world to form a vital part of what will be remembered as the main galactico era.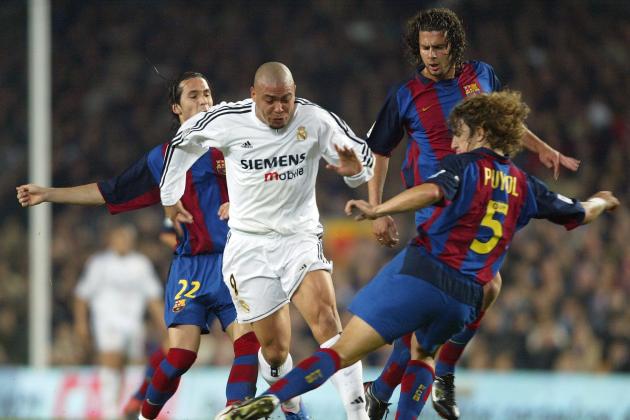 Shaun Botterill/Getty Images

One of the most explosive factors of the Florentino Perez's first galactico era was the exploits of Ronaldo in front of goal.
Real Madrid paid £39.6 million to bring the Brazilian forward on board—a snip compared to today's prices considering how good Ronaldo was.
He smashed in over 100 goals in little over four seasons with the club.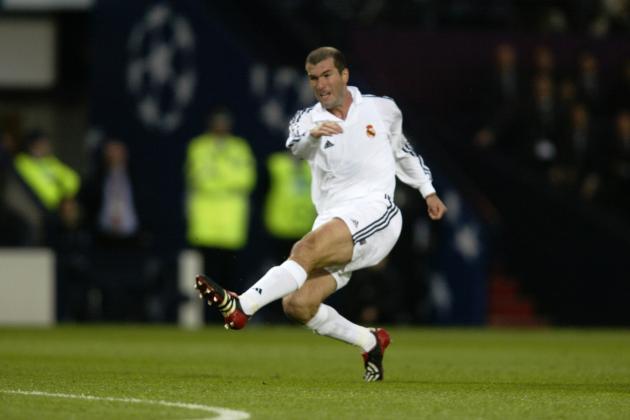 Phil Cole/Getty Images

Real Madrid paid £64.6 million to bring Zinedine Zidane to La Liga from Spain back in 2001.
Some of the things Zidane did in his stay with the Spanish club were unbelievable; his volley in the Champions League final one particularly memorable moment.
The Frenchman was named FIFA World Player of the Year on three occasions and is now back at the Bernabeu assisting Carlo Ancelotti.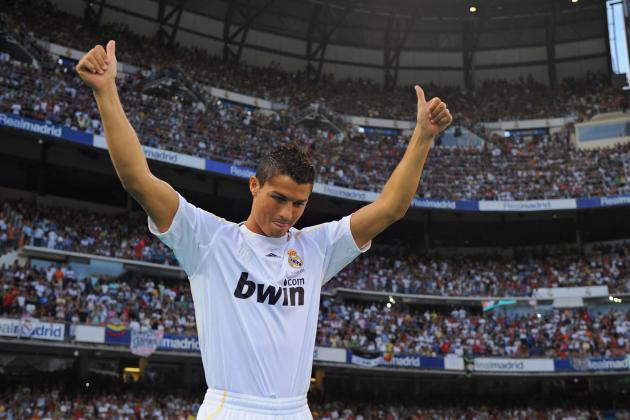 Denis Doyle/Getty Images

Cristiano Ronaldo's will-he-won't-he came to an end in 2009 when Real Madrid eventually paid the £82.7 million to force Manchester United to buckle to the Portuguese international's desire to leave.
The goal scoring which has followed has been ridiculous, not to mention his marketing appeal—both contribute to arguably make him worth every last penny.
He continues to average over a goal a game in La Liga and, together with Lionel Messi, has taken the game to unprecedented levels.