Projecting Impacts for the Los Angeles Dodgers' Likely September Call-Ups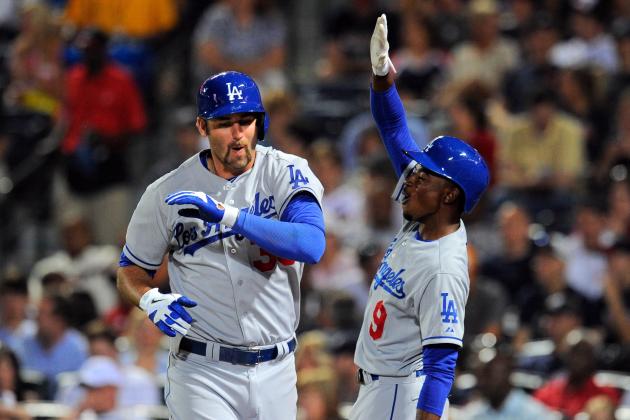 Dale Zanine-USA TODAY Sports
Potential callups Scott Van Slyke and Dee Gordon
After a scorching hot two months, the Dodgers have opened up a 9.5 game lead in the National League West and have a 99.5 percent chance of making the playoffs, according to Baseball Prospectus's Playoff Odds. And with just a week left until September roster expansions, the team can look forward to being able to add a few minor leaguers.
Last week, I previewed the most exciting potential call ups—and although those players are the most hyped, they are not the only ones likely to be called up. Other guys already on the 40-man roster—like Dee Gordon and Alex Castellanos—will also be called up.
Now, let's take a look at each potential call up and what kind of impact he might have—bonus points are given for expected high-leverage opportunities.
Begin Slideshow

»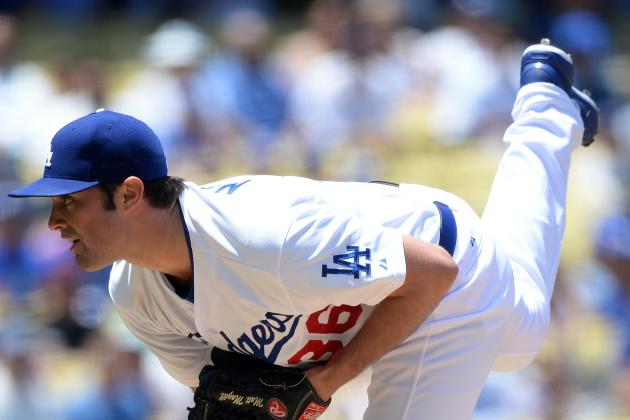 Harry How/Getty Images

Magill has already made a couple big-league appearances this year (six games, 27.2 innings, 6.51 ERA), but he has been in Triple-A—where he has posted an above-average 3.16 ERA in hitter-friendly Albuquerque—since June 10. He is one of the most likely Dodgers to get a call up, and he will likely be thrust into the rotation to give some of the Dodgers' regular starters an extra day of rest here or there. The probability that he pitches real, meaningful innings this September gives him a higher possibility of making an impact.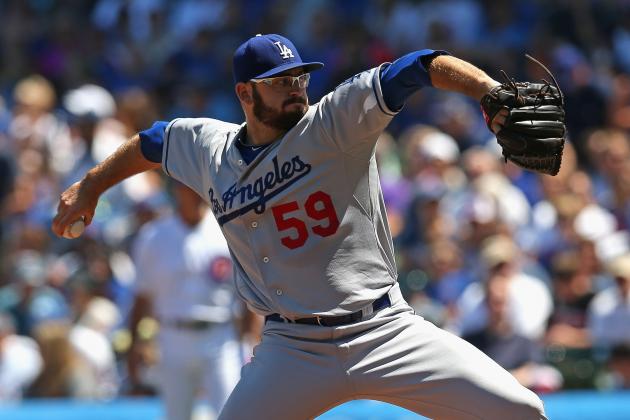 Jonathan Daniel/Getty Images

Nearly everything said about Magill also applies to Fife, except his performances in the majors (nine starts, 2.47 ERA) have been better than in the minors (six starts, 6.11 ERA). Fife, though, was sent down in August because he still has options and Chris Capuano (the current fifth starter) does not.
When he is inevitably brought back in September, Fife will be given relatively high-leverage innings—as demonstrated by the team potentially preparing him for bullpen stints, if necessary. He is also the most likely to fill in should a rotation member get injured.
Whether or not Lee is even brought up is a legitimate question, as he is not yet on the 40-man roster. If we do see him in September, though, it would likely be in a limited role and just to give him a taste of the big leagues.
In addition, he is likely nearing his innings limit for this season: he's only 21 years old and is currently at 135.2, and his previous high is 121. Therefore, any call up would come with limited usage, potentially out of the bullpen.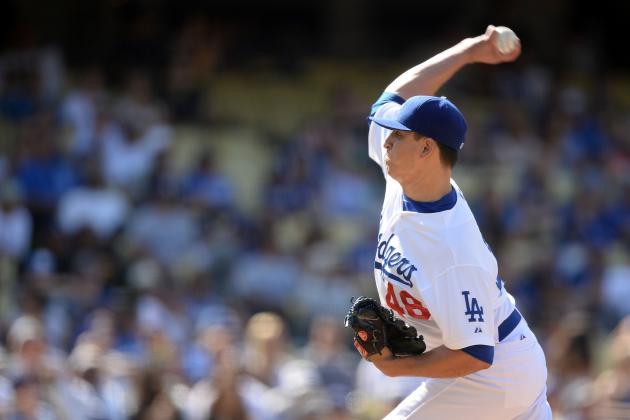 Harry How/Getty Images

Although Guerra has struggled this season (6.75 ERA in the majors, 3.09 in the minors), he's only a year removed from opening the 2012 season as the Dodger closer, so he'll likely be given a chance to prove himself. If an injury made bringing up a reliever for the playoffs necessary, Guerra is one of the likely candidates.
Lee's roster caveats also apply to Reed, with even more intensity because Reed is not as highly-touted a prospect. In addition, Reed has struggled (subscription required) to impress scouts this year, so he's not exactly banging on the door. Any call up would just be to get Reed's feet wet and potentially make a couple of appearances out of the bullpen.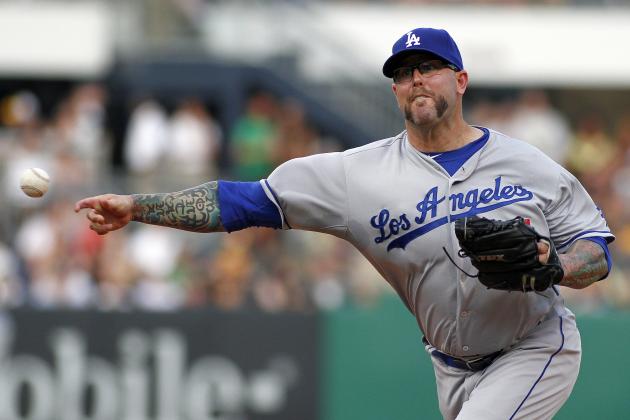 Justin K. Aller/Getty Images

Moylan is a big-league veteran (parts of eight years), so he'll be trusted more when he's brought back than others would. He has a reasonably successful track record (career 2.75 ERA) and will be given a shot to prove he should be considered for a spot on the playoff roster if necessary.
Yet another prospect not on the 40-man roster, Garcia is the closest to the big leagues by virtue of his presence in Triple-A and bullpen role. His bat-missing profile (subscription required) and recent success make him a possible impact arm in the near future, so it's not out of the realm of possibility that he makes a few cameos late this season.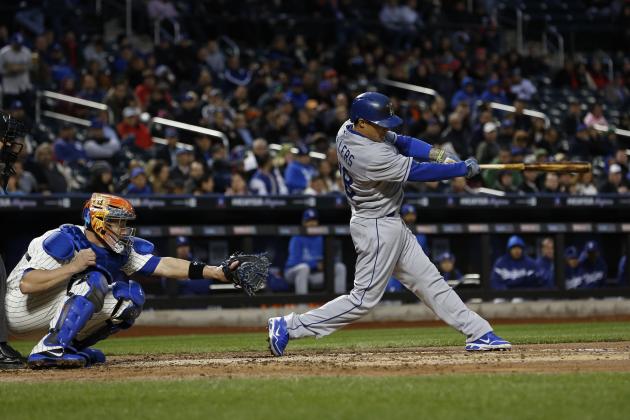 Jeff Zelevansky/Getty Images

Despite 77 big league plate appearances this year, Sellers is virtually a non-factor. An all-glove, no-bat shortstop who is behind Hanley Ramirez, Nick Punto, and Dee Gordon on the organization depth chart, Sellers may get into a few games late in September but won't be given a chance to make an impact.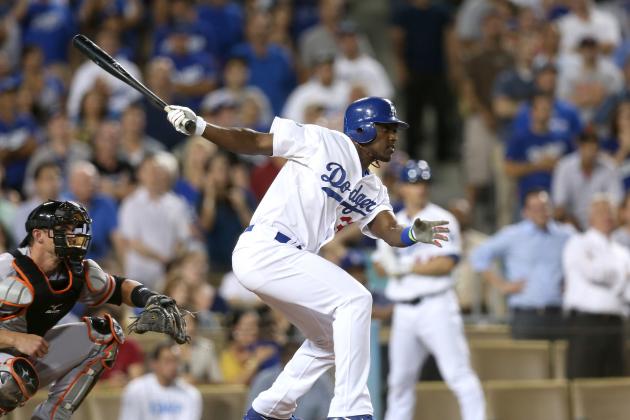 Stephen Dunn/Getty Images

A savior last season, Herrera has gathered only eight plate appearances this year because of the increased depth of the Dodger active roster. And so, even though his positional versatility provides some value at the end of a bench, he won't be a factor on the playoff roster because he can't really hit (career .759 OPS in the minor leagues).
He'll likely get into some games because he can give days off at multiple positions, but he won't be counted on.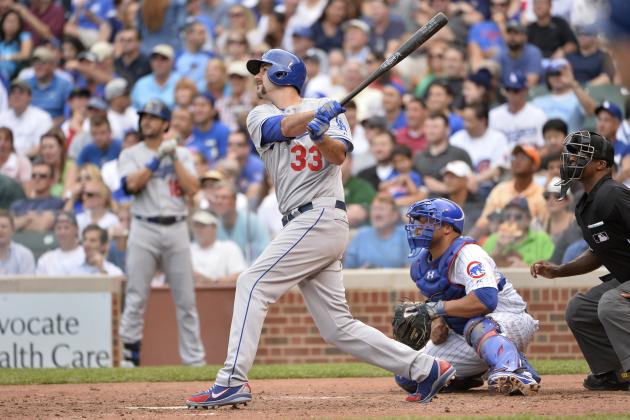 Brian Kersey/Getty Images

Van Slyke provided a shot in the Dodgers' collective arm when he was called up earlier this season—.826 OPS in 38 games—and is probably the first man to be called up should another member of the Dodger outfield hit the DL (unless, of course, Matt Kemp returns at full strength). Therefore, the team will want to make sure he is in some sort of rhythm, should he be a necessary addition to a playoff series.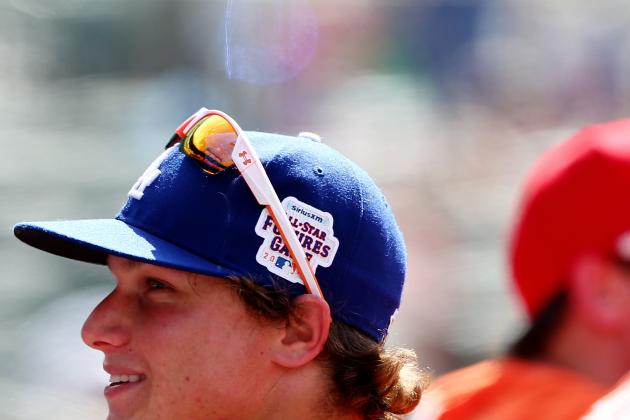 Elsa/Getty Images

Pederson is also not yet on the 40-man roster, but one might expect that he will be called up. He impressed at this year's Futures Game and was in the discussion to be called up when Matt Kemp got hurt in May, but he's spent the season as a 21-year-old with AA Chattanooga—where he's posted an .884 OPS that ranks second in the Southern League.
He's far from a lock to see the big leagues, but if he does, look for him to get some serious run as the Dodgers see what he can do—and potentially try to showcase him for a trade this offseason if their outfield logjam continues.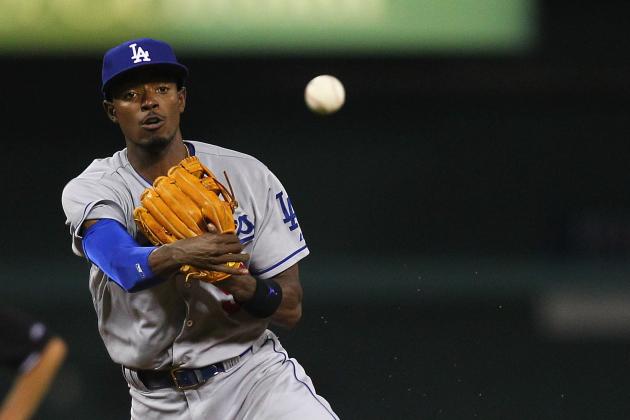 Dilip Vishwanat/Getty Images

Gordon continues to be disappointing—career .608 OPS in the major leagues, with terrible defense no matter which metric you prefer. Because of that, the Dodgers have soured on him and only given him 88 plate appearances this season. In addition, Nick Punto's surprisingly not-terrible season—89 OPS+, where 100 is league-average—means that the team has no real incentive to give him an extended run.
With a reputation as a former top prospect and a history of some level of big-league performance, Gordon is likely to get some playing time in September, but he won't be given an opportunity to join the playoff roster barring a catastrophic injury to Hanley Ramirez.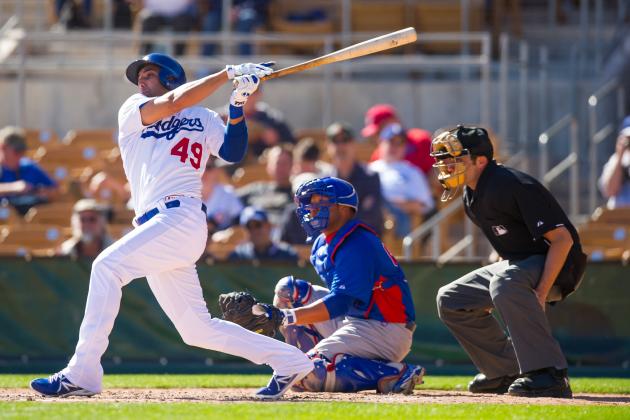 Rob Tringali/Getty Images

At one point a potential fourth outfielder, Castellanos has been passed by Van Slyke as the most likely minor league outfielder to get a call up, so don't expect the team to go out of their way to give him high-leverage at bats. If the Dodgers' lead continues to grow, he will probably get some run as the season winds down, but it won't be significant time.