Projecting Whether These Baltimore O's Players Can Make the Hall of Fame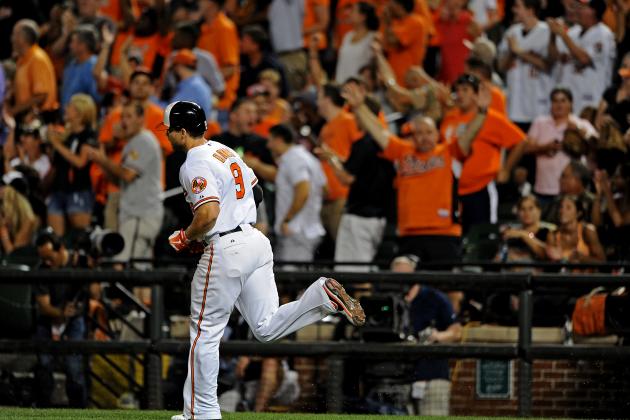 Patrick Smith/Getty Images

A favorite debate among baseball fans is discussing whether or not they're witnessing history by watching active big-time players punch their tickets to the baseball Hall of Fame.
During these debates, fans will bring up all kinds of statistical numbers and point out situational brilliance (or failure) in order to prove their point. And when a player gets into the Hall of Fame conversation, there's always an argument both ways, as evidenced by no player ever receiving 100% of the vote to enter the Hall.
The Baltimore Orioles are a team that is historically known for developing quality talent, and they currently have five players in the Hall of Fame. Frank Robinson, Brooks Robinson, Jim Palmer, Eddie Murray and Cal Ripken, Jr. are all O's players who have received the honor, along with manager Earl Weaver.
Though many current O's are only a few years into their careers, some are beginning to make arguments for the highest individual honor in the game of baseball, while others may have an outside shot as well.
Let's take a look at some Birds players who may be making a case for an eventual Hall of Fame induction.
Begin Slideshow

»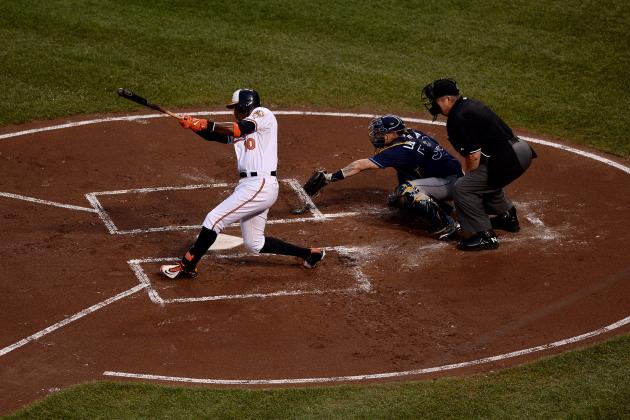 Patrick Smith/Getty Images

We'll begin with the most obvious of Orioles: Adam Jones.
Jones, the face of the franchise and owner of the largest contract in Orioles history, has blossomed into a superstar player, and has gotten better every season since the O's acquired him before the 2008 campaign.
He's won two Gold Gloves out in center and been selected to three All-Star teams, while being elected as a starter once (2013).
A career .281 across eight seasons (six of which as a full-time player), Jones is sitting at 134 home runs, 169 doubles and 72 stolen bases, proving he's a legitimate five-tool player who can hit for average, power, has speed and plays plus defense.
There are two numbers that Jones can improve upon: walks and strikeouts. His career high in walks is a measly 36, which came back in 2009, while he's racked up over 100 K's five of the last six seasons (including this season).
His current season high is 126, so it's not like his strikeout numbers are atrocious, but the relatively high strikeout rate coupled with a low walk rate has hurt his OBP: a career-best .335 came back in 2009, while his career OBP is only .323.
Still though, if Jones continues doing what he's doing, he's going to put up a very convincing argument for his induction into the Hall of Fame. He turned 28 on August 1st, so the prime of his career should be just about starting, while, health permitting, he could easily play another eight-to-twelve seasons. I can see Jones having a very Torii Hunter-type career where he maintains skill and ability even into his upper 30's, with even better career power numbers.
Adam Jones is having a heckuva career so far, and it could get even better.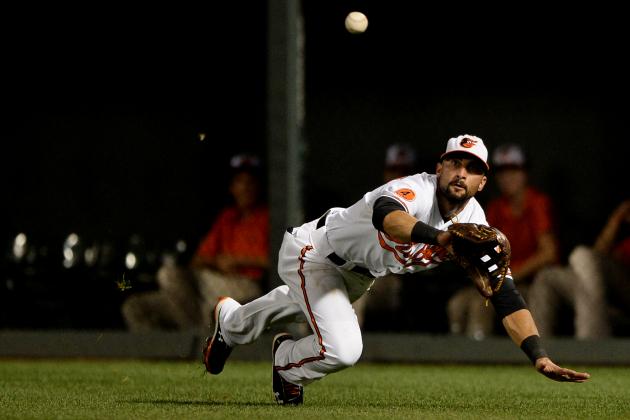 Patrick Smith/Getty Images

The Orioles' right fielder is an interesting case.
Nick Markakis is in his eighth season in the big leagues. His first four seasons were very impressive, including two seasons where he his over .300, two seasons where he swatted 20 or more homers, and two seasons in which he drove in over 100 runs.
However, his last four seasons haven't been nearly as successful. He's failed to his .300 since 2008, hasn't had more than 73 RBI in any of the last four seasons and has topped out at 15 homers those last four seasons.
While Markakis' power numbers aren't where many expected they'd be after his first round, seventh overall draft pick selection in 2003, he does have some things going well in his favor.
He's never hit below .284 in a single season and has a .293 career batting average. He has very strong on-base skills, checking in with a .361 career number at OBP. He also has a career OPS of .806, which is higher than teammate Adam Jones' career .784 OPS.
Plus, he has a history of being a doubles machine, hitting over 40 doubles for four straight seasons (2007-2010) and totaling 285 career two-baggers to go along with 126 career homers.
And while he's yet to make an All-Star squad, Markakis did win a Gold Glove in 2011, as he's always been a very good right fielder. He has a career fielding percentage of .993 and 81 career outfield assists.
Markakis will be 30 in November, so he's still got plenty of playing time ahead of him. For a shot at the Hall, though, he's going to have to improve on his power numbers.
Knowing Markakis, reaching the Hall is probably one of the last things on his mind, as he's always been a team player and is likely more concerned with helping his team reach the postseason.
Having that quality certainly can't hurt his Hall of Fame chances.
Patrick Smith/Getty Images

You may be surprised to see J.J. Hardy's name on this list, but consider this.
Hardy is a power hitter from a prime position. He has a career total of 156 home runs across nine seasons of MLB play, and has hit more than 20 homers in five of those nine seasons.
His career-high 30 home runs came in 2011, his first season with the O's, and he recently became the third shortstop in Orioles history to tally 20 or more homers for three consecutive seasons, joining Cal Ripken, Jr. and Miguel Tejada. His career .259 batting average isn't shining, but from a shortstop, it's respectable.
A two-time All-Star, Hardy was elected a starter for the first time in his career in 2013. He won his first Gold Glove in 2012, as he's arguably the most reliable shortstop in the game, routinely making difficult plays look easy.
What Hardy doesn't have going for him, though, is his career OBP—it's only .312. He doesn't like to walk much, and obviously that hurts his on-base ability. With a career average like he has, one would like to see the OBP number a bit higher than that.
Still though, if Hardy keeps doing what he's doing both defensively and with the home run swing, he'll likely build an argument at least worth considering. He just turned 31 in mid-August, so he has time to pad his stats and if he gets a little more patient at the plate, maybe even boost the OBP number.
For a shortstop, the numbers are there. But will those numbers be enough? As of now, no. But like I said, he still has time.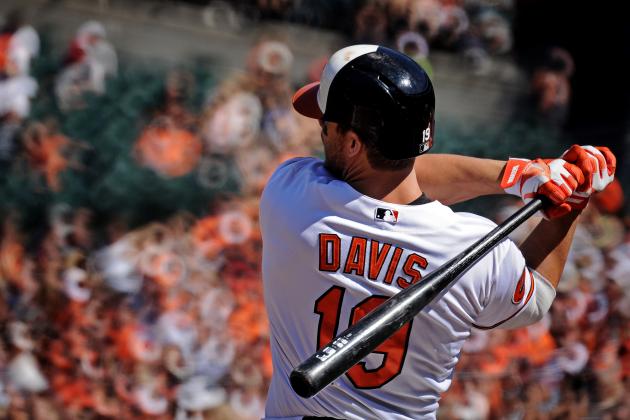 Patrick Smith/Getty Images

Chris Davis will be a fun one to watch down his career.
He first received regular playing time last season, his first full season with Baltimore. That was his age 26 season, and he had a solid enough campaign, with a .270 batting average, 33 homers and 85 RBI.
This season, though, he's been a monster. His current 46 home runs lead the MLB, but the Detroit Tigers' Miguel Cabrera is hot on his tail while going for his second straight triple-crown.
As you can imagine, those 46 home runs are a career-high for Davis, and he's on his way to setting career-highs in pretty much every other offensive category, as he's batting .304 with a .387 OBP, has driven in 118 runs and has scored 94 runs.
If he can turn on his home run swing a little bit like at the beginning of the season, we could see a historical season from Davis should he reach and/or break Roger Maris' 61-dinger mark, a total many still consider to be the true single-season home run benchmark.
For his career, Davis has already tallied 123 home runs despite just two full seasons and two roughly half-seasons worth of at-bats. His career average of .269 is solid, and if he continues to hit like he has this season, that number will only come up, as well as with his career OBP of .329. Understandably so, he'll need to raise that OBP number to have a shot at the Hall as first basemen are expected to get on base at a high clip.
His career slugging percentage of .516 and OPS of .844 are good numbers, and like his OBP should only go up if he keeps hitting the way he has been the last two seasons.
Plus, Davis is playing a very good first base, with a .997 fielding percentage this season. It would surprise me to see him win a Gold Glove this year, but he should definitely be in the conversation for one, at the very least.
Davis will be 28 next season, so the prime of his career should be starting now, as it appears to be. If he has a few more seasons like the one he's having this year with strong years outside of that, he'll be a hard one to keep out of the Hall.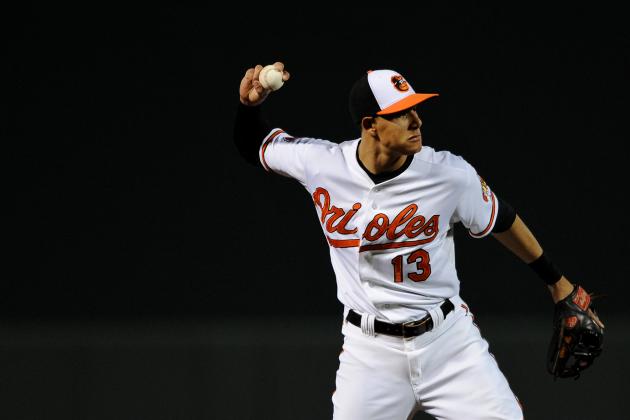 Patrick Smith/Getty Images

Just 21 years old and already setting himself up for a Hall of Fame career.
Manny Machado has been so impressive since his call-up last August, he looks as though he's been playing big-league baseball for a decade now.
He's been playing third base at a Gold Glove level; in fact, if he doesn't win a Gold Glove at the end of 2013 season, it'll be highway robbery. Machado makes difficult plays look routine and spectacular plays look natural.
The most amazing this is that he only played one game at third base in the minor leagues, yet has played exclusively at third since his call-up.
Machado currently leads the league in doubles during his first full MLB season with 44, and is batting .296. His OBP is only .325, but that number should go up as he gains experience and better learns how to work counts. He has 11 homers, 60 RBI and an OPS of .772, which are all very good numbers for a 21-year-old, especially one who plays defense as well as he does.
Despite being tall at 6'2", he's only 180 pounds, meaning he'll likely gain muscle mass and grow into his frame as he gets older. His doubles stroke will turn into a home run stroke, and he'll become not just a doubles machine, but an extra-base-hit machine as well.
Not to mention he's already made his first All-Star team, being chosen as a replacement player on the 2013 squad.
The biggest question about Machado's future is going to be whether to leave him at third base—where he's had a ton of success thus far—or move him over to shortstop, his natural position.
Current Orioles shortstop J.J. Hardy has one more year left on his contract, and the team could try to sign him to another extension. That would keep the left side of the infield strong both offensively and, most importantly, defensively.
However, I'm sure Machado would like to return to his original spot on the diamond, which he can't be blamed for. I don't think he'll force the O's hand there and demand to be moved back. But it'll be tricky deciding where to have him play long-term. Likely, it'll depend on what position the O's can fill more easily either from their farm system or on the market.
It's a great problem to have, especially when the player's future is as bright as Machado's. If he keeps playing the way he has been, he'll be a lock for the Hall of Fame.