Which Fights Make Sense for Chael Sonnen and the UFC?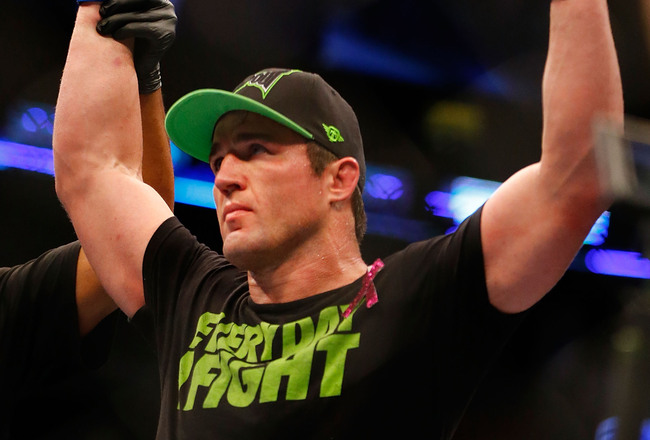 Chael Sonnen Defeats Mauricio "Shogun" Rua at UFC Fight Night 26
Jared Wickerham/Getty Images
On August 17, 2013 at UFC Fight Night 26, Chael Sonnen competed at light heavyweight and submitted Mauricio "Shogun" Rua via guillotine choke. The win has presented Sonnen with a plethora of options. He could transition to a new phase of his career and remain a permanent fixture of the 205-pound division. Sonnen's other option would be to return to the middleweight division—the one in which he has gained the most fame.
At 36 years old, however, it would behoove the former NCAA Division I All-American wrestler to finish his career at middleweight. Following his dramatic and much-needed victory over Rua, some of mixed martial arts' biggest names expressed interest in fighting the "American Gangster," including Vitor Belfort and Wanderlei Silva.
Sonnen's options at middleweight far outweigh those at light heavyweight. The former grants Sonnen the opportunity to capitalize off certain fights and possibly contend for another championship title.
Option No. 1: Chael Sonnen vs. Vitor Belfort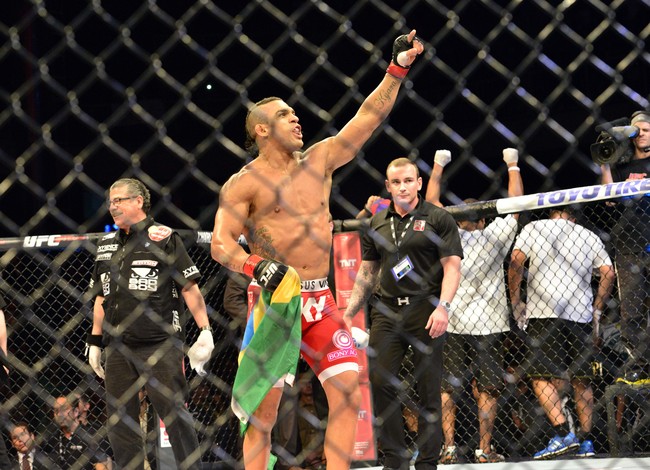 Vitor Belfort at UFC on FX 8
Jason da Silva-USA TODAY Sports
A fight between Sonnen and Belfort is sound and completely logical. Both men have lost to light heavyweight champion Jon Jones and former longtime middleweight champion Anderson Silva. Sonnen and Belfort are both coming off big wins, which would heighten the stakes regarding a matchup between the two.
However, and more importantly for Sonnen, Belfort is currently ranked No. 2 in his division. A victory over such a game opponent in the former UFC champion would more than likely catapult Sonnen to the top of the middleweight division.
Belfort, on the other hand, was recently scheduled to face former world champion Dan Henderson on November 9, 2013 at UFC Fight Night 32. "The Phenom," however, doesn't seem interested in this bout, and recently tweeted:

@sonnench I just read at the larger news paper from brasil that you are in both rankings( 10th light heavy weight and 9th in my division) since you are in a "GREAT" position coming out of a win I still giving you an opportunity to fight with me.
The Brazilian's bout against Henderson will be fought at light heavyweight. Therefore, even if the Belfort loses to the former world champion on November 9, this most likely would not affect his No. 2 ranking at middleweight. In that, irrespective of the outcome at UFC Fight Night 32, a matchup between Sonnen and Belfort may still be plausible.
Option No. 2: Chael Sonnen vs. Yushin Okami/Michael Bisping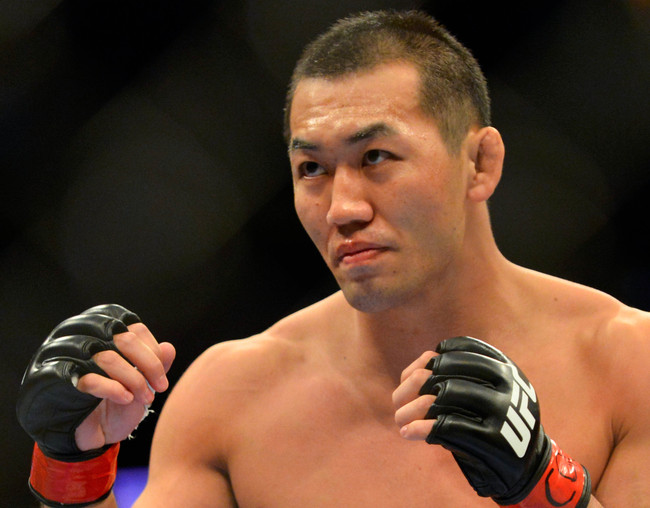 Yushin Okami at UFC 150
Ron Chenoy-USA TODAY Sports
If Sonnen is vying for a fifth shot at a world title, his most logical second choice would be to face either Yushin Okami or Michael Bisping. Both fighters are ranked No. 3 and No. 4 in the world, according to UFC.com.

The irony, however, rests in their high ranking, despite having lost to the American Gangster, Chael Sonnen (No. 9). Okami and Bisping dropped a decision to Sonnen at UFC 104 and at UFC on Fox 2, respectively. Both combatants are coming off wins and possess a great amount of momentum going into their next bout.
However, Okami is currently riding a three-fight win streak and is ranked above both Bisping and Sonnen. Therefore, if the NCAA Division I wrestler managed to secure yet another win over Okami, he could find himself at the doorstep of another title shot.
Option No. 3: Chael Sonnen vs. Wanderlei Silva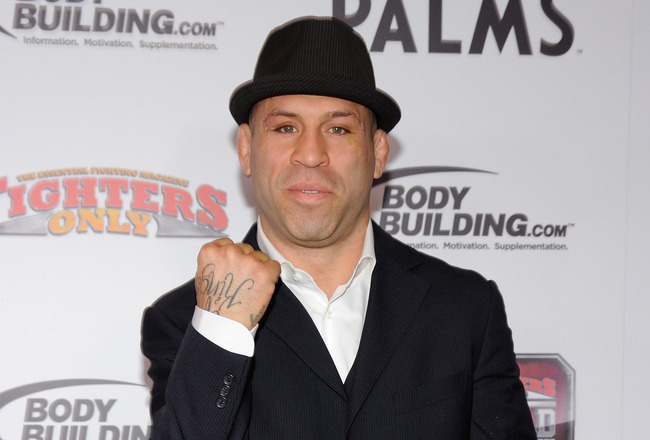 Ethan Miller/Getty Images - Wanderlei Silva

Silva is not currently ranked by the UFC. Therefore, a victory for Sonnen would not leave him any closer to championship title. However, the history between these two MMA veterans makes for an exciting matchup.
Sonnen has often made fun of the largest Latin American nation that is Brazil. Silva, on more than one occasion, has taken offense to Sonnen's insults. In fact, the "Axe Murderer" warned Sonnen about his comments and made an indirect threat regarding the matter. He stated, "You have respect, you don't lose your teeth."
Since then, the relationship between Silva and Sonnen has worsened. Silva recently released a video, in which he yelled and vehemently proclaimed his dislike for Sonnen. He then went on to list the ways in which he wished to inflict pain upon the American Gangster. The Brazilian stated:
…the people want this fight (against Sonnen), and I want this fight. Sonnen, I will beat you up, you coward. I don't go in there to give up. Like Sonnen did against Jones in the very first round. Like he did against Anderson (Silva), when he took a knee to the chest and stayed down like a little girl. Sonnen is a lower-level fighter.

And now, I will get you, Sonnen...

Sonnen, I will punch your face in...I will make you swallow your teeth, you loser...I will go in to show Sonnen what happens when someone disrespects our nation...You (Sonnen) will get a beating...I will hurt you. I will break your nose with my knee. From there, you will go straight to the surgeon to fix your nose. I will break your nose in this fight.
Throughout the video, an enraged Silva appeared motivated and focused on Sonnen's demise. It also gave light to a fight that has been years in the making. A Sonnen/Silva matchup may solve a personal matter between the two combatants. However, for Sonnen, the risk of losing to a non-ranked opponent would hurt his career by possibly knocking him out of the UFC's top-10 rankings and stifling his chances of acquiring yet another title shot.
Keep Reading