10 Best Strikers to Watch in the Champions League This Season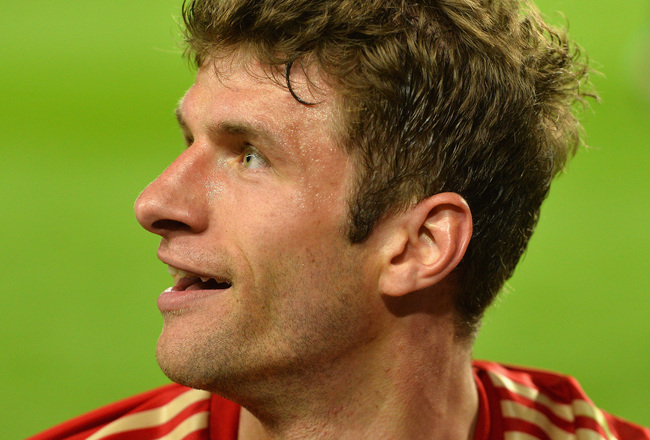 Bayern Munich's Thomas Muller.
Mike Hewitt/Getty Images
On Thursday, the draw for the group stage of the 2013/14 Champions League will be made in Monaco.
Last season's competition was bursting with highlights; from Celtic's victory against Barcelona, to Borussia Dortmund's breathless 3-2 win against Malaga and an all-German final at Wembley.
And goals…so many goals! Who can forget Robert Lewandowski's four-goal haul against Real Madrid, Lionel Messi's brace against AC Milan in the Round of 16 and Cristiano Ronaldo's gravity-defying header against Manchester United?
The Champions League provides the stage for some of world football's top strikers. But who are the leading players, at the top of their game?
Over the following slides we have selected the 10 best strikers to watch out for in this season's competition. Ranked in order of their performances last time around and by predicting how well they will do this term.
There are so many good forwards to choose from, we have also included a list of honourable mentions.
Someone missing? Who would YOU add to the list? Let us know in the comment section below!
The draw will be made at At 17:45 CET on Thursday 29 August.
All statistics sourced on Transfermarkt.com and UEFA.com
Honourable Mentions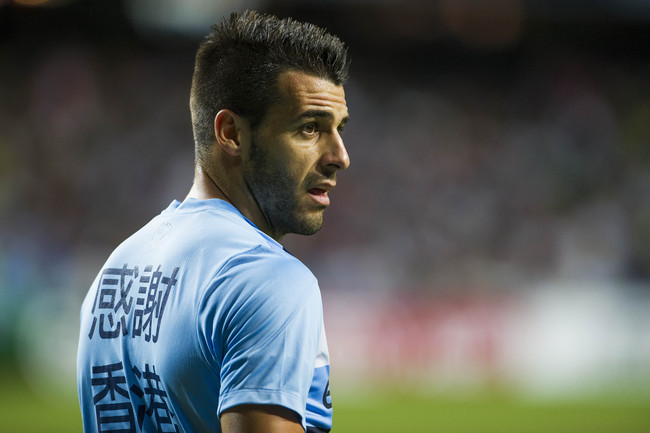 New Manchester City man, Alvaro Negredo.
Victor Fraile/Getty Images
David Villa—Atletico Madrid
The Spaniard will have a point to prove after leaving Barcelona in search of first team football. The 31-year-old has plenty of European experience and should be a key player for Diego Simeone's side this season. Expect a great campaign from Spain's all-time leading goalscorer.
Ezequiel Lavezzi—Paris Saint-Germain
Laurent Blanc has a wealth of striking options at his disposal. In a team with the likes of Zlatan Ibrahimovic and Edinson Cavani, there will be competition for places up front. Lavezzi scored five goals in nine Champions League appearances last season, helping PSG to their first spot in the quarter-finals since 1994/95.
Pierre-Emerick Aubameyang—Borussia Dortmund
The 24-year-old introduced himself to the Borussia Dortmund support with a hat-trick on his debut for the club. Yet to play in the Champions League, Aubameyang looks like a good prospect for this season's competition.
Alvaro Negredo—Manchester City
Manchester City have failed to impress in the Champions League but with Manuel Pellegrini in charge, things could start to look up this season. New signing Alvaro Negredo scored 25 La Liga goals and six Copa del Rey strikes for Sevilla last season. Watch this space to see how he fares with City in Europe.
Sergio Aguero—Manchester City
The Argentine international scored 30 goals in his first season at the Etihad and was instrumental in Manchester City winning the Premier League. Injuries disrupted things for Aguero last term but this season he looks like he is back to full fitness. If Man City can improve their overall performances in Europe, expect him to be one of City's star men.
Carlos Tevez—Juventus
Experienced. Tireless. Clinical. Carlos Tevez is a great addition to Antonio Conte's Juventus, who were in need of reinforcements in attack. Juve have won back-to-back Scudettos over the last two years and look set to mount a good Champions League challenge this season. After gaining plenty of European experience with Man United and Man City, Tevez could be a big player for the Old Lady.
Stefan Kiessling—Bayer Leverkusen
Kiessling was the Bundesliga's top scorer last season—his 25 goals saw him finish the season with two more strikes than Robert Lewandowski. The 29-year-old does not have a prolific record in the Champions League, yet perhaps this will be his year.
Jackson Martinez—FC Porto
Martinez played his first season for Porto last term, impressing with 26 goals and two assists in 30 games. He also had his first taste of the Champions League, registering three goals in eight appearances for the Portuguese club. Will he suffer second-season-syndrome this year or will he be one of the surprise stars of the tournament?
Mario Balotelli—AC Milan
Mario Balotelli requires little introduction. Equal parts genius and lunatic, the 23-year-old has scored 12 goals in 15 games for AC Milan. Balotelli has experience in Europe with Inter Milan and Manchester City and, if he can keep the volatile side of his character in check, could be a standout performer partnering Stephan El Shaarawy in attack.
Gonzalo Higuain—Napoli
Under Rafael Benitez, Napoli could be dark horses in this season's Champions League. Gonzalo Higuain is just one of many new faces at the Serie A side—bought to replace Edinson Cavani, Higuain's top-level experience playing with Real Madrid will be invaluable. The striker scored 122 goals during his time at the Bernabeu. Definitely one to watch in Europe in 2013/14.
10. Burak Yilmaz
Age: 28
Club: Galatasaray
Champions League goals scored in 2012/13: Eight in nine games.
Burak Yilmaz was one of the surprises of last season's Champions League. The Galatasaray striker's 19 attempts on goal and eight strikes in nine games saw him finish in the tournament's top three goalscorers. The Turk was in good company, with just Cristiano Ronaldo and Robert Lewandowski ahead of him in the standings.
Yilmaz also registered 24 goals and eight assists in 30 Super Lig outings with Galatasaray last term. His first season at the club saw him win the league title and Turkish Super Cup.
His performances saw him linked with a number of clubs over the summer, including Tottenham Hotspur, Fiorentina and Atletico Madrid, as seen in the Mirror.
Good with both feet, physically strong, confident and excellent in the air, Yilmaz should have a big impact in the Champions League again this season.
9. Robin Van Persie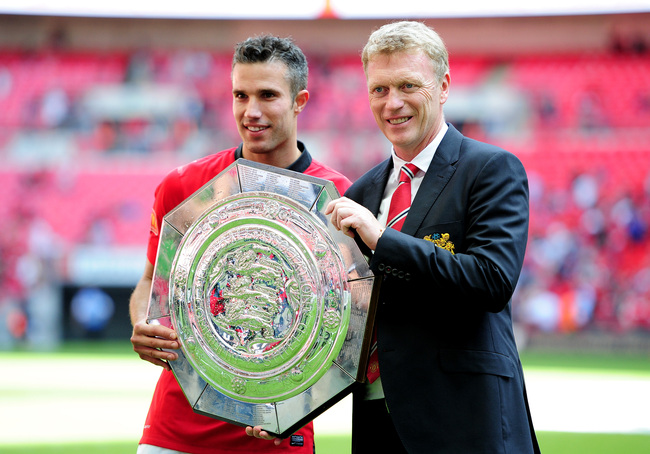 Will there be more silverware for Manchester United this season?
Jamie McDonald/Getty Images
Age: 30
Club: Manchester United
Champions League goals scored in 2012/13: Three in six games.
Manchester United did not get beyond the last 16 of the Champions League last season. Arguably a red card was the difference between the Premier League side and Real Madrid, who progressed to the quarter-finals.
Robin van Persie had an excellent season in the Premier League, where he finished as the division's top scorer for the second season in a row with 26 goals.
The Dutchman has a decent record in European competition, with Arsenal he registered 18 goals and nine assists in 45 Champions League fixtures.
It could be a tentative European campaign for David Moyes, as he settles into his role at Old Trafford. However, should the Scot do well in his first season in charge of the Manchester side, expect Van Persie to be his leading marksman in Europe.
8. Mario Mandzukic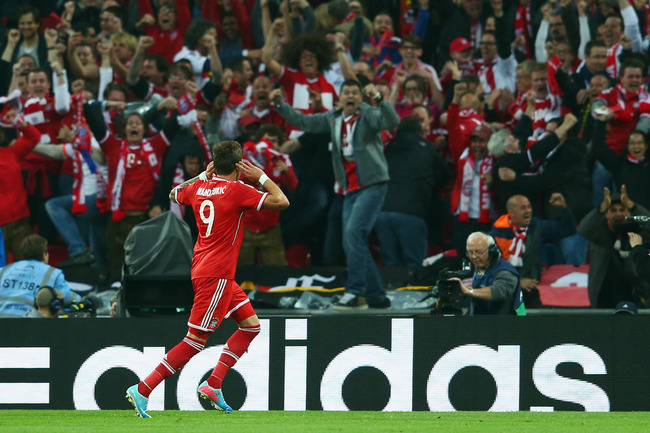 Mandzukic—won the treble in his first season at Bayern Munich.
Alex Grimm/Getty Images
Age: 27
Club: Bayern Munich
Champions League goals scored in 2012/13:
Mario Mandzukic became the first Croatian to score in a Champions League Final last season, in Bayern Munich's 2-1 win against Dortmund.
It was a successful season all-round for the 27-year-old, who won the treble with Jupp Heynckes' side and managed to keep Mario Gomez out of the first team with his consistently impressive performances.
Under Pep Guardiola's tutelage and with the addition of Mario Goetze and Tiago Alcantara in midfield, all the evidence points towards an even bigger season for Bayern's No. 9.
7. Edinson Cavani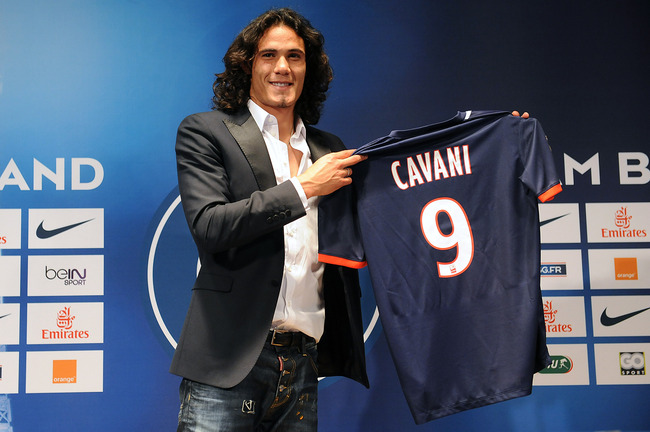 Edinson Cavani—deadly for Napoli, will he be deadly for PSG?
Antoine Antoniol/Getty Images
Age: 26
Club: Paris Saint-Germain
Champions League goals scored in 2012/13: N/A: Seven goals in seven Europa League games.
Edinson Cavani, you may have heard of him over the summer.
Cavani's performances for Napoli earned him a big-money move to Paris Saint-Germain in July. Last term, he scored 29 Serie A goals in 34 games, seven in seven Europa League ties and rounded off the season with three goals in four games for Uruguay in the Confederation's Cup.
No wonder PSG were prepared to pay a reported £55 million to secure his services.
The Uruguayan looks set to continue his stellar run of form in this season's Champions League—playing with last season's top assist-maker Zlatan Ibrahimovic and the deadly Ezequiel Lavezzi, you'd be a fool not to bank on him making an impact for Laurent Blanc's side.
6. Neymar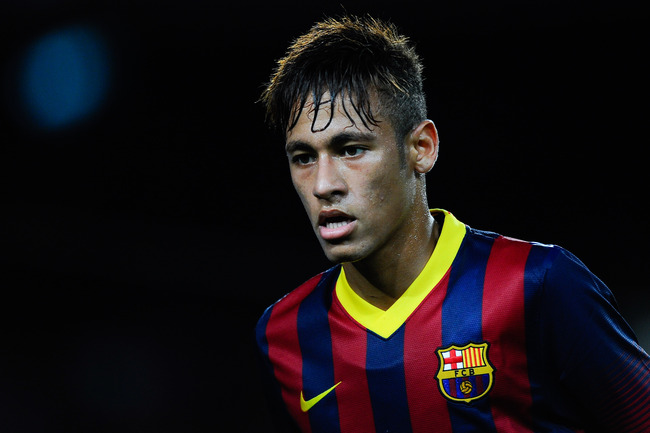 Neymar—will his first season in the Champions League be a success?
David Ramos/Getty Images
Age: 21
Club: Barcelona
Champions League goals scored in 2012/13: N/A
Signed by Barcelona over the summer amid much fanfare, this will be Neymar's first season in the Champions League.
The Brazilian scored 70 goals in 134 appearances for Santos in the Brasileirao and had an impressive showing in the summer's Confederation's Cup. Part of Luiz Felipe Scolari's Brazil team that won the tournament on home soil, Neymar registered four goals and four assists in five games.
Undeniably, Neymar is one of the most exciting players in world football at the moment and big things are expected of him at Camp Nou.
As the 21-year-old is untested in the Champions League, it will be interesting to see how he fares against different club teams from across Europe. He could be the best player of the tournament, or Barcelona may just let him settle in gradually, using him sparingly.
For now, Neymar doesn't make the top five. That could all change very quickly.
5. Zlatan Ibrahimovic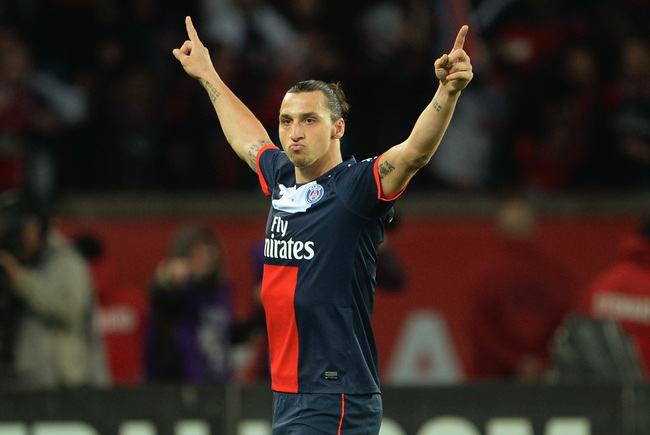 Last season's top assist-maker, Zlatan Ibrahimovic.
Michael Regan/Getty Images
Age: 31
Club: Paris Saint-Germain
Champions League goals scored in 2012/13: Three goals in nine games.
Not known for being the most selfless of strikers, Zlatan Ibrahimovic topped the chart of Champions League assist-makers last season.
The striker also scored three goals and had 23 attempts on target, topped by only Cristiano Ronaldo, Lionel Messi and Robert Lewandowski.
In Ligue 1, Ibrahimovic had a stellar season—registering 30 goals and 10 assists in 34 games as Paris Saint-Germain comfortably won their first title in 19 years.
It will be interesting to see how PSG fare, with so many world class strikers at Parc des Princes this season.
Edged out at the quarter-final stage last season, Ibrahimovic reckons this could be the French team's year. He was quoted on Goal.com as saying:
Last year, things went well for us in the Champions League. We didn't win it but we still played well. We know better now.

There are new players who have arrived and will give us more. We won the French championship. We could already start to envisage winning the European cup.
4. Thomas Muller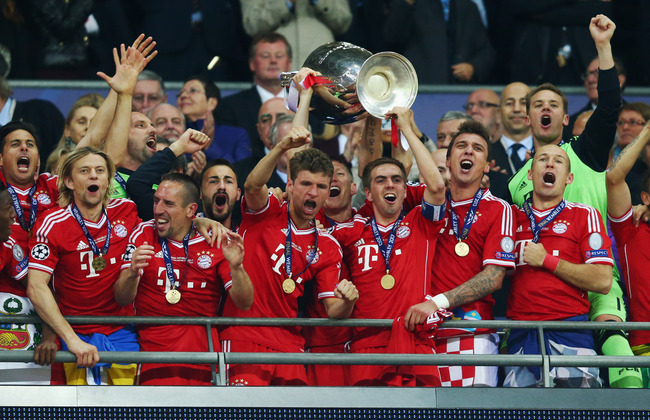 Thomas Muller (center)—scored eight and won the Champions League last season.
Alex Grimm/Getty Images
Age: 23
Club: Bayern Munich
Champions League goals scored in 2012/13: Eight goals in 13 games.
Thomas Muller had perhaps the perfect campaign last season. He won the Champions League, the Bundesliga and the DFB Cup in a historic treble for Jupp Heynckes' side.
It was his highest scoring season so far—the German international scored eight goals and registered two assists in Europe and got 13 goals and 13 assists in the league.
It seems like it would be tough to improve on last season's exploits but Bayern now have a dynamic new manager in Pep Guardiola and exciting new signings in the shape of former Dortmund midfielder Mario Goetze and Barcelona import Tiago Alcantara.
At 23, there is still a lot more to come from the striker. It looks like Bayern will be strong again this season and Muller will have a huge part to play.
3. Lionel Messi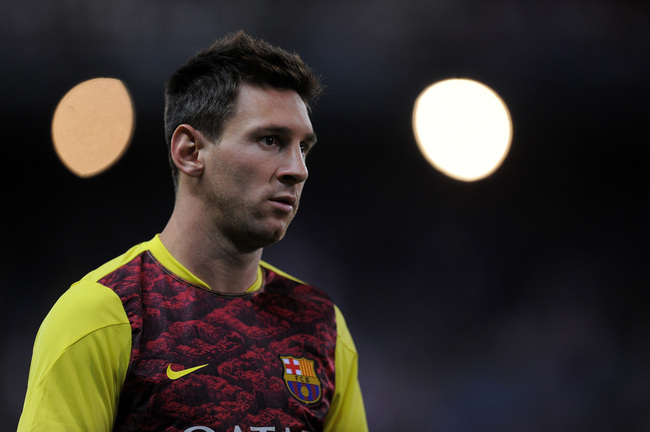 Lionel Messi—three-time winner of the Champions League.
Denis Doyle/Getty Images
Age: 26
Club: Barcelona
Champions League goals scored in 2012/13: Eight goals in 11 games.
There comes a point when statistics concerning Lionel Messi border on the unbelievable. The Argentina international has scored a staggering 312 goals in 376 games for Barcelona, with 59 of those strikes scored in 79 Champions League appearances for the Catalan club.
The striker has won the tournament three times. Last season he scored eight goals and had 28 attempts on target, despite Barca exiting the competition at the semi-final stage after being demolished 7-0 (on aggregate) by Bayern Munich.
Messi was almost single-handedly responsible for getting Barca into the semi-finals after his performance against AC Milan, which saw Tito Vilanova's side claw their way back from a 2-0 deficit to win the second leg 4-0.
The 26-year-old played through injury during the semi-finals, through which his side may have progressed, had he been fit.
Lionel Messi is arguably the best player in the world right now. In this ranking, he sits at No. 3—due to the higher strike rates and outstanding performances of both Cristiano Ronaldo and Robert Lewandowski in last season's competition.
2. Robert Lewandowski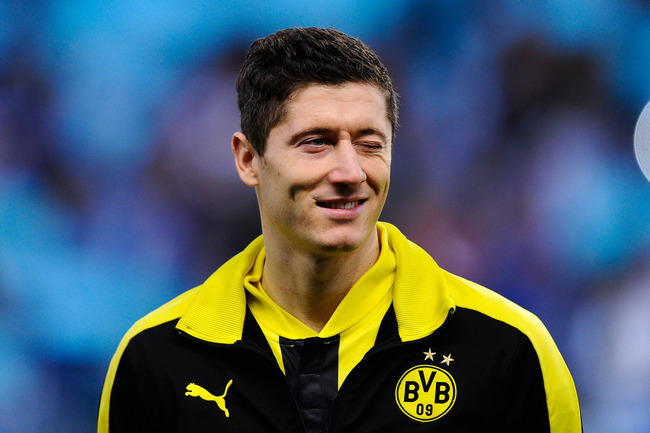 Robert Lewandowski—reached the 2012/13 Final with Borussia Dortmund.
David Ramos/Getty Images
Age: 25
Club: Borussia Dortmund
Champions League goals scored in 2012/13: 10 goals in 13 games.
Robert Lewandowski was one of the Champions League's best players last season. His potency in front of goal saw Borussia Dortmund make it all the way to the final, where they faced Bayern Munich.
The Poland international's finest hour came in Dortmund's 4-1 win against Real Madrid. Lewandowski became the first player to score four goals in a Champions League semi-final.
His performances in Europe saw him linked with many clubs over the summer and it was widely expected that he would make a switch to Bundesliga rivals Bayern Munich.
However, last week, the striker revealed that he will be spending the rest of the season with Jurgen Klopp's team.
Lewandowski was lethal in the Bundesliga last season, scoring 24 goals in 31 games. Count on another prolific season in front of goal for the Dortmund striker.
1. Cristiano Ronaldo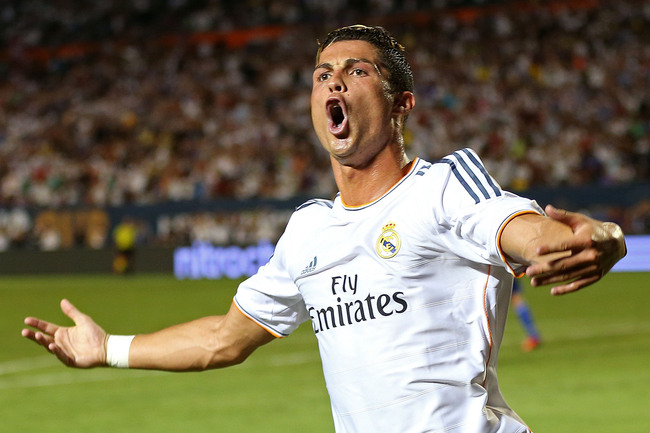 Ronaldo celebrates doing what he does best—scoring.
Mike Ehrmann/Getty Images
Age: 28
Club: Real Madrid
Champions League goals scored in 2012/13: 12 goals in 12 games.
Real Madrid may have bowed out of the Champions League at the semi-final stage last season, but Cristiano Ronaldo was still the tournament's top scorer for the second time in his career. The Portuguese knocked Lionel Messi off top spot, a position the Barcelona striker had occupied for four years.
In La Liga last term, the 28-year-old notched 34 in 34 and also scored seven Copa del Rey goals in seven games.
Madrid boss Carlo Ancelotti has one of the best creative midfields in the world at his disposal, including new arrival Isco, Luka Modric and Mesut Ozil, yet has only one recognised senior striker up-front in Karim Benzema.
This season, Ronaldo's strike rate may be even more fearsome—chances are the No. 7 will operate as an out-and-out striker, if Gareth Bale joins the Bernabeu side.
With more goals and attempts on target (53) than any other player in last season's tournament, Ronaldo has to top this list.
Keep Reading