Rafael Nadal remains unbeaten on hard courts in 2013, as he passed his first test at the U.S. Open in a near-flawless straight-sets victory over American Ryan Harrison on Monday.
Winning the hard-court season would be a huge victory for Nadal after an already impressive 2013. He's already done that to this point with his first-round win improving his streak to 16-0. He has already won two titles on the surface this month at the Rogers Cup and Western and Southern Open.
After his win over Harrison, he also improved to 54-3 on the ATP Tour this year, the best among all male qualifiers.
Nadal isn't infallible and he'll have plenty to test him in his quest for a second U.S. Open crown. Here's a look at a couple of potential matchups that could give him problems in that journey.
Nikolay Davydenko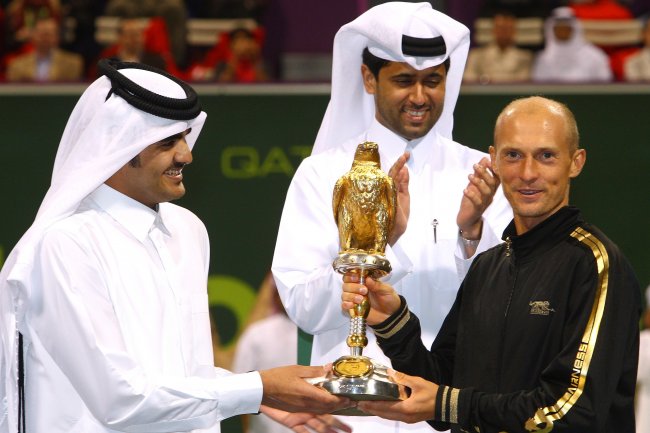 Ian Walton/Getty Images
Who?
The Russian who barely survived unheralded American Rhyne Williams in the first round of this year's U.S. Open, has a 6-5 lifetime record against Nadal. He's also won four out of the last five in their series and all of their previous six meetings on hard surfaces. Nadal has won all four of their meetings on clay courts.
Davydenko is the only player in the world to hold a winning record against Nadal among players who have met him on the court more than once, according to Tennis.SI.com.
None of their previous meetings, however, have had the pressure of a Grand Slam riding on them. It's one thing to defeat a top player like Nadal at an ATP 1000 event, but quite another to shock him at a major tournament. Can the Russian advance with another win in order to secure a meeting with Nadal in the third round and potentially shock the world?
John Isner
For some reason or another, Nadal has struggled with 6'10", power-serving American John Isner.
Nadal has won all four of their previous meetings, but it hasn't been easy for the Spaniard. Their latest meeting came earlier in August in Cincinnati. Nadal survived two tiebreakers to edge Isner, 7-6(8), 7-6(3). That was after the American upset Novak Djokovic to reach the final against Nadal.
Isner has played great tennis on hard courts this summer, winning the Atlanta Open, reaching the Citi Open final in Washington D.C. and meeting Nadal in their Cincinnati final. As a result, he's compiled an impressive 13-3 hard-court record for 2013.
Isner also scared the King of Clay on his best surface at Roland Garros in 2011, winning the second and third sets before ceding the final two. His powerful serve gave Nadal fits, but he ultimately couldn't sustain it for a full five sets. Can Isner do it now if given the chance with the world and his nation watching?
Novak Djokovic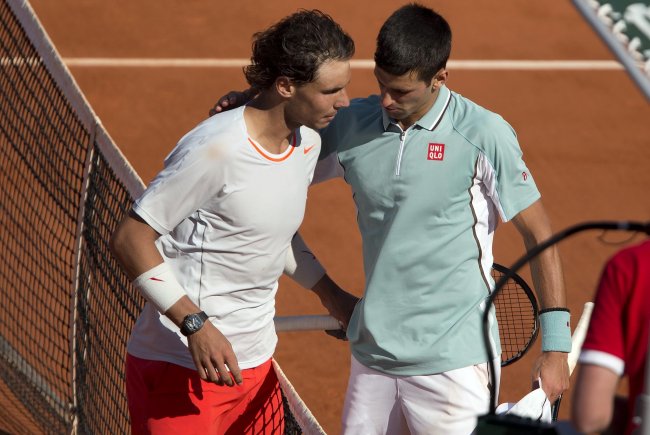 Susan Mullane-USA TODAY Sports
Andy Murray isn't included in this list due to the assumption that he won't get past Djoker in the semifinals. Another potential classic between Nadal and Djokovic would be a fitting end to things in New York, too.
Who will win the 2013 U.S. Open?
But would Djokovic have enough left after a potential marathon semifinal match against Murray? Nadal would be tired too, but he could get a reprieve in his match before a potential date with Djoker due to a favorable late-round draw.
Djokovic and Nadal are no strangers to meeting on big stages. Nadal recently got the better of the Serbian in the French Open semifinals. In Grand Slam meetings, Nadal has a commanding 7-3 lead over the world's No. 1 player.
These two know each other well and are both tremendous players. It's gotten to the point that statistics and predictions can be thrown out the window whenever they meet on the court. Anything truly can happen.
All statistics used were obtained from Tennis.Matchstat.com.