Washington Wizards: How John Wall Can Live Up to His Contract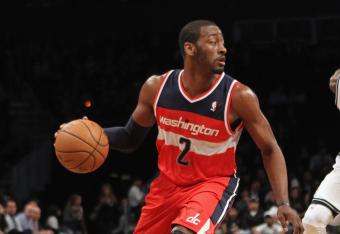 Bruce Bennett/Getty Images
In 2010, the Washington Wizards had their first No. 1 overall pick since their selection of Kwame Brown in 2002.
They used it well on John Wall.
Brown, on the other hand, played three disappointing seasons for the Wizards before rejecting a five-year, $30 million extension according to a 2005 article by The Washington Post's Michael Lee.
Rejecting the offer was the icing on one of the most undesirable cakes of the post-millennium NBA. Not only was Brown a terrible Wizard, but he could not even find it in himself to honor the franchise that grew and developed his bust label so effortlessly.
Now, Wall has the opportunity to erase Brown's negative legacy.
After signing a max contract worth $80 million over five years, Wall and the Wizards have happily agreed to make the former Kentucky Wildcat their franchise player.
For a Washington Wizards club that has struggled to find "the guy" since Gilbert Arenas and fared even worse on draft day, the team is making a major commitment at a time when it hasn't reached the playoffs in five seasons.
Below is the least Wall can do to live up to his contract and avoid breaking the hearts of Wizards fans who are all too familiar with the feeling.
Continue to Score in the Paint
Believe it or not, on a per game basis in the 2012-13 season, Wall averaged more two-point attempts than Tony Parker, Tim Duncan, Kevin Garnett, ex-college teammate DeMarcus Cousins and Kyrie Irving.
He finished 12th in the league in the category, according to NBC Sports.
While the stat only proves Wall's ability to get to the rim at an elite level, outshooting that kind of company is where you want your franchise player standing come the end of the season.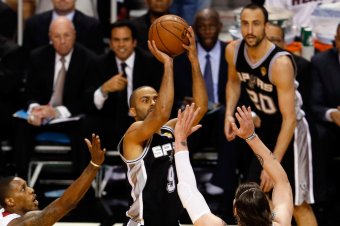 Kevin C. Cox/Getty Images
Of course, Wall missed 32 games with a knee injury, and thus the evaluation hinges on the per-game-basis qualifier. Wall, for the most part, capitalized on his high-percentage shots, finishing No. 20 overall in NBC Sports' corresponding category for two-pointers made.
Here is where Wall can improve. The 6.4 makes out of 14.1 attempts is good for 45 percent from the field, a solid scoring figure.
Parker, by comparison, hit 7.5 shots for every 14 takes—a 54 percent mark.
Obviously, if Wall hits one more shot a game and dedicates the rest of his offseason to being a little more like Parker, everybody, especially Wizards management, will be happy.
That their stats are similar is misleading, because Wall's and Parker's games are very different. Wall's ankle-breaking agility has very little in common with Parker's ability to penetrate and finish over taller defenders. It may even put Wall's ceiling as a scorer higher than Parker's ever was during the remarkable 12-year career.
Wall is a competitor, and he will want to leave his own mark on the NBA.

Wall sends Magic's Ish Smith to the floor.
He can easily match Parker's athleticism, and because of that, the sky really is the limit for his offensive game.
Wall can make that pass with 1.6 seconds left in the third quarter (see video).
Even so, keeping an eye on how Parker operates in the lane could do wonders for the 22-year-old's development. Ever the savvy veteran at the point guard position, Parker has been excellent at keeping his body ready for game time throughout the everyday grind of the NBA season.

Another year of experience will ideally bring better outside shooting, body preservation and continued aggressive play for the Wizards guard. As noted by Bleacher Report Analyst Nick Farnsworth down the stretch of 2012-13, aggressive play should aid in Wall's development.
Says Farnsworth
Over the last two months of the season, Wall averaged an impressive 22.7 points per game on 46.4 percent shooting, 7.8 assists, 4.8 rebounds and 1.6 steals over 36 minutes a game.
Parker's season-high scoring average of 22.0 in 2008-09 seems like a doable output for Wall. Expect something in the neighborhood of 22 a night for Wall to show the D.C. fans he wants to live up to his new salary.
Become a Leader
How is the longest-tenured player on an NBA team a kid who would have graduated from college three months ago if the NBA required players to stay until their senior year?
He plays for a team that had to clean a messy house.
Since 2010, the Wiz have been on an evacuation operation that has seen the likes of Antawn Jamison, Gilbert Arenas, Caron Butler and the short era of Rashard Lewis all packing via trade.
In that time, only one player has remained with the Wiz, that being Wall.
Still the fourth-youngest player on the Wizards' current 19-man roster, it is time for Wall to take a leadership role.
He is, after all, the best player on the team.
Considering the abysmal 4-28 start the Wizards got off to without Wall in the lineup, it is hard to argue they are a functioning team without him on the floor.
The proof is right there for every other player on the Wizards. Without Wall, they are directionless, passionless and lacking athleticism.
They're a below-average team.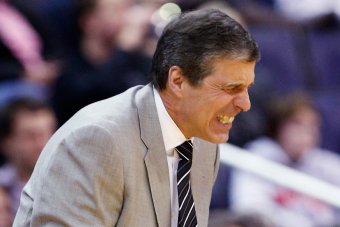 Rob Carr/Getty Images
Once Wall returned to the lineup, Washington gained some respectability. It climbed out of the basement of the NBA and into a higher tier of basement. Now the Wizards know they are capable of better.
It goes without saying that a healthy Wall is crucial for fans, management and the team's expectations. Wall played a full season in the lockout-shortened 2011-12, and he will hope to repeat the feat in 2013-14, albeit an 82-game rather than 66-game season.
So long as Wall stays on the floor, he will be the unquestioned leader of the Wizards, a role that inherently requires more than just solid play.
It will be interesting to see how vocal Wall becomes on the court and in press conferences once the regular season beings. He will have to respond to questions positively once the Wiz are facing strong competition night in and night out.
Recruit a Friend or Two
In today's NBA world, there is power in numbers.
Once LeBron James started a campaign for Chris Bosh and himself to join forces with then-superstar Dwayne Wade in Miami, a new standard was set for groundbreaking offseasons.
Just this past offseason, the recruiting tactic was in full effect. James Harden and Dwight Howard united for the Houston Rockets over the potentially unstoppable pick-and-roll the duo could combine for.
Even more obvious was the Los Angeles Clippers, who acquired former Boston head coach Doc Rivers for the sole purpose of keeping point guard Chris Paul in town.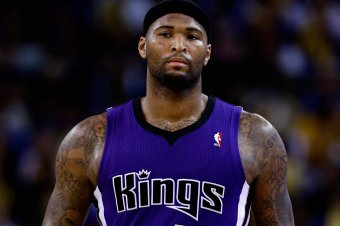 Ezra Shaw/Getty Images
Both of these teams utilized their star players as a means of attracting more talent, a strategy Wall and the Wizards should certainly look into if they want to compete down the road and for a championship.
A name that would be an interesting option is the aforementioned Sacramento Kings DeMarcus Cousins.
Cousins played at Kentucky with Wall, and as Carla Peay of The Washington Post writes, the two have a brother-like bond.
With friendships being more important than ever right now in the NBA, the possibility of Cousins coming to Washington is not out of the question.
The team needs a big man, as both Emeka Okafor and Nene Hilario are reaching the twilight of their careers.
Though talks of a contract extension between Cousins and the Kings have started, as Jason Jones of The Sacramento Bee notes, there is no guarantee Sacramento will offer the big man the max contract he likely desires.
If talks fail, Cousins will be a restricted free agent after the 2013-14 season.
Better get on the horn with your buddy DeMarcus, John Wall. Time is of the essence.
Conclusion
The day a franchise takes a player No. 1 overall, it has big aspirations for that selection.
When the Wiz made Wall that selection on June 24, 2010, they did it with the hopes he would soon be joining the elite players at his position.
Wall is still very young, with a wide array of talents and limitless potential. Parker may have the rings, while Paul and Irving have the commercials, but Wall has the opportunity to create his own legacy.
It all starts in 2013-14, the first year of his max contract.
And the first year of having full control of his team's destiny.
This article is
What is the duplicate article?
Why is this article offensive?
Where is this article plagiarized from?
Why is this article poorly edited?

Washington Wizards: Like this team?