2014 NFL Draft: Underclassmen with Most to Gain from Huge 2013-14 Campaign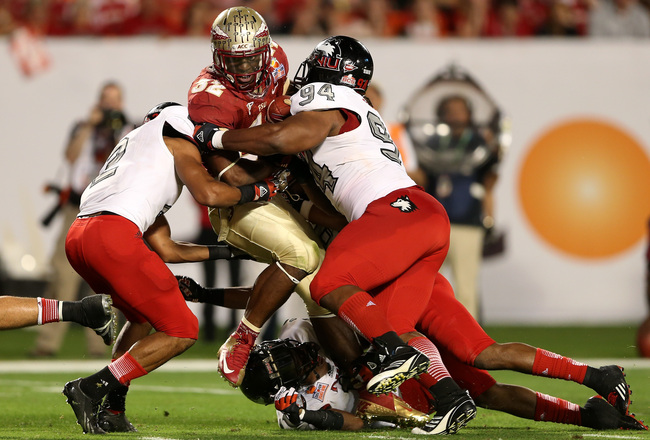 Streeter Lecka/Getty Images
The big names for the 2014 NFL Draft are quite clear. Seniors like quarterback Tajh Boyd and offensive tackles Jake Matthews and Taylor Lewan headline the class.
However, other big names are underclassmen. Jadeveon Clowney and Teddy Bridgewater are already being touted as top-five draft picks heading into their junior years.
For every Clowney and Bridgewater, however, there are many other sophomores and juniors who are under the radar, players who could very well be first-round draft picks if they have big college years and get noticed.
Those players listed here could make huge strides this college football season, and if that's the case they may hear their names called on day one of the draft in 2014.
All rankings are from CBS Sports, all stats are from ESPN
Brett Hundley, QB, UCLA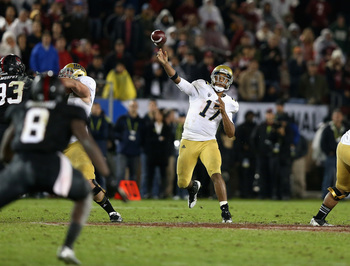 Ezra Shaw/Getty Images
There is one sophomore quarterback out there that could evolve into a great quarterback prospect this upcoming season, and perhaps surprisingly, the quarterback's name is not Johnny Manziel.
Brett Hundley had a nice redshirt freshman year that went under the radar. He completed two-thirds of his passes for 3,745 yards and had 29 touchdowns with 11 interceptions. More importantly, he has NFL size and can run if needed.
UCLA is ranked to start off the season, so Hundley is going to be someone on the radar of scouts. He can throw the ball quickly and is easily able to make decisions, but he is used often in the shotgun. Ideally he will see more time under center to boost his draft stock.
If he improves further his sophomore year, then he could be an early-round possibility, or could even start paving the way for a first overall selection in the 2015 NFL Draft.
James Wilder Jr., RB, Florida State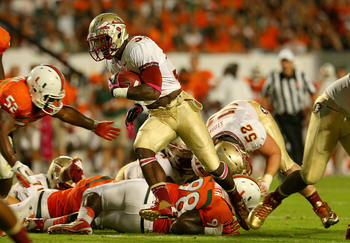 Mike Ehrmann/Getty Images
In a running back draft class that's going to be filled with small, speedy guys, Wilder is the bigger back who can take a bit and stay on his feet.
With Lache Seastrunk, DeAnthony Thomas and Ka'Deem Carey all getting close looks for their speed, Wilder has been under the radar as the fourth-best back according to CBS Sports. This comes after a rather unimpressive season of 635 yards.
What that means, however, is that if Wilder can have a breakout season and easily pass that 1,000 yard mark, scouts will take notice. At 6'1" and 226 pounds, he's the only guy in the early rounds that has that NFL size and can withstand tackles from the opposing defenders.
If he's unable to supplant Devonta Freeman and they end up splitting carries, then that could be an issue. With the graduation of Chris Thompson, however, we will be seeing more of Wilder either way, and that could be great for him if he can show he can handle the workload.
Malcolm Mitchell, WR, Georgia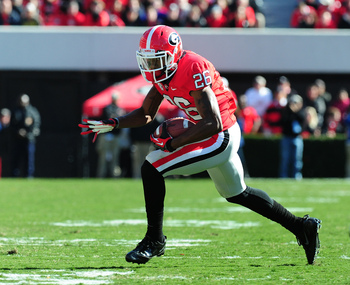 Scott Cunningham/Getty Images
For all the hype that Marqise Lee and Sammy Watkins have gotten at the wide receiver position heading into this season, they are not in the best position to make an impact at the college level. Granted, they don't need to as they are already top prospects.
Malcolm Mitchell of Georgia, however, does need that boost. What is good news for him is that not only is Georgia slated to be a top team this year, but he has a high-octane quarterback in Aaron Murray who will feed him the ball plenty this year.
With the graduation of top target Tavarres King, Mitchell should have a breakout season after having 1,200 yards split over two seasons in his career. More importantly, he's a player who is explosive and can contribute as a kick returner as well.
Being a converted cornerback helps as well, since he understands those trying to cover him, and can use that to his advantage. If he's able to break the 1,000-yard mark and showcase himself on the national level, he should have little difficulty being a first-round pick.
Aaron Lynch, DE, South Florida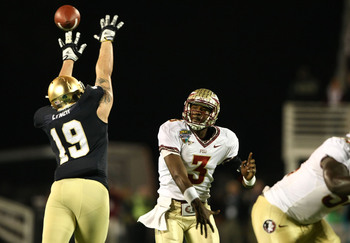 Douglas Jones-USA TODAY Sports
It's actually impressive that Aaron Lynch has been making waves to begin with, given that he did not play last year after deciding to transfer from Notre Dame to South Florida.
Nonetheless, the fourth-ranked defensive end in the class put up 5.5 sacks as a true freshman, so he has already shown ability. With South Florida, he won't be hidden away behind Louis Nix III and Stephon Tuitt, both of whom will likely go in the top half of the first round.
At South Florida, he will be the big man on the line, and will be able to put up big numbers to get himself noticed further. He's a great size at 6'5" as well, but ideally he will bulk up a bit from 248 pounds, as his size-speed combination is not ideal, and he is susceptible to having a poor combine as a result.
Yawin Smallwood, ILB, Connecticut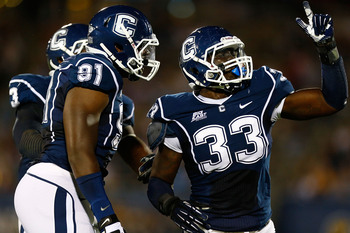 Jared Wickerham/Getty Images
Sio Moore and Trevardo Williams turned good years at Connecticut into mid-round draft selections. Yawin Smallwood, meanwhile, returned to Connecticut, and may already be better than both of them at the linebacker spot.
In 2012, Smallwood has 15 tackles for loss, 3.5 sacks, and a team-leading 120 tackles. He has good NFL size as well at 6'2" and 244 pounds, and with the other two linebackers now in the NFL, he can really showcase himself next year.
There are things he does have to work on heading into his junior year. He tends to overrun and has issues with awareness, but those are fixable issues, and with a good season he could be drafted much higher than expected.
Marcus Roberson, CB, Florida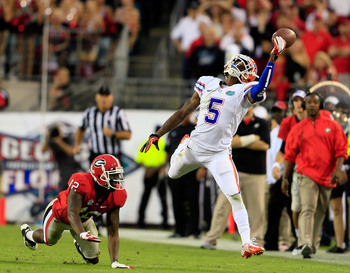 Sam Greenwood/Getty Images
Florida is again loaded at the cornerback position. In fact, both starters could possibly go in the top three cornerback selections in the 2014 draft, even 1-2.
Loucheiz Purifoy has the shutdown cornerback moniker sewn up, and even if he doesn't have an interception, he will be drafted early due to his skill set. Teammate Marcus Roberson, however, has a bit more work to do.
Purifoy may be the more physical corner, but Roberson is the one with the instincts, totaling 12 pass deflections last year to go with two picks. His abilities should allow for more interceptions than he is getting, however.
If he can not only improve on his skills but add a few interceptions to his career total, scouts will notice him, and he will go from a day two selection to being yet another Florida cornerback drafted in Round 1.
Keep Reading