Comparing Barcelona and Real Madrid After the Arrival of Gareth Bale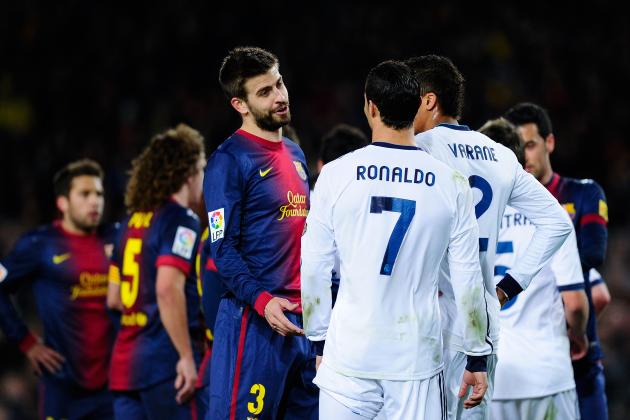 David Ramos/Getty Images

After a long and eventful summer, a lot has changed in Spain, if not amongst the big two as Barcelona and Real Madrid again prepare to dominate La Liga.
The changes that have been made, however, could well shape the season for the Clasico duo. With reports now making it official that Gareth Bale has joined Real Madrid, things could become more interesting than ever before.
So, assuming that the clubs will not complete any further transfers ahead of Monday's deadline day, who has the better squad this season?
In this article we will compare both clubs by position and decide just who has the best chance of winning La Liga this season.
Note: All player statistics from last season are courtesy of the ESPN player database.
Begin Slideshow

»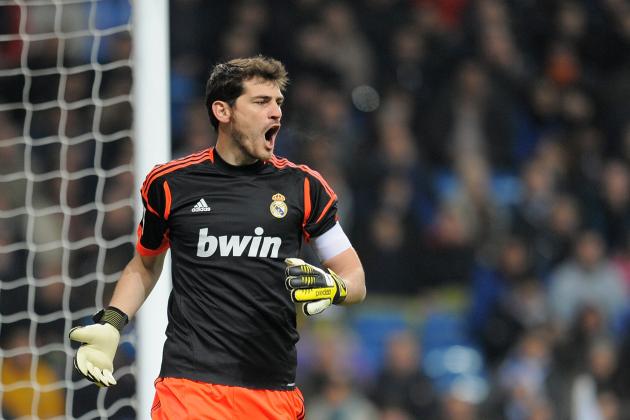 Denis Doyle/Getty Images

At the moment, Real Madrid has a very good problem in that the club currently has two extremely good keepers in the squad. Iker Casillas has long been considered the best in the world, but the recent form of Diego Lopez has seen him take the starting role for Los Blancos.
According to a statistical analysis from uk.eurosport.yahoo, Lopez enjoyed a save percentage of 73.3 last season while Casillas recorded a percentage of 64.58.
Carlo Ancelotti will be facing this issue all season long as neither keeper looks likely to drop form as they compete with each other.
At Barcelona, things are a bit different.
Victor Valdes remains the sole holder of the starting position while Jose Pinto will again feature as backup to the Catalan. On his day, Valdes can look as good as any keeper in the world, but that doesn't happen very often.
The 31-year-old is known for making costly mistakes, but on the other hand, his heroics have bailed Barcelona out on numerous occasions.
Real Madrid has the edge here. Valdes may be a very good keeper, but the dynamic duo in Madrid are just too strong.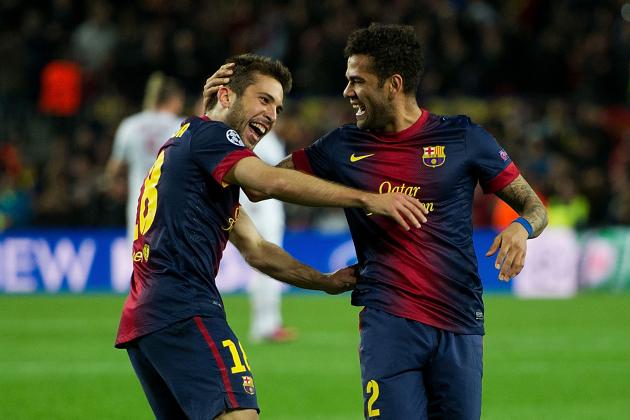 Gonzalo Arroyo Moreno/Getty Images

In Barcelona's defensive line, the full-backs are basically wingers. That can be both a great thing and a terrible one at the same time.
Regular starters Dani Alves and Jordi Alba contributed two goals and 11 assists between them last season in La Liga alone and will likely continue the trend this year. But backups Adriano and Martin Montoya are also capable defenders who have a knack for getting forward.
Real Madrid's full-back pair may not be as offensively focused as those at Barcelona, but they would not be considered traditional defenders either.
Last season, Alvaro Arbeloa was clearly the weak link in the Madrid defense, while Marcelo featured very rarely due to injuries. The pair will likely see the bulk of the action this season, but have never looked comfortable when on the pitch together.
Daniel Carvajal could possibly take the starting role away from Arbeloa, but at this point there is no real insurance policy if Marcelo were to go down.
Barcelona has to win this contest. With four quality full-backs capable of causing mayhem and Real Madrid's squad not fully set at this position, there isn't much room for error.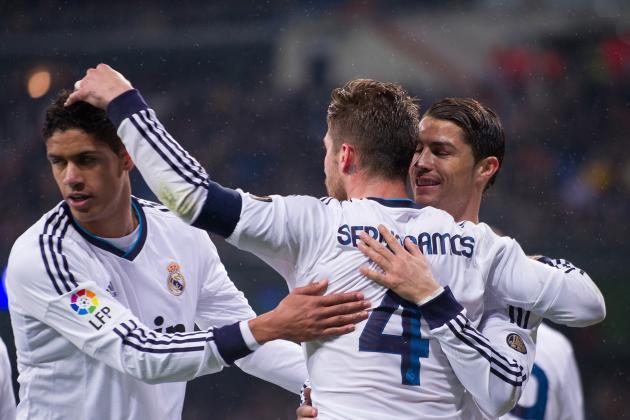 Denis Doyle/Getty Images

What Real Madrid lacks in full-backs, the Spanish club more than makes up for in pure center-backs. From a World Cup winner in Sergio Ramos to one of the most exciting young defenders on the planet in Raphael Varane, Los Blancos have much to boast about.
Carlo Ancelotti still has veteran Portuguese defender Pepe to consider for his lineups as well as youth product Nacho.
That depth of choice in the position is exactly what Barcelona lacks at this present moment.
La Blaugrana can only really count on La Masia graduate Gerard Pique, who has not showed his best form over the past year.
Javier Mascherano seems to be first choice to start alongside Pique this season, but it should not be forgotten that he is naturally a defensive midfielder.
Mascherano's defensive positioning has cost the club on several occasions, but there isn't much of an option with 22-year-old Marc Bartra still learning the trade and captain Carles Puyol having just returned from knee surgery.
Real Madrid have the best options in this position. In fact, unless Barcelona can bring in a new player to pair with Pique, this could be a very long season for the Catalans.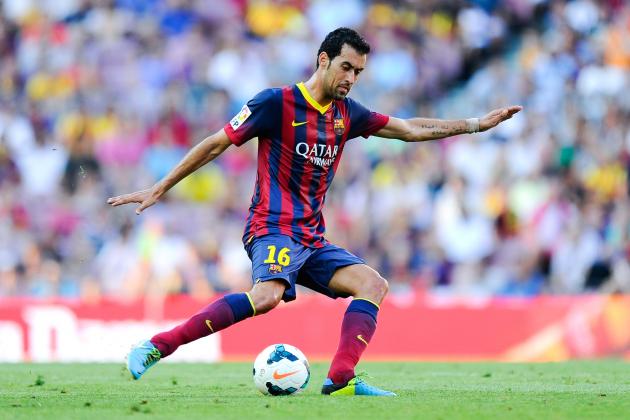 David Ramos/Getty Images

This is not an easy comparison: Barcelona always features one player behind the attackers, while Real Madrid regularly opts for a double pivot.
Barcelona's Sergio Busquets is considered by many to be the very best in the world at his position. He has won multiple trophies and has a knack for reading the game in a way that no one else can.
The Catalan midfielder is vitally important to Barcelona's tiki-taka system. Perhaps he is the even the most important player in the Barcelona squad.
Real Madrid's double pivot, on the other hand, is quite different from the role played by Busquets.
Xabi Alonso and Sami Khedira have been paired up for several seasons now, but newcomers Luka Modric and Asier Illarramendi will try to earn their place in the starting lineup this season. There are many different options for Carlo Ancelotti—and they are all good.
In recent seasons, Real Madrid has found success difficult without Alonso: he is able to dictate play rather than provide a defensive option. With Illarramendi being in the same mold and Modric seen as more of a creator, Khedira may be the only real defensive midfielder in the squad.
When it comes down to it, Barcelona edges out in this category. Busquets is just too good at what he does and has been the engine through which La Blaugrana have found success.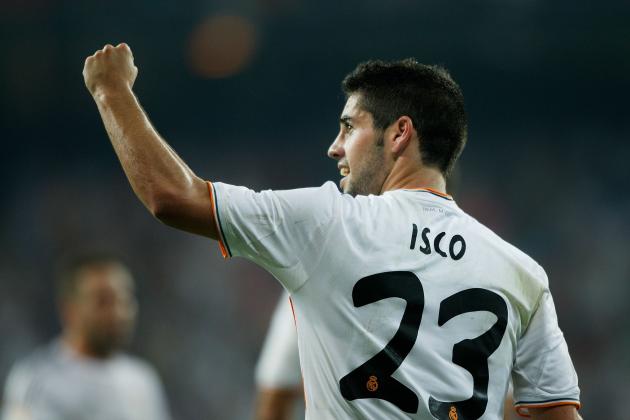 Gonzalo Arroyo Moreno/Getty Images

Nobody comes out on top in this category: Both clubs have vastly different midfielders who do unique jobs and make comparisons impossible.
In the case for Real Madrid, Mesut Ozil was in blistering form as he racked up 35 assists across all competitions last season. While Ozil does not provide much of a scoring threat himself, newcomer Isco certainly does.
Isco has already scored three goals this season, but his ability to create chances is nothing to scoff at, either.
For Barcelona, the midfield role is completely different. Rather than scoring goals or being purely creators, those wearing the Blaugrana shirt are tasked with keeping possession and building up play.
The world is aware of the strengths of Xavi and Andres Iniesta, who partnered together to lift the 2010 World Cup—and not much has changed.
Xavi may have lost a bit of pace, but he is still very much the brains of Barcelona. Iniesta, on the other hand, has actually improved in recent seasons and remains the standout player for the Catalan club besides Lionel Messi.
But Barcelona is also lucky to have Cesc Fabregas in the squad: the 26-year-old has been in tremendous form this season, having already earned two assists as the most creative player in the Blaugrana midfield.
Due to the different styles of play and unique roles, it is impossible to say which midfield pairing is better. They are both incredible and certainly fun to watch.
Ian Walton/Getty Images

This season is definitely going to be the season of the winger for Barcelona and Real Madrid. With La Blaugrana now sporting Brazilian Neymar and Gareth Bale making his way to Madrid, it will be an all-out war in the position.
We have already caught a glimpse of what Neymar brings to Barcelona. His pace and trickery makes him very difficult to defend, while he seems to be slowly learning the Barcelona way.
Barcelona does have other options out wide: Cristian Tello, Pedro and Alexis Sanchez are all capable wingers with different skill sets, but should not be considered goal scorers.
Now that Bale will officially be wearing the Real Madrid shirt, things will change drastically. Though there is no telling at this point exactly how he will be used at Real Madrid, he will have a massive impact on the club and its opponents.
Expect Bale to score a lot of goals and be a headache for defenders all season.
If that is where our comparison ended, it would be difficult to call a winner for the winger position. But let us not forget that Cristiano Ronaldo is still the man at Real Madrid.
The deadly attacker is one of the most feared goalscorers in the world: A pairing of Ronaldo and Bale gives Los Blancos the edge.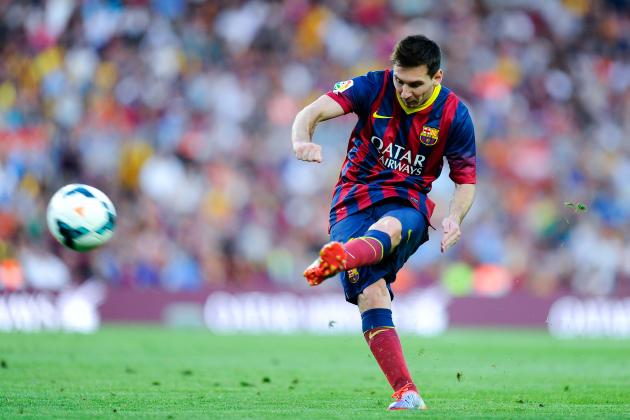 David Ramos/Getty Images

There really is no debate in this position: Lionel Messi remains the best player in the world and could be the greatest of all time.
He is the heart of Barcelona and the catalyst that drives the Catalan machine. He will again be the difference-maker for Barcelona: Success will not come without the Argentina international.
Real Madrid, however, is not that strong up top.
Karim Benzema has been struggling for form for quite some time now, while youngster Alvaro Morata is not ready to have a massive influence on the club just yet. When compared to Messi, the outcome is simple.
The arrival of Bale could see Ronaldo pushed forward as striker. If that is the case, this argument would be much more extensive, but fans will have to wait and see just what Ancelotti has in store for the squad.
Looking at the two squads, one thing is clear: Both Barcelona and Real Madrid have incredible players and will have very successful seasons.
But success comes down to more than individual players—winning requires a committed team and a cohesive unit.
So who has the better squad? What will the arrival of Bale have on El Clasico? Who will win La Liga? Leave your thoughts and comments below!
Tre' Atkinson. Follow me on Twitter for more discussions on everything Spanish football.