The 15 Tastiest Cupcake Games of College Football Week 1
Steve Dykes/Getty Images
During the earliest weeks of the college football season, there are almost certain to be cupcakes all over the place.
Week 1 is has plenty to offer.
While there are certainly some excellent matchups between very talented teams, it is always fun to pick out those cupcake games with spreads higher than most can imagine.
But what games in Week 1 offer the tastiest cupcakes of them all? Oregon is always a favorite for this award, as are teams like Ohio State, USC and many others.
So, here are the 15 tastiest cupcakes of college football's opening weekend.
*Games, presented in EST, are selected based on predicted final score
No. 15: Rice vs. Texas A&M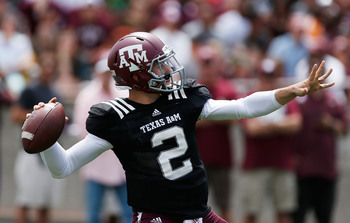 Scott Halleran/Getty Images
When: Saturday, Aug. 31, 1 p.m.
Starting off the list is Texas A&M against a Rice team that qualified for a bowl last season. It is not often that a cupcake game would include two bowl teams, but that is the case here.
This game has a lot of hype surrounding it because of Johnny Manziel.
Texas A&M is clearly the better team here, even though Rice did win seven games last season, including a bowl victory.
The Aggies are at home and could be a national title contender if Manziel stays on the field.
This is a game that could be ugly from the opening kickoff, as the Rice defense, which allowed 30 points a game last season does not appear to have the talent to hang with the Texas A&M offense.
Even with Manziel suspended for the first half, Texas A&M should have no trouble in this one.
Prediction: Texas A&M 49, Rice 17
No. 14: Wyoming vs. Nebraska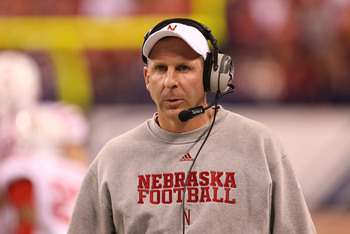 Leon Halip/Getty Images
When: Saturday, Aug. 31, 8 p.m.
Nebraska might have the most explosive offense in the Big Ten if quarterback Taylor Martinez can avoid turnovers.
With that being said, the defense could use some work after allowing 27.6 points a game last season.
Either way, beating Wyoming is not going to be an issue early on.
The Cowboys only won four games last season, finishing 3-5 in the Mountain West Conference.
The Nebraska offense will just have too much at home for Wyoming.
Prediction: Nebraska 48, Wyoming 17
No. 13: Northern Arizona vs. Arizona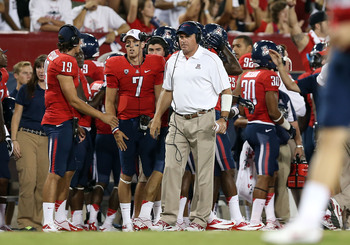 Christian Petersen/Getty Images
When: Friday, Aug. 30, 10 p.m.
Northern Arizona finished fourth last season in the Big Sky with a 6-2 league mark. The Lumberjacks were also 8-3 overall.
Arizona on the other hand had a solid season under first-year head coach Rich Rodriguez. The Wildcats finished the season 8-5, but struggled defensively allowing 35.3 points a game.
They will rely heavily on the run once again, as the nation's leading rusher Ka'Deem Carey returns. He will have to carry an even heavier load with quarterback Matt Scott having moved on.
Beating Northern Arizona will not be a problem in the opener. The Lumberjacks have nowhere near what it takes to slow down the Wildcats offense.
Prediction: Arizona 48, Northern Arizona 17
No. 12: Wofford vs. Baylor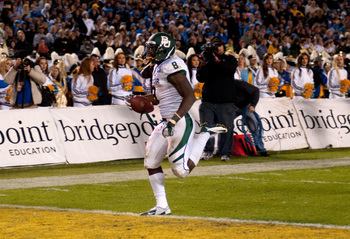 Kent Horner/Getty Images
When: Saturday, Aug. 31, 7:30 p.m.
Wofford always seems to have a solid program at the FCS level, but it is going to take a miracle to slow down the rushing attack of Baylor and knock off the Bears.
Last season Wofford was 9-4, finishing in a three-way tie for first place in the Southern Conference.
This year Baylor will have a new quarterback in Bryce Petty, but talented running backs Lache Seastrunk and Glasco Martin return to form one of the top backfields in the nation.
No question that the Bears will be putting some points up in this one. Expect at least a four-touchdown blowout victory for Baylor.
Prediction: Baylor 45, Wofford 14
No. 11: Morgan State vs. Army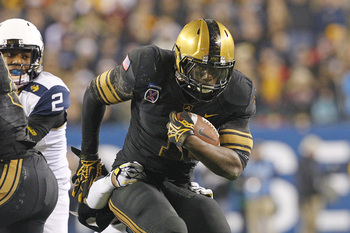 Hunter Martin/Getty Images
When: Friday, Aug. 30, 7 p.m.
This Friday night matchup is a battle between Morgan State and Army.
It might not seem like a tasty cupcake, but with how bad Morgan State is, this game is going to be ugly.
The Black Knights are coming off an awful 2-10 campaign, but Morgan State only managed three wins last season as a member of the MEAC.
Army led the country in rushing yards per game last season at 369.8, but struggled defensively, allowing 35.3 points a game.
It could be a long season once again for Army, but the Black Knights have plenty of talent to take down Morgan State in the season opener.
Prediction: Army 45, Morgan State 13
No. 10 Sacramento State vs. San Jose State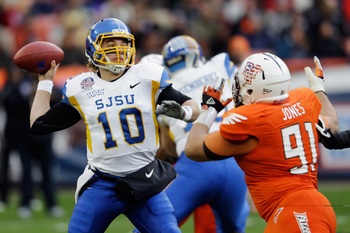 Rob Carr/Getty Images
When: Thursday, Aug. 29, 10 p.m.
This is certainly not the conventional cupcake game, but San Jose State is one of the best teams out west and a perennial top-25 power.
The Spartans were another of the surprise teams in the country last season, finishing the year 11-2. The team was led by the play of quarterback David Fales. The junior college transfer finished the season with 4,193 yards passing and 33 scores.
He will have no problem carving up a Sacramento State defense that does not have the talent in the secondary.
The Hornets won six games last season as a member of the Big Sky, but will be no match for San Jose State in this one.
Prediction: San Jose State 48, Sacramento State: 14
No. 9: USC vs. Hawaii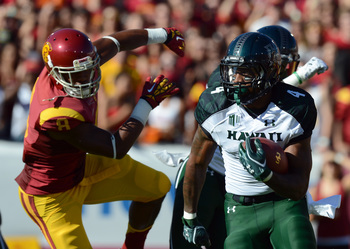 Harry How/Getty Images
When: Thursday, Aug. 29, 11 p.m.
This is the kind of game that USC could use to get the season started off on the right foot.
Even though it is on the road for the Trojans, this one still has cupcake written all over it.
The Trojans are a heavy favorite against a Hawaii squad that only won three games a year ago. While USC also struggled, not nearly to the extent the Warriors did.
Even with the quarterback situation still up in the air at USC, there is no question that this is going to be a blowout from the start.
Expect a huge night from wide receiver Marqise Lee for the Trojans.
Prediction: USC 49, Hawaii 14
No. 8: Murray State vs. Missouri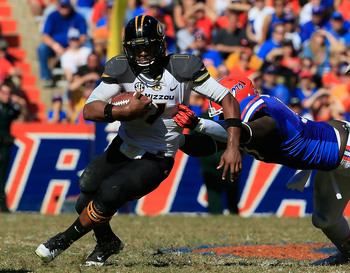 Sam Greenwood/Getty Images
When: Saturday, Aug. 31, 7 p.m.
Missouri struggled to a 5-7 mark in 2012, but a lot of that had to do with the injury to quarterback James Franklin, as well as the transition to the SEC.
This year head coach Gary Pinkel and his squad should be a little more prepared.
Whether or not they are prepared should not matter as Murray State is not going to pose too much of a threat.
The Racers only won five games last season and finished sixth in the Ohio Valley Conference.
This one should be a blowout from the beginning.
Prediction: Missouri 48, Murray State 13
No. 7: William & Mary vs. West Virginia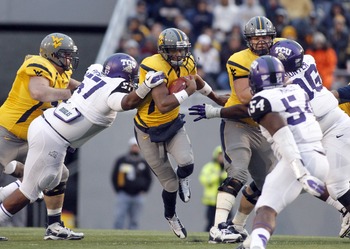 Justin K. Aller/Getty Images
When: Saturday, Aug. 31, 12 p.m.
West Virginia appears to be in a bit of a rebuilding mode, as the Mountaineers lost a lot of talent from last year's squad.
The running game will be the concentration this year with the likes of Andrew Buie, Dustin Garrison and Houston transfer Charles Sims all getting plenty of touches.
After a 7-6 record in 2012, West Virginia might struggle to reach a bowl game in 2013.
William & Mary on the other hand only won two games last season, including one victory in the Colonial Athletic Association.
This one could be one of the most lopsided games of the entire first week. The Mountaineers are no stranger to putting points on the board, particularly against teams like William & Mary.
That is likely to be the case in this blowout.
Prediction: West Virginia 45, William & Mary 10
No. 6: Elon vs. Georgia Tech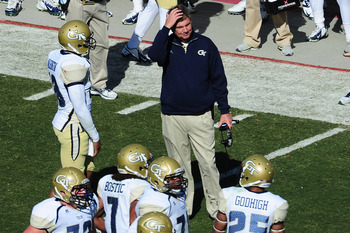 Scott Cunningham/Getty Images
When: Saturday, Aug. 31, 12 p.m.
The first game of the day on Saturday appears to have cupcake written all over it.
Georgia Tech is coming off a 7-7 season and will be welcoming a new quarterback to the fold in Vad Lee. He will lead an offense that loves to run the football.
Elon is a FCS member out of the Southern Conference. The Phoenix only managed to win three games all of last season.
No question that this one could be a huge blowout, even with a transition at quarterback for the Yellow Jackets.
Prediction: Georgia Tech 45, Elon 7
No. 5: Buffalo vs. Ohio State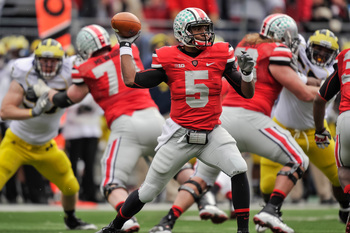 Jamie Sabau/Getty Images
When: Saturday, Aug. 31, 12 p.m.
Ohio State appears to be one of the most complete teams in the country. The Buckeyes open up the season against Buffalo out of the MAC.
This could be one of the biggest blowouts of the week, as Ohio State just has too much talent on the offensive side of the ball to even be slowed down by the Bison.
Buffalo did show some improvements, winning four games last season, but the Buckeyes will have no problem forcing turnovers and turning them into points.
Expect a lot of starters to be on the bench midway through the third quarter in this one.
Prediction: Ohio State 48, Buffalo 10
No. 4: Austin Peay vs. Tennessee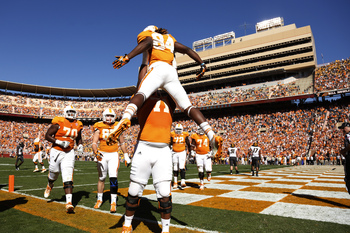 Joe Robbins/Getty Images
When: Saturday, Aug. 31, 6 p.m.
It was certainly a struggle last season for Tennessee. The Vols only won five games, including a 1-7 mark in the SEC.
New head coach Butch Jones will be looking to change that tune, but he is going to have to find replacements for all his skill position players.
That is easier said than done, but against a team like Austin Peay, it certainly should not be a problem.
The Governors were 2-9 last year and finished in last place in the Ohio Valley Conference.
Look for a blowout win by the Vols.
Prediction: Tennessee 49, Austin Peay 10
No. 3: New Mexico State vs. Texas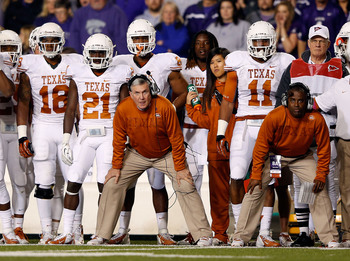 Jamie Squire/Getty Images
When: Saturday, Aug. 31, 8 p.m.
Texas might be as talented as it has been in quite some time. The Longhorns kick off the season against New Mexico State.
The Aggies only won one game last season. Needless to say, it could be a long night for the Aggies the first game of the season.
This one could be over even before it starts. With the offensive firepower Texas possesses, the Aggies simply do not have an answer.
Texas should have no problem rolling through New Mexico State in this one.
Prediction: Texas 52, New Mexico State 7
No. 2: Massachusetts vs. Wisconsin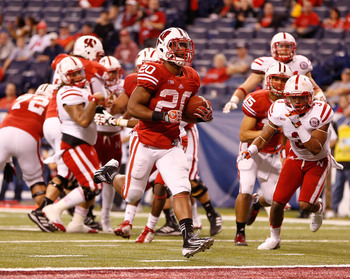 Gregory Shamus/Getty Images
When: Saturday, Aug. 31, 12 p.m.
Massachusetts struggled big time during its first season at the FBS level in 2013. The Minutemen only managed to win one game last year, but should be slightly better in 2013.
Offense was the problem for UMass, as it only averaged 12.7 points a game, ranking last in the nation. Defense was not much better either, allowing 40.2 points a game, ranking 121st.
Wisconsin on the other hand is one of the top rushing teams in the country. The Badgers will be able to control the game from start to finish with that rushing attack.
After an 8-6 campaign in 2012, the Badgers should be even better this season.
Even though UMass is a MAC school and not a FCS team like a lot of the conventional cupcakes, this one is still going to be a huge blowout.
Prediction: Wisconsin 56, Massachusetts 7
No. 1: Nicolls State vs. Oregon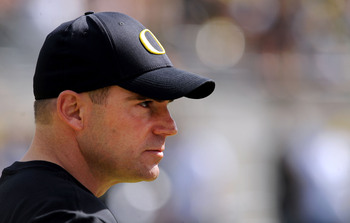 Steve Dykes/Getty Images
When: Saturday, Aug. 31, 4 p.m.
No question what the top game on this list is.
There is little doubt that this will be the biggest blowout of the opening week. With the exception of possibly Alabama, Oregon might just be the most talented team in the country.
No offense possesses the weapons that Oregon does. The Ducks are one of the odds on favorites to win the national championship.
Nicolls State is a member of the Southland Conference. The Colonels only managed to win one game last season.
That speaks for itself. Oregon will win this one rather handily. Expect the Ducks to be knocking on the door of 50 points in the first half.
Prediction: Oregon 70, Nicolls State 7
Keep Reading