Hull City vs. Norwich City: 5 Things We Learned from Defeat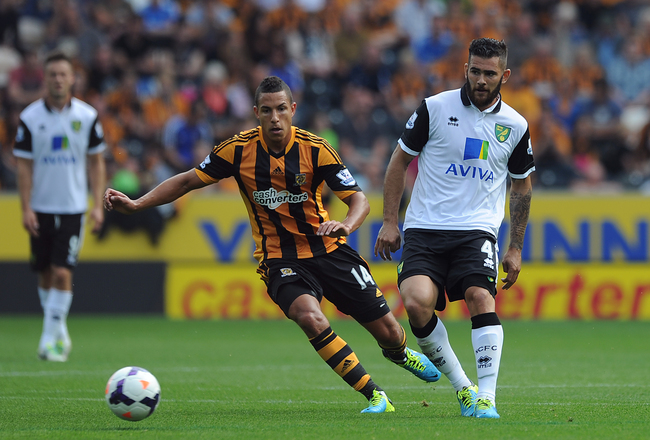 Chris Brunskill/Getty Images
The 1-0 defeat that the Canaries suffered against Hull City on Saturday seems like an age ago now, but let's have a little look back at the game and consider some of those things we learned about Norwich. It's often said that more is learned in defeat than in victory, so this could prove to be quite interesting.
Nevertheless, the key thing for the club to remember is to get the game out of their minds and move on to more positive results in the future. It's safe to say that playing against 10 men for much of the game added to the disappointed feeling that fans felt afterwards.
So, sit back, relax and enjoy my latest Norwich City themed slideshow.
Should Robert Snodgrass Have Started the Match?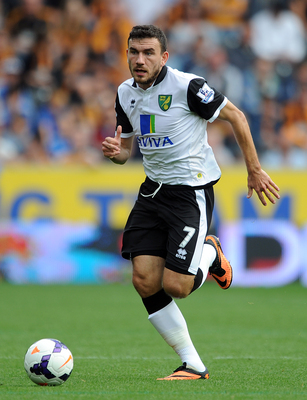 Chris Brunskill/Getty Images
I'm not privy to any information on Robert Snodgrass' state of fitness, but the decision to play Jonny Howson on the right side of midfield was a very odd one. Anyone that has read my stats articles will know that I am a big fan of the Scottish winger. It remains to be seen if he will be our best attacking outlet this season—but he certainly was last season.
He did miss the previous match with Everton, so maybe Hughton just didn't think he would last 90 minutes. It's also fair to say that Elliott Bennett's injury did cause the manager a problem. If there are serious fitness concerns over Snodgrass and Anthony Pilkington, then the manager may be forced to do something in the transfer market before the window closes. However, we did at least learn that Howson on the right wing doesn't really work.
Nathan Redmond Is Quickly Establishing Himself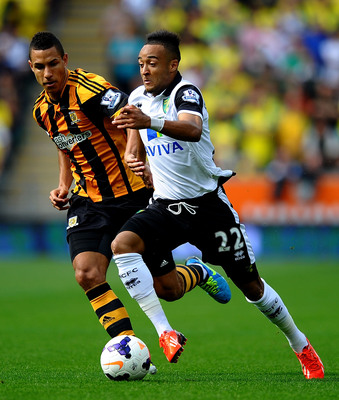 Laurence Griffiths/Getty Images
I think Nathan Redmond has proved to be our most impressive summer signing so far. Stats on the game from Who Scored shows that Redmond was the most prolific player for dribbles and shots, both standing at four.
It's fair to say that his decision making may let him down at times, but no one can question his eagerness to make things happen. Hughton worked with the player at Birmingham and will have known all about his abilities, and it's clear that those abilities belong in the Premier League. Norwich City will have quite a player on their hands if he can keep playing to this level of consistency.
Possession and Passing Isn't Everything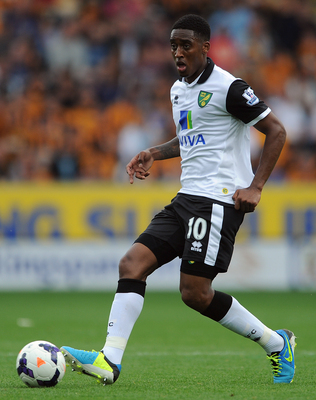 Chris Brunskill/Getty Images
Those of us that have looked into the stats will have seen that things were quite impressive from Norwich's point of view. Stats from Who Scored again showed 61 percent of possession and a passing accuracy of 85 percent. Also, Norwich played 541 short passes in the game, which was the most of any Premier League side over the weekend.
However, the key thing is they didn't use the ball as well as they should have. Possession was lost cheaply at times and penetrative passing seemed to be lacking. This is clear from the majority of shots at 77 percent coming from outside the box. The previous week, Norwich were outfought for possession against Everton—but seemed to use the ball a lot the better. The lesson here is finding the right balance between sustained periods of ball retention, but also creating good opportunities with it.
We Need to Work a Little Harder to Create Opportunities for RvW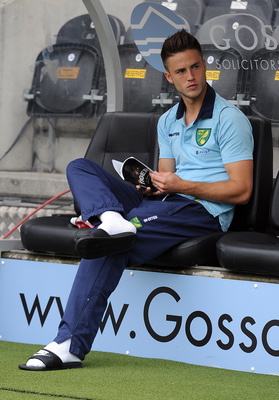 Chris Brunskill/Getty Images
It's clear that Ricky van Wolfswinkel is a very clinical striker and the one time we put in a quality cross, he met the ball with a firm header that was on target and took a fine safe to keep it out. The problem was we didn't do enough of that over the course of the 90 minutes despite playing against 10 men for much of it.
There were 21 crosses attempted by Norwich during the match, which is below the season average from last season. This might be partly to do with the fact that Snodgrass didn't play the entire match, as this tends to be an area where the Scottish winger excels.
The Team Needs Time to Gel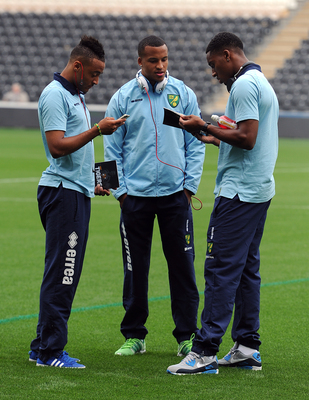 Chris Brunskill/Getty Images
I know this is the excuse managers will always come up with when their side makes a bit of a slow start to the season. However, it was evident against Hull that the Canary machine isn't quite going the way it should be. It's important to remember that we have signed a lot of new players, and they will need time to gel.
Aside from that, Hughton has also yet to have the opportunity to play what many would consider to be his strongest team. Obviously, spending £25 million in the transfer market is going to put any manager under pressure. But we need to see how we are performing 10-12 games into the season rather than now.
Follow James Kent on Twitter and Facebook.
Keep Reading