You'd think that a video game that is released annually over the course of a quarter century would get stale at some point, but Madden continues to buck that assumption.
Madden 25, which is released in stores on Tuesday, is just another pleasant reminder of that fact.
Even as consoles continue to grow—Madden 25 will be released on the PlayStation 4 and Xbox One this year—graphics can only improve so much. At some point, the visual aspect can only improve on a very gradual level.
It's a little difficult to make something look better than real life.
Nevertheless, Jack Devries over at IGN.com raves about the physics and the look of the game:
The Infinity Engine 2 physics got a lot of tweaking, and players look more realistic than ever in action. Each tackle feels and looks different, with players tumbling to the ground in myriad ways, but this year they do it without the crazy splaying legs and linebackers comically tripping over a downed receiver after a play. The cartoonish goofiness that took us out of the experience is gone, and Madden feels one step closer to replicating the look and feel of a real NFL broadcast.
Let's face it—gamers are spoiled.
Video games are inherently awesome, but whenever people pick up a sports game that costs 60 big ones, they are expecting it to feel like a real Sunday experience minus the helmet-to-helmet hits.
Luckily, it sounds as though the creators of Madden 25 have taken yet another step towards granting that wish.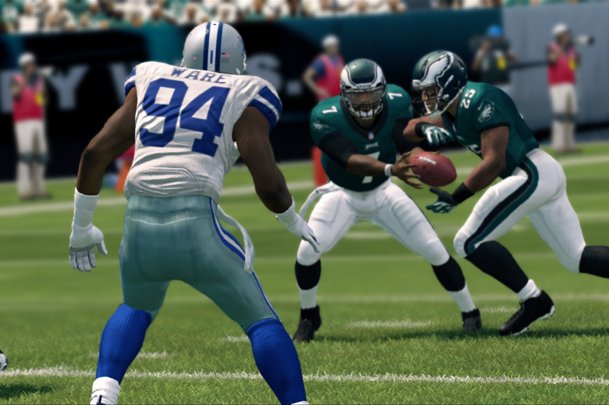 But while it's always encouraging to hear good news regarding the physics, graphics, look and presentation of a game, it's the gameplay that has most critics talking about Madden 25.
Most notably, the completely overhauled running game is what is drawing the most buzz.
EGM's Marc Camron discusses how it could change the Madden series:
The game's new running system, dubbed "Run Free," takes a game that's always been more heavily weighted toward the pass and balances it out like never before. Even if your team has a quarterback with a last name like Manning or Brady, a solid ground assault is the foundation upon which great offenses are built.
Camron notes that with more than 20 new juke moves, breaking a long run now takes much more skill than it does luck.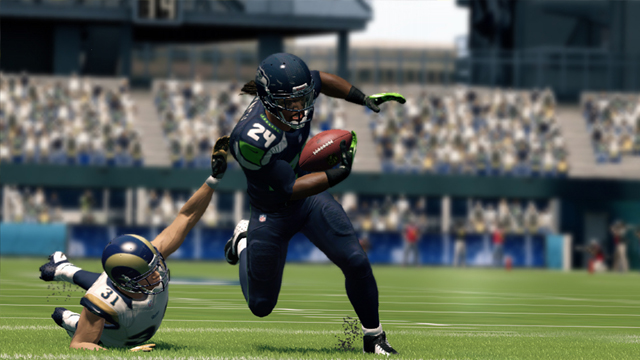 Moreover, USA TODAY's Brett Molina explains that the playbooks have been expanded, most notably with the addition of the read-option.
Although the NFL is increasingly becoming more known as a "passing game," there's very little question that elusive, speedy quarterbacks like Cam Newton, Robert Griffin III, Colin Kaepernick and Russell Wilson have truly changed how teams have approached the game in the last two years.
Are you going to buy Madden 25?
It was a necessity that the new video game represented those changes, and it sounds as though it does.
With the combination of an improved, balanced, strategic-driven gameplay and more realistic graphics, it's hard not to be pumped about the release of the famous football game.
It's also not exactly difficult to see why it's already getting glowing—8.5 out of 10 from Devries, 9.0 out of 10 from Camron, 3.5 out of 4 from Molina—reviews.