Another tournament, another injury for Tiger Woods.
This time the injury is to his back, which sent him to his knees as he yanked his second shot on the 13th hole at The Barclays, the opening event for the FedEx Cup playoffs.
The oft-injured Woods, who had just come off an elbow strain that hindered him at the U.S. Open, played through his back spasms to birdie two of the last three holes, which almost got him into a tie and a playoff with eventual winner Adam Scott.
It was reminiscent of his remarkable U.S. Open win at Torrey Pines in 2008, where he basically played on one good leg.
The 37-year-old Woods could easily be known as golf's comeback kid, having returned from problematic knees, the elbow strain and now looking to overcome his back pain.
Just how much will this latest injury affect his play? As the player with the most points in the FedEx standings, the No. 1 player in the world rankings and the winner of five events this year, Woods is the odds-on favorite to win the FedEx Cup and its $10 million prize.
It may not be a major, but it would solidify Woods as player of the year and add yet another title to his ever-expanding trophy case.
But is Tiger even able play his brand of aggressive golf in this condition?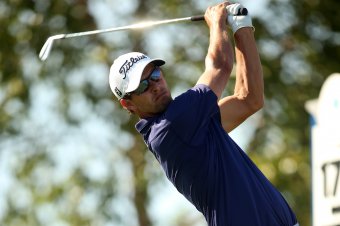 Darren Carroll/Getty Images
Will he sit out this week's Deutsche Bank Championship, resting on his 4,009 point total, 162 more than second place Scott, and then return later on?
Depending on how Tiger's latest injury to his back affects him, there could be an open door for a player to walk in and win the 2013 FedEx Cup.
As a reminder, the next two events—the Deutsche Bank and the BMW Championship—are each worth 2,500 points to the winner. The top-100 play in the Deutsche Bank, and then the top-70 play in the BMW.
After that, 30 players matriculate to the final Tour Championship by Coca-Cola where the points are reset to allow greater parity.
What happens if Tiger skips the Deutsche Bank?
If Tiger elects to sit out the Deutsche Bank Championship, he could still be in the lead in points at the end of the tournament.
Only 13 of the 70 players in the tournament have a chance to catch him.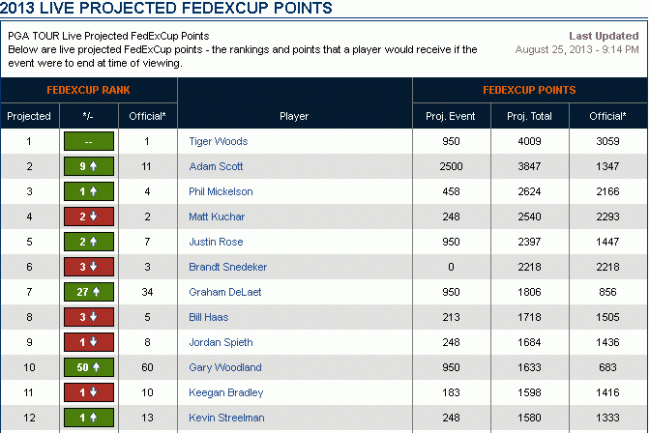 By sitting out, Tiger would have 18 days of rest and rehabilitation between the end of The Barclays and the beginning of the BMW Championship on Sept. 12. Think about it—18 days could do wonders for the 37-year-old Tiger, who could barely take a full swing on his final five holes Sunday.
So from a recovery perspective, Woods may seriously need to skip the Deutsche Bank. But doing so also means running the risk of top players like Scott, Phil Mickelson, Matt Kuchar and Justin Rose taking a giant leap in the standings. Remember, four out of the five top players in the world, including Woods, finished in the top five at The Barclays.
A win at next week's event for any of these top-seeded players will not only bring them closer to a FedEx Cup bonus of $10 million, but may also help them clinch the prestigious player of the year award. Woods, the 10-time POY, has a great deal to consider.
What happens if he drops out altogether?
Should Tiger take the conservative step and eschew the FedEx Cup entirely, who stands the best chance of winning?
Just the idea of Tiger making such a drastic decision seems to go against his history and nature. We have seen him wince so many times as he plays through pain on the course. As someone who has redefined fitness, Tiger is the one golfer we all expect to come back following an injury.
But should he go that route, there are plenty of players waiting in the wings.
The most likely candidate to take advantage of Tiger's absence right now is Scott, who shot up from 11th place to second with his win at The Barclays. While he basically won the tournament by default, when Gary Woodland, Rose and Tiger failed to capitalize on game-tying putts on the final hole, Scott has been playing excellent golf all year, especially in deep fields. Not only did he capture this year's Masters, but he finished in the top five at both the British Open and PGA Championship.
He sits in second place in the standings a little more than 140 points ahead of Mickelson.
But, Lefty just about stole the show at The Barclays with another one of his typical final day showings, shooting 65 and moving within two of the leader. He is not to be counted out.
Nor are Kuchar or Rose. Even though he sagged on Sunday, the normally-steady Kuchar continues to play great golf and leads the Tour in the least amount of three-putts.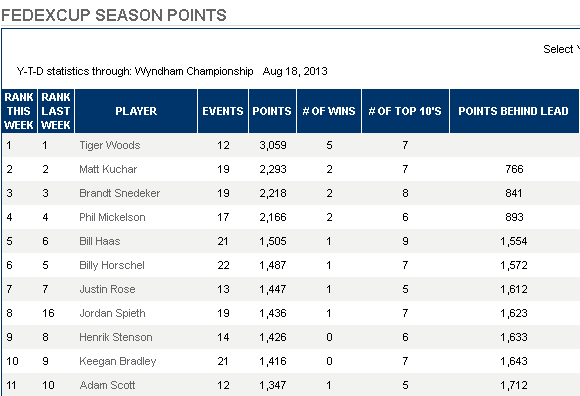 As the winner of the U.S. Open, the fifth-place Rose has become one of the Tour's elite and is a threat to win every time he tees it up.
And you definitely can't count out Brandt Snedeker, who swooped in to win the Tour Championship last year and ultimately the FedEx Cup. He was not even in the top 10 when The Barclays began, but came in second in the tournament and moved up the ranks. Although he missed the cut at The Barclays, Snedeker still sits in sixth place and, if he can regroup after missing this week's cut, can move up with better play in the next two events.
There are dark horses aplenty, however.
Graham DeLaet finished in a tie for second at The Barclays and moved up 27 spots in the standings to No. 7.
Jordan Spieth, the 20-year-old who ranks second to Tiger in scoring average, is in ninth place.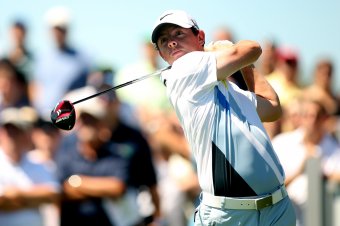 Darren Carroll/Getty Images
Gary Woodland, who moved up 50 places and is less than 2,500 points out of the lead, could position himself for a chance at the Cup with a repeat performance at the Deutsche Bank.
Even McIlroy, who moved up 13 slots in the standings after The Barclays, is less than 3,000 points from Tiger. Should he finish in the top three in the next two events, he will have a clear shot at the title.
If Tiger decides to play, how will the injury affect his game?
For anyone with a bad back, you know how difficult it is to swing a golf club.
That was what was so remarkable about Tiger's continued play on Sunday. He had fallen to his knees in obvious agony after his second shot on the 13th hole. He could barely stand up straight. He gingerly hobbled down each fairway.
Most mortals might have walked off the course at that point.
Source: Woods expects to play in Deutsche Bank: After dealing with back spasms at The Barclays... http://t.co/GFXbTWeMr4 #sports #golf

— wwwallsports (@wwwallsports) August 26, 2013
Not Tiger. He remains the most driven player in golf, maybe in all of sports.
He is also a master of adjustments and that is what he will have to do at the Deutsche Bank, should he elect to play there. We have seen him make changes to accommodate a golf course as he did when he played the British Open without a driver.
Tiger's game has always been about all-out, body-wrenching swings. That may be why he has back issues. There is just so much tension and stress a body can take.
With that in mind, Tiger will have to scale down his approach in order to compete. At 7,200 yards, the Conway Farms Golf Club includes some brutally long holes—including the 483-yard par-four at the third, the 595-yard par-five eighth and a 568 yard finishing hole.
He will not be able to baby these holes, but he will have to manage them according to his own physical abilities. It is unlikely he will be able to finish with the same complete turn he is used to. Instead, he will have to resort to the half-shots he used to finish at The Barclays where he was able to score and just about win. But is that manageable over 72 holes for four consecutive days?
Course management will have to be exact as he doesn't want to hit balls in high rough or deep sand. That could be excruciating for him to play and for us to watch.
If he can get the ball close, he still can putt, as he showed by the birdies on the back nine at The Barclays that brought him so close to a win.
Finally, Tiger will have to manage his mental game. There will be no room for temper tantrums or club-pounding. His success will depend on his ability to play within himself.
That'll be something different, but it may not be the worst thing for his overall game.