Robert Lewandowski Transfer News and Rumours Tracker: Week of August 26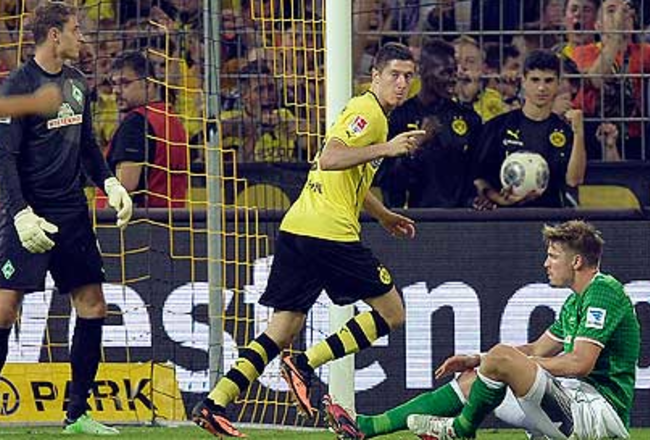 Robert Lewandowski scores against Werder Bremen. Image from the Guardian.

Robert Lewandowski's transfer saga was resolved last week, when it was announced that he would stay at Borussia Dortmund for the rest of the season.
The striker had been expected to join Bundesliga rivals Bayern Munich until a move was vetoed by Lewandowski's current employers.
The Pole has one year remaining on his current contract and will be allowed to leave for free at the end of next season.
We have been closely monitoring Lewandowski's transfer situation all summer. For the full story, click here and here.
Read on to see how the striker's season has started at Signal Iduna Park and to find out why he snubbed a move to the Premier League and La Liga...
Latest Update: Monday August 26
Lewandowski: 'I Hope It's My Best Year at Dortmund'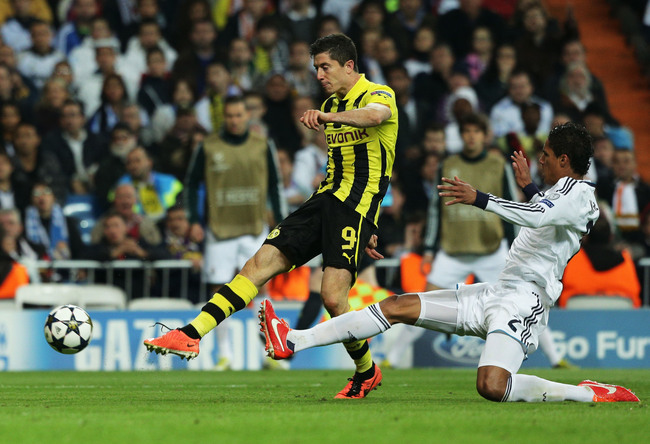 Lewandowski, in action against Real Madrid last season.
Gonzalo Arroyo Moreno/Getty Images
Robert Lewandowski is hoping to eclipse the success he has had at Borussia Dortmund in the past.
The 25-year-old has played for Jurgen Klopp's side since 2010. In that time he has racked up 144 games and notched 78 goals.
2012/13 was his most successful season at the club to date, scoring 24 goals in the Bundesliga and 10 in Dortmund's journey to the Champions League final. But the striker says that he hopes he can be even better this season.
"I never thought about how many goals I could score at Borussia Dortmund. But it is how it is and I'm very happy about it," he told the club's official website. "This is my fourth season with BVB and I hope that it will be even better than the last one."
Lewandowski Scores Winner Against Werder Bremen
Borussia Dortmund made it three wins out of three with a 1-0 victory against Werder Bremen at Signal Iduna Park on Friday.
The hosts created numerous chances with 31 shots, but Lewandowski scored the only goal of the game in the 55th minute, when he converted a cross from Marco Reus.
Despite being named Man of the Match, Lewandowski admitted that it was a tough contest against Die Werderaner. He told the club's official website:
It was a difficult game for me and also the rest of the team. Our performance was okay, though I think we can play better. But let's not forget that this was only the third game in the Bundesliga. We have a lot of games ahead of us and we will keep getting a bit better every game.
Goal difference sees Dortmund on top of the Bundesliga. Their next game comes against Eintracht Frankfurt on Sunday September 1, at the Commerzbank-Arena.
This week, Dortmund eyes will also be on the Champions League group stage draw, which is being made on Thursday at 17:45 (CET) in Monaco.
Lewandowski: 'I Turned Down Man Utd, Chelsea and Real Madrid'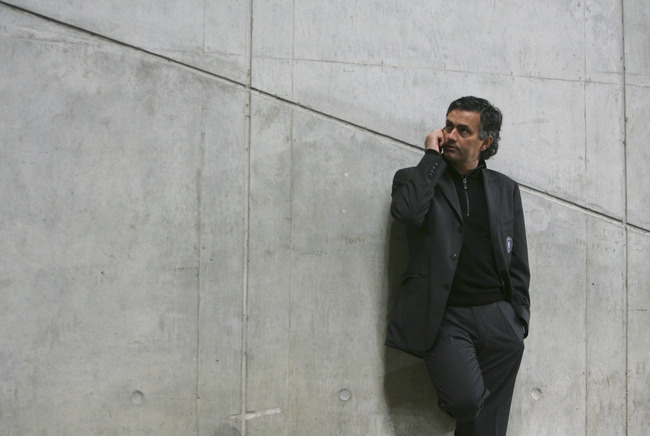 Jose Mourinho, texted Robert Lewandowski.
Michael Steele/Getty Images
Robert Lewandowski has admitted that he turned down moves to Manchester United and Chelsea to stay in the Bundesliga.
The striker was linked with a number of clubs over the summer, but put an end to rumours of a move last week when his wages were reportedly tripled at Borussia Dortmund.
In May, the Daily Mail's John Drayton suggested that Jose Mourinho had texted Lewandowski to try and sign him, should the manager return to Chelsea.
This week, the Dortmund forward was quoted in the Sun, saying:
I can confirm that I spoke to him [Mourinho]. We spoke a few times before. I have his number in my phone. It is a huge compliment for me that a manager with such a big name is texting me this way.

One year earlier I also spoke to Sir Alex Ferguson and that was definitely a great feeling.

The retirement of Sir Alex didn't affect my decision not to come to England. He spoke to me one year ago, but it was not a good time.
Lewandowski also revealed that he snubbed a move to Real Madrid. Quoted on Skysports.com, the striker said:
It was in the office near the dressing room at the Bernabeu straight after the match. We spoke to each other briefly and...OK, let's just say we spoke.

I didn't say 'no'. I was mostly listening to Mr [Florentino] Perez.
Keep Reading