UFC Fight Night 27 Predictions You Can Take to the Bank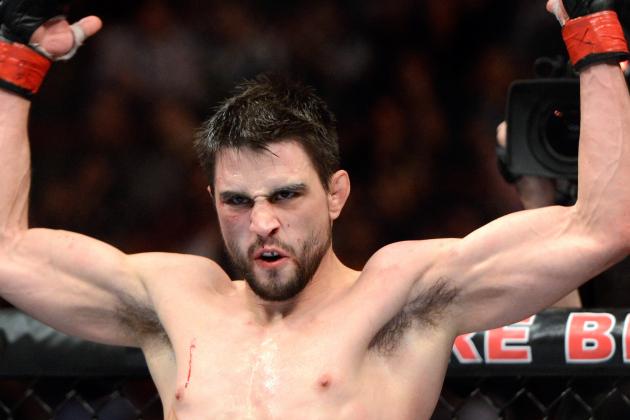 Eric Bolte-USA TODAY Sports

The Fox Sports 1 era has begun.
The UFC's initial offering on the world's latest all-sports network was an unqualified success, filled to overflowing with great fights and big moments. The ratings for the event outperformed even the highest expectations, and the numbers cemented the UFC as one of the biggest draws for the new network.
In fact, it's not even close; the initial UFC on FS 1 event outperformed most episodes of Crowd Goes Wild—a sports discussion show helmed by Regis Philbin—by over 10 to one.
With that said, I have no expectations that regular UFC on FS 1 events will pull anything close to that number. The first installment was a stacked show nearly worthy of pay-per-view status. We should not expect the same sort of status for Fox Sports 1 events going forward.
But we're still looking forward to a very good (at least from a fight perspective) second Fox Sports 1 event on Saturday night. It's headlined by a rematch of a fantastic bout from 2009, when Martin Kampmann scored a controversial split decision win over Carlos Condit, and the rest of the card is full of intriguing style matchups.
At the top of each slide, you'll find the current odds (via BetDSI), market percentage (the betting odds translated to percentages; this number tells you what kind of chance the market is currently giving each fighter to win) and my own percentages.
By breaking down the odds in this fashion, we can determine if the current market percentage matches up with our own. We're looking for value in the numbers. If the market believes Fighter A has a 40 percent chance of winning the fight, but we believe Fighter A has a 65 percent chance to win, then we're seeing value in the numbers.
Eagle-eyed investors (a much nicer word for "degenerate gamblers") will want to keep an eye out for those moments when the market percentage differs greatly from your own. I typically look for a difference of at least plus-20 percent when handicapping fights. Ideally, I like to see plus-25 percent or greater.
If you're the gambling type, let me know what you think of my analysis in the comments below. And if you think I've missed anything, feel free to add it below as well.
Let's get started.
Begin Slideshow

»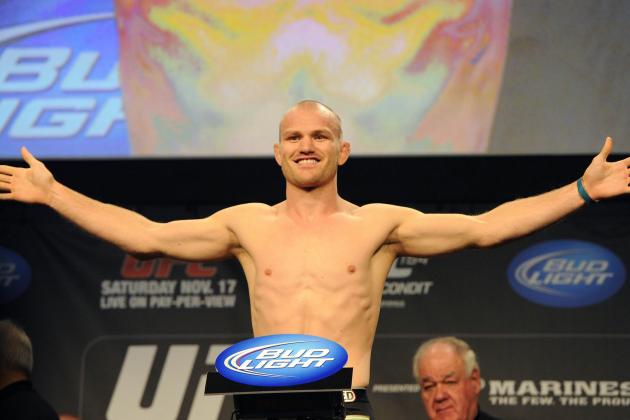 Eric Bolte-USA TODAY Sports

Current Odds
Carlos Condit: -250
Martin Kampmann: +210
Market Percentages
Condit: 71.43%
Kampmann: 32.26%
My Percentages
Condit: 65%
Kampmann: 35%
Difference
Condit: -6.23%
Kampman: 2.74%
Joe Silva is a superb matchmaker.
This isn't news to anyone, but it still needs to be said. Silva has a knack for creating matchups that produce fireworks, and the UFC on FS 1 main event between Carlos Condit and Martin Kampmann is a perfect example.
This isn't a guessing game, of course; Condit and Kampmann already produced a dramatic and thrilling fight back in 2009. It's logical to expect the same thing the second time around.
After losing his UFC debut to Kampmann at Fight Night 18, Condit rattled off five consecutive wins and earned a shot at Georges St-Pierre. He lost to St-Pierre and then Johny Hendricks, but one thing is clear: Condit is a drastically different and better fighter since the first time he stepped into the Octagon to face Kampmann.
Kampmann has floated around the edges of the UFC title scene for years, mostly because he hasn't been able to win the big fights when he needs to. With his longevity in the division, you have to think that a win over Condit would put him in the title picture. I'm not saying he'd be the next guy in line to face St-Pierre, but he'd certainly be within shouting distance.
Condit has the advantage standing, mostly because he's very effective at using his reach to land punches and leg kicks while avoiding damage. He has also become quite good with his footwork, utilizing odd angles to control the cage and keep his opponents guessing.
And Condit's fight with Nick Diaz, boring as it may have been to the general populace, was a perfect example of what "The Natural Born Killer" can do when he needs to execute an effective game plan.
Condit's Achilles' heel has always been his takedown defense. Kampmann won't be mistaken for a world-class wrestler any time soon, but if he wants to win this fight, he'll need to try to exploit that hole in Condit's game. And there's always a chance that Kampmann can land a knockout punch, but Condit's sturdy chin will serve him well in that department.
Kampman won't be able to keep Condit off his feet for five rounds, and Condit will outwork him on the feet on the way to a decision.
Prediction: Carlos Condit by decision
Gambling: No play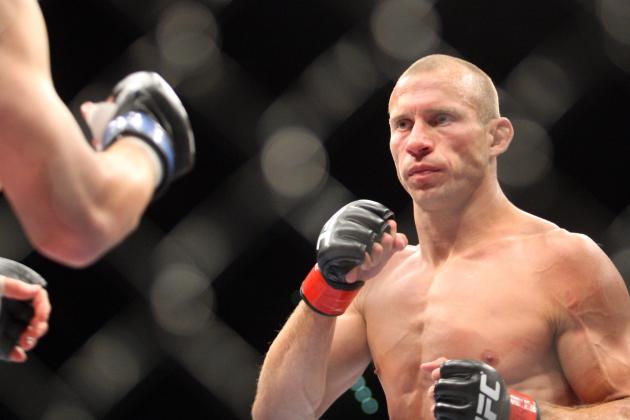 Bruce Fedyck-USA TODAY Sports

Current Odds
Donald Cerrone: -150
Rafael dos Anjos: +130
Market Percentages
Cerrone: 60%
Dos Anjos: 43.48%
My Percentages
Cerrone: 70%
Dos Anjos: 30%
Difference
Cerrone: 10%
Dos Anjos: -14.38%
Much like Condit, Donald Cerrone is excellent at using his kickboxing ability and range to stifle his opponents. He's improved in every facet of the sport since moving over to the UFC, including his takedown defense.
That's a major key in this fight. Dos Anjos won't want to spend 15 minutes standing with Cerrone, and he'll look to take the fight to the ground early and often. As long as Cerrone can keep the fight standing, he should be considered the clear-cut favorite. And Cerrone has proven to be a good submission artist, which means he's not at a total disadvantage on the ground, either.
I expect Cerrone to keep the fight standing and score points throughout the entire 15 minutes. He won't be able to put Dos Anjos away, but he'll cruise to an easy decision.
Prediction: Donald Cerrone by decision
Gambling: No play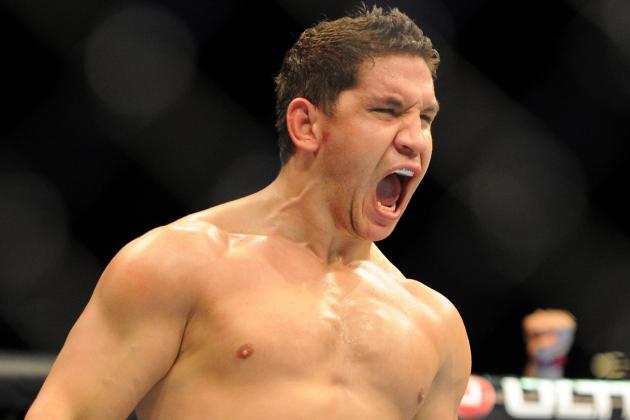 Jayne Kamin-Oncea-USA TODAY Spor

Current Odds
Kelvin Gastelum: -230
Brian Melancon: +190
Market Percentages
Gastelum: 69.70%
Melancon: 34.48%
My Percentages
Gastelum: 35%
Melancon: 65%
Difference
Gastelum: -34.70%
Melancon: 30.5%
In my opinion, this fight presents our first real value of the card. Let me tell you why.
Kelvin Gastelum's win over Uriah Hall in the finals of last season's Ultimate Fighter should have been notice that the 21-year-old was better than we thought he was. But those who saw Hall's fight against John Howard on the first Fox Sports 1 card might have an altogether different thought in mind: Perhaps Hall wasn't the killer we made him out to be prior to facing Gastelum?
Perhaps, in hindsight, the win wasn't that impressive at all?
Gastelum is young, and he's often wild in the cage. That's not a good thing when facing Melancon, a superb counterpuncher who made quite the effective UFC debut by crushing Seth Baczynski at UFC 162 in July.
This is a fight where smart bettors will take advantage of the lack of real public knowledge on Melancon. I expect Gastelum to swing for the fences here, and it's going to cost him. Melancon lands a solid counterpunch to put the TUF winner on the canvas before ending the fight by TKO in the second round.
Prediction: Brian Melancon by TKO, Round 2
Gambling: Play on Melancon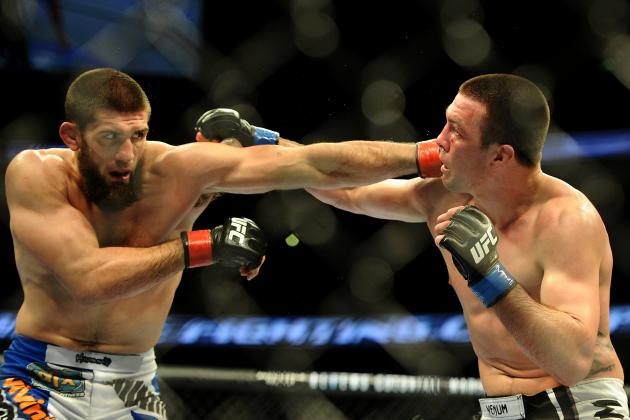 Jayne Kamin-Oncea-USA TODAY Sports

Current Odds
Robert Whittaker: -130
Court McGee: +110
Market Percentages
Whittaker: 56.52%
McGee: 47.62%
My Percentages
Whittaker: 30%
McGee: 70%
Difference
Whittaker: -26.52%
McGee: 22.38%
The current odds on this one are a bit surprising, and I believe we can take advantage of them.
Whittaker is a very good prospect, but McGee is a significant step up in competition. McGee is a heavy volume striker who throws plenty of punches and leg kicks to keep his opponents off-balance. He's also adept with takedowns.
Whittaker has very good takedown defense, but defending takedowns from Colton Smith (Whittaker's last fight in the UFC, when he defended all six Smith takedown attempts) is entirely different from defending the takedown of the much larger McGee.
McGee has improved since winning the 11th season of The Ultimate Fighter. He has also faced much better competition than Whittaker. He's tough and has a durable chin. He's in a weight class where he'll often be the bigger fighter. He won't finish Whittaker, but he'll put in a workmanlike performance on the way to a decision win.
If you plan on taking advantage of this line, I encourage you to do so before Wednesday afternoon; there's a good chance McGee will be the betting favorite by the time he walks to the cage.
Prediction: Court McGee by decision
Gambling: Play on McGee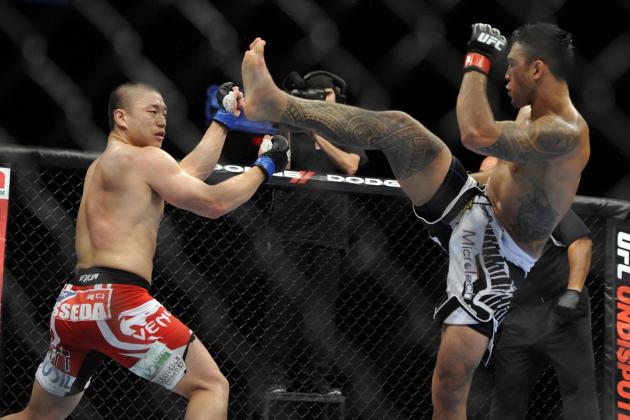 Rafael Suanes-USA TODAY Sports

Current Odds
Brad Tavares: -470
Robert McDaniel: +375
Market Percentages
Tavares: 56.52%
McDaniel: 47.62%
My Percentages
Tavares: 82.46%
McDaniel: 21.05%
Difference
Tavares: -2.46%
McDaniel: -1.05%
This is assuredly a tough fight for McDaniel's second fight in the Octagon. In his last fight, McDaniel faced Gilbert Smith; now, he'll step in the cage with a fighter who has improved his game drastically while winning five of his last six fights.
McDaniel's one true path to victory lies in getting the fight to the ground, but that's a tougher task than you might imagine. Tavares defended 13 takedowns from Aaron Simpson in a fight he lost two years ago, and there's no question that Simpson is a much better wrestler than McDaniel.
It's always tricky to predict a dominant win for a fighter. I've seen too many bizarre things happen in this sport to walk out on a limb like that. And yet I think that's exactly what you're going to see here. Tavares will keep the fight standing, and he'll either finish the fight in the second round or work his way to a decision.
From a gambling perspective, you'll want to stay away from this one. Unless, of course, you're the type who likes to throw a few bucks on the underdog on the off-chance that we see an upset.
Prediction: Brad Tavares by TKO, Round 2
Gambling: No play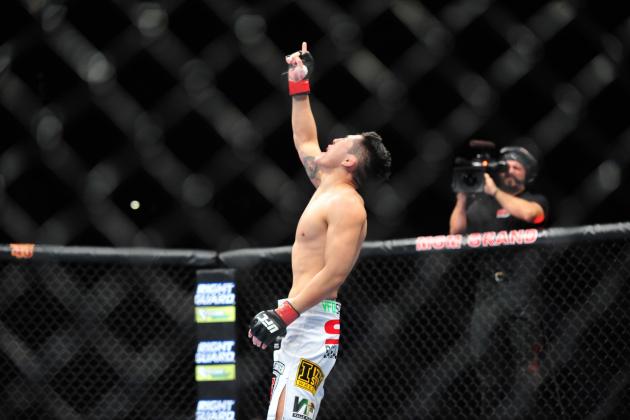 Gary A. Vasquez-USA TODAY Sports

Current Odds
Erik Perez: -140
Takeya Mizugaki: +120
Market Percentages
Perez: 58.33%
Mizugaki: 45.45%
My Percentages
Perez: 60%
Mizugaki: 40%
Difference
Perez:1.67%
Mizugaki: -5.45%
While I was bummed that an injury forced Sara McMann to pull out of her scheduled fight with Sarah Kaufman, I'm pleased that the UFC decided to bump Perez vs. Mizugaki up to the main card in its place.
Perez has the potential to be a true Mexican star for the UFC. From the UFC-designed luchador mask Perez sports on the way to the cage all the way to his exciting fighting style, Perez has the ability to help the promotion make a dent in the Mexican market.
But Mizugaki is easily the toughest opponent that Perez has faced.
He's a tough fighter with the ability to endure tons of punishment, and he'll present a stern test for Perez. But Perez is the better striker, and Mizugaki's penchant for walking straight backwards while absorbing punches may prove to be his undoing in this fight.
I don't expect Perez to finish Mizugaki, but I do expect a good performance from "El Goyito." He'll work his way to a decision win here.
Prediction: Erik Perez by decision
Gambling: No play