The Best and Worst Dressed Players at the 2013 US Open
Robert Deutsch-USA TODAY
Even Venus Williams' hands were decked out for the U.S. Open.
It's a pity that corporate influence has taken some of the fun and individuality out of the outfits at the 2013 U.S. Open.
Nike makes the gear for some of the biggest names in tennis. This includes Roger Federer, Rafael Nadal, Juan Martin Del Potro, Serena Williams, Victoria Azarenka, Maria Sharapova, Li Na, Sabine Lisicki and Petra Kvitova.
The problem is that Nike decided to outfit these players like they play for the same team. Let's just call them "Team Nike." You'll recognize team members by their team colors: faded red or coral and gray.
Of course each player wears the color combo differently. However, all the men on Team Nike have similar shoes. The women,meanwhile, seem to all have gray skirts.
Still, some players managed to stand out. Even a few on Team Nike.
From the delightful to the disastrous, here are the best and worst dressed at the 2013 U.S. Open.
Begin Slideshow

»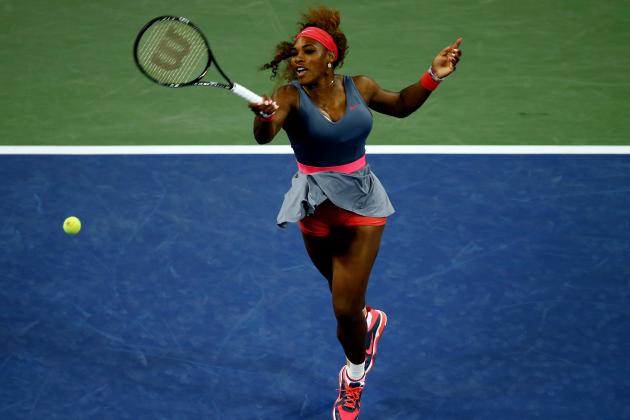 Elsa/Getty Images
Serena Williams in action in the first-round of 2013 U.S. Open
Serena Williams took to the opening night stage looking like a superhero.
Let's just call her "She-Ra, Tennis Queen of the Universe."
She wore the Team Nike signature gray and pale red.
After experimenting with outrageous outfits earlier in her career, Williams seems to have discovered her style. She now wears elegant form-fitting, figure-flattering A-line dresses that accentuate her curves.
Dan Istitene/Getty Images
Great Britain's Heather Watson rocks a baby blue dress in first round of U.S. Open.
With so many ladies wearing pale red and gray or purple and pink, Heather Watson stood out in a bright blue K-Swiss dress.
The playful pleats in her flared skirt made this by far the cutest outfit on court.
Elsa/Getty Images
Roger Federer shows off his neon pink shoes at U.S. Open.
The always debonair Roger Federer looked smashing in his blue shirt.
Kudos to Federer for breaking up the Team Nike look. Although he's wearing the shoes.
What's so nice about Federer's look is that it's sporty, yet country club chic: Looks like he could stroll off the court and into an Upper East Side restaurant.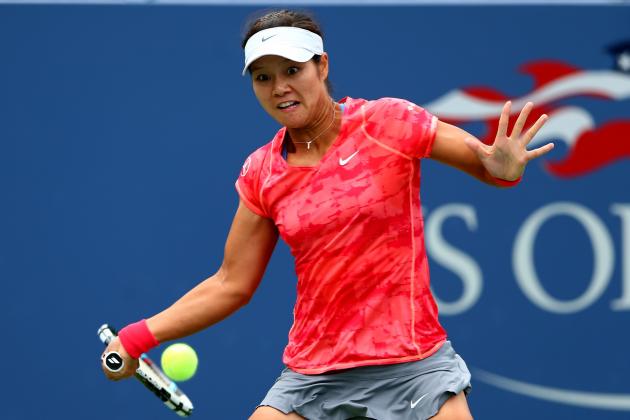 Elsa/Getty Images
Li Na goes for a forehand in first-round of 2013 U.S. Open.
Li Na, part of Team Nike, always opts for light and sporty attire.
Like Serena Williams, Li Na is a woman in her 30s who has figured out what flatters her figure.
This tie-dyed style shirt and school-girl skirt are fun, hip and preppy.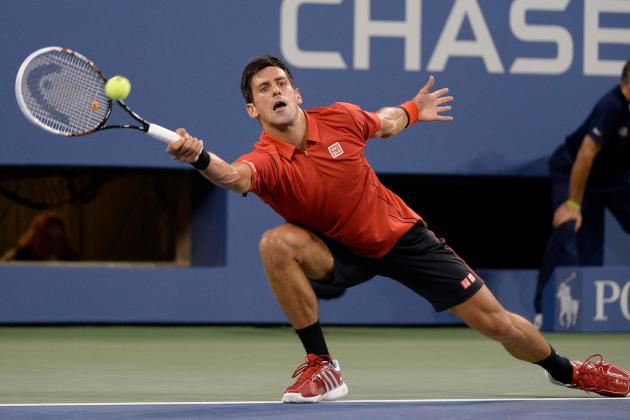 Robert Deutsch-USA TODAY
Novak Djokovic reaches the ball in his first-round match at 2013 U.S. Open.
For his nighttime match debut, Novak Djokovic went bold with a daring dark red shirt and black shorts.
The black trim on the red shirt and the red trim on his black shorts look tailor-made for an evening match.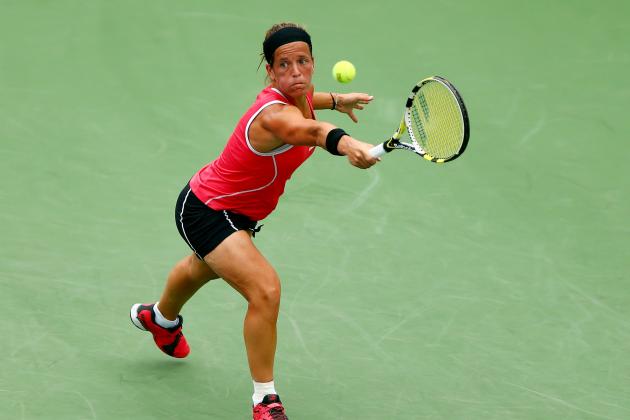 Dan Istitene/Getty Images
Lourdes Dominguez Lino
Lourdes Dominguez Lino was color-coordinated from head to toe, in black, red and white.
Yet it just didn't fit.
She gets style points on the shoes. However, unlike the trimming on Djokovic's shirt and shorts, the lines on Dominguez Lino's top and bottom seem to be working against each other.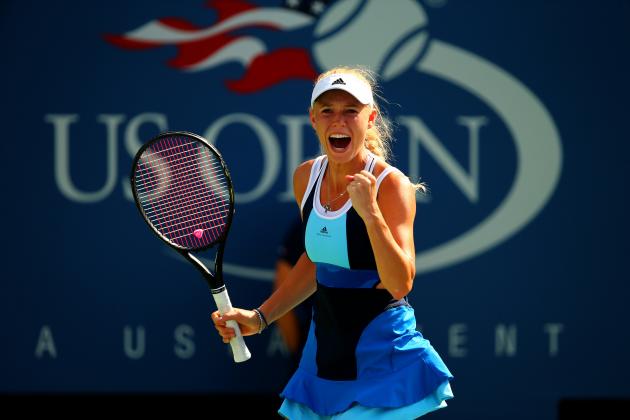 Elsa/Getty Images
Caroline Wozniacki in first-round match at 2013 U.S. Open.
An actual big-name designer, Stella McCartney, designs Caroline Wozniacki's dresses.
The design for this dress is nearly identical to the one Wozniacki wore at Wimbledon. That dress made the best-dressed list.
So what went wrong here? The colors.
An intricate design in white looks lovely. Like lace and beading on a wedding dress, embellishments enhanced Wozniacki's white Wimbledon dress.
The odd placement of the dark blue on this dress makes it look like she's wearing an apron.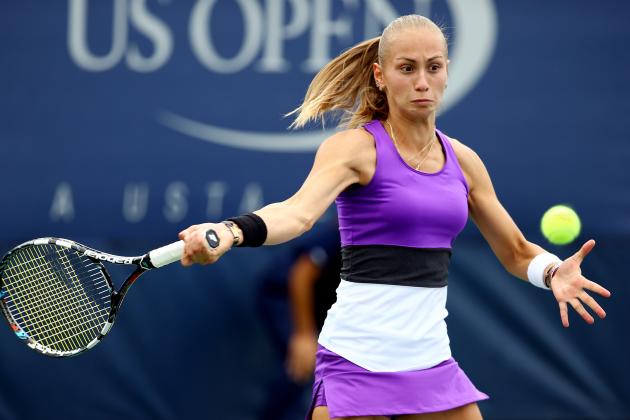 Al Bello/Getty Images
Aleksandra Krunic readies for a forehand at 2013 U.S. Open
The reason Aleksandra Krunic's dress makes the worst list is because it seems dated and out of season.
That big-block '80s look is so five minutes ago. And the deep purple and black look like they belong in a winter wardrobe.
That same design in, perhaps, pink and gray might look better.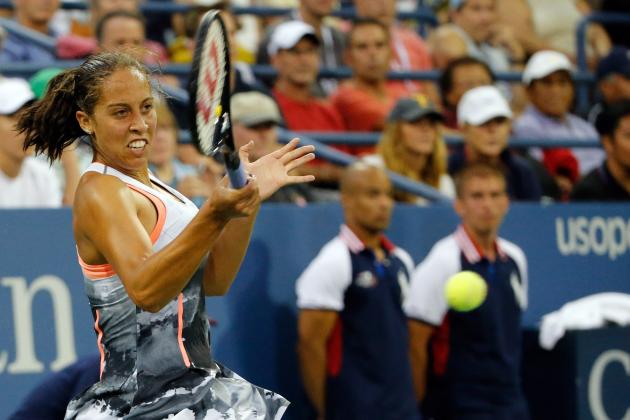 Anthony Gruppuso-USA TODAY Sport
Madison Keys wears a dress designed for Maria Sharapova.
This washed-out dress was designed for Maria Sharapova's night matches.
Of course when Sharapova withdrew from the tournament, Nike had to find somebody to wear it.
They selected Madison Keys and Canada's Eugenie Bouchard to fill in for Sharapova.
Keys wore the nighttime outfit; Bouchard, the day ensemble.
Even in Team Nike colors, this dress is hot mess.
Susan Mullane-USA TODAY Sports
Alexandra Dulgheru reaches for ball at U.S. Open.
The criss-cross top looks like something the 24-year-old's grandmother might wear.
Even supermodels would have problems pulling off a multicolored mess of stripes.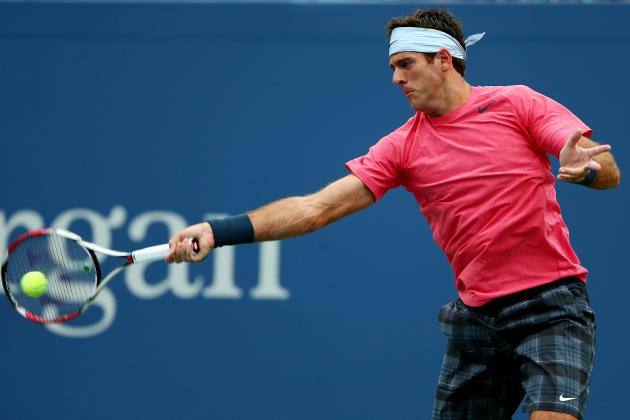 Elsa/Getty Images
Juan Martin Del Potro looks California cool in his plaid shorts.
Sporting the Team Nike faded red and gray, Juan Martin Del Potro looks surfer-dude cool with his plaid shorts.
This is a great look for a big guy with towering legs.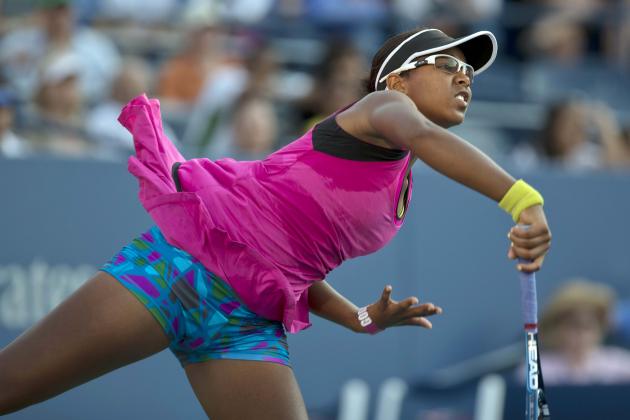 Susan Mullane-USA TODAY Sports
American teen, Victoria Duval, rocks multicolored shorts.
Baby faced Victoria Duval looked pretty in pink wearing a fuchsia dress from Venus Williams' line, Eleven.
Reminiscent of 1920s flapper dresses, the outfit bounced and flowed like the teen wearing it.
The multicolored shorts sure look like teen spirit.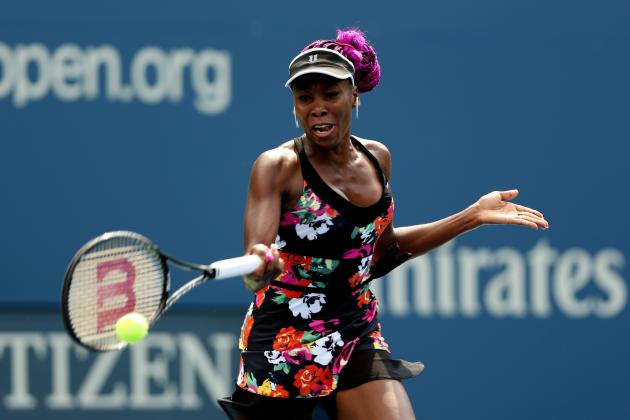 Matthew Stockman/Getty Images
Venus Williams goes for a forehand in her opening round match at U.S. Open
Venus Williams' dress, the boldest outfit of the tournament, could have as easily made the honorable mention best-dressed list. Except, there is the hair.
The floral-print dress is part of her Eleven collection. And when wearing bold prints, it's best to keep accessories simple.
But the pink and purple hues braided into her hair distracted from an otherwise elegant ensemble.
The dress is divine. The hair, a disaster. Together, just not a good look.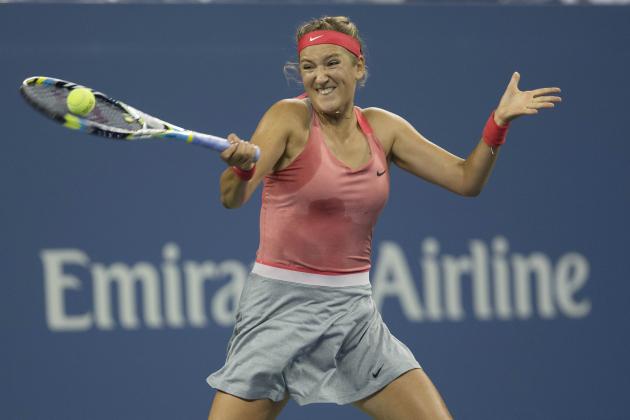 Susan Mullane-USA TODAY Sports
Victoria Azarenka in a night match at the 2013 U.S. Open
Victoria Azarenka makes honorable mention for worst dressed because she looks out of her element.
Perhaps this was a Team Nike prototype dress for Serena, but the fit is all wrong for Azarenka.
Once quite comfortable in her tomboy-style shorts, Azarenka appears to be listening to too many image consultants.
This look is so not Vika.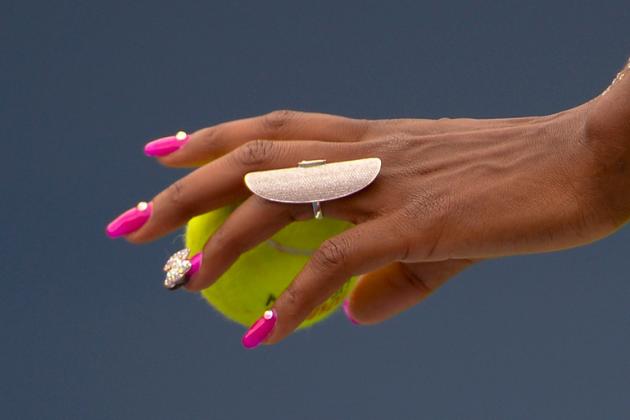 Robert Deutsch-USA TODAY
Venus Williams hands make a statement.
Bejeweled and beadazzled, Venus Williams' hands earned their own category: wow.
It's a wonder she could even serve with all that bling on her hands.